FIFA 11 Review
Take to the pitch for yet another soccer season, and this time the goalie is coming with you
Both friendly and enemy AI has also been tweaked to a noticeable extent. Players now play to their strengths, so poachers will always try to get inside the penalty box as you try and cross the ball to them from the wings. Opponent teams will not only play to their strong players and skills, but will also track the personalities of your squad, and attempt to prevent said poachers from getting a shot on goal within the danger zones. As a whole, the AI seems to be much improved this year, particularly the friendly AI is much more capable of getting into open positions, which leads to some fantastic midfield play and breakaway opportunities.
The game's physics engine also feels a tad different, though mostly for the better. The ball will no longer stick to players, as such the aerial lob passes are now difficult to control. So a pass that's too strong will bounce right off a player's chest and an opponent will have a chance to challenge for the ball. The AI is much more likely now to use their own dribbling skills and actually get past your defenders, which makes for a challenging and realistic experience compared to last year. Still, there are odd moments when players fall down during tackles too easily, resulting in as many as three players on their stomachs as the ball awkwardly rolls off to the side. These moments are rare, but they do look odd.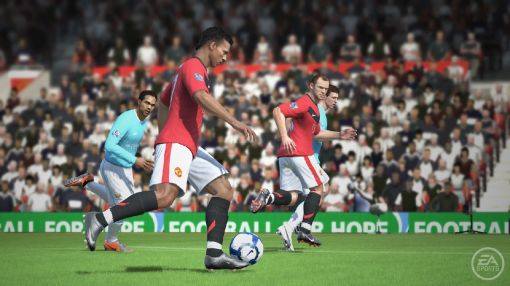 Meanwhile, the offline game modes in FIFA 11 went through a bit of an overhaul. The previously separate modes of Be a Pro and Manager mode are now connected, offering users the chance to take their player from the very start of a career to being a legend, slowly increasing their club influence until they are able to become a full time manager. This Career mode offers a way to tie all the single player experiences into one, though there are no sweeping changes inside the actual modes. There's the Player mode, which is essentially Be a Pro; Player manager that allows users to still play on a team but also influence the tactics and some managerial decisions; and Manager mode, which lets you control the fate of a club in every aspect. Putting these three modes into a Career provides for an extremely lengthy playtime per save, but it's doubtful that users will actually continually progress through. It's likely that players opt to stick with their favourite offline modes, so progressing through from player to a manager may not be what some folks want. Still, it's an excellent option to have and to complete the experience.
In Player mode, users can once again create a likeness of themselves and begin their path to greatness. There are tons of new visual customization options this year, and as well you still have the ability to import your Gameface from EA's website. Your virtual player will also be able to unlock one of the many Personality traits in the game this year, though only 5 can be equipped at any one time, which adds a new level of strategy and uniqueness to your Pro. On the pitch, players can choose to play as the whole team or just your Pro. When only controlling your player, the rest of the team is guided by AI, which makes for some awkward plays and easily lost possession. The game is still rather poor at giving you feedback as to what exactly you're doing wrong that negatively affects your match rating. Even if you play perfect position and never miss a pass, it's still very difficult to achieve a rating above an 8.
Comments
blog comments powered by Disqus
| | |
| --- | --- |
| #2 Oct 5, 2010 19:58:36 (Oct 5, 2010 19:58) | |




| | |
| --- | --- |
| #1 Sep 30, 2010 12:11:00 (Sep 30, 2010 12:11) | |




Phatcat1987

Nice review PC.

2 Questions:

1. Is the Norweigan Premier League featured in the game?

2. If so, did Honefoss BK make it into the game? They were just promoted to the Norweigan Premeir League this year, so I wasn't sure.