Splatoon 3 Review
A mostly evolutionary third chapter in the colorful action game franchise
Games that follow an annual release cycle - from shooters to racers and sports titles - usually face a certain amount of scrutiny. Fans are looking for innovations and changes to justify paying full price year after year, and there are cases where the newest entries can't always live up to the expected standard. So, both critics and fans often have to put caveats around whether or not to recommend the latest entry. The reason for bringing this up is because Splatoon 3 feels quite a bit like a shooter from an annual release schedule. Despite the fact that it's actually been five years since its predecessor, Nintendo's latest offering in this colorful franchise lacks any major innovations, but still delivers some solid gameplay.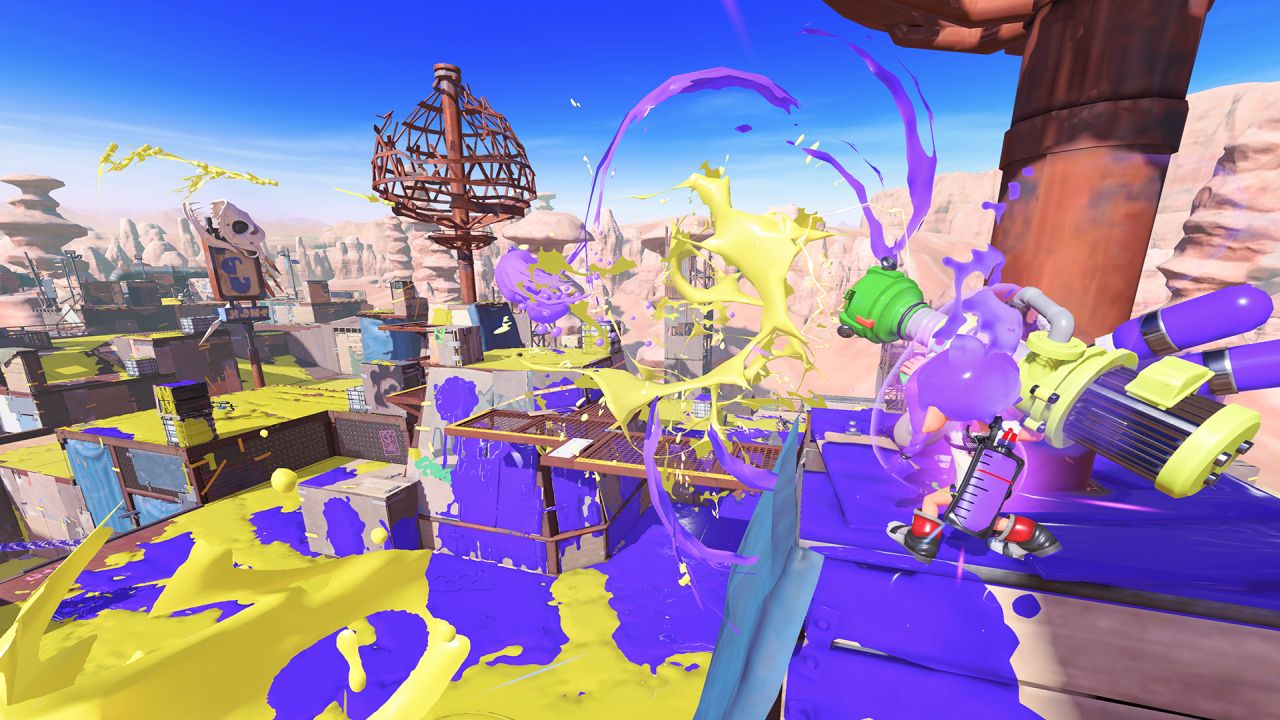 After a brief tutorial and initial customization screen, players can jump into the story mode by following a crazy looking old man down into the sewers, from the game's main lobby area – or you can head straight into online play, if you wish. Although primarily marketed as a multiplayer action title, the series continues to grow its solo mode offerings. Splatoon 3 brings with it the most varied and expansive solo story mode yet, as players assume the role of Agent 3 in Splatlands, where Inklings and Octolings, a mix between human and squid, are the main inhabitants of the world. Players will then traverse a variety of custom levels that offer different types of activities, challenges, and minigames. From shooting practice with balloons and crates, to taking on enemy creatures and interacting with switches to solve puzzles, there's plenty of light challenges to tackle across the 3-4 hour adventure. It's still not the series' main focus, but a decent effort has been made here.
Going through the campaign also serves as a good in-depth tutorial for most of the gameplay mechanics that translate directly into multiplayer. Returning fans will be instantly familiar with the basics. In this third person action title, your main goals are usually to shoot ink (paint) at everything around you – floors, walls, and enemies. Doing so not only defeats enemies, but any paint-covered surface lets you transform into a squid and swim around quickly and safely, and is the game's unchanged unique traversal mechanic. Swimming also refills your ink ammo reserve, so you can pop up and unleash more volleys. The controls feel a bit more responsive, and have been tightened up in some areas – it's now easier to vertically swim up walls, and the camera now stays locked in place longer when you change movement direction, helping you stay on target instead of rotating your view. New roll and surge moves expand player options.
The pain-splatting weapons arsenal has also been expanded, with some new weapons and weapon types. A new Tri-Stinger acts as a triple-shot bow, and a new Splatana acts and looks like a sword. Most of the rest of the tools for paint damage are returning from previous games. Dealing enough damage lets you unleash a special power attack, like hopping into a small tank to deliver big ink bombs. It's still a game best played with a Pro controller, as the Joy-cons' tiny buttons and triggers just rarely feel up to par for the often chaotic gameplay. There's even still a motion-controls option, for crazy people among us. Overall though, it's not a big departure from its predecessor, which is fine, given that this unique ink paint action gameplay mix is in the series' DNA.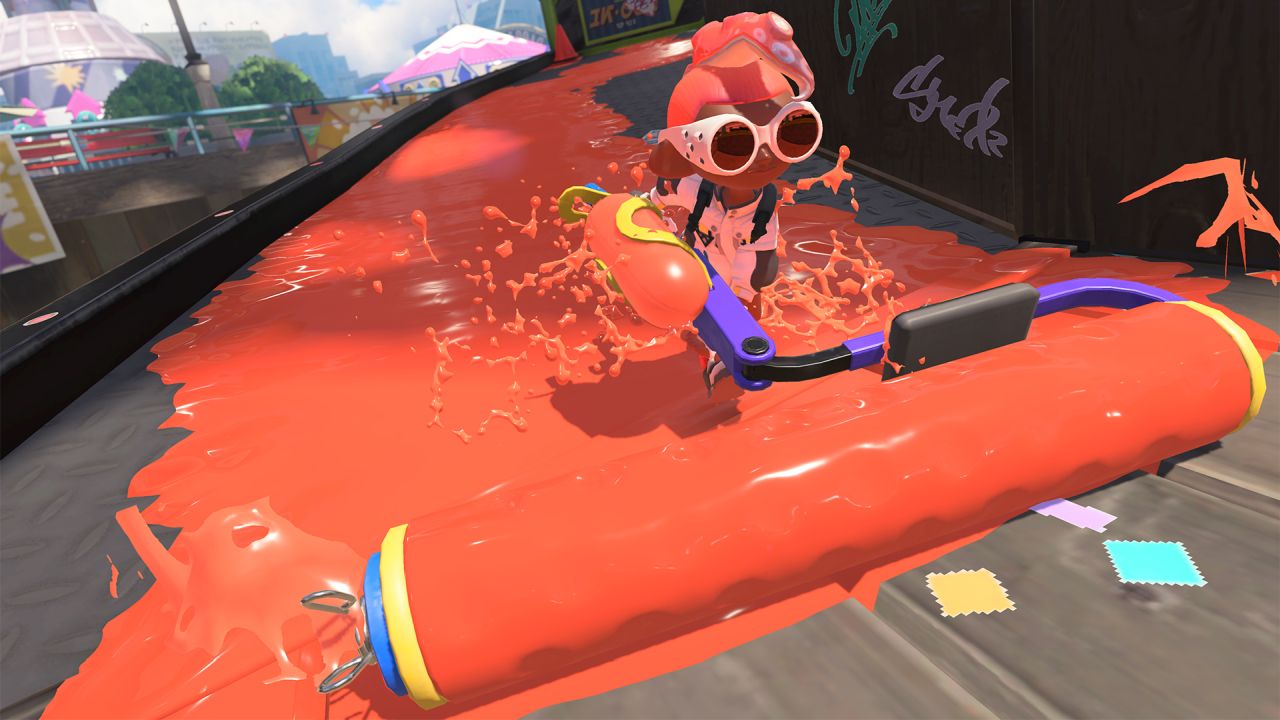 Before heading into competitive online battles, you may choose to dip into online play through Salmon Run Next Wave, a co-op mode that returns from the previous game with some extras. Once again, you are tasked with surviving waves of enemies that spawn around the small map, as players try to stay alive, and collect enough eggs to fill a quota. Teams that do well may face an extra boss wave. It remains a fairly fun and replay-focused mode that serves as another way to practice your skills and hone-in on the action. Thankfully, unlike Splatoon 2, this mode is always available and isn't locked behind an arbitrary time limit.
Once you feel ready, it's time to explore the new lobby hub and online play. The lobby system has been significantly improved (read: brought into the modern era), with the ability now to easily group up with friends and matchmake together. You can also run around the hub area and check out the avatars of your friends and their recent progress, try out a variety of practice shooting ranges, or play the new table battle card minigame against the CPU. You can even explore the multiplayer maps solo if you want to be ultra-prepared. While most of the maps' surfaces can be covered in ink, it's not all of them, which lets the game maintain some sort of cohesion and channels players into lanes. The maps themselves continue to be open-air ranges with lots of catwalks, obstacles, and grates.
As you start queuing up for multiplayer, you'll find a few additions, but mostly a familiar experience, which seems to be the trend with Splatoon 3. Turf War is the bread and butter of the series, and it returns without much change as a 4v4 team battle. The winner is the team that covers the most of the map with their color, and so eliminating opponents becomes as much a challenge as it is a necessity. This is likely where most players will spend their time, especially casual fans, but if you've got your fill of this mode and its mechanics in Splatoon 2, there's not much here to draw you back in. Especially considering that although Splatoon 3 may feature a decent number of 12 maps at launch, almost half of them are returning from the last game. This seems like a misstep for a game five years in the making – especially when yearly releases sometimes get flak for "remastering" a past map or two.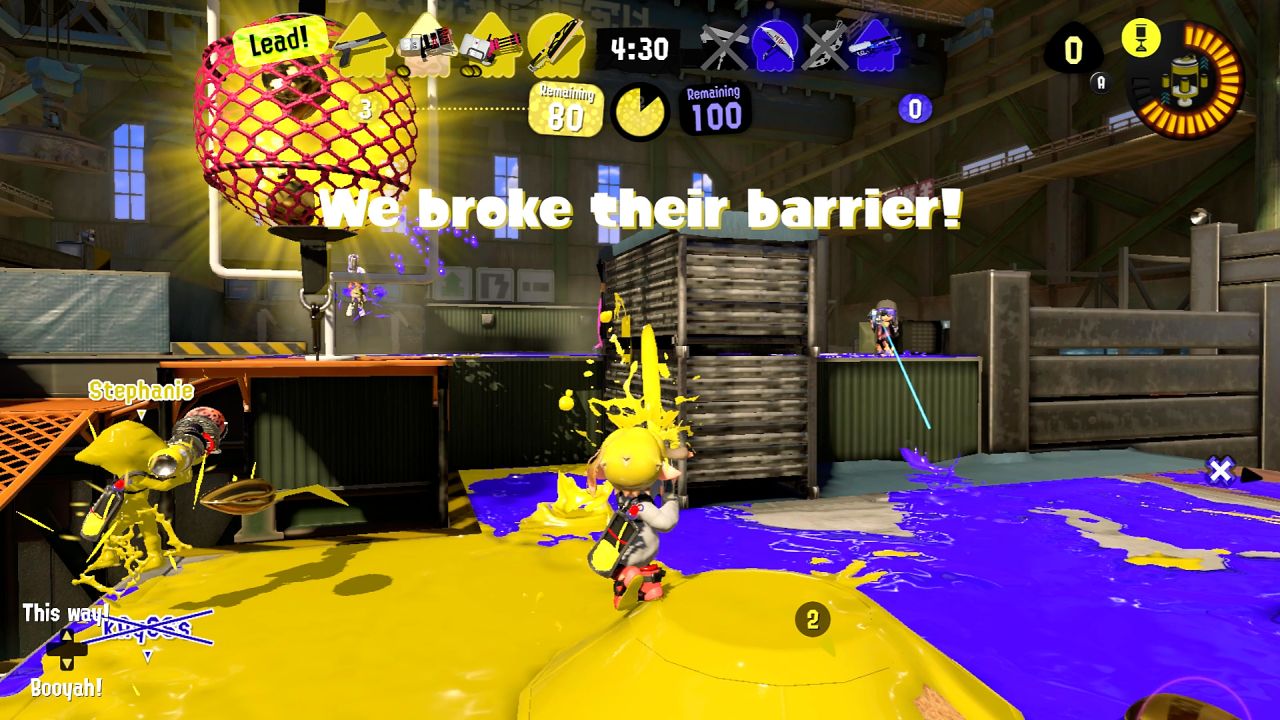 The more hardcore players may also be a little disappointed in the lack of fresh content as they delve into Anarchy Battles, which is the ranked mode system. The four game modes are again returning from the last game, with different objective-type modes that are still well balanced and competitive, as well as entertaining, with the right group of friends or adequate strangers. Splat Zones is a King of the Hill type mode as you try to paint the central area of the map with your team color; and Tower Control has players fighting over a tower that moves around the map. Rainmaker has teams battling over the special weapon and trying to bring it to the opponents' base, with Splatoon 3 introducing checkpoint gates to the process. Lastly, Clam Blitz has you collecting clams and depositing them near the enemy base. There are slight changes here and there, but these modes also remain quite familiar.
Getting into ranked Anarchy battles does cost a small in-game fee, and you have the option to matchmake in a team or enter a solo-only queue. With each match, players can earn points to raise their competitive rank by playing well – even if your team loses, which is a nice touch. There's a nice post-match scoreboard and you can jump back into matchmaking right from here, which too few games seem to allow these days. Players can leave during matches though, and depending on when it happens, you may need to play out in a 2vs4 disadvantage as there is no bot fill. And as can sometimes be the case with Nintendo, the online servers aren't the most stable. The launch week has been fairly rough with either long matchmaking times, or plenty of disconnection errors – at least, it most commonly happens while still in the lobby. Online play itself is smooth, but there are many cases of opponents eliminating each other at the same time – whether that is by design or by lag, you can be the judge.
Playing online earns you experience and in-game currency, which can be spent in shops on new items. You can buy new weapons with Sheldon Licenses which are gained by increasing your overall profile XP level, and using the same weapons consistently. You can also buy new gear, from shirts to sunglasses and hats. But it's more than visual customization – clothing also has passive bonus attributes, and the more you play with an outfit, the more it will level up and eventually unlock up to four bonuses, which are randomly generated. Thus you can always keep buying new clothes that look good, and hope for a good passive bonus unlock when they level up. Bonuses are typical and range from improved weapon handling to speed boosts, enemy ink resistance, and more.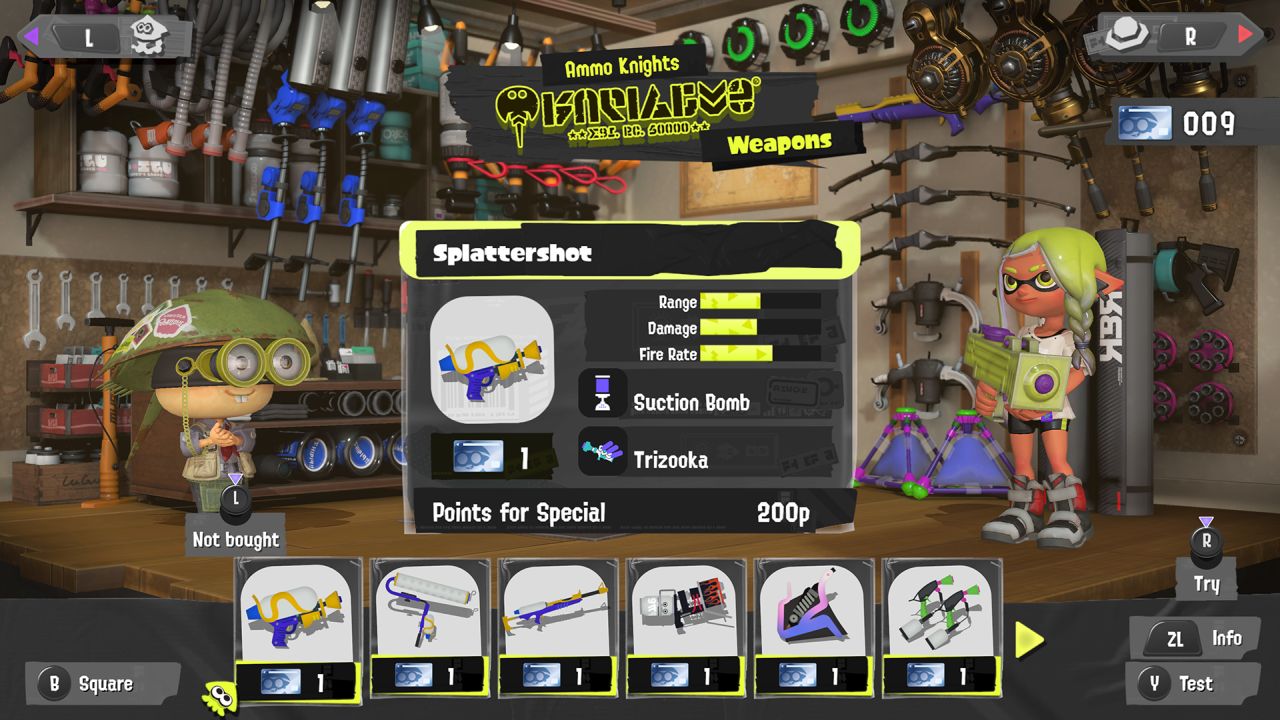 Given that the previous title was also on the Nintendo Switch hardware, the third chapter doesn't make any major improvements to its technical visual quality or presentation. It's still a very pleasing game to look at, with its friendly and very colorful art and design. The soundtrack is fitting, and the special effects are on par with its predecessor and other Switch titles. It's not a big departure from Splatoon 2, but in this aspect it doesn't need to be. As a first party title, it also runs expectedly smooth, with no framerate issues online or offline, in docked or in handheld mode of the console.
Splatoon 3 is a good game, but your overall impressions may depend on which camp you fall into. Returning Splatoon 2 players may feel that there's just not that much change or new content in this entry, and having to wait for years and to pay full price again may not sit right with many. On the other hand, newcomers are getting (as expected) the best iteration of the game yet, with refined movement mechanics, the best arsenal variety to date, and the same time-tested chaotic gameplay. With the changes to the lobby system, it's an overall more streamlined experience, even if connectivity issues still linger. In either case, however, this is a very solid game and will still appeal to Nintendo fans looking for some colorful splatfest action.
Our ratings for
Splatoon 3
on Switch out of 100 (
Ratings FAQ
)
Comments