NBA 2K22 Review
Great gameplay let down by some technical troubles
While it was far from perfect, NBA 2K's debut on current-gen consoles last year went well enough. The franchise added some content exclusive to the newer systems, while increasing the visuals due to the additional horsepower afforded to it. The transition from one gen to another is always difficult, though. What really sets the tone going forward is how a franchise comes out for its sophomore outing. It shows whether the developer is ready to move forward, or if they are stuck in the past. For NBA 2K22, Visual Concepts demonstrates that they are ready to push to bar up, even if it doesn't always turn out right.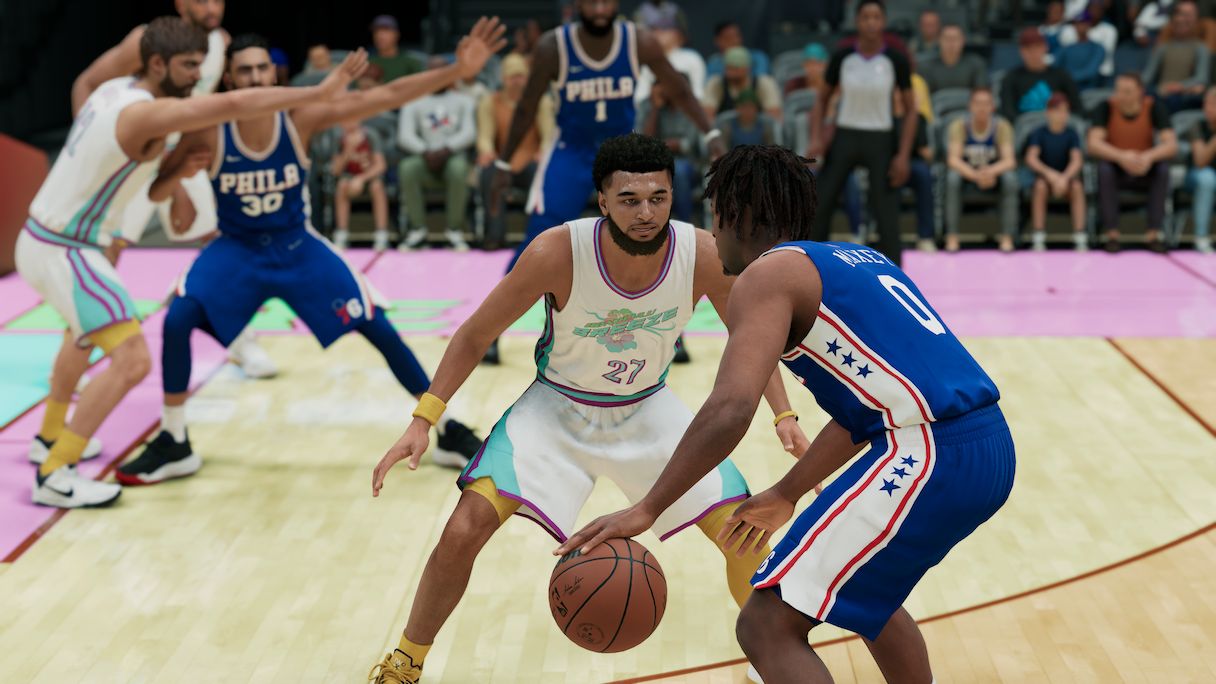 Every year Visual Concepts offers up different tweaks to the on-court action, and this year's effort is no different. For NBA 2K22, a greater emphasis has been placed on the defensive side of things. After years of being easily tripped up, it's a welcome surprise that defenders are far more tenacious than they have been in the past. Using a center to block the lane or sticking close to your man feels better than it has previously. As someone who typically hates playing D, I found myself getting more in touch with my inner-Ben Wallace this year. Of course, the downside to this is that the A.I. is more efficient at locking you down. Especially during the early going in MyCareer it can be a little tough to get into any kind of offensive rhythm.
The offensive action hasn't been completely ignored either. The shot meter has been tweaked once again. The meter itself is slightly more curved, but the timing on getting a good shot down feels a little looser. You can't just jack up shots if you're being smothered, but if you manage to get into position for a high-quality shot, it's easier to hit it. Improvements to dribbling have been made as well, which is a major key to springing free when you have the ball. With defenders constantly on top of you, perfecting the pick and roll is almost a necessity. Between the improvements on both sides of the ball, the gameplay feels a lot more cohesive than it has in the past. By forcing you to rely more on spacing and teamwork, the action seems closer to its real-life counterpart.
Building off one of the additions from last year, MyCareer and The City continue to be bundled into one unified experience. As has been the case in the past, the mode is designed to take you from burgeoning player to a global superstar. Depending on how you want to build your career, you could either try to make it into the big leagues by enrolling in a prestigious college, or by working your way up through the NBA G-League. Either option is fine, but like in real-life, both paths follow their own trajectory.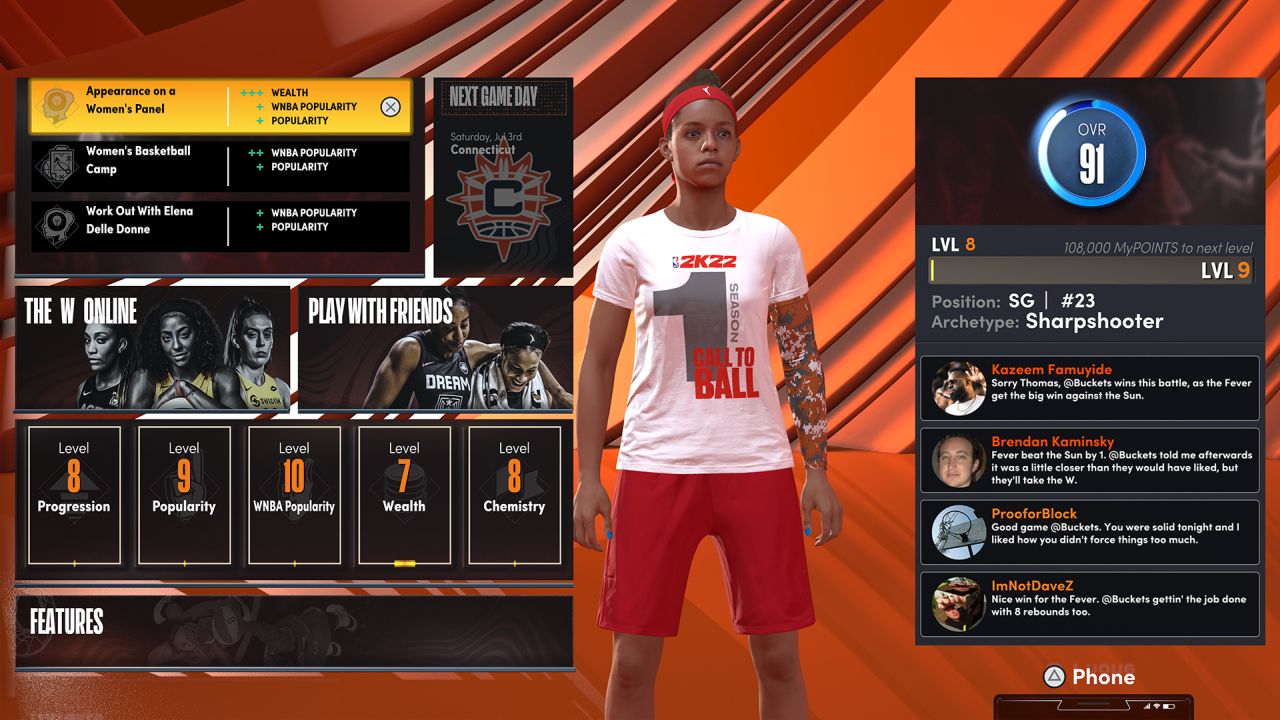 When you first jump into the mode, you are given the option to create a player that suits your style. This is done by allocating points among a wide variety of skills. Want to be a dead-eye sniper from deep? Invest in your 3-Point shooting ability. Obviously, you won't start off with high skills in these areas, but by putting the points into them early, you give yourself a higher ceiling. Where you distribute these points also plays a role in which badges are available to you. Badges are additional skills that often build off areas you want to be proficient in. There is a plethora of these and it's fun to mess around with different loadouts to find what works best for your specific game.
After doing that, you are free to explore The City. Throughout this open area are not only assorted shops and courts to find, but also an extensive number of side-quests. You can work on building that always great athlete/musician career, or pop in and see what's going with Jake from State Farm. If you don't feel like spending real-world currency on VC, taking on the many options The City offers is the best way to grind for it. While I do appreciate the amount of activities you can find, I'm not a huge fan of this part of the mode. My big issue is that exploring The City itself is a hassle. Having to run or awkwardly skateboard from one location to another is severely boring. It grinds the game to a halt, and sometimes, all I want to do is just make progress in the mode as quickly as possible.
MyCareer is also where I have come across most of the glitches I experienced in NBA 2K22. Right off the bat, you'll notice that navigating through The City is a slow, laggy affair. Regardless of where you are, there always appears to be frame rate drop happening. Even playing on the Xbox Series X this is a constant issue. There are also times where the game won't recognize button prompts. I had to frequently try to engage certain NPCs before they finally interacted with me. Most pressingly, though, are the hard crashes I have come across. At least two of the optional quests I have tried to do have straight-up crashed my system. One of them being the Draft Combine, which is pretty important when it comes to raising your draft stock. These are issues that should have been hammered out prior to launch and need to be fixed ASAP.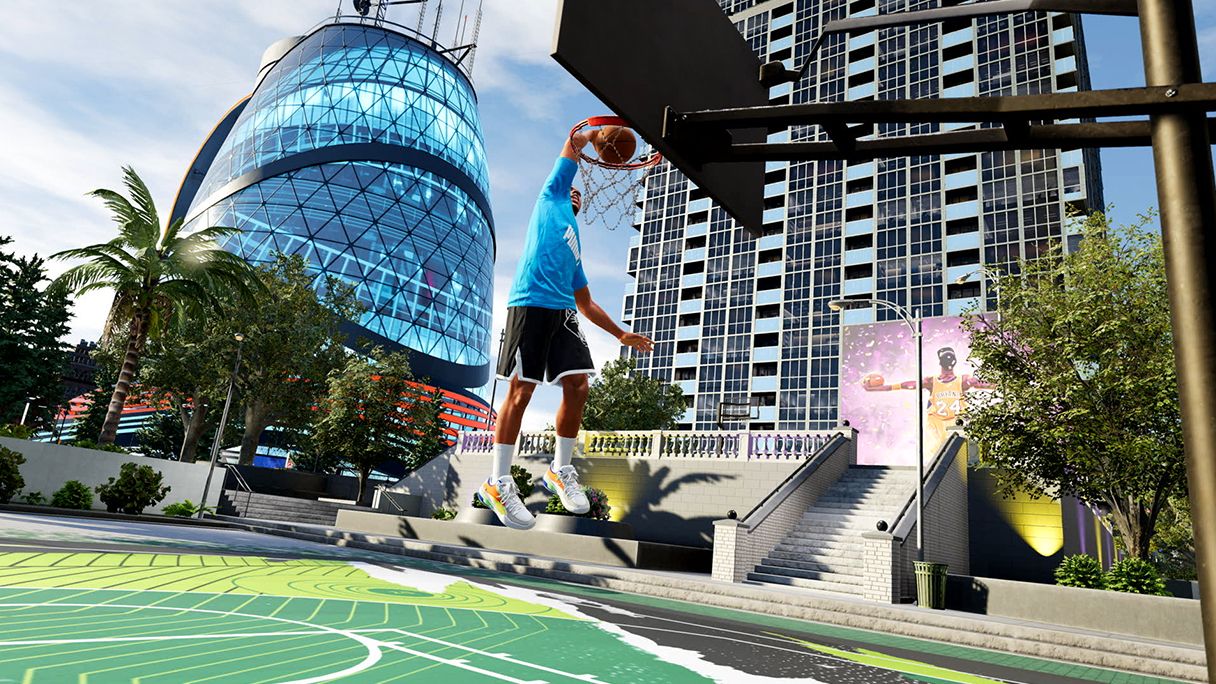 Thankfully, there are still plenty of gameplay options outside of MyCareer. The ever-popular MyTeam is still around for the card-collectors out there. Before you get into playing games, you can now boost your cards in two different ways. The first is to send it off to be graded, and the other is by crafting shoes using specific cards. Graded cards lead to additional MTP being awarded per game, while shoes can be outfitted with specific ability perks. Both are helpful when it comes to making progress in this dense mode.
Besides the usual suite of challenges found in MyTeam, Visual Concepts has also added in some new options. The one I have gotten the most enjoyment out of so far is MyTeam: Draft. It's a competitive multiplayer mode where you make-up a team using randomized packs of cards. You don't get to permanently keep these cards, mind you, but you will gain some cards for taking part in it and winning matches. I just enjoy being able to piece together a team that may otherwise be difficult to do in regular MyTeam games. The other major change comes in the Triple Threat Online, which has modified to be The 100. Players begin with 100 points at the start of each run, but the number of points scored against you will be deducted from that total. Once you hit zero, it's game over. I didn't really last long here, but at least I was able to score some decent prizes each time through.
If you don't feel like going online, NBA 2K22 offers the usual assortment of single-player options as well. MyNBA has been tweaked with even more personnel choices this season. The biggest addition is the MyStaff feature. You will now need to fill positions in four different departments in your franchise. These include such off the radar positions as Foreign Scouts and Sleep Doctors. Honestly, it's a lot to keep track of, and not really my idea of a good time, but I'm happy those who really love building a team get to have this. Besides that, I'm also a fan of the continued prominence of the WNBA in the franchise. There are still improvements to be made with their inclusion, but it's a continued step in the right direction.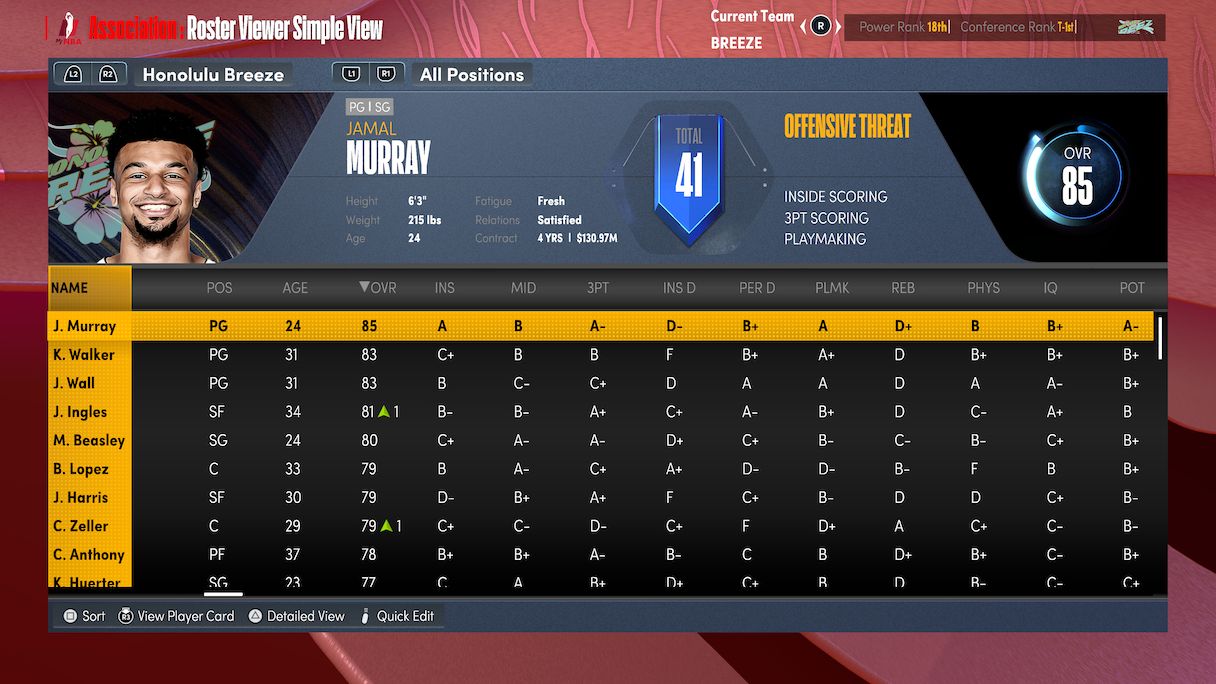 With this being the series' second outing on current-gen consoles, NBA 2K22 continues to set a high bar for visuals. The play models look fantastic, and real care when into making sure they look as close as possible to their real-life counterparts. Animations have also been significantly improved, with collisions between players no longer seeming as clumsy as they have in the past. On the other hand, and this could just stem from my dislike of it in general, but The City is dull looking. It has the look of an early last-gen open world game, which is not ideal in year two of the new consoles.
NBA 2K22 is a game that I really love to play, but don't necessarily love as a whole package. The on-court gameplay is the best it has been in years. Improvements on both offense and defense have transformed the game into a better representation of the sport. And I love the sheer number of modes offered up for you to partake in. However, the lack of fine tuning in MyCareer and The City is a significant issue. It's more annoying than enjoyable to explore, and the system crashing bugs are a nightmare. I'm positive Visual Concepts will work on ironing these issues out in the weeks to come, but these problems are tough to dismiss in the moment.
Our ratings for
NBA 2K22
on Xbox Series X out of 100 (
Ratings FAQ
)
Comments