Hitman 3 Review
A riveting conclusion to a trilogy that had a slow start
In 2016, when I reviewed the first Hitman game of the new modern trilogy, I wasn't sure I understood what IO Interactive were going for. Hitman felt like an iconic franchise coming back in an irrelevant way. I had hoped to see some improvement in the sequel, but a change in publisher and tight turn-around led to an even less interesting sequel. Hitman and Hitman 2 struggled with tone and pacing, making the second one really uneven. With Hitman 3, I have to say - I think this might be the best of the bunch. It still has its share of issues. The story is still lackluster, despite there being more of it, and there are presentation issues - but this game feels more confident and creative than any of the previous entries.
Hitman 3 can't quite sort out all of the tone/pacing issues that have plagued the series since the reboot started, but it gets about as close as it can. The static scenes from the second game have been replaced by fully animated cutscenes, there actually is a story this time and it's…. okay. The settings are bigger, cheesier, and more beautiful than anything the series has done before; Hitman 3 isn't a perfect game, but it certainly is the elevation to the series I was hoping for back in 2016.
The story in the Hitman trilogy doesn't really get going until about two-thirds through the second game, but that ending did enough to help the third chapter continue the momentum. You're working with Diana Burnwood and Lucas Grey as Agent 47 to kill off the founders of the intelligence agency Providence, jet-setting around the world to cool locations and finding creative ways to go in for the coup de grâce. Between the ending of Hitman 2 and the expansions, Burnwood, Grey, and 47 have developed some chemistry - and having someone back you up is a fun dynamic for Hitman. Then, of course, things go sideways and we find 47 with his back against the wall.
There's not a good story in Hitman 3 - it's all kind of boilerplate spy stuff and you'll predict the twists before you see them. But the narrative is used to great effect in giving the player scenarios never seen before in the Hitman trilogy. Numerous levels start with Agent 47 unprepared for a fight, or give you objectives that are slightly misleading. In one location you have to solve a murder to commit a murder. This is the kind of facelift Hitman has needed all along. Instead of six missions that churn out targets, weapons, and settings - this game toys with the idea of mission structure, and that in turn helps the pacing of the game. When every mission doesn't feel so similar, the flow is more interesting - it also makes the short 7-10 hours of playtime feel more satisfying.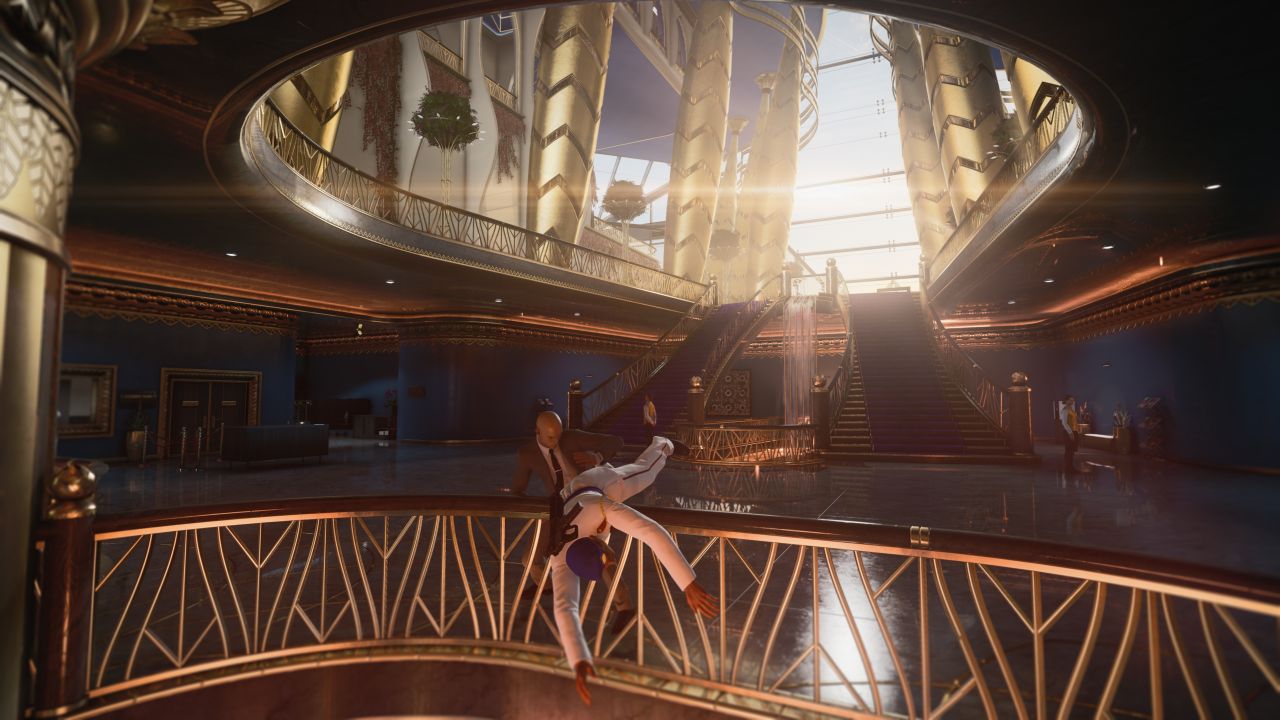 I also found myself enjoying the gameplay more than I have before. Maybe it's because I've changed the way I think about these games or maybe it's the way the mechanics are presented. Hitman 3 is far less of a stealth game and more of a puzzle game. There are still a few spots where you'll need to be sneaky and maneuver your way past guards, but Hitman 3 leans into the idea of giving you free reign of the setting, poking around to see what you can interact with and how you can manipulate the world to your advantage. It's also not quite as punishing if you go loud in some areas. While I found any sort of violence to quickly cascade out of control in the previous games, in Hitman 3 I thought the game did a better job of allowing things to quiet down. You can have a gunfight or fistfight (sometimes it's even encouraged) but the game is happy to settle down and let you go back to prowling for targets (assuming you can find the right disguise).
There's a middle location that's one part Berlin underground night club, and one part military compound, that simultaneously feels like the most underpowered 47 has even been and the most badass he's ever been. Sliding through the black of night and neon club lights, while ruthlessly killing mercenaries who would do worse to me is the kind of thrill I've wanted so badly from these games for years - and it's nice to see them finally delivered.
Opportunities make their return in Hitman 3, however they've been made more interesting and there seemed to be fewer of them. In Hitman 2, I found the opportunities to be a little on the nose, and simply completing two or three tasks would land you in the perfect killing position. Hitman 3's opportunities are more fun and more complex. One opportunity is a giant, sprawling murder mystery where you'll have to find clues, question suspects, and make an accusation with 47 taking the role of Hercule Poirot in an Agatha Christie novel. The opportunities don't get in the way of a good kill either. In one mission, I simply overheard a conversation, made some deductions, and created my own opportunity. So while the game has fun, scripted sequences, there's also space for you to still follow your own path.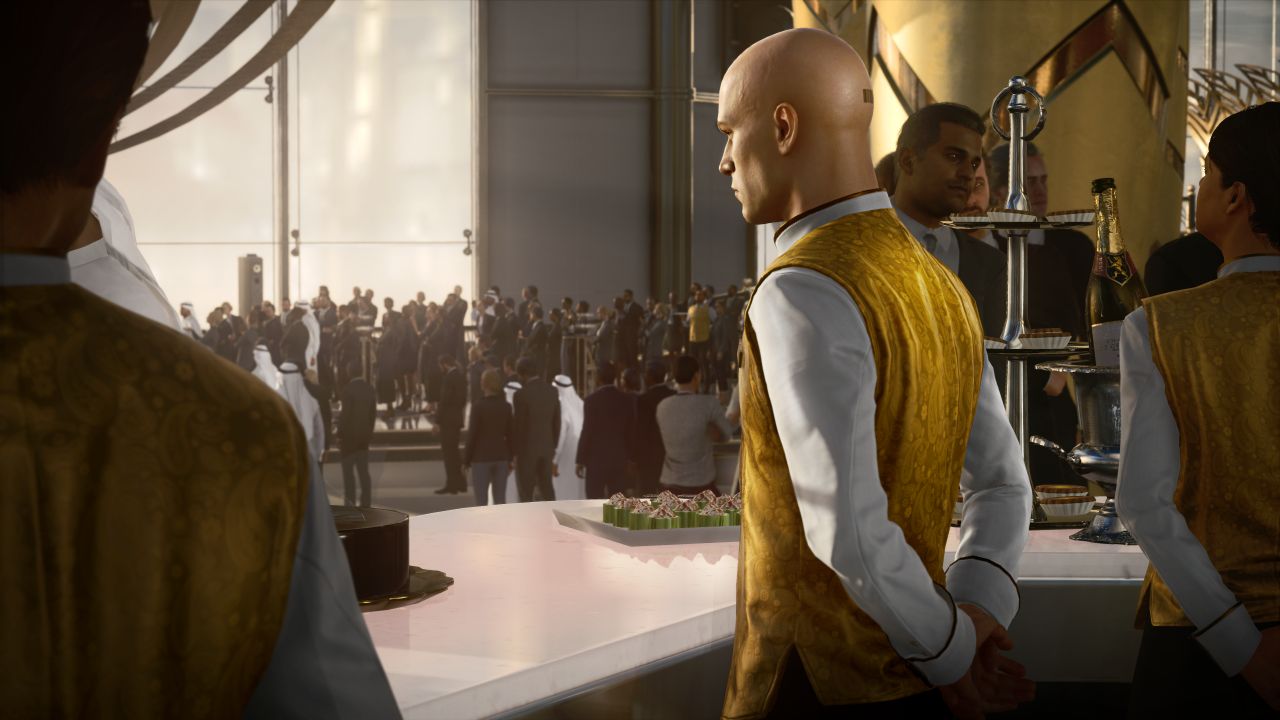 In addition to the main campaign, there are four other modes. Sniper Assassin returns (a mode that is basically what the title says) and I still don't enjoy it much. Escalations also return from the previous game. They're kind of fun if you're really looking to up the difficulty. Contracts allow you to build your own Hitman challenges and share them with a community. IO have also promised that the Elusive Targets will return at a later date. The series has ditched all multiplayer modes - which is a plus in my book as I never really cared for them.
The game looks great most of the time. The world design and environment art in Hitman has always been good, but IO has really gone all out this time around. The settings of a Dubai skyscraper and old English mansion kick off a tone that remains consistent throughout. The last mission is perhaps the most underwhelming in terms of setting, but one of the most interesting in design. It's hard to pick a favorite because each location has its own special twist - and those visuals are helping a ton. But, there are still some robotic animations and lackluster voice acting. As mentioned, fully animated cutscenes have replaced the static ones from Hitman 2. They don't look great by 2021 standards, but they're a vast improvement.
Technically, the game is pretty sound. I had some day one server issues, but in the following week, things seemed much more stable. Even when I did lose connection, I could re-connect mid-mission. There were some headaches trying to get my progress from Hitman 2 to carry-over. You have to sign up for an IO account and use the browser on your console to do it, but it does work. It also means you have to be playing Hitman 3 on the same console you used for the other games. The stuff on the fringes is annoying, but the game ran steadily on my PlayStation 5. The game also comes with a VR mode, but that wasn't tested in the scope of this review.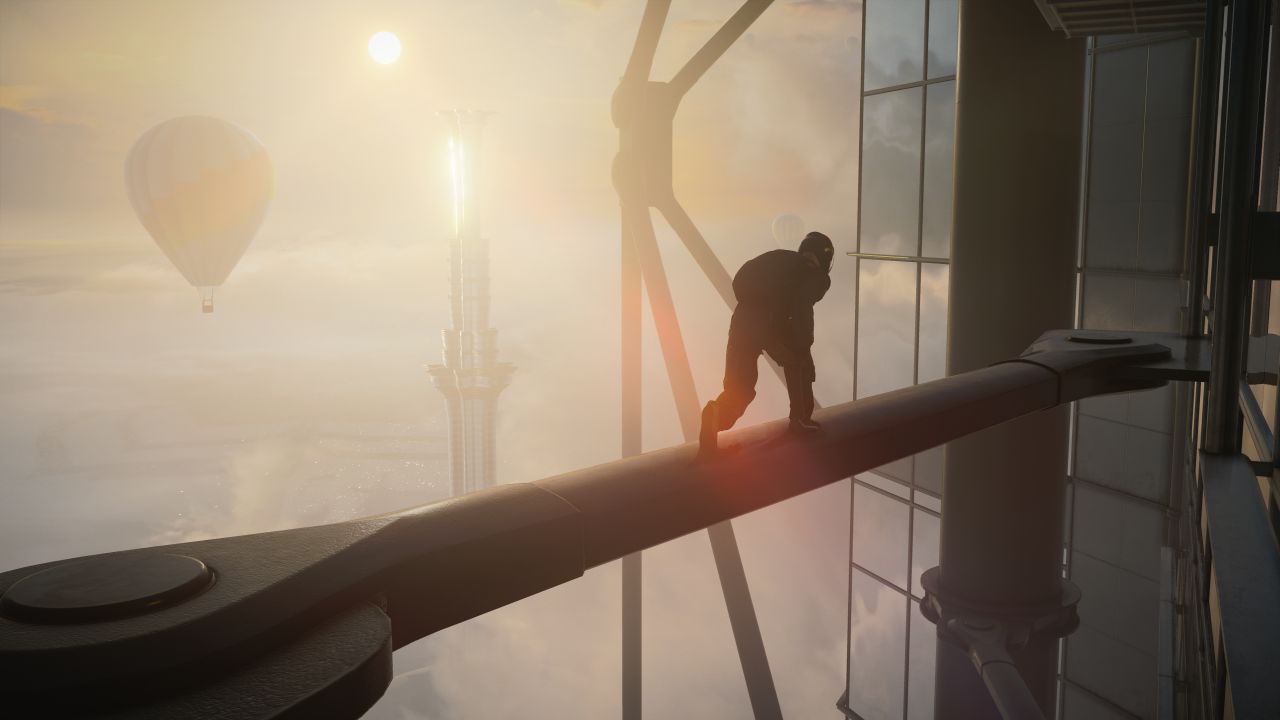 Hitman 3 is an example that shows how just a few smart tweaks to design, mechanics, and tone can really improve a game. Sure, the six-mission structure still hinders the game's ability to cut loose and tell a truly compelling story. I also think that some production values can be underwhelming. But Hitman 3 is willing to take some chances with its structure, and is a much better game for it. It's too bad the series concludes here (for now), as the developers now shift their focus to a louder assassin in their new James Bond 007 project.
Our ratings for
Hitman 3
on PlayStation 5 out of 100 (
Ratings FAQ
)
Comments