Astro's Playroom Review
Generating some positive buzz
Whenever you finally get your hands on a new piece of tech, the first thing you want to do is try all the new features or innovations that it offers. In the case of game consoles, that means getting some of the newest games or even demos to see what the hardware is capable of. Over the past few years, Sony has cleverly found a way to offer custom and engaging games that showcase the PlayStation brand thanks to the ASOBI Team. This division of Japan Studio worked on The Playroom and its VR version that let fans experience the PS4 camera accessory and PS VR, respectively. They followed up with Astro Bot Rescue Mission, another great showcase for PS VR. With the PS5 launch, the team has once again created an enjoyable and charming adventure, and one that is smartly packed in for free with every new console. Astro's Playroom is not just a great showcase for the PS5's controller, but it's a fun game in its own right.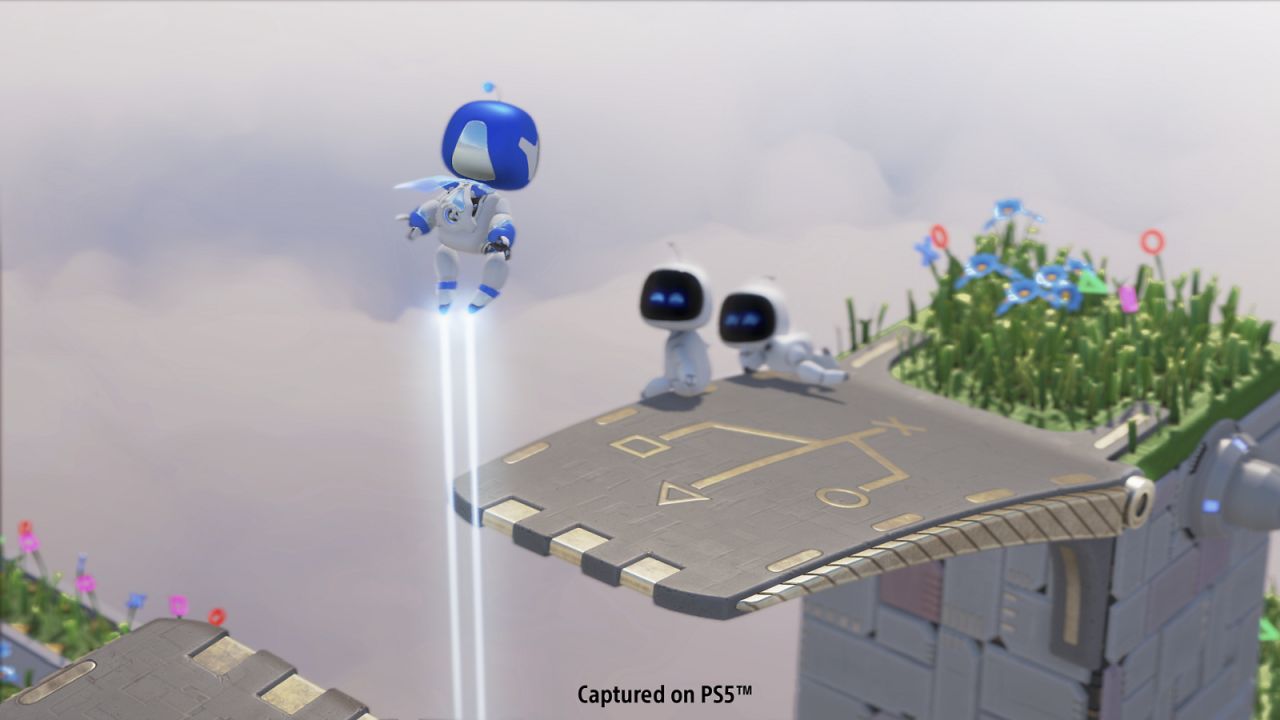 Astro's Playroom is a straightforward 3D action platformer that takes players inside the PS5 itself. In this made up world within the console, you'll be able to visit four different environments that focus on a different theme and gameplay mechanic. In Memory Meadow, you'll run around some grassy hills and also go up into the clouds, and face the rain. In SSD Speedway, you'll catapult your bot across large gaps, and glide through tech highways. The GPU Jungle levels will take you through some green areas, and Cooling Springs will have both water and ice to contend with. Each area contains four levels and the entire experience wraps up in about two hours, making it a perfect bite sized adventure.
Beyond just wanting to re-experience the levels again, players can keep coming back in search of secrets such as puzzle pieces and artifacts. The levels are quite linear and on the small side, but they still manage to cleverly hide a lot of items. You will also be collecting coins, which can be redeemed at the slot machine to get even more collectibles. Everything you find is stored in a large room called PlayStation Labo, where you realize that each of the four biomes are themed after the previous PlayStation consoles – so the artifacts you find are various models of those consoles and their peripherals. The puzzle pieces, meanwhile, reveal some custom art mashups on the walls of the Labo room. After you've beaten all the levels and done some collecting, you can also try your hand at one of the speedrun challenges to see where you stack up on the leaderboards.
Although the game is meant to showcase the various functions of the new DualSense controller, what makes it great is the fact that it's also fun to play. This is an enjoyable 3D platformer as you run around, jump, and hover above danger and across gaps and platforms. You can punch or wind-up punch, as well as grab on to pull specific objects. Each biome has a different style of platforming to overcome, and there are some enemies to face off against as well. Both you and enemies die in one hit, so this is by no means a game focused on combat, but it's enjoyable to punch things as you go. Some enemies get a little more advanced, needing you to jump out of the way after they land an attack. There are even a couple of brief but entertaining boss fights. Astro's Playroom is an entertaining adventure that is certainly made well enough to charge money for, so the fact that it's free is quite great.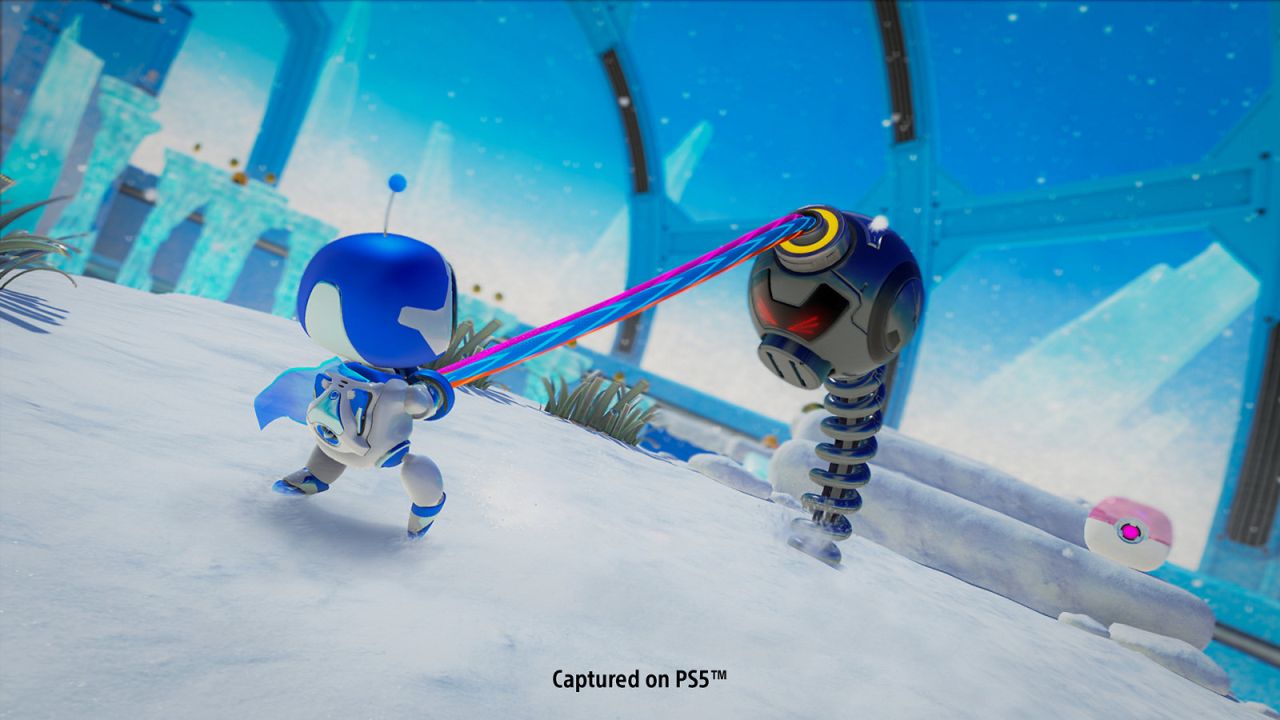 It's also an incredibly charming game. This world inside of the PS5 is inhabited by many other bots who are cheerfully watching you in action, and are also filling it with Easter eggs. You'll find other bots recreating various scenes of other franchises, from Crash Bandicoot to Ratchet & Clank, Final Fantasy, and tons of others. It's just plain cute to see the bots recreate these scenes and / or recognizable characters. Their gleeful animations and self-awareness makes for a joyous collection of cameos of so many gaming series. The art style certainly helps the game along, but so does the amusing soundtrack, featuring a techno beat and lyrics that match whatever area you're in – you'll hear songs about SSDs and GPUs.
Although it's a very enjoyable game on its own, Astro's Playroom is really Sony's way of showcasing the DualSense controller that comes with the PlayStation 5 console. And it does an excellent job at that, as well. The controller itself is comfortable to hold, but it's the functions that hope to impress. PS4 players will already be familiar with the motion sense and touch pad features – not much has changed in this regard. Some levels focus on these areas by making you climb a wall as a monkey by tilting the controller back and forth, or rolling a ball around using the touchpad. But the best stuff comes when the rumble and triggers get involved.
The new controller features haptic feedback tech, which means it's able to simulate specific, finely tuned and directional rumble effects. And it works quite marvelously. When you travel across different surfaces – such as skating on ice, swimming in a pool, walking on snow, or standing in the rain – the very fine rumbles within the controller create impressive sensations, like you can actually feel the surface in the game. If you've tried Nintendo Switch controllers before, this is similar, but it takes it to the next level of physical feedback. It's not perfect – in a sandstorm, you're just getting some rumble at the front of the controller, not at the level of detail for every sand grain. However, the returning built-in speaker makes up for that, with perfectly timed sound effects that help create the realistic sense of the sandstorm, even if you can't truly feel it. The haptic feedback is a great feature that helps get you more immersed in the game, and hopefully more games continue to use this to its full potential.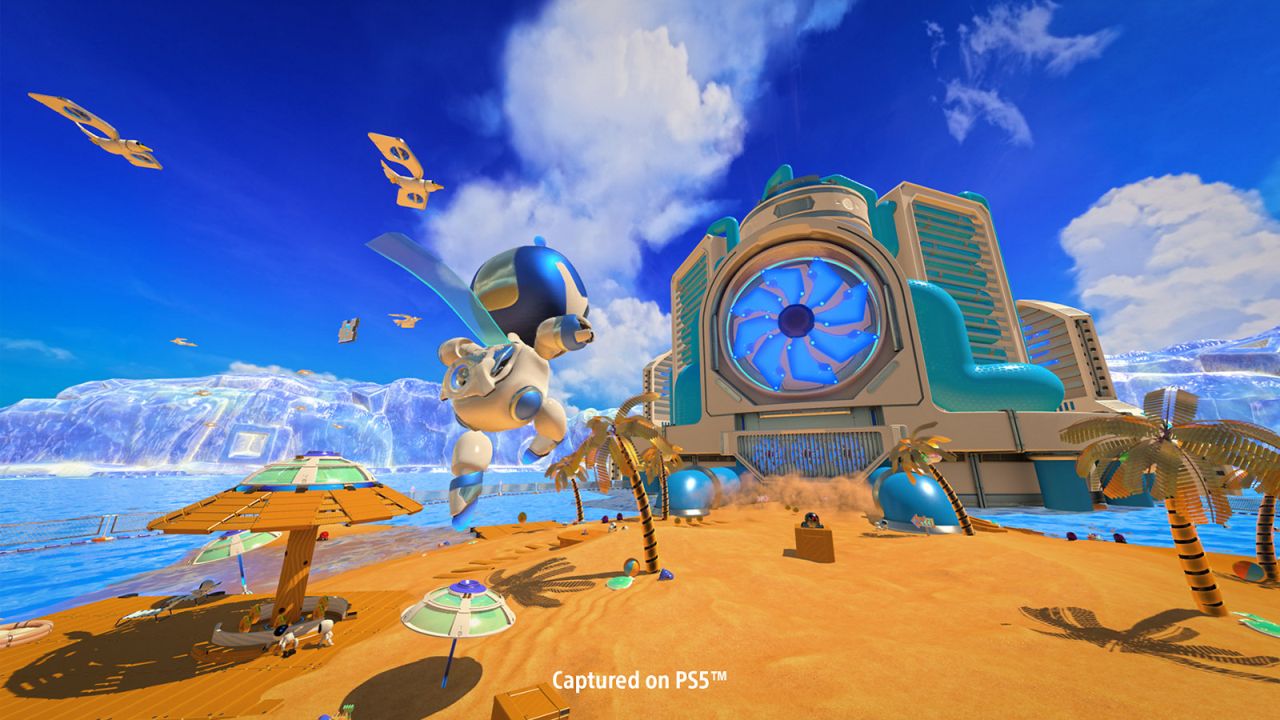 Another great thing in the new controller are the adaptive triggers. Previously only found on expensive controllers, players can now experience different types of resistances depending on the function. For example, one section has you piloting a small spaceship, and you control each thruster with the triggers. The triggers actively push against you and vibrate, again creating a cool sense of immersion. In another area, you control a spring-loaded frog, and the triggers go through a few different resistance changes as you press down and hold to jump. When pulling a string on a bow, or crushing something in your hand, the triggers create a variety of resistance types and effects, making for an impressive showcase for the technology.
The controller also has a built-in microphone now, which the game occasionally uses as a way to blow on a fan in the game by having you blow into the mic. It's a bit awkward, but hey, at least every single function of the controller gets used. To get the best experience, you'll want to keep your hands in a firm grip so you can feel each detailed rumble. Some fans may relax their fingers or hands when they aren't needed by the game, but in this case it's best to keep it tight just for the novelty and the full effect.
While this is a great showcase for the new controller, it's not exactly a title you'll want to show off the power of the PS5. The game looks charming, as mentioned, but it is fairly small in scope and while the textures and effects are nice, and it runs at 60fps, there's nothing here that's likely to push the console to its limits. The effects are basic and the textures are fairly average in quality.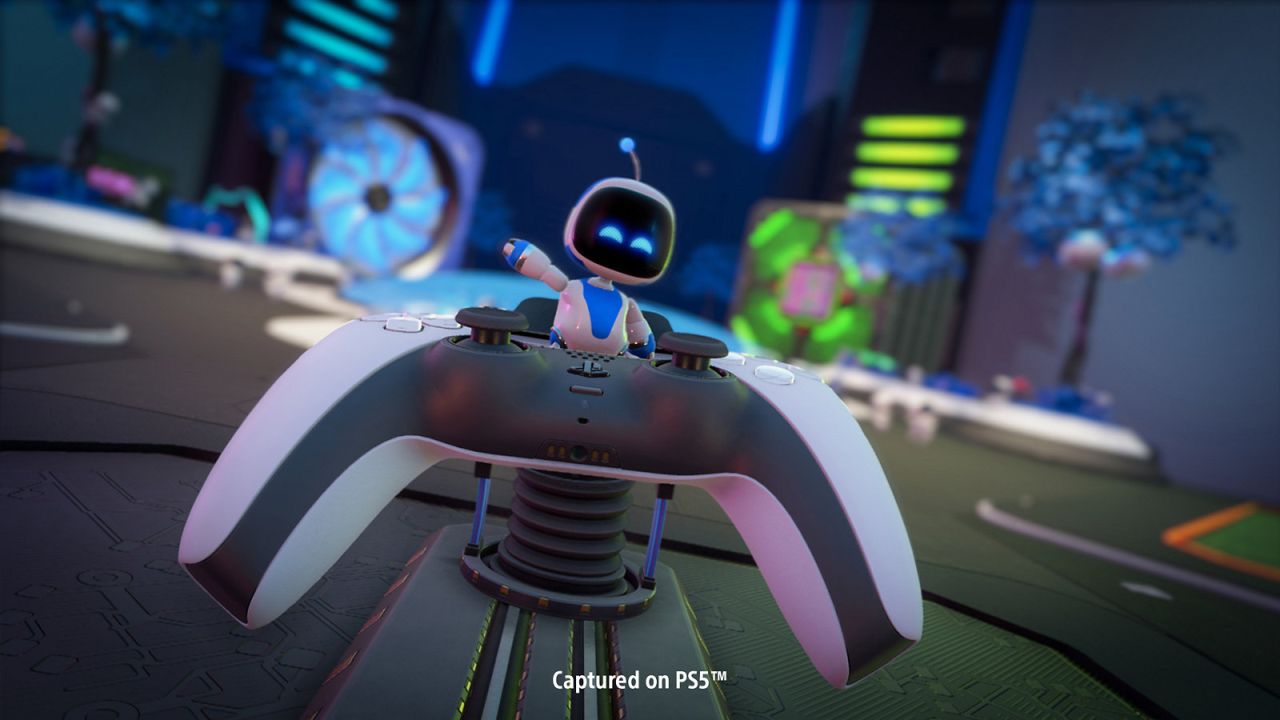 With most reviews, we try to answer a question of whether or not the game is good, if it provides good value, and if it's worth your time. Astro's Playroom hits all those checkboxes. The fact that it's free is just an added bonus to the already fun and charming 3D adventure that makes great use of the DualSense. It's not a technical demo for the sheer power of the PS5, but it's an incredibly cute and family friendly way to try out the new system and its cool new controller.
Our ratings for
Astro's Playroom
on PlayStation 5 out of 100 (
Ratings FAQ
)
Comments
blog comments powered by Disqus