Inbento Review
A bitesize puzzler
It's common for some mothers to spend up to 45 minutes crafting their child's bento box, according to Christopher Salyers, author of Face Food: The Visual Creativity of Japanese Bento Boxes. That's how long it will take you to solve some of Inbento's levels - a puzzle game where a mother cat builds perfectly packaged bento boxes for her kitty to take to school. Inbento turns a packed lunch into a challenging puzzler, but its calm and kawaii design stops it getting too frustrating.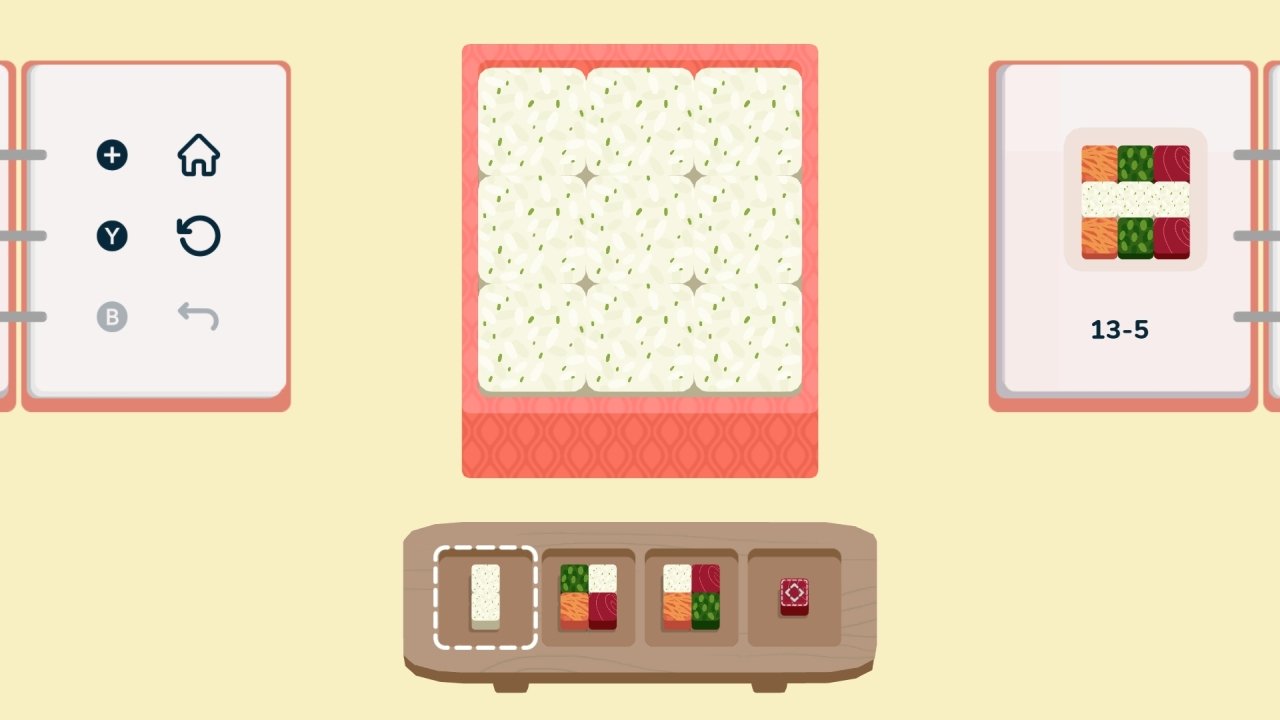 The word "bento" is derived from biàndāng, the Mandarin word for "convenient." The box design originates from 5th century East Asian farmers' traditional seed boxes, with compartments for dishes such as rice, fish, and vegetables. In the centuries since, bento has become a creative outlet - a popular method for building pop-culture-themed dishes. When it comes to making bento, Inbento certainly prioritizes creativity above convenience.
As I move and place blocky representations of eggs, steak, rice, seaweed and vegetables - a gentle piano melody rolling in the background - Inbento feels therapeutic. The early levels guide me through the core bento-box-crafting principles: I must match my bento box (conveniently presented as a grid) to the one in the recipe book. I have a set of moves to do so, from simply rotating and placing pieces to complex moves like position switches, shifts, and copy and paste. New moves are introduced gradually and, throughout its 127 levels, Inbento never drops you in the deep end - even if the game's later puzzles are mind-bendingly difficult.
The powers of deduction can help solve harder puzzles. If you have four steak pieces in your box but the recipe has three, you'll need to overlap one piece; if you have two eggs but the recipe has four, you'll need to duplicate. While Inbento's early levels can be solved through trial and error, it's the ones that feel like mini culinary sudoku challenges that create a real sense of achievement when you finally crack them.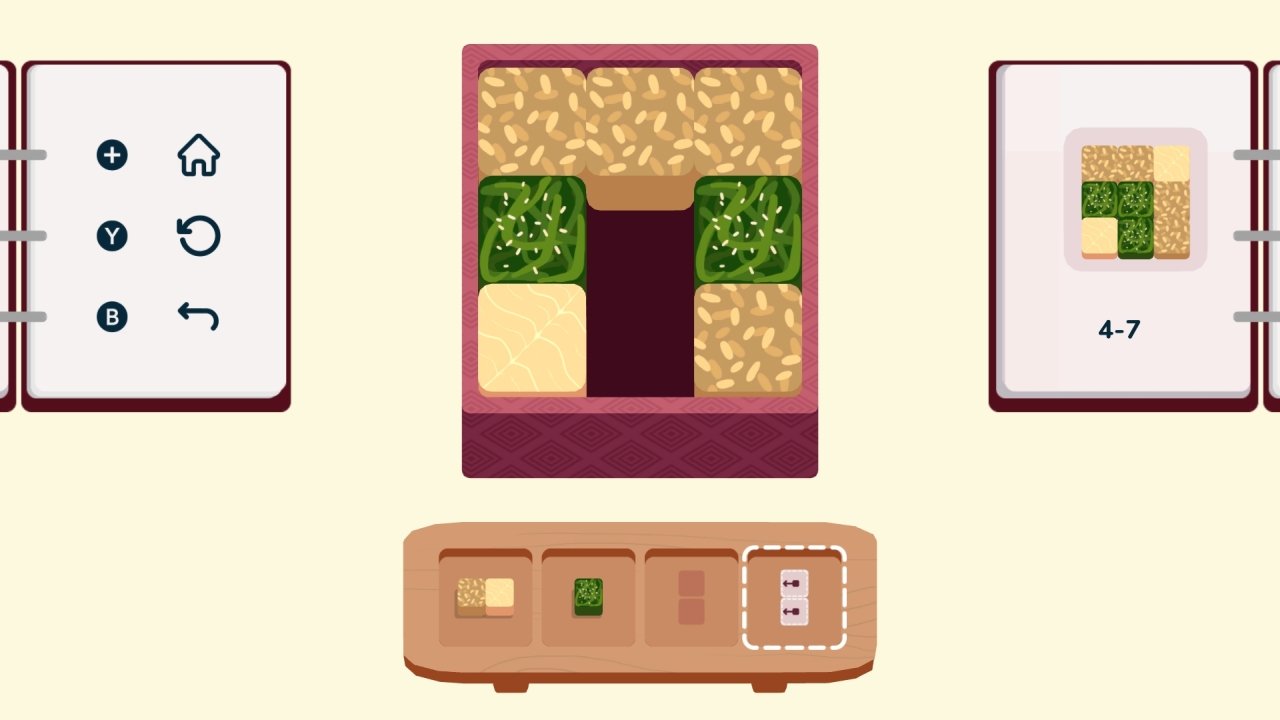 There isn't much time to celebrate, though. A great puzzle game should be quick to restart but Inbento omits a restart button altogether, replacing it with an 'undo' feature that instills a sense of progression even when you're constantly failing. You can undo individual moves in the order you made them, which maintains their rotation. This can be a huge help as many of Inbento's puzzles are based around layering - identifying which squares you need and placing them in such a way that they sit on top of others. The undo button helps you work through puzzles systematically to make sure the most important pieces end up at the top of your box.
Certain levels appear unsolvable, however. I've learned to accept this. For some, there is no possible combination of moves that result in all these pieces fitting into this tiny box. I know, I've checked. Fortunately, Inbento gives you a two level buffer beyond your current level so you can skip those impossible levels and come back to them later. Sometimes, all it takes is a 10-minute break and, when you return, those pieces fit just right.
This makes the Switch the perfect console for Inbento, giving you the freedom to dive into a handful of levels whenever you get a spare moment. It's also one of the few games that utilizes the Switch's touch screen. You can drag pieces into the desired spot, and click on them to rotate. It's a bit more laborious than using the buttons but it's a nice option to have.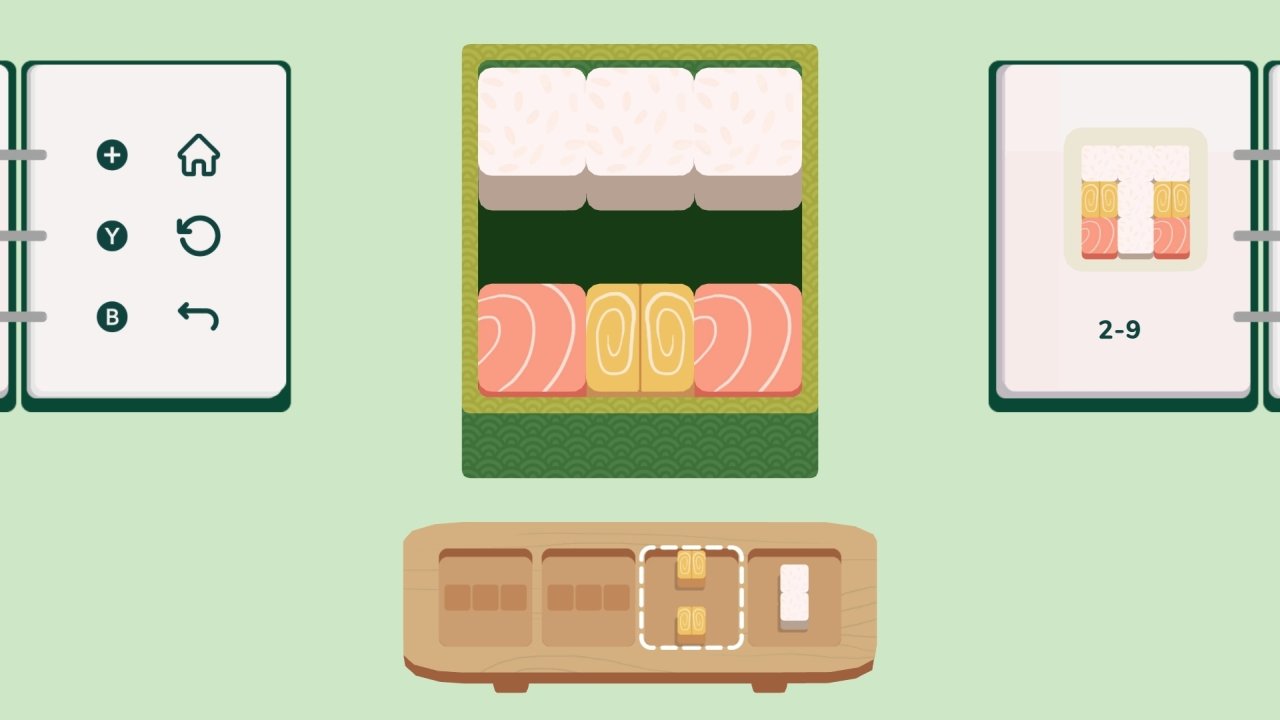 A game about a cat family's enjoyment of cutely packaged meals should probably be taken at face value, but there's a surprising sincerity to its mother-cat-son-cat relationship. Inbento is split into 14 stages, each with nine levels. The difficulty ramps up in the last five stages (spoiler ahead, if you really think that a game about cats and bento is spoiler-prone). This is where the kitty grows up, leaving home to take on the big wide world and finds work as a bento chef.
Helped on by the charm of Inbento's design, the story - which is nothing more than picture cards that pop up at the end of each stage - actually gave meaning to the difficulty spike. By stage nine, I'd seen how the kitty took its mom's cooking for granted. Now, as a chef, it realizes that bento isn't easy. It's damn hard, in fact. Especially if you're a cat. Even though I'm blessed with opposable thumbs, Inbento showed me that there's both a science and an art to bento boxes that's difficult to master. Which would be fine, if playing it didn't make me so hungry.
Our ratings for
Inbento
on Switch out of 100 (
Ratings FAQ
)
Comments