Wide Ocean Big Jacket Review
A captivating minimalist adventure
I have to say that Wide Ocean Big Jacket is a pretty bad title. There's not a lot of crossover between the ocean or jackets. It's one of those ambiguous names that doesn't have anything to do with the game itself. Many video games have bad titles - too many colons, too much branding, or they just end up being strangely ambiguous (like this one). Luckily for Turnfollow Studios, the title is the worst part of a charming, beautifully written game about love and how it changes through the years. The game is brief and while I've always appreciated games that value my time, you only just start growing to love the characters when the 60-90 minute playtime is over. At $7.99, I don't think it is overpriced and with such a brief playtime, one I'm bound to re-visit over and over, but I wish there was just a little bit more to sink my teeth into.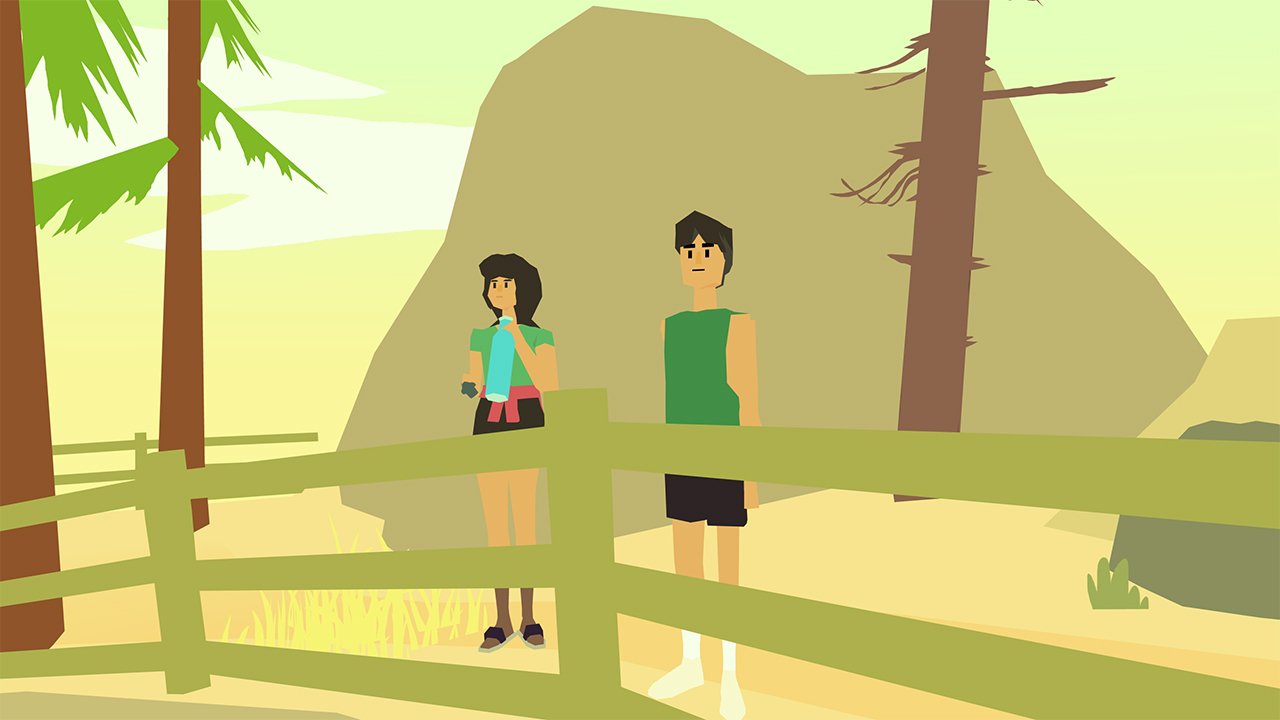 Wide Ocean Big Jacket follows the story of Mord, Ben, Cloanne, and Brad. Mord and Ben are the showier bit. The two tweens are best-friends-turned-new-couple that are using their first elongated date to get a sense of what life might be like if they got a little more serious. Brad is Mord's uncle, who has somehow got himself and his wife Cloanne roped into spending a day with the tweens camping at a park. The game is an observation of both relationships, one that is blossoming and another that is established, and how they compare/contrast. As I said, Mord and Ben are the standouts, especially Mord whose humor and bluster make her a hilarious foil for the adults who have to shepherd her. It's pretty clear that people can only guide Mord, no one can tell her what to do.
The game goes back and forth between the couples, occasionally bringing them all together for group scenes. I would get into more details, but I don't want to ruin the scenes for you - because they are good. Wide Ocean Big Jacket is the kind of game that finds profoundness in the mundane. This is just your average awkward outing as a child-less uncle and his kid-wary wife takes their niece and her maybe-boyfriend on an overnight camping trip. It's a footnote in the lives of these people; Mord and Ben will have more memorable nights together and Cloanne and Brad's most cherished day may already be past them. This is literally a slice of life for these characters. That might seem unimportant, but Turnfollow ironically explores these moments with gravity because the characters feel the same way. Each conversation, each action is important. Everything from uncomfortable talks about romance to burning the hot dogs intended for dinner. The game takes a while to settle into the characters, but by the end, I was emotionally attached to all of them. The simplicity of the situation helps make the connection easy.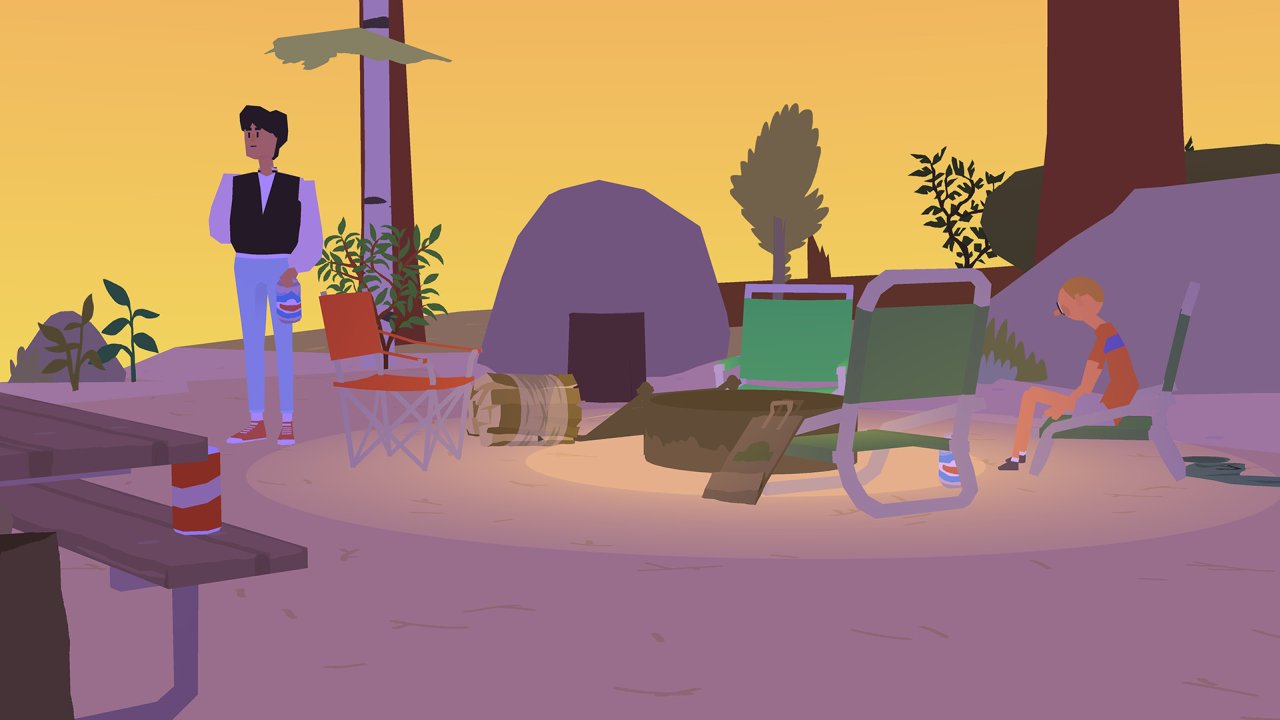 The game isn't super interactive. Broken up into a series of scenes, players either control the camera, spinning between characters and their dialogue options or control a character as they explore a small area, interacting with specific objects. It all amounts to finding the interactive object and clicking on it, so it does the thing. Again, not highly interactive, but that's also kind of the point. The focus is on the characters and the dialogue, simply finding your way between interactions. There are some clever moments; one scene features Mord trying to learn to do a cartwheel and every time you press the action button she fails and falls to the ground, but if you keep at it she eventually gets the hang of it - succeeding more than failing. Little moments like this pepper the game and break up the dialogue. It's not perfect - it could use more of these little interactive moments to really help you get into the experience, but what's there works well.
Without any voice acting and rather standard atmospheric sound design, the game relies on a quiet, ambient score to punch through and add to the experience. Like so much of Wide Ocean Big Jacket, it's understated and doesn't stand on its own, but it helps complete the whole. What is most jarring about the design are the 2D characters moving about in a 3D space. The aesthetic looks like it is made up of dozens of little pieces of paper, cut out and cobbled together. I don't know if it elevates the game, but it grows on you. I would say that it's more impressive how much Turnfollow is able to do with such a simple look. It's clear that the budget has been dictated by the look of the game, and I will say it's a blessed relief to see a developer using something other than pixel art, so points for creativity.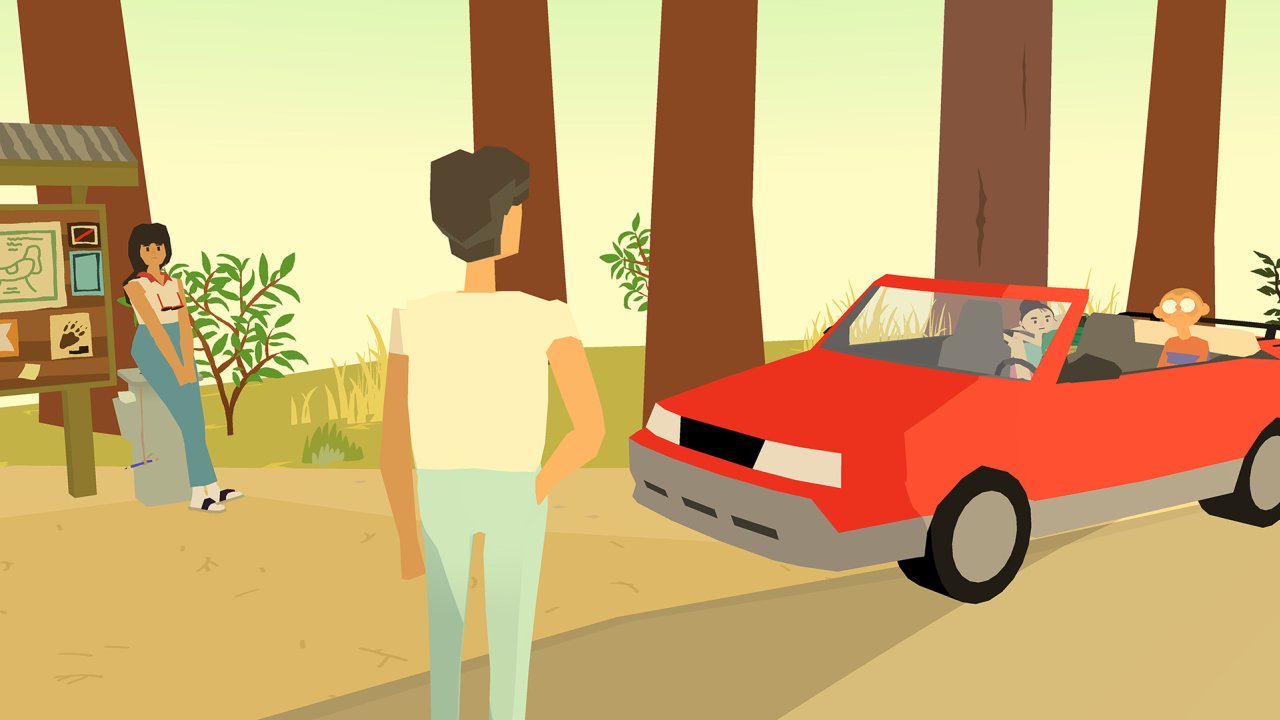 Again, Wide Ocean Big Jacket is a simple and small game, so it follows that it runs well with few issues. Nothing really to show off, but serviceable for what has been created. One highlight is that loading between scenes is so seamless that the game occasionally does jump cuts that are highly effective.
It's been about a week and I still can't stop thinking about Wide Ocean Big Jacket. It's not a game that will blow people away, but I think it's the kind of game that can get under your skin and work its way into your memories. There's something infectious about how simple it is and how reverently it treats a story that could be summed up in a Polaroid with a caption. And that's worth celebrating, it's worth appreciating. Life is made up of these small interactions and incidental memories - day-trips, weekend plans, awkward family gatherings. Wide Ocean Big Jackets takes one of these small moments and blows it up, embracing the mundanity. It survives not by plot points but by smart writing and excellent characters that make this average camping trip worth taking.
Our ratings for
Wide Ocean Big Jacket
on Switch out of 100 (
Ratings FAQ
)
Comments
blog comments powered by Disqus