FIFA 10 Review (PS3)
For those who love the smell of a fresh pitch in the morning
FIFA 10 is the 18th title in Electronic Arts' FIFA series of football video games. Developed by EA Canada, it was published by Electronic Arts worldwide under the EA Sports label. Being one of EA Sports' yearly franchises comes with a certain amount of pressure to not only resolve issues from last season, but also introduce new elements so that players do not feel as if they paid for a roster update and a gameplay patch. In that regard, EA Sports seems to have done a better job than with FIFA 09, but still many issues and annoyances were discovered by players just days after release. This was not a very pleasant year for EA Sports division, as mentioned in the NHL 10 review, another yearly sports franchise from the publisher. The new footy title produces enough new content this year to recommend it to those who own FIFA 09, but at the same time new issues have cropped up in this year's version.
At its core, FIFA 10 is still the brilliant football game that fans all over the world love. There are 31 leagues and over 500 teams in the game, as well as 41 national teams, including the newly licensed Netherlands national squad. As always, players are free to take any of these squads in the many games modes available. T he game also features 50 stadiums, including most of the larger stadiums from Europe's most prominent leagues, as well as a range of generic stadia and practice arenas. The single player is still centered on Manager Mode, which offers players the chance to select a squad and guide it to championship glory season after season. The player is able to manage various aspects of the club and all its players, though the options are fairly limited in terms of finances, staff and other non-essential club activities. New this year is the assistant manager, who can be turned on to automate the squad selection before each match. Pre-season friendlies have also made their return to the franchise, giving the player a chance to test out his squad and various tactical formations.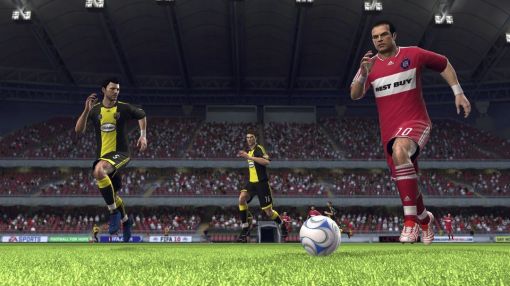 Various other improvements also have an impact on your career, such as a fixed simulation AI that ensures top strengths squads actually end up on top of the league with appropriate results, rather than the randomized scores from previous years. The financial goals are simplified down to two budgets – overall amount that is used to purchase players, and the wage amount that dictates how much more salary the club can afford to spend per week. The transfer system has also changed, now adding a more significant personality to players on the market, so that they may choose to go to a higher league club rather than the highest monetary offer. It also takes more time to sign a player if other clubs are also interested; bidding wars can even occur. When selling, the same player can receive multiple offers simultaneously from different clubs, which can all be viewed on the same convenient screen.
The players in your club are your lifeline, and the way they develop has changed with FIFA 10. The manual experience-based growth from previous years has been replaced by a slew of determining factors, ranging from in-game performance, to achievements based on player's position and expectations from the player. This new system was rather broken at launch, with top players sometimes losing form far too quickly, which resulted in them becoming almost amateurs in the game. This problem was addressed with the launch-day patch, so form and growth changes are much more reasonable and steady.
Comments
blog comments powered by Disqus