John Wick Hex Review
A bullet ballet
The old maxim about movie video games being cheap and rushsed doesn't feel like it's as true these days. Yes, we still occasionally see video game cash-ins, but they've mostly migrated to mobile platforms and instead, we're seeing smaller studios developing more modest games with interesting twists, like The Dark Crystal: Age of Resistance Tactics, The Mummy Demastered, or the most recent addition, John Wick Hex.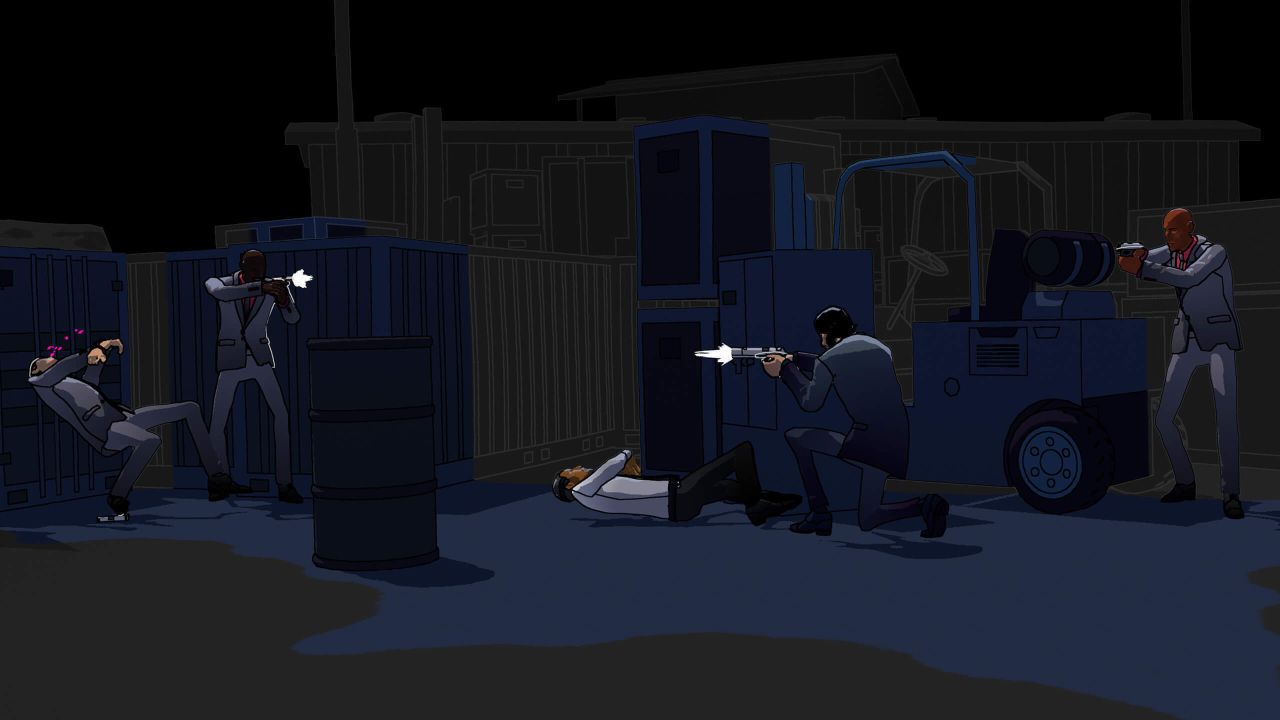 Developed by Bithell Games, makers of Thomas Was Alone, Volume, and Subsurface Circular, John Wick Hex doesn't try to re-tell the plot of the films, but rather replicate the feel of the action. Bithell clearly wants the player to feel like John Wick the same way that the Batman Arkham games channel the caped crusader. For my money, Bithell has always been more interested in experimentation than execution. The British game designer has a fascination with new ideas, which makes for interesting gameplay at first, but a few hours in and things grow sloppy. That feeling of experimentation over execution is the crux of the problem with John Wick Hex. It's interesting at the outset as you overlook the flaws, but as Bithell attempts to ratchet up the difficulty and the tension, it grows wearisome and frustrating.
John Wick Hex is a prequel, set before John met his wife, before she died, and before he went on a vengeful killing spree which sets off a chain of events detailed in the films. It's impressive to see series mainstays Ian McShane and Lance Riddick reprise their roles for the game and Troy Baker acquits himself admirably as the titular villain, Hex. The gang is all here and, for the most part, they're all game. The story, such as it is, is that of Hex having captured two of John Wick's "friends" (at least the closest thing to friends that Wick has), Winston and Charon. Wick then starts killing his way toward Hex. Much like the films, there isn't much narrative to comment on.
And that's alright. The John Wick films almost play out like a video game with bosses, mini-bosses, and foot-soldiers that Wick has to fight his way through - each fight building in tension as the film reaches its climax. It feels like a slam dunk to turn into a game, yet this isn't the rhythm that Bithell Games established. Instead of ratcheting up the tension with more ridiculous set-piece fights, the game is broken into locations. Each location has about seven levels that you'll have to shoot your way through. You get a certain amount of gold that is spent at the beginning of the level on bandages, extra clips for your gun, or improvements to John's suit, which provides gameplay benefits. The problem is that you end up with a much more calculated and less fluid exploration of action.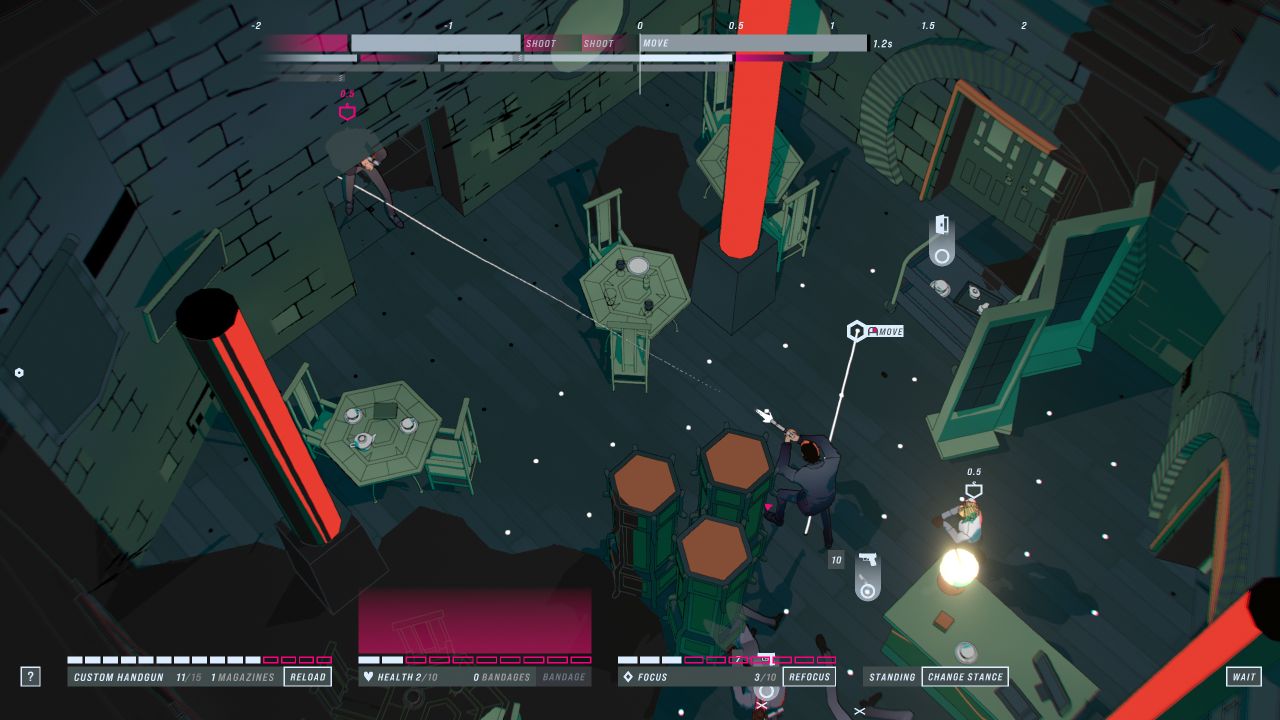 When playing a level, you maneuver Wick around a hexagon-based grid. Each movement you make is tracked on a timeline at the top of the screen. When you encounter an enemy, time stops. You then have to choose from a list of actions on how best to attack. Should you shoot them and use up your ammo? Do you rush them and try to take them out with your fists? The more enemies you get, the more complex the situation becomes. Certain moves will shift Wick, granting him cover or making him more difficult to hit. You can crouch, which gives you bonuses to your aim and enemies will struggle to hit you. However, some of these actions take away from a limited focus meter, such as rolling when you're in a crouched position or dodging a strike from an enemy. Once a level is completed, you can play the action back in real time, but it still looks stilted and wonky. Both the enemies and Wick himself couldn't look further from the slick, choreographed action of the films.
The gameplay is the most charming part of the game. Bithell has built mechanics around Keanu Reeves' unique acting and series staples. For instance, Wick can regain focus by shaking his head, an acting tick that Reeves employs. Also, when you strike an enemy, the animation is lifted from a move directly from the movies. These are fun little nods that fans are sure to appreciate.
The game's aesthetic is also lifted directly from the films. The neon purples that Bithell leans heavily on to create the ambiance is very on point. So is the pulsing music that is used in every level. Again, it's pretty clear that Bithell is a fan and he certainly is trying to come up with a creative way to bring the game to an interactive medium.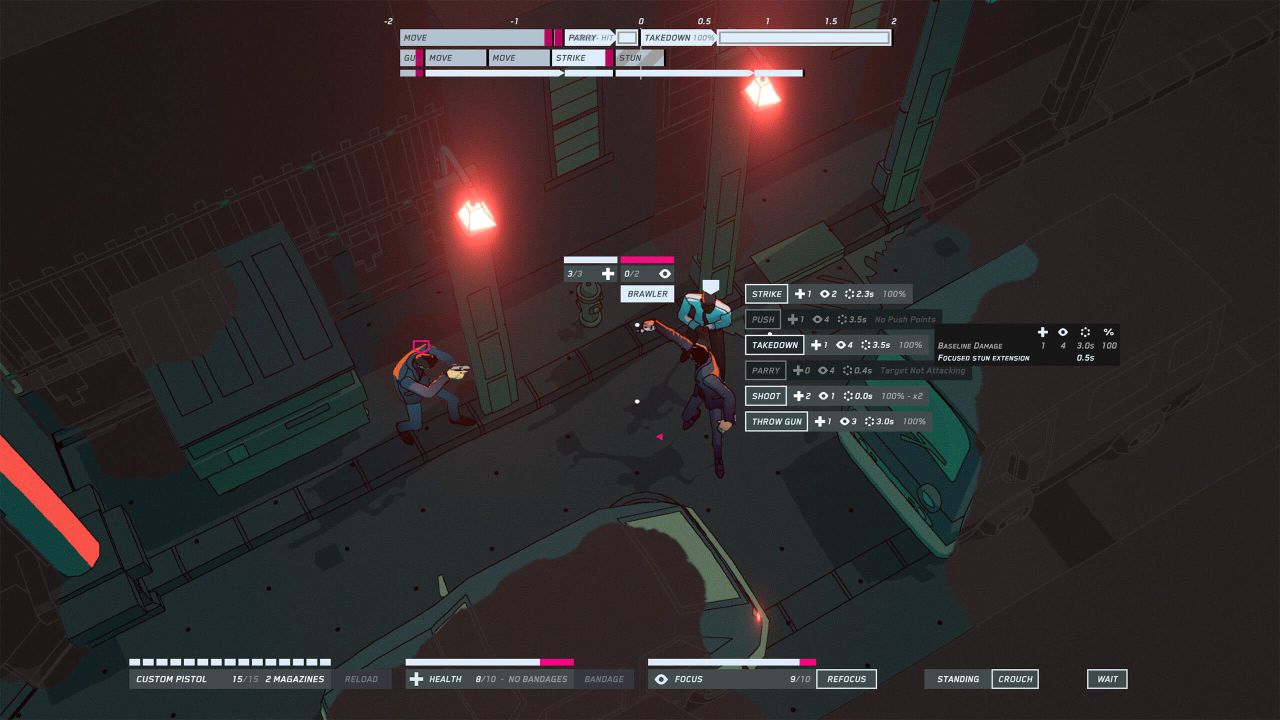 While so many of these details work as an ode to John Wick, they don't always make for a compelling game. The UI is insanely busy, with text, timelines, grids and enemy information. But worse, the locations really start to look the same after a while and the music starts to grow repetitive. This especially becomes an issue at about the halfway point. Here Bithell starts to pour enemies on the screen and the difficulty gets kicked up a notch. The game doesn't allow saves mid-level and as the latter stages ramp up, you find yourself playing the same 10-minute sequence over and over. And as you learn the spacing of enemies, you start repeating the same motions over and over again. It becomes painfully identical.
The game does save your progress mid-location, but it locks you out of the areas you've already beaten. This wouldn't be a problem except that if you miss one of your stored bandages or clips for your gun, you can't go back and get them. But the bigger issue is that you have to play the whole location continuously, your health and ammo carrying over from level to level. So I replayed the early stages over and over until I perfected them, so I wouldn't find myself without health at the end of the location. This need for perfection mixed with the trial and error nature of the levels really drags the energy down.
Technically, the game is a little rough. The loading screens are quick, but that's the highlight. I hit a few bugs toward the end of some levels, which led to me having once again start from scratch. The AI also behaves strangely. Enemies would walk up to fight me, then strangely walk away. You can sometimes kite enemies toward you, sometimes you can't. After firing a shot, they strangely get up and walk around, then return to the same spot and shoot again - weird stuff.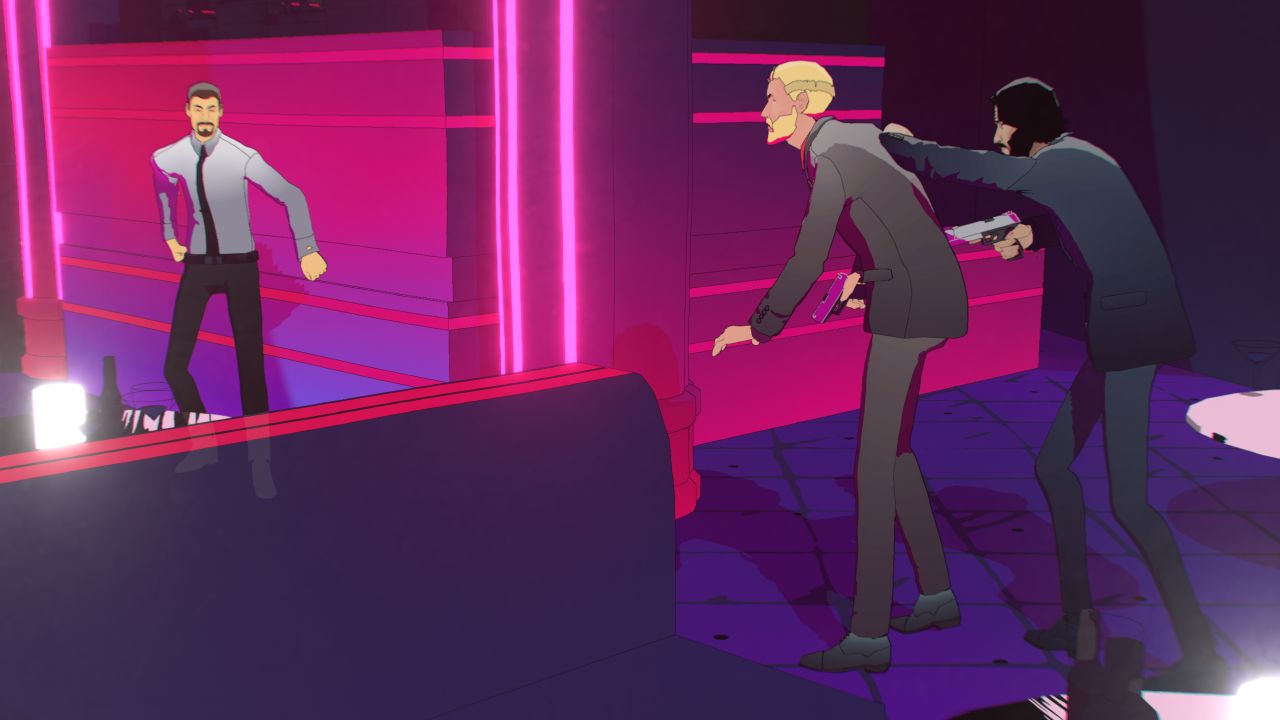 I keep coming back to what I said in the beginning. You can see Bithell's ideas come to life in John Wick Hex, but it lacks the energy and pace of the films. It's not clean enough, not sleek enough to stand on its own. I'm sure that players will enjoy the opening locations and seeing the fun mechanics at first, but when you stretch it out over 10-12 hours, a lot of the shortcomings start to become obvious. The elevator pitch is good and Bithell clearly loves the source material, attempting to build little odes to the fans. However, the execution is fatally flawed.
Our ratings for
John Wick Hex
on PC out of 100 (
Ratings FAQ
)
Comments
blog comments powered by Disqus