F1 2019 Review
Another great sim racer, though not much has changed
At this very moment, the 2019 FIA Formula One World Championship is underway, for its 70th year. As the highest class of competition for open-wheel racing cars, this prestigious tournament has long established its dedicated fan following. Taking expert drivers to racing tracks spanning across the globe, it's considered by many to be the absolute highest tier of vehicle racing. Although this racing discipline appears in many simulation video games, the F1 license specifically has been secured by Codemasters for a few years now. The developers always hope to merge their typically solid racing mechanics with the official branding of the yearly competitive event.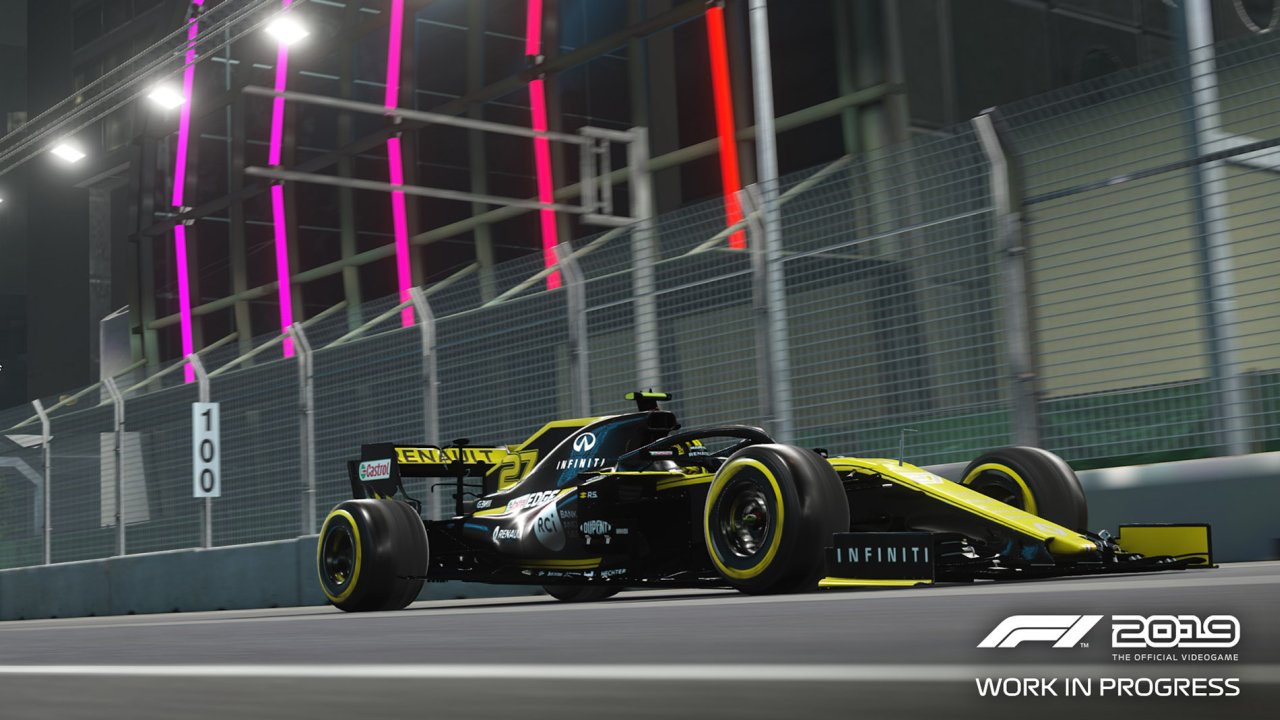 Unlike all other racing games out there, Codemasters' F1 series finds itself in an interesting yearly release cycle. On the one hand, it lets the game keep totally current with the real event (and it is an officially licensed product, too). On the other hand, it runs into a unique problem that only sports games and Call of Duty typically face – how do you continue to innovate and deliver new features each year? Well, unlike sports games, things change in F1 all the time. The cars, the Grand Prix locations, the drivers – it's all fairly dynamic, and this allows F1 2019 feel like a new iteration, even though not much has actually changed since last year's game.
In the solo career mode, players have a very basic story to follow. It's definitely not on the same quality level as you might see in NBA 2K or FIFA; players are treated to just a couple of cutscenes with fictional drivers, Lukas Weber and Devon Butler. Lukas is your teammate in F2 while Devon is a rival. All three of you then advance to F1 and continue your rivalry there. The writing and voice acting in these cutscenes is very B-movie level, and the entire thing is barely worth mentioning. The same can be said for the introduction of F2 – you only get to play three "key" races in F2 on your way to F1, or you can just skip that sequence of events entirely. Instead, you can head into a separate 2018 FIA Formula 2 Championship mode, and the 2019 F2 season is promised to arrive later as a free update.
Once you're in the big leagues of Formula 1, you have the full and real world-based racing season to follow. F1 2019 contains all the teams, drivers and all 21 circuits from the 2019 season, licensed and recreated. Ferrari, Red Bull, Renault, Haas and more will vie for the Constructor title, along newcomers like Alfa Romeo and Racing Point. On the track, you'll clash with the likes of Hamilton, Bottas, Vettel, and the rest of the real word competitors in hopes of securing the World Drivers Championship. Through the season you'll take to the track at Silverstone, Spa, Monza, Suzuka, Melbourne, and others. The tracks are well recreated and if you've had previous experience on them in other racing games, they will be very familiar. On the other hand, if you're an absolute beginner, the game lacks any sort of comprehensive tutorial or training to explain F1 itself, so you'll have to look it up elsewhere.
You progress through the year by interacting with a straightforward calendar menu, going from one weekend to the next. At the start, you can freely choose which team to sign a contract with, and throughout the year you'll have to re-negotiate the terms, or choose to move to another team entirely. One new feature for F1 2019 game is that the AI drivers can now also switch teams. Before signing, you get a complete overview of each team's expectations and their vehicle performance index, and as your successes pile up, you can negotiate better terms for yourself, like becoming the first driver, getting race bonuses, and so on. Brief media interviews return, where you can choose a few responses to basic questions that can affect your Sportsmanship/Showmanship rating, as well as your reputation.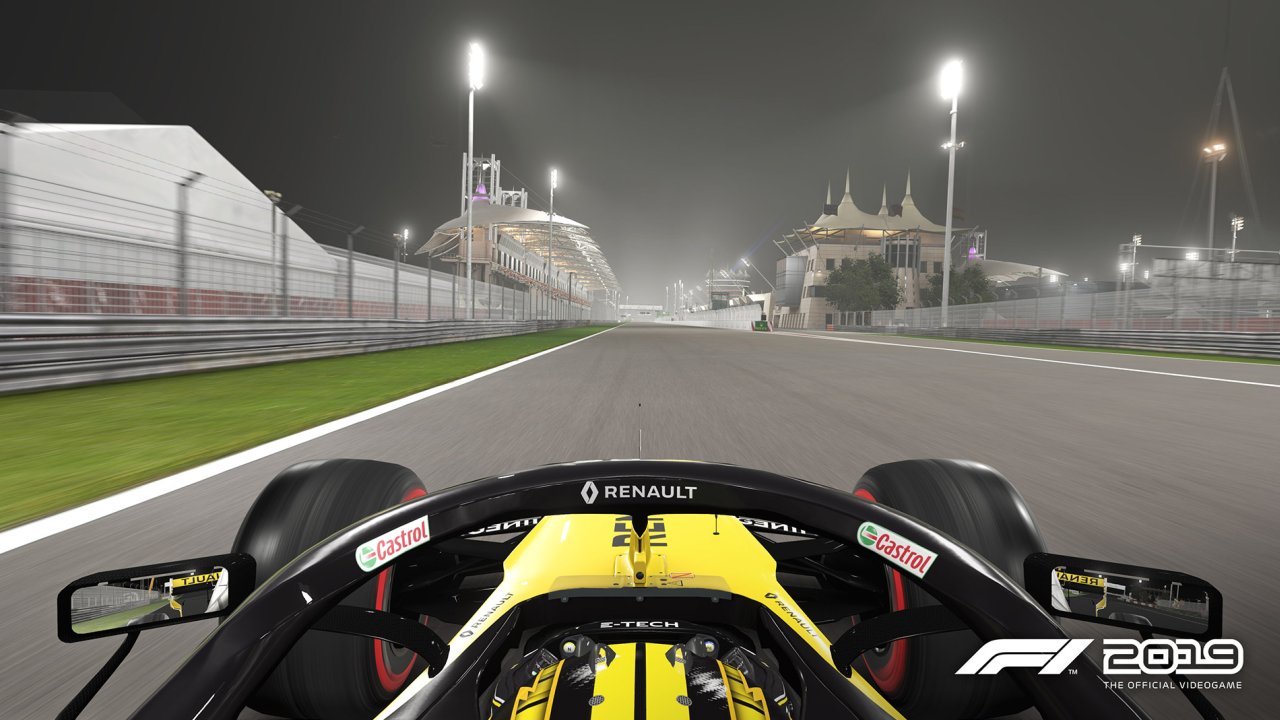 Just like in the real world, there are only a few teams that have a realistic shot of taking pole position. If you're not racing for Mercedes, Ferrari, or Red Bull, you're fighting for your grid position in every race. The game accepts this though, and so choosing to join a mid-pack or low-end team will have appropriate contract expectations. It's not just driver skill – the top teams have the best performing vehicles. It's an extremely interesting situation, to say the least, where player skill does not matter as much. Regardless of how well you drive, you're always going to be behind if your vehicle's performance doesn't quite stack up. The AI rarely make mistakes and so if you keep the difficulty settings normal or above, you're not claiming victory unless you're racing for a top team. With all other simulation racing games always putting competitors on an even playing field, the F1 design will feel very strange to some players – but again, that's apparently how it happens in the real world too.
Once you've settled on a team, you will jump right into the first Grand Prix weekend. For each weekend, just like in F1 2018, players can participate in practice sessions. In these timed events, you choose what you'd like to attempt – perfect every corner, learn to manage your fuel and tyres, test ERS deployment, and more. Achieving objectives in these practice sessions earns you Resource Points, but more importantly it gets you quite intimately familiar with the race track. Before you even reach qualifying, and then the race itself, you've likely already lapped more than 30 times. It can get a bit tedious – so the sessions can be simulated, though you're going to miss out on Resource Points. The races themselves are fairly straightforward affairs you'd find in any other sim racer – the AI stick to the line, and you have to do your best. Of course, collisions and corner cutting are highly discouraged, and you will get warned and then penalized if you abuse the rules.
While the structure of competitive racing is familiar, the mechanics themselves are fairly unique. F1 is considered by many as the pinnacle of motorsport, and there's a reason few other sim racing games include this particular discipline. The controls are highly demanding, as the cars stick close to the road and reach unimaginable speeds. You even need to use the Drag Reduction System (DRS) by manually activating it on specified sections of the track. If you're an expert, you can even make changes while you're racing via a small menu, like tuning fuel intake, differential, and ERS deploy. Things get even more tricky when it rains (can happen on all tracks), making the road very slippery and cars difficult to control. F1 2019, like its predecessors, offers a very well crafted and challenging simulation.
But like any good modern racing title, F1 2019 offers a wealth of customization to tune the experience to your liking. Before you even get to the track, you can make detailed tweaks to your car's fuel load, suspension, brakes, and so on – or choose one of a few handy presets that focus on either speed or control. You can adjust the driving assists, tweak the AI difficulty, adjust the length of the races, the harshness of the penalties and rules, and so on. If you mess up, the Flashback feature lets you rewind time before a crash, though again you can choose to play with simulated or no damage at all. It must be said that the game starts you off with a lot of assists and on a lower difficulty, which initially seems strange – but when you realize how demanding F1 racing is, you'll appreciate the soft introduction.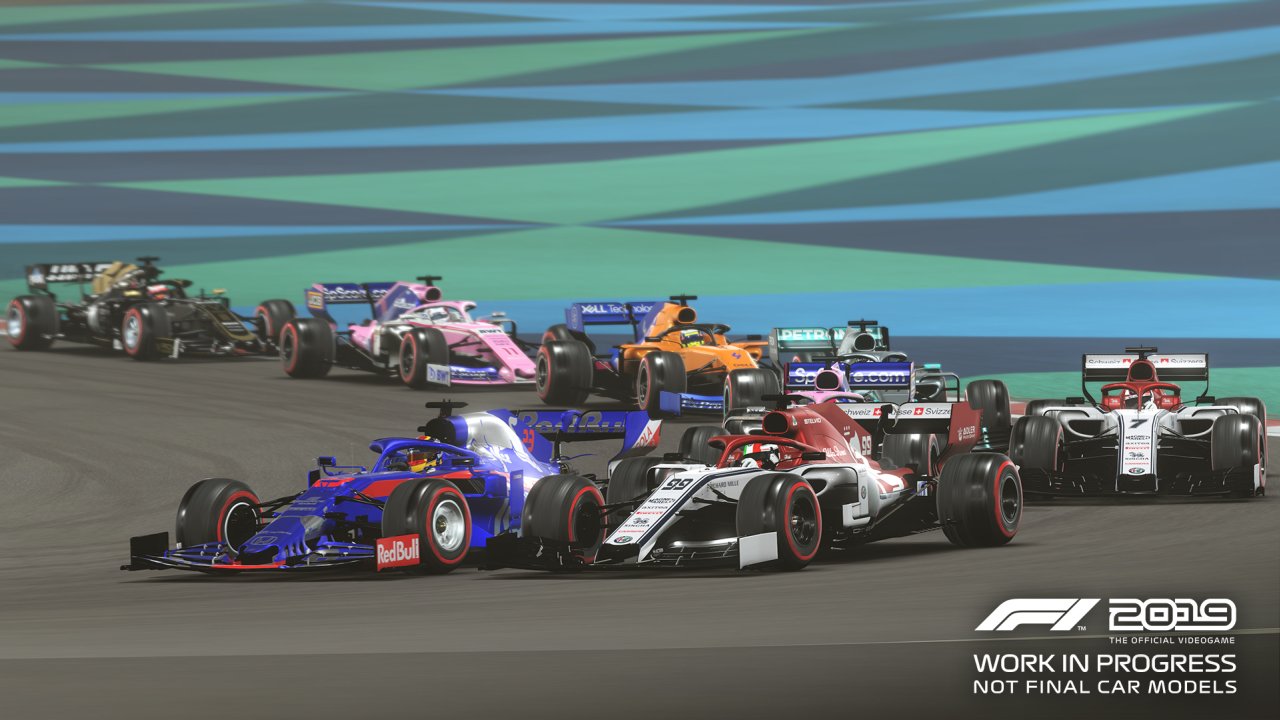 While F1 2019 offers plenty of depth on the track, it feels a bit barren elsewhere. Outside of racing, you will mostly be worried about your car's upkeep. Unlike other sim racing games, F1 is not about swapping out different rides, but instead having one car from your team, and working on it as the season progresses. To keep competitive, you'll need to be making continuous improvements via the R&D Tree. This upgrade tree is split into four areas – powertrain, aerodynamics, chassis, and durability. Each upgrade tree has a couple of different paths, but the individual components aren't all that important, as long as you're moving that Performance Index up. The game displays your car's performance compared to other teams right alongside the research tree, so you know where you stand in each of the four upgrade areas.
To research new components, you'll have to spend the previously mentioned Research Points, earned from races and practice events. That's all fairly straightforward – though annoyingly, your research can randomly fail, meaning it was a waste of points and time, and you'll have to do it again (albeit for a lower cost). Another unique mechanic that at least ties to the real world is the regulation changes. As FIA, the organization behind F1, makes changes to the car rules, your upgrades can become obsolete next season. So you must adapt them for future use at the expense of, you guessed it, more Research Points.
While keeping your car competitive with new parts is important, it's even more pressing to keep it running race to race. The race car's components will degrade over time with use, such as the gearbox, internal combustion engine, turbo charger, and so on. You need to keep an eye on this and swap out parts when they become too worn over the course of the season. Otherwise, you'll be losing functionality and efficiency. Here again unique F1 rules come into play, as you may be penalized for swapping components at the wrong time (like after qualifying but before the actual race).
Outside of the solo career mode, players can jump into individual Grand Prix events and tournaments, customized to your liking. You can also try your hand at time trials. Aside from the F1 2019 cars, the game also features a few classic vehicles to enjoy. They handle and sound very differently from their modern counterparts, and fans of the sport will surely appreciate their iconic designs. Once you're ready for some real opponents, you can head into the game's multiplayer modes.
Online, F1 2019 offers a fairly typical slew of activities. Ranked multiplayer offers matchmaking sessions for one-time races with the same cars for everyone, though you can apply a custom livery. Doing well increases your experience rank, as well as earns you a rating in the skill and safety. These ratings can change depending on how you drive; while F1 may seem like it would attract a serious gaming community, ranked races still experience plenty of first corner pileups, and the race director is poor at handing out appropriate punishments. Connectivity can be hit or miss, as F1 is likely more popular in Europe than in North America, and the online community seems to reflect that. If you want something more relaxed, Unranked races work in a lobby system instead of matchmaking. The game also offers special weekly events to compete in. For something long-term and scheduled, there are leagues you can join, which hold racing events for the members at specified times. Your online profile has an attendance rating, so league owners can restrict their groups to only players who actually show up consistently.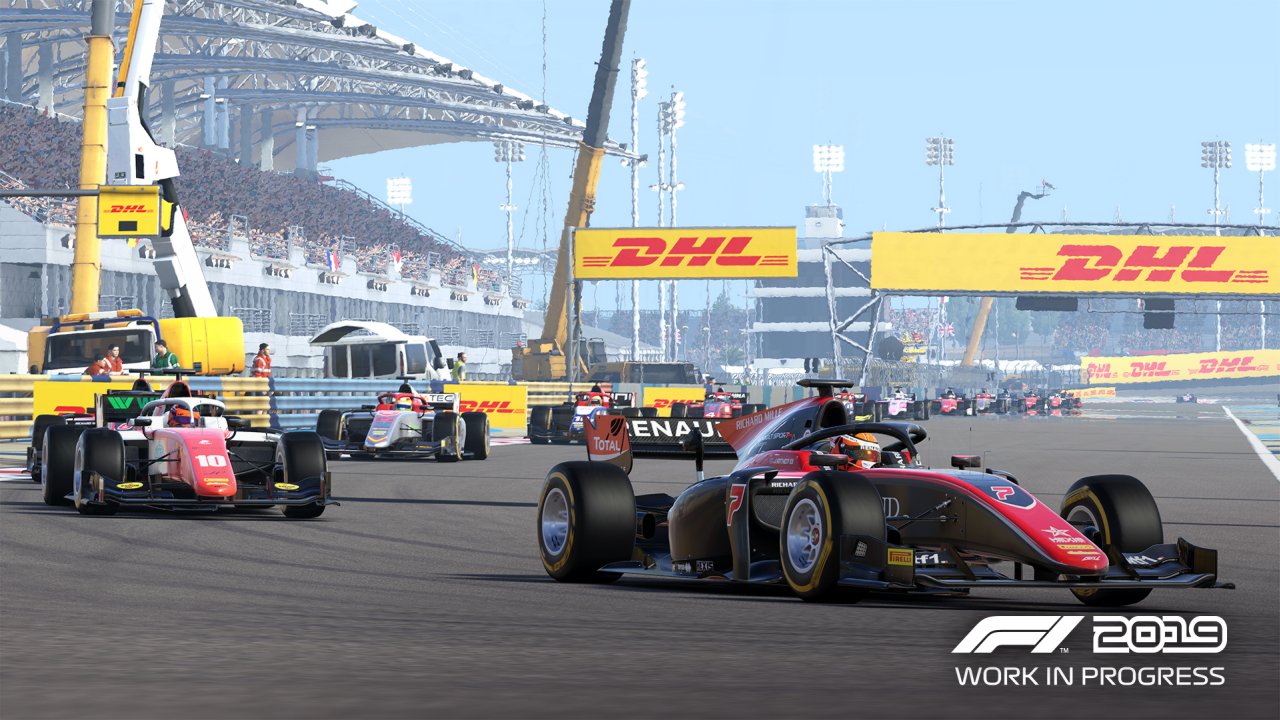 Presentation leaves something to be desired. The new storyline is cliché and cheaply made, and the commentary is extremely generic and repeats itself often, despite only happening before and after a race. What's even more repetitive are the TV clips showing the pre and post-race activities. There is literally just one celebration scene that plays at every single Grand Prix, with the same music and animations. Not to mention, it's pretty much exactly the same as previous year. On a base PS4, the technical visuals do okay – they won't challenge the likes of Forza or Gran Turismo. The textures are not always very sharp, and there is a ton of screen tearing, particularly in cutscenes. At least the game runs at a steady framerate during races. The sound design also delivers, with good effects, tyre squeals, and impacting crashes. Also your coordinator Jeff offers plenty of helpful information, and he can be heard through the DualShock 4's speaker; this may seem like a gimmick but it actually ends up being fairly immersive.
F1 2019 is a very engaging and challenging simulation game, at least on the track. Its touch of authenticity with the official drivers, tracks, and teams certainly helps the game stand out. And when you're racing, it's a tough but very rewarding experience that can be customized to your liking. Outside of that, though, there's nothing here that's particularly impressive. The upgrade and car maintenance system is straightforward, the lengthy practice sessions can get dull, and online multiplayer is stock standard. If this is your first foray into the series, it's as great of a place to start as any. But those who own F1 2018, the sports game advice applies – nothing in 2019 edition revolutionizes the experience, so if you're not a hardcore fan, you're probably fine with last year's version.
Our ratings for
F1 2019
on PlayStation 4 out of 100 (
Ratings FAQ
)
Comments
blog comments powered by Disqus