Madden NFL 20 Preview - E3 2019
The latest iteration of the yearly sports title seems promising
I'm far from the first person to lament the death of the NCAA Football franchise. I don't even particularly like college football. I don't have a team I root for at the college level, I wasn't a big fan of the bowl system that was in place when the franchise was in its prime, but what kept me coming back to the series time and again was the exciting gameplay it offered on offense, specifically the triple option.
For those of you who don't follow college football, the triple option is an offensive play where the quarterback always has three options (hence the name): they can hand off to the fullback on a dive play, they can pitch the ball to the running back, or they can keep the ball themselves. This is designed to help confuse defenses because they can't just focus on one running back, they have to be ready for all three plays. The gameplay was always smooth and reactive and it made you feel like you were always one step ahead of the defense. It was something truly unique to college football and implemented beautifully in the series. For a long time, Pro football didn't have an equivalent to this. Pro football is much more scripted, intentional - Bill Walsh and his West Coast offense took pass-happy playbooks and made them a complete slave to the coach.
But that's been changing in recent years. Quarterbacks like Cam Newton, Jared Goff, and the cover athlete of Madden NFL 20, Patrick Mahomes, have changed the game. These quarterbacks consistently run what is called the run-pass option, plays where the quarterback has the option to hand the ball off to the running back or pull it back and throw a pass. During EA Play 2019, it was announced this would be part of the playbook in Madden 20.
I was rather skeptical when I heard that the run-pass option would be added to Madden. Madden's AI has always been hit-and-miss when it comes to plays like this. Setting up a screen can be disastrous, jet sweeps almost always go wrong - the AI just doesn't always understand the concept behind certain plays. But color me impressed with how easy it was to execute a run-pass option in Madden NFL 20 demo that we played.
The run-pass option isn't the only new feature in this year's game. The title also features special abilities for the best NFL players. First, there are Zone Abilities, which are specials that kick in when players are "in the zone" which is accomplished by completing in-game objectives. Also, players will have Superstar Abilities that are always available.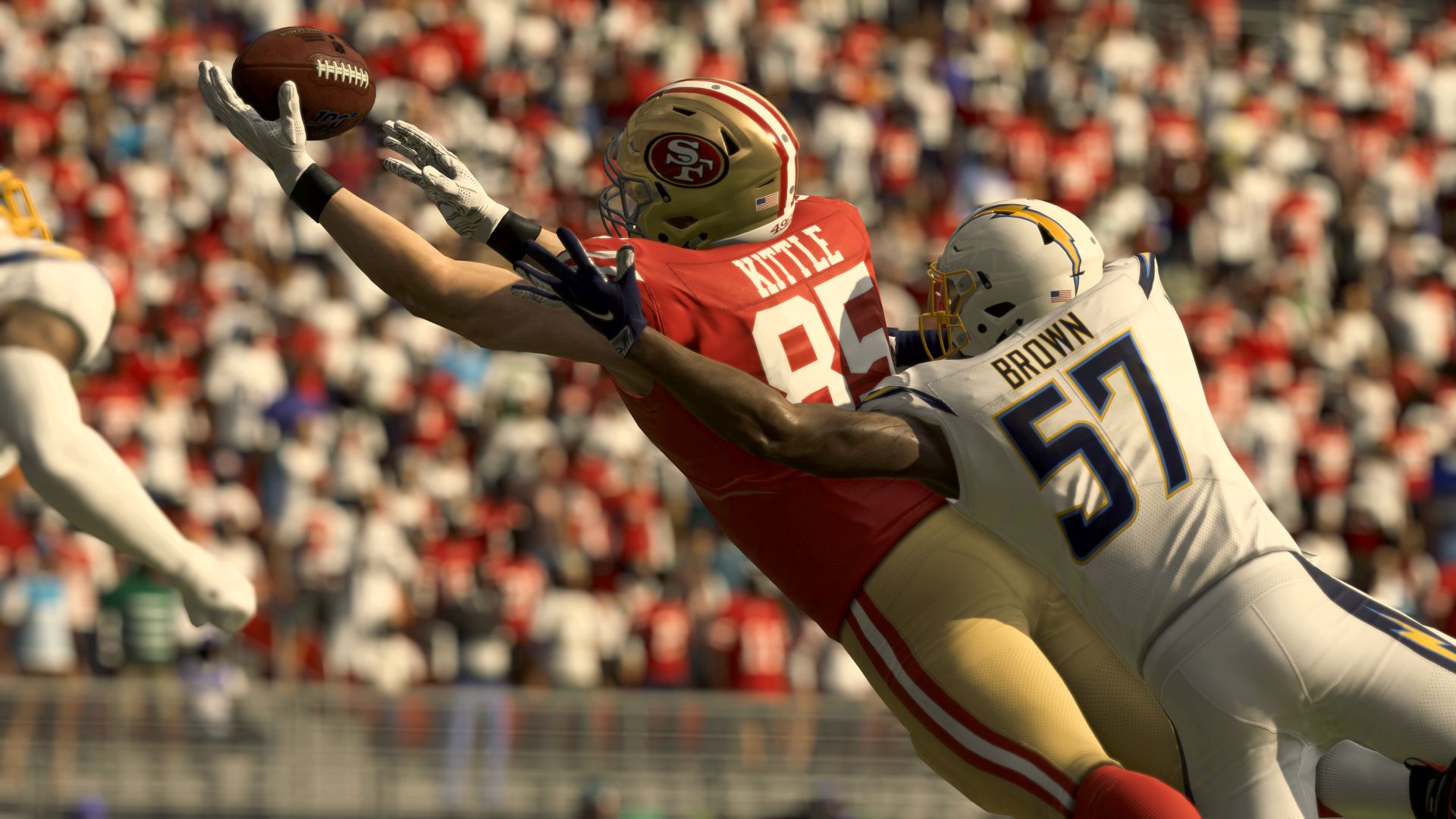 It's hard to tell how much these abilities affected the game from the short amount of time we played. I saw Mahomes get in the zone while playing and after he was sacked by Cameron Jordan, the Saints Defensive End was also in the zone - but I couldn't say that any catch was made or tackle was broken due to these abilities.
I played two quick games of Madden 20 with my colleague; for the first bout, I played as my Minnesota Vikings against Washing Reskins. I was pretty confident going into the game, as my opponent is a Madden novice and I've been playing the series for years. However, any smugness I had disappeared pretty quick. Helmed by ex-Viking quarterback Case Keenum and led by ex-Vikings running back Adrian Peterson, the game did not go my way. Peterson shed tackles all day as he rumbled to two touchdowns. Meanwhile, Kirk Cousins was a disaster for my Vikings throwing three interceptions.
A nice feature I noticed this year is that when something unexpected happens, like an errant throw or broken tackle, the game will flash the quality on the screen that led to the previous play. For instance, a couple of times I would find an open player, but Cousins' throw would be far off target, and I would see the word "Inaccurate" flash on-screen. Needless to say, the developers at Tiburon don't think too highly of Cousins' accuracy.
To defend my honor here, I also have to say that my opponent was playing on Rookie, while I was on Pro. The second game we both played on Pro and it was a much different outcome. It's also in this match that I played with the Kansas City Chiefs and got a good look at the run-pass option feature.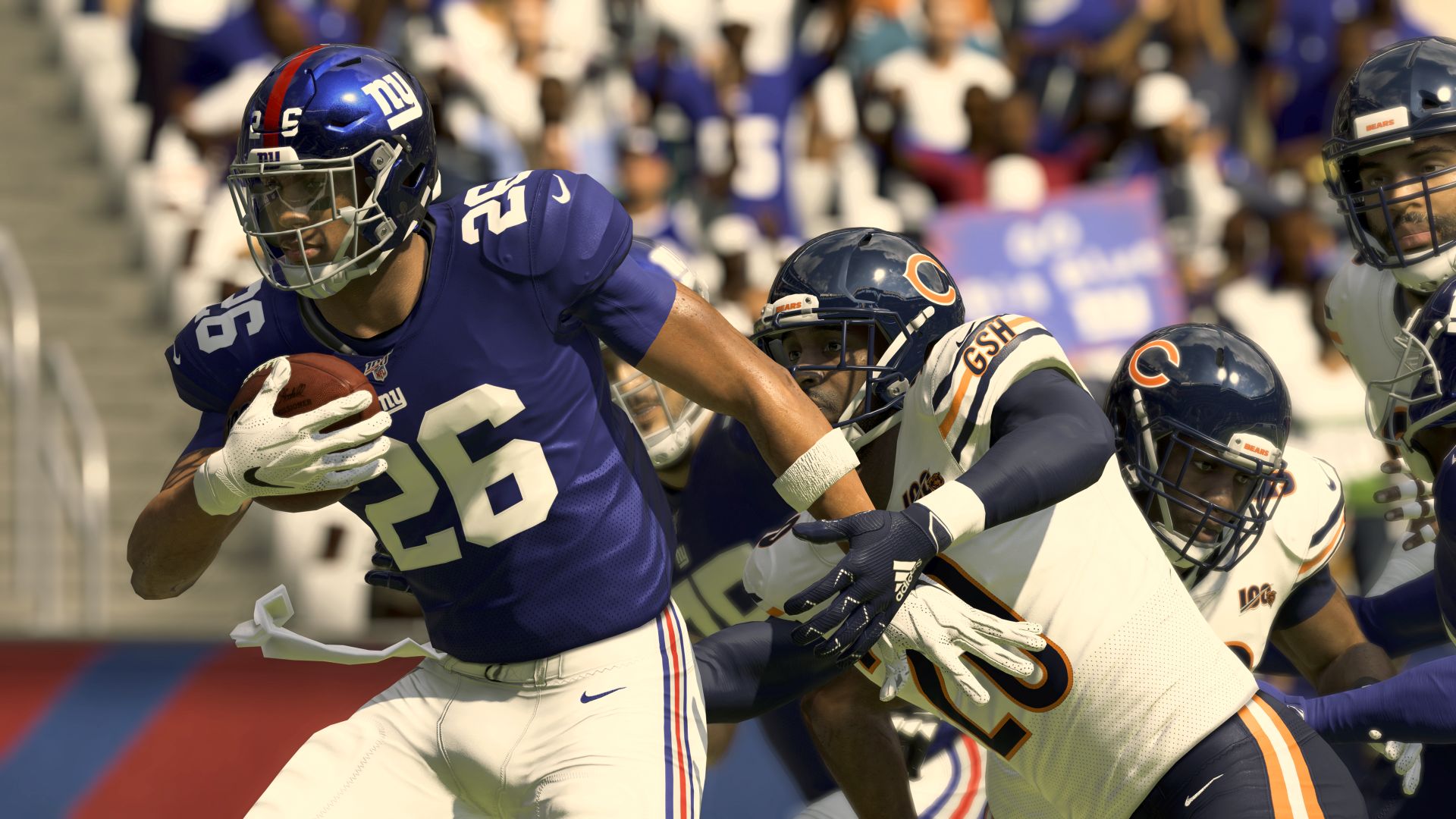 I had to dig a bit to find some of these run-pass option plays, but once I found them it was hard to pick anything else. It brought up the exact same feelings as running the triple option, a fluid style of play that made me feel in control of the offense at all times. No longer was I locked into a run or pass play, even after the snap I could just react to the defense. These options are designed to help young quarterbacks who struggle with complex passing reads, simplifying the offense down to simply watching a couple of key players to help make your decision, so it's easier to run this kind of play.
I was able to redeem myself and run the Kansas City offense all over the New Orleans Saints. But this further demonstrates how much easier it is to run the run-pass scheme. My opponent had to sit back and hope he had time to read complex defense zone schemes pretending he had the keen eyes of Drew Brees. Meanwhile, my decisions were quick and easy. If that linebacker is blitzing, just throw the ball. If the safety is holding back, just hand it off or take it yourself. It's a great simulation of how offenses the like the Chiefs, Rams, and Bears are changing the NFL with easy schemes for their quarterbacks to learn.
I'm keen to see how these new features play out in longer stints of gameplay, but even in my short time with Madden, I found the new gameplay to be refreshing. Given last year's inadequacies, I'm definitely interested to see how this latest version shapes up, when Madden NFL 20 releases in August.
Comments