Madden NFL 19 Review
Another fumble for a franchise that seems to be on a downward trend
It's rare that sports games blow us away with their excellence or disappointment. Occasionally, one of them comes along that is really impressive, but often they just tend to be inoffensive riffs on a tried and true formula - relying on the mechanics that made them the de facto game of their particular sport, occasionally adding a ripple or two. You don't get too high and you don't get too low; that's kind of the nature of these games. So when I tell you that Madden NFL 19 is an all-time low for the series, I hope you have some idea of what I mean. I've been religiously following Madden games for 25 years, almost as long as the series has been around, and this one is about as bad as they come.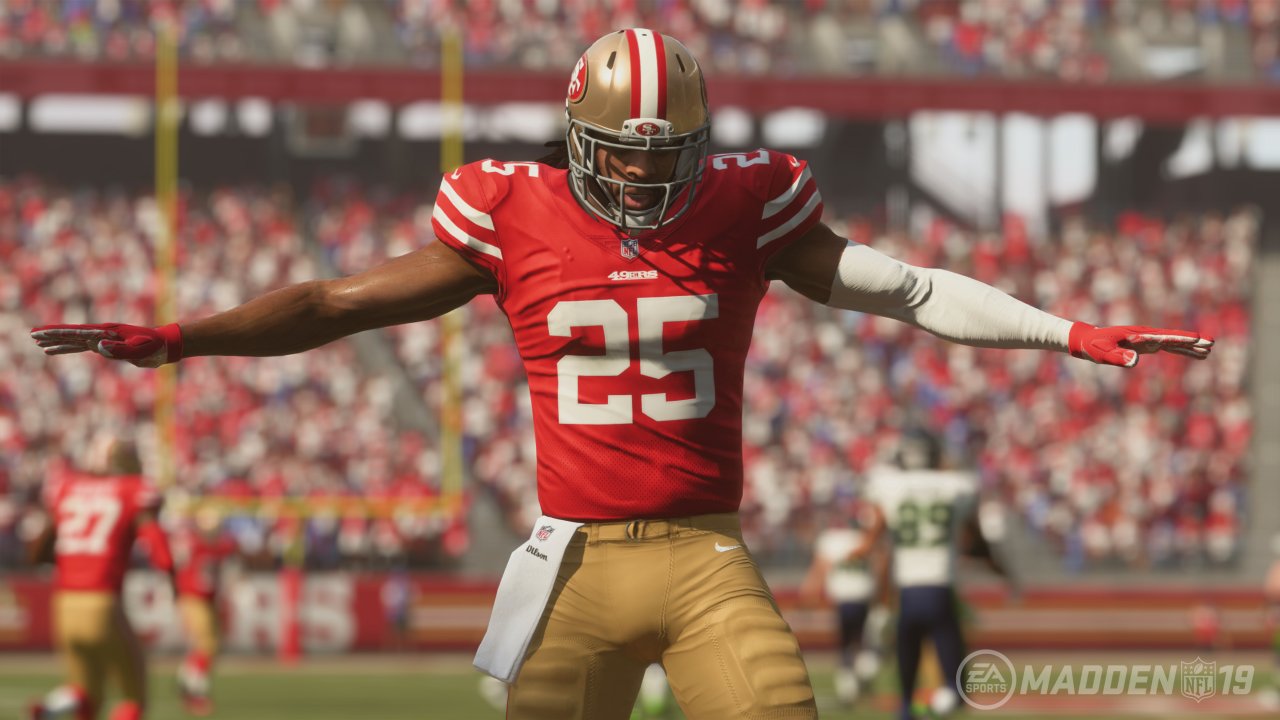 Madden's been on the downward trend for a while. The series is so busy trying to be so many things, that oftentimes it forgets to have any clear vision. Unlike MLB The Show, it doesn't go all-in on amazing visuals nor does it lovingly craft a version of football that feels tailored and authentic. Madden's version of the sport hardly feels recognizable anymore. It's overly complex and unwieldy, not in favor of a more strategic game but because it's been layering mechanics and elements on top of each other for over two decades. Its presentation is sterile and alien, not because it replicates the on-field experience more, but because it's already tried every iteration of broadcast simulation, never quite got it right and just gave up. The modes are clunky and slow paced, not because they are thoughtful or deep, but because they've been reshaped so many times that they have lost all sense of identity.
Whenever I play a new sports game, I revisit my reviews from years prior, to remind myself of the small details that struck me in previous years. In doing this, I came across my review of Madden 25 where I talked about how much Madden has changed and how much it stayed the same. Madden 25 was an ode to the series' past and when I think back on that past, I get a little sad. This series revolutionized the sports genre multiple times, first in the late 90s with the addition of Franchise mode and again in the early 2000's as it emerged as the enduring, premier franchise in sports. There was a time when Madden was a flagship franchise and an obsession for football fans, when game stores would do midnight launches. In last year's Longshot mode, I saw a spark of that creativity again, but it's been snuffed out depressingly quickly.
There is still a Longshot mode in this year's Madden, but if you thought last year's story was a bit heavy on the melodrama, Madden 19 would like you to hold its beer. This time around the story splits, tracking Devin Wade as he attempts to make the Dallas Cowboys 53-man roster during the preseason, and Colt Cruise as he returns back to his hometown of Mathis with a half-sister he has to provide a home for. There's a lot less of the adventure game mechanics this time around, no dialogue options, no quicktime events, thus the story keeps bending over backwards to get you into football games. This is easy for Devin, who is playing through the preseason and practicing, but more difficult for Colt whose path is a bit more winding. It also means that when you're not playing football, you're stuck in really long cutscenes. Longshot: Homecoming (as it's been named) is not awful, but it lacks a bit of the earnesty and creativity from last year. The real issue in Longshot comes at the end of the story where the difficulty ramps up and you're stuck repeating drives with a mediocre football team, failing time and again to complete objectives due to bad play calls you can't opt out of. Still, the issues with Longshot really have less to do with itself and more with how Madden NFL 19 plays.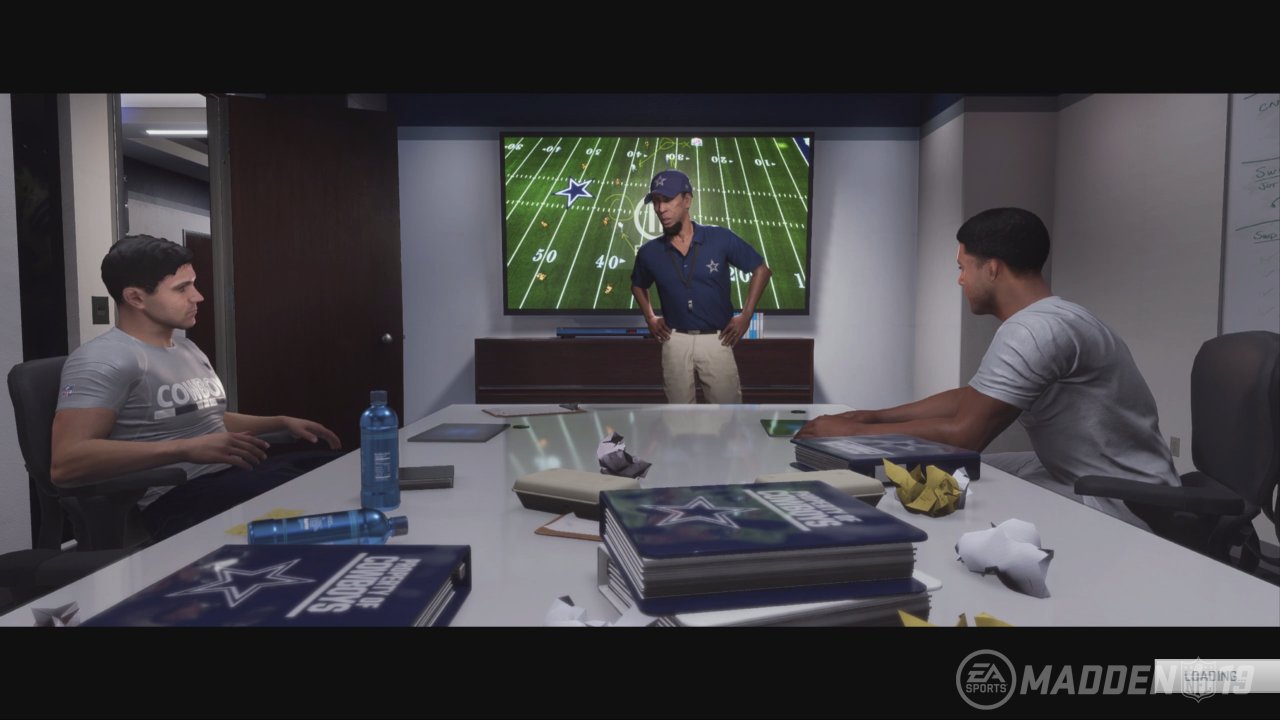 That is to say, Madden 19 plays pretty terribly compared to its past highs. Years of added mechanics have all been tossed into a disgusting stew of gameplay that fixes all the nitpick problems and misses some of the most annoying ones. There are so many controls used to throw passes where you want, make catches the way you want, make tackles with the power you want, and guide the running back through the gap you want, that the design feels unbearably busy. Even on the Pro difficulty, there's an assumption that you're going to be able to time contested catches, know how to throw a jump-ball lob pass to the corner of the end zone, and time your pass rush attack. It's a lot, but that's not what's really wrong with Madden 19. Instead, it's the problems the game has always had. The playbook is still a disaster -- a relic that hardly feels authentic -- with passing plays that still require you to spend fifteen seconds before the snap setting up hot routes that you know will work because they always work, and others never do. The AI is still atrociously bad as the they will call nonsensical plays in crucial situations, and wide receivers still blindly run out of bounds after a catch instead of turning up field or doing a toe-tap to try and stay in bounds for a sideline catch. These are issues that Madden has had since the PlayStation 2/Xbox era, but still hasn't found way to fix - and that's pretty frustrating.
Madden's struggled with Franchise mode for a while now. Again, you can assume the role of a player, owner, or coach. And also again, it is overly complicated, as the mode is presented in a series of weekly menus where you participate in practices, re-sign players, and manage injuries, depending on the role you're playing as. But those weekly items don't actually present all of the options you have. Playing as an owner, I had to dig through the menus to find the relocation option and how to fire my coach. That's a little annoying, but what is more annoying is that certain things, like relocating, can only be done at certain times and those limitations are not explained to the player.
And of course there is Ultimate Team. I've never loved the card-collecting, team-building modes from sports games, but in Madden 19 UT is probably one of the best modes going. It still feels a little predatory with a shop constantly lingering about, begging for you to spend some real-world money, but overall it's pretty harmless. The tutorial for how Ultimate Team works is on the long side, but after you get out of it you can start playing challenges, tournaments, and online games to earn players and upgrade them. While the new progression system doesn't work well in Franchise mode because it relies on you playing sub-par players in order to get them experience, it works quite well in Ultimate Team as you can beef up your favorite players, making them staples of your roster.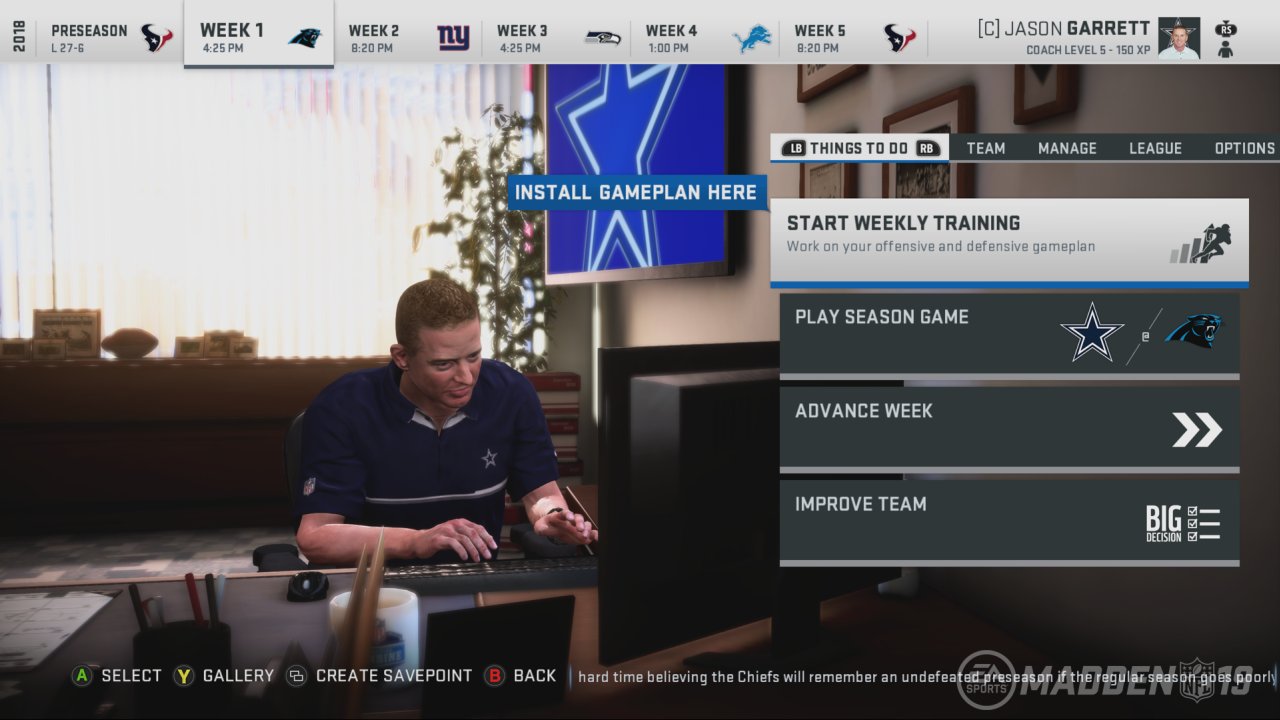 The presentation continues to be the least creative of all sports games. Somehow the pre-game intros manage to be the most boring of the entire series and the play-by-play feels inauthentic and painfully repetitive. The in-studio guy is so bad that I can't even remember his name because I constantly skipped his intro and the graphics used for the TV-style presentation are completely forgettable. It doesn't help that the player animations have a large uncanny valley effect. There are occasional moments when the game looks great, when specific animations are triggered that have clearly been designed to grab the eye of the player - like leaping, one-handed catches, or stumbling running backs desperately trying for an extra yard. But those moments are fleeting and all too often the animations look alien, like when linebackers reach out behind them to knock down bullet passes or the touchdown celebrations that look like malfunctioning robots trying to impersonate your uncle's dance moves.
Tech-wise, Madden 19 is pretty rough. The saving grace of the game is its functional online play. Whether I was in Ultimate Team or just playing online, the core gameplay worked pretty well with minimal issues. Elsewhere however, I had plays where players would get stuck in their pre-snap formation, refusing to run the route I needed them to or block anyone. A few times while in the hurry-up offense, I was unable to snap the ball and would have to take a time out or wait to get a delay of game penalty. During regular season games the play-by-play commentary would think I was in the Super Bowl. Defensive plays would have trouble loading in, and I would usually have to fiddle with the play-calling interface before they would randomly decide to show up. With all of this, the long loading times almost feel like an afterthought. It's a hot mess and we're weeks after the game launched.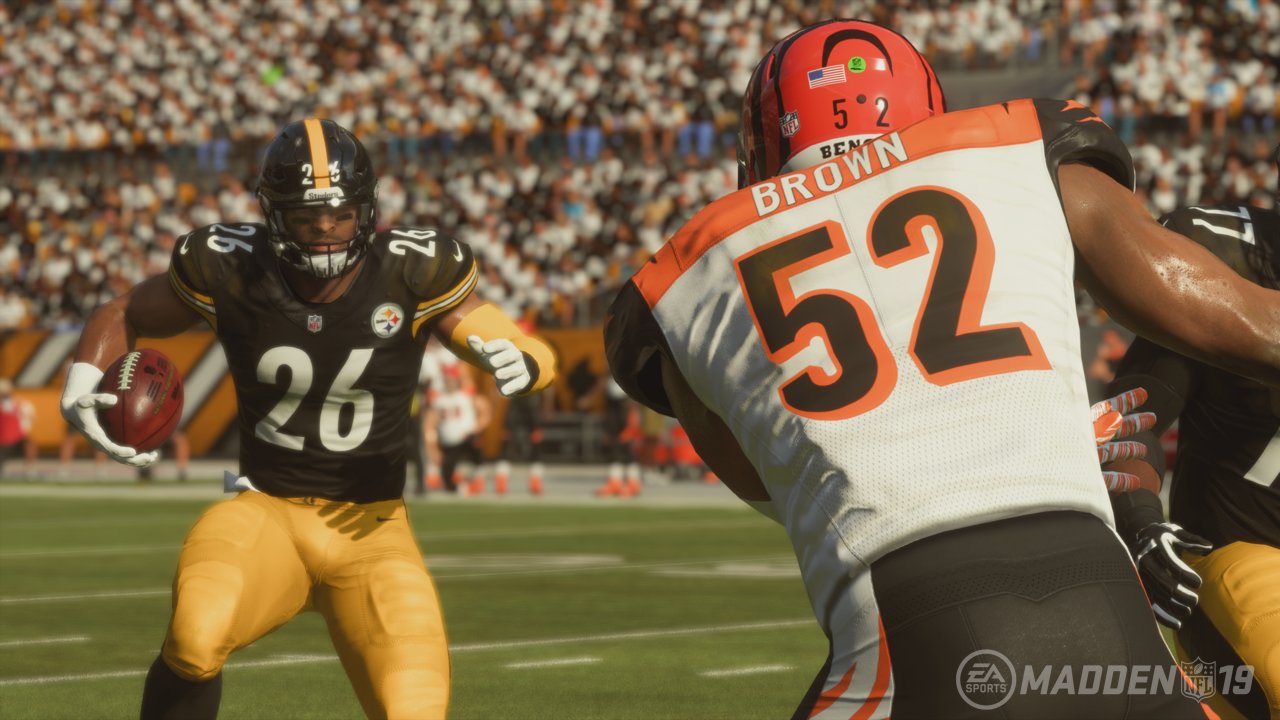 Madden NFL 19 made me sad. Last year's inventive Longshot mode covered up a lot of the flaws that were deeply baked into the game and now that Longshot is already becoming a middling experience, the reasons to play this series feel like they are getting fewer and fewer. How could I recommend a game that feels broken in some places and bland in others? A game that feels like it lacks all of the things that make football interesting? While MLB The Show and NB2K constantly have their flaws, it always felt like the people making those games were passionate about the sport, that there was a love for the game. Madden NFL 19 is devoid of that. It feels like a checkbox on the NFL's income report. A bad impression of football Sunday as interpreted by aliens, devoid of the personality and drama that causes people to tune in every week. The NFL is a far from a perfect institution, so I hesitate to say it deserves better, but football deserves better, the fans deserve better, and the legacy of the Madden series deserves better.
Our ratings for
Madden NFL 19
on Xbox One out of 100 (
Ratings FAQ
)
Comments