Xbox Conference Recap - E3 2019
Xbox Media Briefing 2019 brings news on next console, XCloud, and plenty of games
It's time to kick off E3 2019 with a conference from the console manufacturer and game publisher Microsoft. With the final countdown complete, and a few clips of mostly Xbox-published games out of the way, it's right into a trailer for a science fiction game. We see some planetary outposts and some gameplay snippets, eventually revealing it is for Obsidian's upcoming RPG, The Outer Worlds. The game is coming on October 25 of this year.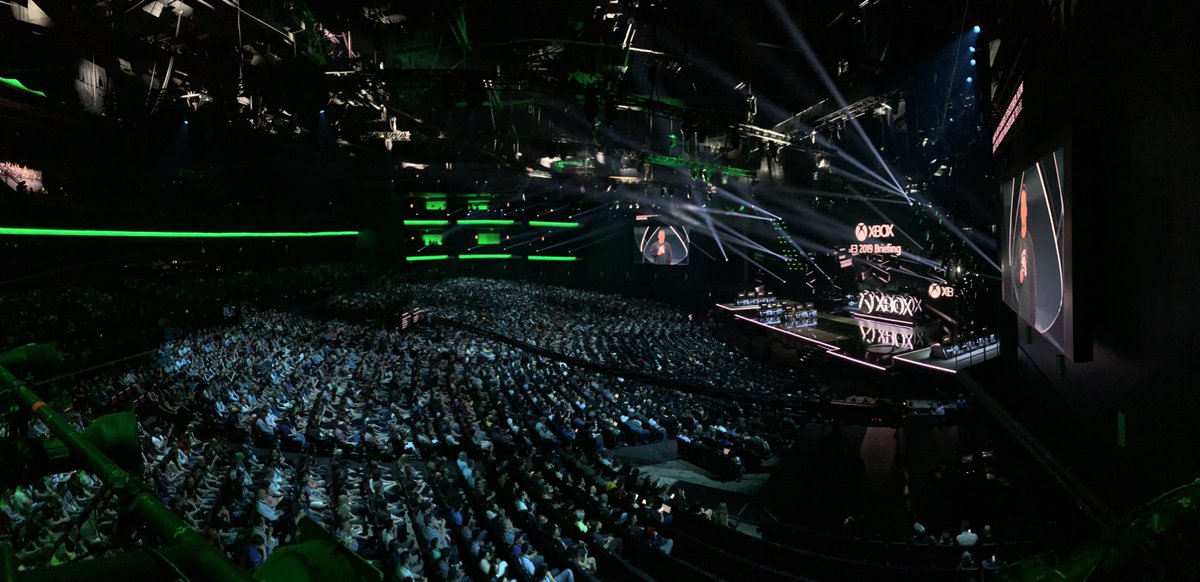 After that, Rahni Tucker and Dominic Matthews from Ninja Theory take the stage. They talk about starting work under Microsoft, who acquired the studio last year, and introduce a multiplayer game they have been working on for a few years, Bleeding Edge. We get a trailer for it, showing off some rather unique looking characters in a vaguely sci-fi, steam punk setting. The trailer shows off a mix of ranged and melee combat, with what looks to be an Overwatch-esque team game with unique playable heroes. There will be a technical alpha starting on June 27.
Another trailer begins, with the distinct art style indicating it is for the upcoming Ori and the Will of the Wisps. We see a variety of large, horrifying monsters such as a giant spider and wolf that Ori must contend with. The game is coming to Xbox One and PC on February 11, 2020. This leads right into another trailer, for a new game from the creators of Minecraft. We see some underground caverns and outdoor landscapes in the familiar blocky style of Minecraft, but this time with an isometric perspective as a hero traverses various environments and engages in combat. It looks to be a co-op action RPG called Minecraft: Dungeons, coming spring of 2020.
Now, Head of Xbox Phil Spencer takes the stage to a standing ovation, and makes some introductory remarks, emphasizing the growth of the games industry in the last couple of decades, and advances in technology. He reveals that there will be 60 games shown at the conference, with 14 from Xbox Studios, and 30 coming to Xbox Game Pass. With that, it's on to the next trailer, for Star Wars Jedi: Fallen Order, which coming on November 15th.
A world premiere is next, and we see a man running through the woods into a cabin with a flashlight in first person perspective. This appears to be the aftermath of a police search for a missing kid, and this is definitely a horror game of some kind. It is revealed to be called Blair Witch, coming on August 30 of this year. Another trailer now, this one for the highly anticipated Cyberpunk 2077. We see a man walking into a run-down motel covered in neon signs, to make a trade. We see a flashback to an action sequence where the same man dodges some bullets and runs into a car. Nothing shown here appears to be gameplay. The trade goes bad and a fight breaks out in the motel room. Keanu Reeves shows up at the end in the trailer, before taking the stage in person.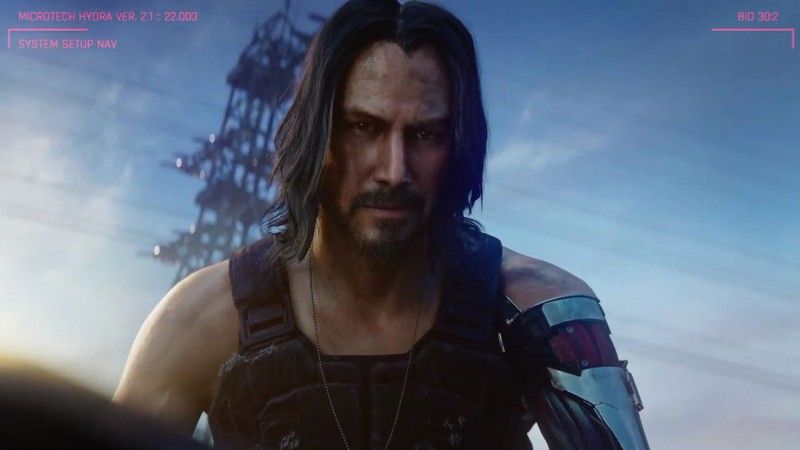 Keanu talks about his involvement in the game, and the game itself. He goes over some previously known information, before getting to the release date: we don't get it quite yet, as another trailer starts up with a few clips – the game is coming on April 16, 2020. Now, another world premiere trailer begins, for a 2D game with a striking animated art style. It looks to be some kind of settlement management game where you build structures and look after its inhabitants, called Spirit Farer, coming on 2020.
Another trailer begins right after, for the upcoming beat em' up/platformer Battle Toads game, which will have 3 player couch-co op. Next, a trailer for a game that looks to involve drawing things on the screen with a pencil to solve puzzles, though it's a bit difficult to tell – it is called The Legend of Wright, coming in 2020. Next, a sizzle reel for a bunch of indie games included in the ID @ Xbox program, with only a few seconds dedicated to each of the many games shown. All of these games will be included (or are already included) with Xbox Game Pass.
Next, Head of Xbox Partnerships Sarah Bond takes the stage. She confirms that every game just shown will be coming to Xbox Game Pass as soon as they are released. She then talks about Xbox Game Pass in general, and their efforts to populate it with compelling games, announcing that Batman Arkham Knight, Metro Exodus, Hollow Knight and Borderlands The Handsome Collection will be added to the service today. She then goes on to talk about the recently announced Xbox Game Pass for PC, which also goes live today in open beta, including over 100 games including Imperator Rome and Football Manager 2019. The Halo Master Chief Collection will also make its way to this service. It will cost 10 US dollars a month. You can also get Xbox Game Pass Ultimate, which will include both PC and Xbox Game Pass subscriptions, as well as Xbox Live Gold, all for $15 USD per month.
Another trailer is up next for a world premiere. We see some images of real-world locations rendered in-engine, including Dubai and San Francisco, with a plane flying over them. This will be a reboot of Microsoft Flight Simulator. Another trailer up next, for a remastered version of the classic RTS Age of Empires II, the Definitive Edition. This rolls right into another trailer for an isometric strategy game set in Colorado. It appears to be an Xcom-esque turn based strategy game with a whacky sense of humor but fairly realistic visual style - this turns out to be for the previously announced Wasteland 3.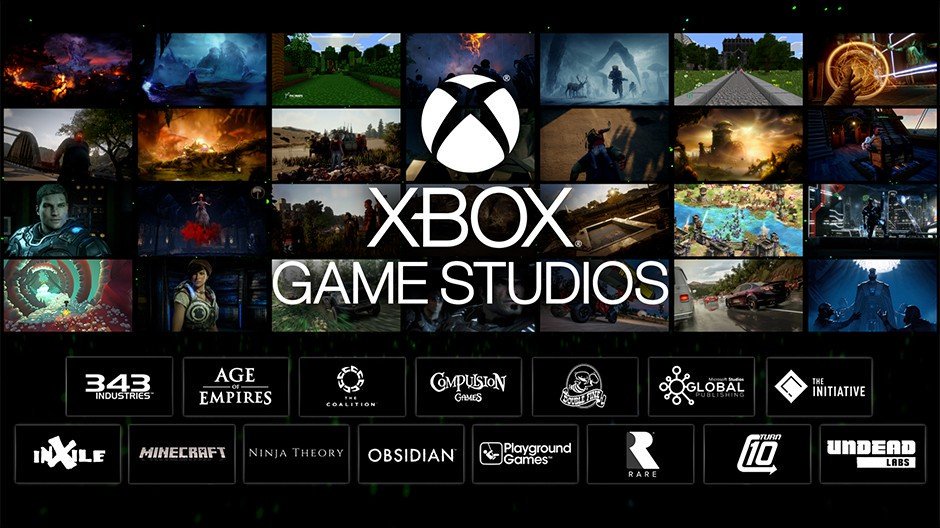 Now, Matt Booty, Head of Xbox Games Studios, takes the stage. He announces a new acquisition, Double Fine Productions, a studio responsible for classics like Psychonauts and Brutal Legend. Matt welcomes the head of this studio, Tim Schafer to the stage. He introduces a trailer for their new project, Psychonauts 2. It looks to be a new adventure for Raz, with gameplay showing mostly platforming in some rather imaginative environments.
Another world premiere trailer next, for what looks to be another Lego Star Wars game. All nine films will be represented in the new game, Lego Star Wars: The Skywalker Saga, coming in 2020. Next, a trailer for something out of the Dragon Ball universe. I don't feel qualified to interpret what I'm seeing on screen but there is a lot of yelling in Japanese and Goku is involved. The game is named Dragon Ball Z: Kakarot.
Yet another world premiere trailer next from Annapurna Interactive. We see an overhead shot of two people talking at a table in small room. It seems like one of the characters has experienced these events before, indicating some kind of time-traveling premise. We see a variety of scenarios, mostly in this same room, all from the same overhead perspective. The game will be called 12 Minutes, and is an interactive thriller about a man stuck in a time loop.
Next, a trailer for a game called Way To the Woods, apparently made by a single man Anthony Tan. It looks to be an adventure about two deer navigating some human made environments by way of environmental puzzles, with a cel-shaded art style. This will be coming in 2020. Now, a rather abstract trailer starts for something Gears of War related, showing Kate seemingly going a bit mad. It is indeed for Gears 5. Rod Fergusson from The Coalition takes the stage, announcing the game is coming on September 10, though you will get early access by four days if you have Xbox Game Pass. He also announced a tech test for the multiplayer coming in July, and another for the horde mode coming in August.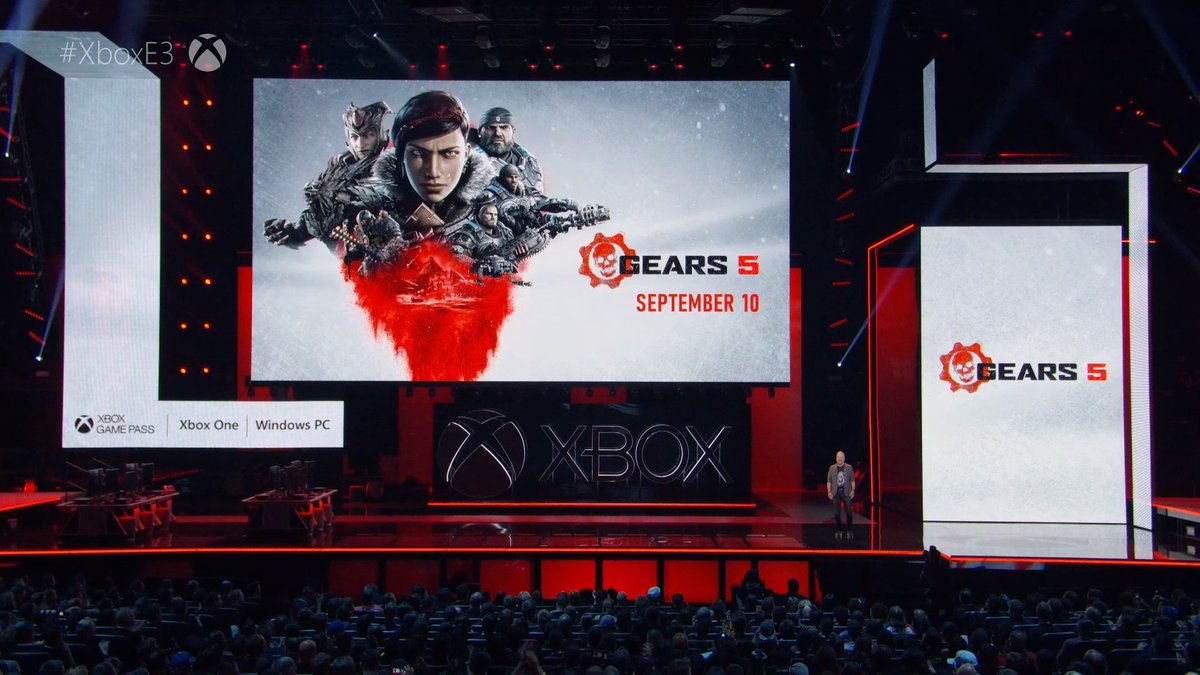 He then announces a new mode for Gears 5, Escape, a co-op mode where you must infiltrate a hive, plant a bomb and escape. Suddenly, smoke and flame is shooting up from the the stage, and the camera pans down to beneath, revealing a room with several screens playing a trailer for the new mode. It's a CGI trailer, showing Gears agents in a hive planting a bomb, fighting off some mutants – at one point with an electrified knife, hinting at a new weapon – before making their escape. Rod returns to suggest you will be able to design your own hives as part of this mode, and also that there will be a Terminator themed pre-order bonus for the game.
Next, a trailer for the customizable Series 2 Xbox Elite Controller, which will allow up to 40 hours of play on a single charge and have multiple gaming profiles among other things. Then, it's onto a trailer for Dying Light 2, showing a destroyed city, some combat with zombies, and people rioting. The game's protagonist is named Aiden who is himself infected - the game is coming in Spring 2020. Another world premiere next, for something related to Forza Horizon 4 – a Lego-themed DLC expansion as it turns out. We see Lego cars driving on Lego tracks with plenty of destructible objects and Lego versions of real cars. The expansion is coming next week. Ralph Fulton of Playground Games takes the stage to talk more about it, with a life-sized McLaren Senna built from Lego bricks on the stage behind him.
Now we are back to the Gears universe, with a trailer for the previously announced Funko-Pop/Gears of War crossover called Gears-pop, which will be a mobile game. After this, a trailer for some State of Decay 2 DLC, called Heartland. It will focus on the story of two survivors in a new location called Trouble Valley. We see one survivor using a grenade launcher and crossbow which are presumably new weapons. This is available now.
Another premiere next, for a game from Sega. It is for Phantasy Star Online 2, coming to Xbox One in Spring of 2020. Phil is back now to introduce a partnership with PC developer Smilegate to announce their new project Crossfire X, coming to Xbox One in 2020. We get a CGI trailer showing mercenaries in an urban setting, with lots of action and destruction.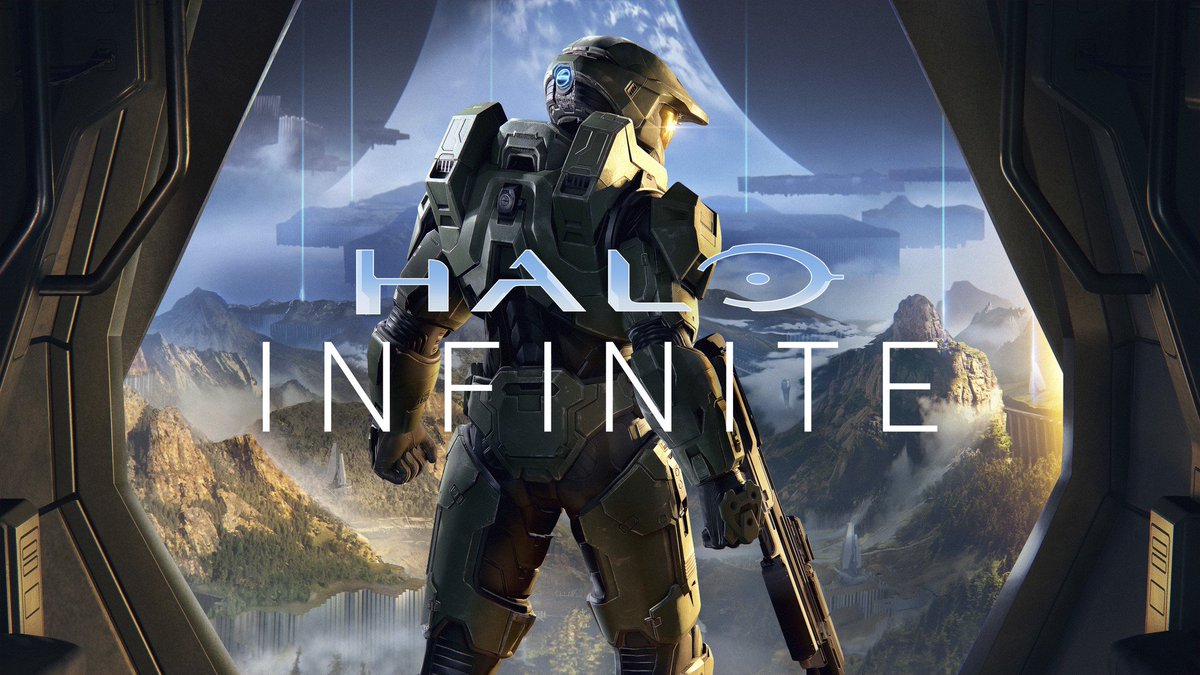 Yet another world premiere trailer follows, for a game from Bandai Namco. We see some alien landscapes, a fire demon, and an anime girl walking down some stairs. It looks to be a hack and slash game, dubbed Tales of Arise, coming in 2020. Next up, a trailer for the upcoming Borderlands 3. We get introductions to some of the new characters, as well as appearances from some familiar faces. The game is coming out on September 13 of this year. There will also be a new, free DLC for Borderlands 2 coming that sets the stage for the third chapter.
Now, another world premiere, a collaboration between Dark Souls designer Hidetaka Miyazaki and George R. R. Martin. The CGI trailer shows some strange stuff with dismembered limbs and swords. The game is dubbed Elden Ring, and is being developed by From Software, which is all we know at this point. Phil is back to talk about Xbox's use of the cloud. Streaming service Project XCloud is announced to be available to try for the first time at the show, and will be launching this October.
Now, Phil begins to talk about the next generation Xbox console. The new console will be entirely gaming oriented, and is being developed by the same team as the Xbox One X. A video plays with some of these creators talking about the hardware, emphasizing player choice, reduced load times, and the power of the new AMD CPU. The console will allow frame rates up to 120fps, hardware accelerated ray tracing, and a new type of SSD that will double as virtual ram. There are already developers working on games for this new console, which is currently dubbed project Scarlet and is coming Holiday 2020.
Phil talks further about the console, mostly reiterating the main points from above, then announces that the new console will launch alongside the new Halo game. With that, a trailer for Halo Infinite starts to play. We see a man in a space craft dealing with a hull breach, then watching a hologram of a woman talking to a child, seemingly the man's wife and son. Next, the ship detects a nearby signal, and the man clears his windscreen to discover it comes from Master Chief floating in space. The Chief gets revived by the man, who reveals the nearby Halo has been destroyed, and it's time for a fight. The game will be coming Holiday 2020, for the new Xbox.
As is tradition, we get a montage of clips from games shown at the showcase, marking the end of the Xbox Briefing.
Comments
blog comments powered by Disqus