Game of the Year Awards 2017
We pick out some of the best titles from the year that was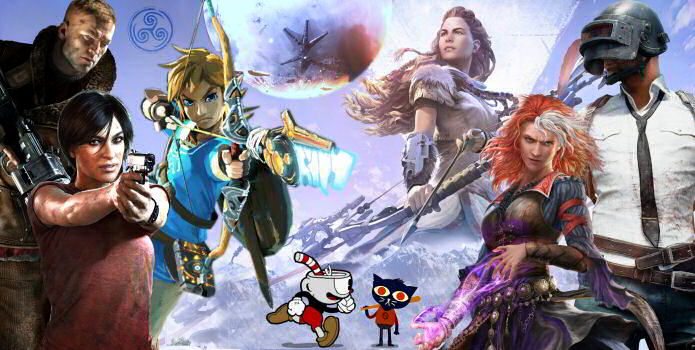 Gaming on the run—that was the motto for 2017.
In March, the Nintendo Switch console launched and went on to sell over 10 million units by the year's end. It was designed to be played like a regular console, but it was just as viable on the move in handheld mode. Nintendo released it alongside The Legend of Zelda: Breath of the Wild and later dropped Super Mario Odyssey to equally great reception. Third party support is off to a good start, so the future looks bright and nimble for the Nintendo Switch.
There were plenty of games that focused on actual running. Outlast 2, Little Nightmares, Darkwood, and Resident Evil 7 used horror to force players to move their legs, lest they be monster food. Horizon: Zero Dawn had players running across a large open world, hunting or avoiding killer robots. And the insanely popular PlayerUnknown's Battlegrounds forced online competitors to sprint towards the middle of a shrinking circle, just to kill each other and then do it all over again.
Like Plunkbat, there were titles that asked players to complete tasks in a single run. In DiRT 4 you needed to contend with random track design to finish a course without incident. Cuphead asked players to overcome bosses across several stages, all without dying. Even Ruiner, an isometric shooter, would restart areas if you fell to a foe before they were all blasted away.
Other games ran backwards in time. Life is Strange: Before the Storm showed us Chloe three years before the fateful events in the original. In Tacoma, we explored holographic projections of a crew of astronauts and their experiences just three days prior. Even Call of Duty came full circle, returning to WWII and the setting that started the franchise.
Certain sequels chose to run away from their predecessors. Assassin's Creed Origins had a massive open world and was more like an RPG game than previous titles. Prey was barely anything like the shooter from 2006, despite sharing the exact same name. And Mass Effect Andromeda ran so far away from its forebears that it ended up in another galaxy.
Some games involved running through memories. Finding Paradise, What Remains of Edith Finch, The Fidelio Incident, and The Last Day of June explored the past events to help us understand characters and bring context to the present. Unsurprisingly, these nostalgic trips were some of the most emotional of the year.
The biggest challenges are always in the mind, and running from your own nightmares is never easy. Observer looked at a future where diving into minds caused much distress. The adventure game Detention guided players through an abstract nightmare until its main character could understand the truth of her actions. And perhaps most importantly, Hellblade: Senua's Sacrifice taught gamers about mental illness through clever audio and visual presentation.
Battling the mind is hard, but fighting the gaming industry is much harder. In 2017, the lootbox craze became a runaway train, threatening to run successful franchises off the tracks such as Forza Motorsport, Need for Speed, Middle-earth, and of course Star Wars Battlefront 2. Despite many full-priced games adopting the quasi-gambling system, gamers pushed back with displeasure in near equal measure. And we finally saw that running is not always the answer; sometimes you need to stand your ground.
The year was all about momentum, in one way or another, so grab hold of something sturdy and let us guide you through the year of 2017 in video games, and find out which titles were the best of the best.
Comments