FIFA 17 Review
The annual football title offers something new while retaining its quality and polish
Although it has only been a few years since EA Sports titles made the transition to a new console generation, it hasn't stopped this year's FIFA from moving to an entirely new engine. Now powered by Frostbite, the annual football sim promises new player experiences with a more realistic visual backdrop. While the engine switch does have an impact on the visuals, it is the rest of FIFA 17's offerings the make it worth picking up.
As FIFA's online offerings – primarily FIFA Ultimate Team – have been taking center stage in recent years, it may seem surprising that FIFA 17's biggest new mode is a single player, story focused experience called The Journey. EA Sports has certainly tried out narratives in their games before – such as Fight Night Champion – and it was also no doubt inspired by NBA 2K's efforts in recent years. In The Journey, players assume the role of Alex Hunter, a young man who manages to break into the ranks of a Premiere League squad. The story follows Alex's trials and tribulations through his debut professional season.
The Journey plays a lot like Player Career, but with narrative elements. On the pitch, the basics are the same – you control Alex (though you can also choose to control the whole team), and try to perform well; there are also weekly training sessions. Doing well in matches and training helps you earn the manager's trust and secure a spot on the starting 11. There are bonus objectives in a lot of matches, from scoring to change the outcome of the game to performing good tackles, which again boost your credibility with the team. Perform poorly, and you'll find yourself on the bench or in the reserves, and may even face a game-over screen if you're released. You can tweak the difficulty settings to your liking so that shouldn't be a problem.
Outside of the pitch, players will get to know Alex and a few other characters through a number of story cutscenes. From getting his first contract on any of the BPL teams to being sent out on loan, Alex goes through a few notable events in a season. The events follow a linear path so there's not much replay value, but on your first go you'll find a predictable but still engaging story with good production values. There are weak spots; it's difficult to believe your childhood best friend suddenly becomes a jerk overnight, or that Alex would get picked to the starting lineup of a top club with THAT average rating.
There are occasional dialog choices to make – with cool, balanced and fiery response options. As you might expect, keeping your cool no matter the situation will make Alex a calm and responsible young man, who is likely to get picked for the starting 11 but isn't going to attract many fans or media. But if you choose to be a loudmouth, this could stir problems in the team, but you'll be on top of everyone's mind. Earning more fans unlocks a few bonus cutscenes as you get sponsorships, but if you want to safely progress through the story you only need to worry about being picked by the coach. How much money you make or are worth seem to be artificial with no real impact on proceedings.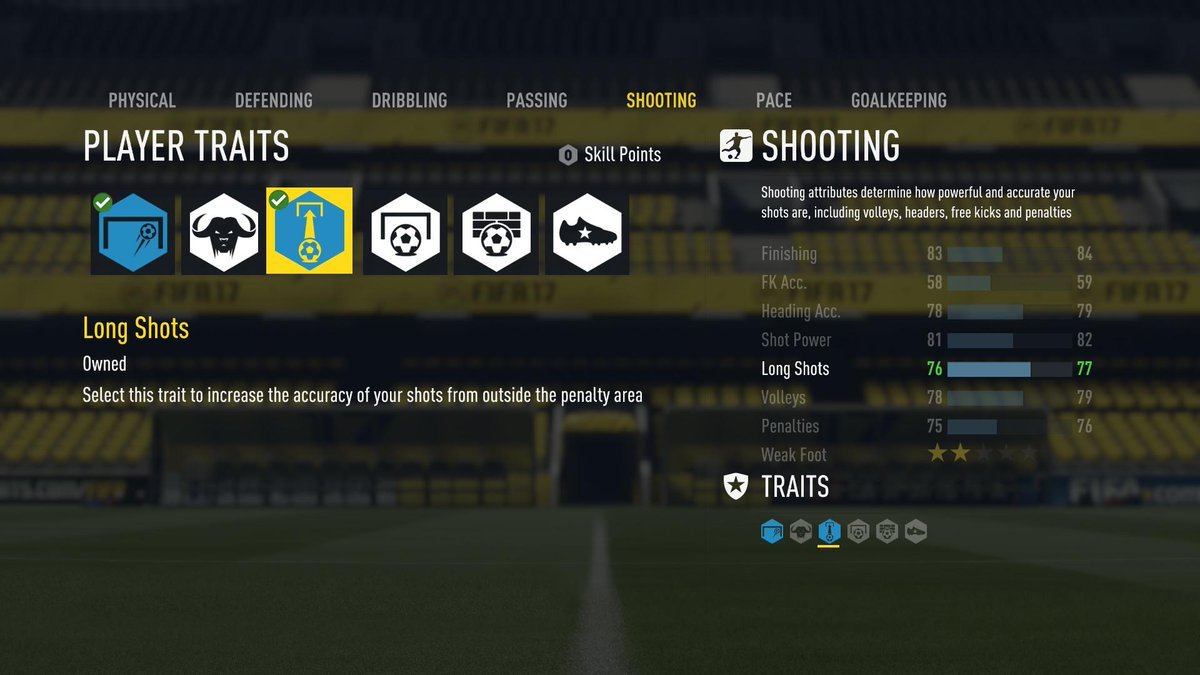 Playing through The Journey will be most appealing to fans of Player Career mode. With a focus on a single character and no managerial responsibilities, it may seem boring to a lot players. There are a ton of games to play in a season – between league and cup competitions – and this can get rather repetitive. The story moments are few and far between during mid-season, so a lot of the times it may feel like grinding your way through matches to get to the next narrative element. If The Journey were a movie, there would be a montage halfway through to skip less important matches and help the pace; but instead it's a lengthy 12+ hour mode that sometimes can be a slog to get through. But at least you'll earn a few FUT rewards along the way.
The Player Career mode is still available, though, for fans looking for the traditional customizable pro experience without any story elements. Player Career still has the same progression tracking and leveling as you perform specific moves and accomplishments in order to improve your stats. Thus, Player Career strangely does not take advantage of the new character progression system, which is found in The Journey as well as online Pro Clubs. In the new system, your virtual pro's attribute growth overtime now increases based on your performances and training, and you also earn perk points to spend on traits. Traits are separated into a few categories such as physical, defending and shooting; with have varying costs. Unlocking a trait gives you big boosts in specific skills, and helps you level up faster overall.
If you're more interested in being a manager, there's the usual Manager Career mode. FIFA 16's additions of training mode and pre-season tournaments return. Players still choose their favorite club and try to guide them to glory, with tons of authentic teams and leagues to choose from. In total more than 650 authentic teams are presented across 30 leagues, which includes the J1 League and J. League Cup for the first time ever. Players will pick their manager's avatar, and you can watch yourself look troubled and concentrated on the sidelines during matches.
New for manager hopefuls are detailed board expectations. There are five categories - domestic success, continental success, brand exposure, financial, and youth development; each club has their own priorities that are outlined before you choose who to sign for. Someone like Real Madrid will be highly concerned with competition success, but not as much on cash flow; while a team like Fiorentina will be all about reducing player wages and improving your brand image while signing more players from youth academy. These new board objectives give players a much clearer set of goals. There is a manager popularity rating that changes based on how well you're performing the given objectives. The transfer market remains a bit wild with many stars changing clubs for outrageous prices - although these days the real world transfer market has pretty much reached the same level of insanity. On the whole there aren't many big changes to the Manager Career, but it remains a highly enticing and addicting offline mode.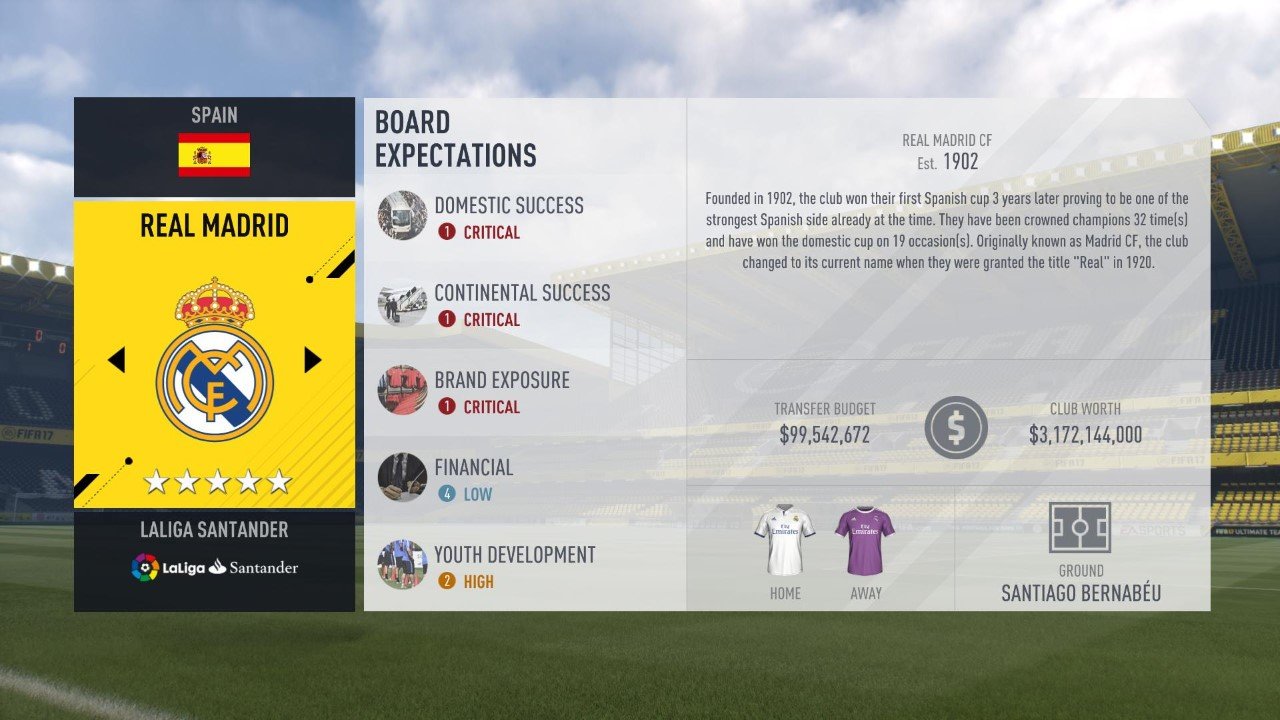 It's certainly difficult to continuously refine on the gameplay year to year, especially when FIFA's groundwork is already so set in stone and polished. But the developers have made some notable changes to make FIFA 17 offer something new to long time fans. The overall experience is comparable to last year – the pace is still relatively modest and realistic, as are the collision physics. This year's entry is actually the first to run on the Frostbite engine, though you'd be hard pressed to point out any immediately noticeable gameplay changes – it seems that the presentation benefitted the most from the new tech. That's probably as expected, as fans have grown used to the way FIFA plays and a drastic change isn't required at this point. There's still the occasional issue with odd collisions and awkward ball bounces, and there is a bit of a lack of weight to the player and the ball compared to PES, but for the most part FIFA 17 plays a solid game of football.
As far as new features are concerned, the focus was on set pieces. With free kicks, players can now manually position the kicker and adjust their run-up distance, as well as create more variety by adding spin to the ball. Similarly with throw-ins, you can move a bit along the touchline to get a better position, as players do in real life; you can also fake a throw to get defenders out of position. In most set pieces, you can also switch to receiver and control that player instead. With corners, you now have a reticule on the field which you manually position with the left stick, and that's where the ball will be delivered (your kick power is still considered as well). The new set piece mechanics certainly help expand on the available options for delivering from dead ball situations. With penalties, the reticule is gone, and players now manually run up to the ball and control their aim with an arrow pointing into a direction. Holding the shot power determines how high the shot will be placed. The penalty mechanic change is the only one that feels neither better nor worse than the old system, just different.
There are other, more nuanced gameplay alterations as well. By double tapping the shoot button, players can direct their headers downwards, making them harder to save. Driven shots and goal kicks add more oomph to the ball. A new threaded through-pass feels like a more manual approach to through balls. Players also have the option to keep their strong shots low to the ground, rather than blasting them over the bar. Some changes have been made in physical interactions between the players, with new animations and tie-ups that can hinder your attack; but with new shielded dribbling mechanic you can closely protect your possession. A number of new animations impact the gameplay and scoring opportunities, like sliding in for a toe-poke goal. Referees remain fair in their decisions, and goalkeepers are capable of stopping most shots you'd expect them to.
If it's online competition you're after, FIFA 17 continues to deliver a variety of choices. Women's teams are still in the game, but can only play against each other. Classic head to head matches let you climb through skill divisions, while Pro Clubs lets you and your team battle other squads composed of real players. With Pro Clubs specifically, the new player growth system described earlier makes progress feel more substantial. Teams can also now finally truly customize their appearance by creating kits and crests from available templates.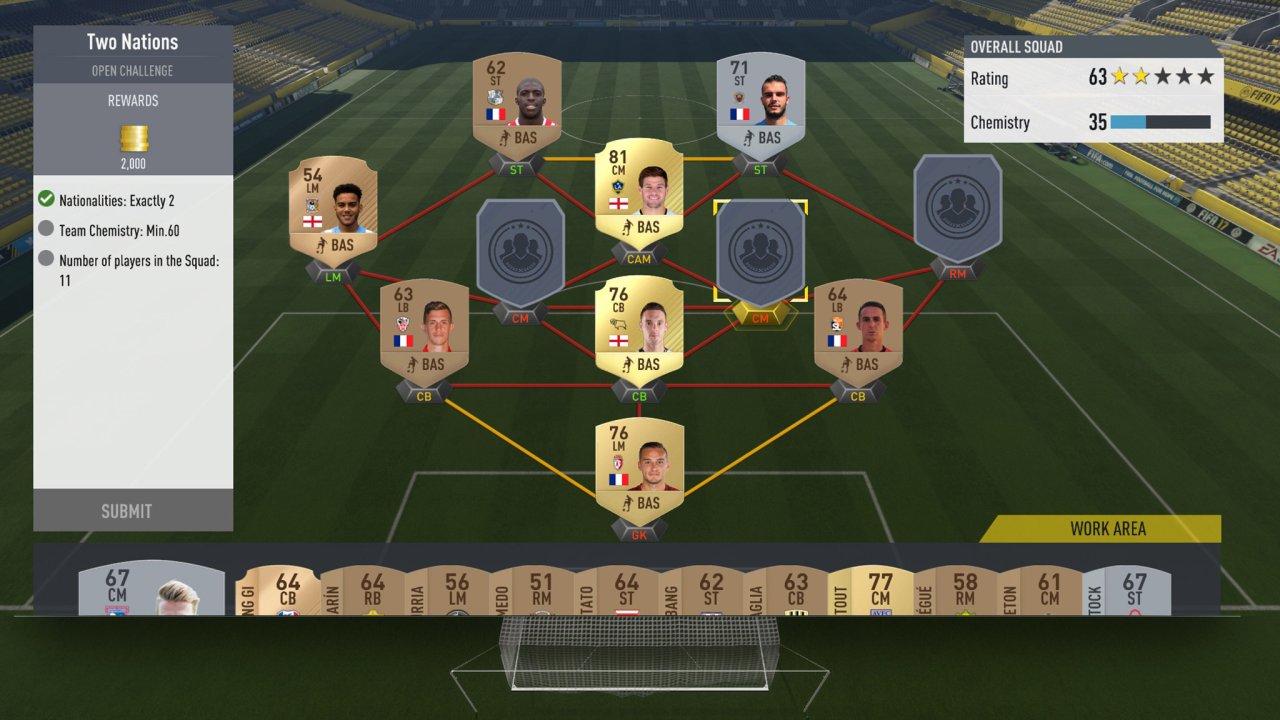 But if it's FIFA Ultimate Team you're after, there are some neat additions here as well. The basics remain the same – build the best squad you can with the player packs you get, ensuring that the chemistry remains high between the players. FIFA 17 continues to be decently generous with getting an average squad together early on, thanks to free packs for returning players and for completing a few tutorials. Once you're ready to complete, head to the typical single player or online divisions matches, last year's FUT Draft, or participate in the new FUT Champions.
FUT Champions is essentially a rebranded version of online FUT tournaments of the past. The Daily Knockout tournaments offer unique rulesets, and if you do well you can qualify for the weekend league. On weekends, players try to win as many matches as possible to earn bigger in-game rewards and climb the monthly leaderboards. FUT Champions is a structured approach to FUT play that makes every day have something worth playing for.
The more interesting FUT addition is Squad Building Challenges. Players are tasked with putting together a squad that meets strict requirements, and then trading in that squad for a prize. For example, an easy challenge may ask you to create a 5-player squad with specific chemistry and overall ratings. On higher difficulties, you may be asked to put together a full squad with specific nationality and player quality. Challenges vary greatly in their difficulty, and some are repeatable while others are only offered for a limited time. Highly active FUT players that go through tons of players will love this mode, because it lets them get rid of extra players in a creative and challenging way rather than dumping them to market or quick selling. The rewards don't always seem to be worth it for more casual FUT players though – like trading in a full squad of bronze players just to get two silver ones, or a full squad with gold players for a single Special player. Still, Squad Building Challenges are a nice addition that directly addresses a gameplay area that's been underutilized so far.
FIFA has always featured a great, authentic presentation package and this year's edition is no different. The move to the Frostbite engine shows the biggest benefit in this area, with more realistic player faces, wider camera shots of the stadiums, and so on. Along with the real players and teams there are three new stadiums, new presentation overlays for the FA Cup, as well as neat additions like pyrotechnics and tunnel archways. You'll see authentic managers on the sidelines in the BPL, new mid-match statistics like players to watch, shot information analysis, and so on. Menus have a notable amount of lag this year, however.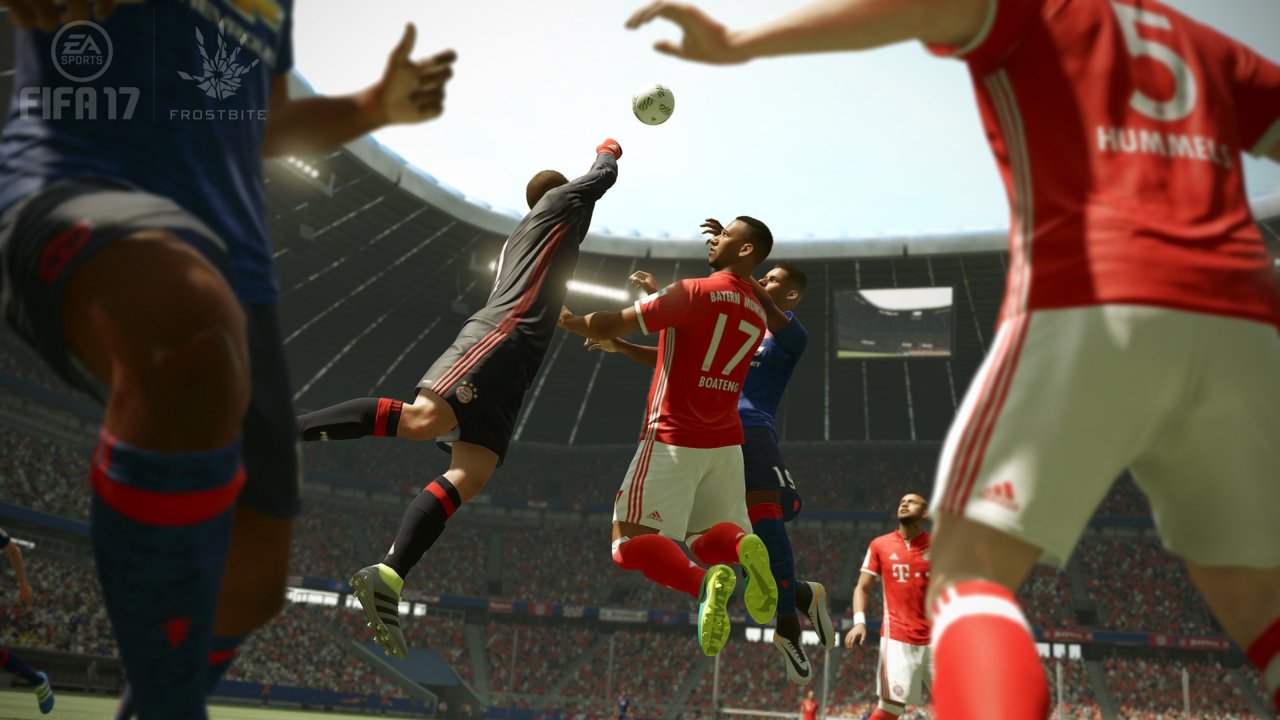 The audio design remains equally strong and impressive. Commentary remains realistic and diversified with many notable new lines and points of analysis, from the manager mode transfer reactions to The Journey-specific lines. Stadiums feature a nice atmosphere, with new chants and new announcements such as man of the match; though they can be oddly quiet when home team scores / wins the game. A great soundtrack rounds out the presentation with a selection of over 50 tracks from across the globe in a variety of genres.
FIFA 17 continues to deliver on the franchise's strengths while adding notable new experiences. Gameplay changes are focused more on dead ball situations and work relatively well. The Journey is an interesting foray into storytelling for EA Sports, and while it does well enough for a debut, there are a few areas that could be improved upon. Player and Manager Career modes remain solid offerings that should provide offline players with tons of gameplay hours. The new pro player progression seems well designed and sadly not used in Player Career, but slots in well with The Journey and Pro Clubs. In FUT, squad building challenges are a great way for more active players to get rid of their dust collecting cards. Presentation continues to be very good, with unmatched authenticity. There is enough new, polished content in FIFA 17 to earn a recommendation, even if you own last year's game.
Our ratings for
FIFA 17
on PlayStation 4 out of 100 (
Ratings FAQ
)
Comments