Fight Night Champion Review
Whether you are an experienced boxer, or this is your first time in the ring, Fight Night Champion offers a deep and visually impressive experience
Fight Night Champion is a boxing video game developed by EA Canada and published by EA Sports. Unlike many of EA's other sports franchises, this series is not on a yearly release schedule. Thanks to that fact, each iteration has been able to bring a ton of changes and gameplay innovations to the table. Fight Night Champion is no different. With a change of direction for the series towards a more realistic and mature approach, Champion succeeds in delivering a complex yet accessible boxing experience. With great visuals, improved physics, and even a surprisingly good story mode, this title is set to become the undisputed champion of the ring.
Right off the bat, the game introduces players to the new "Champion Mode". For the first time in any sports series, this mode is basically a single player story experience in the world of boxing. Players take on the role of Andre Bishop, an up-and-comer who is trying to make his mark on the sport. A popular boxing promoter takes notice of his skills and offers him a chance to be his manager – but Andre refuses. Andre's father once boxed as the client of this same manager, until his tragic death. Now Andre and his brother, also a boxer, are set to carve their own path. Unfortunately, the boxing promoter sets up Andre to take the fall for attacking two corrupt police officers – which lands Andre a five year jail sentence.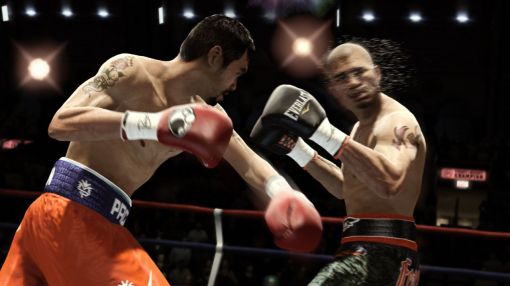 The players will get to guide Andre through this whole experience, including his experiences in jail and afterward. The story is in parts predictable, but is nonetheless very enjoyable and often makes you forget this is a sports game. There are over 30 minutes of cutscenes, all done surprisingly well with realistic and fleshed out characters, which are fantastically animated. It's an amazing step forward for a sports game to include such a good narrative experience. The story doesn't overstay its welcome either, clocking it at around 3 to 4 hours of play. It's an interesting and successful experiment of introducing a story mode to a sports title – though this worked for an individualistic sport, it'd be a much more challenging task to add to team-based sports.
Once the Champion Mode is complete, players can dive in to the usual Legacy Mode career. Here, you can once again create and personalize a boxer and take him through the ranks to the championship title. Similar to the "My Player" mode in other EA franchises, the character starts off on a low skill level and must take on training and competitive matches in order to improve. Progress is based on earning XP points from fights and training challenges. XP can then be assigned to a wide range of categories that permanently improve your boxer's abilities. Certain levels in the skill progress bars also give new abilities, such as the increased chance to knock out an opponent with a particular punch. The progression system is balanced and sets up the players for a long but rewarding career of growing their boxer.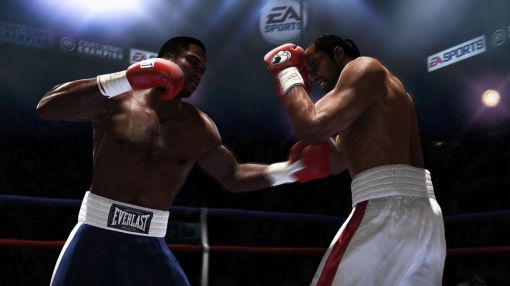 Time advances based on scheduling fights with similarly ranked boxers. Once a fight is scheduled, the calendar advances to 4 or so weeks before the fight. These few weeks before the fight are used for training in order to earn extra XP or improve the physical conditioning. Players begin by selecting a gym to train at – some cost more than others, and offer extra XP and new practice drills. The skill challenges provide an opportunity to earn XP by successfully completing minigames, which range from fun and engaging to somewhat frustrating. The challenges are all based on realistic exercises such as practicing with a punch bag, a sparring partner, or other skill honing routines.
Comments