Hands-on with the bonus content of Call of Duty: Infinite Warfare - COD XP 2016
We get to preview Jackal Assault VR, Zombies in Spaceland, and Call of Duty: Modern Warfare Remastered
This weekend's Call of Duty XP event was primarily used to showcase the upcoming Call of Duty: Infinite Warfare from Infinity Ward, and fans got a chance to play the game early. You can read our impressions here. There were also a few announcements made during the opening briefing, and lots of game-related activities to participate it. But it wasn't just an Infinite Warfare tent that was setup with gaming stations. We also had a chance to play three other related titles – VR game Jackal Assault, Zombies in Spaceland, and Call of Duty: Modern Warfare Remastered.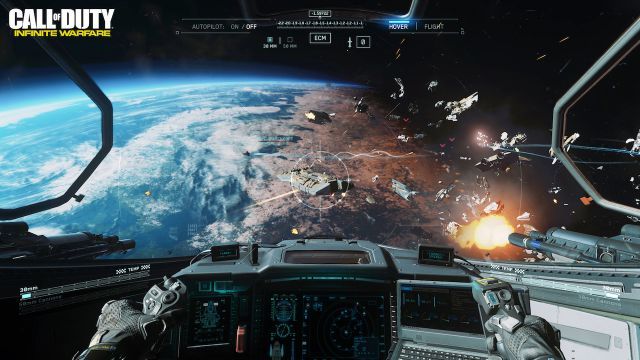 The demo of Jackal Assault was the first game that we tried after spending plenty of time with Advanced Warfare. The demo was being hosted in a darkened storage container lined with demo stations containing a pseudo flight deck control setup, a tall chair and a PlayStation VR headset. Getting the headset on, and ensuring all the calibrations were in order, we were handed a DualShock 4 and started the demo.
The objective was simple – after getting acquainted with the controls via a short tutorial — a space battle broke out and we had to defend the main carrier from incoming enemy forces. The location of the battle was similar to what players saw at the start of the Advanced Warfare single player trailer shown at COD XP Briefing. The difference, of course, is that utilizing the VR headset it was possible to look around, and pressing a button produced a reticule that you could use to aim by looking at the enemy ships. The controls were straightforward, with thrust, break, and a few attack types.
Any game that takes place in space, where you're free to move in literally any direction, can be disorienting, but imagine playing in VR. To say it was immersive is an understatement. A bit disorienting at first, getting comfortable with the controls and performing some almost breathtaking manoeuvres was fun and memorable. The graphics did not look as good as the main Infinite Warfare game, but at this point we can assume most VR experiences won't be graphical powerhouses, at least at not for a while. Bottom line, however, Jackal Assault was a fun VR game and will be a nice free bonus for PS VR owners who get it with Infinite Warfare.
A bit further down the Call of Duty XP lot was the Zombies in Spaceland area, and we got some hands on with the mode. It's worth pointing out that this marked the earliest opportunity that a zombies mode was available to play compared to previous games, and we've heard about the lasting legacy of the Zombies from creators at Treyarch. The demo was on a 20 minute timer to prevent folks from making too much progress, but I played through it a couple of time. Zombies in Spaceland takes place... in space. To be exact, three teammates and I found ourselves in a theme park/movie lot. The whole aesthetic is a completely whacky take on 80s sci-fi themes. Crazy characters, bright neon colors, and an appropriate soundtrack being curated by David Hasselhoff. It's certainly a unique setting to have zombies in.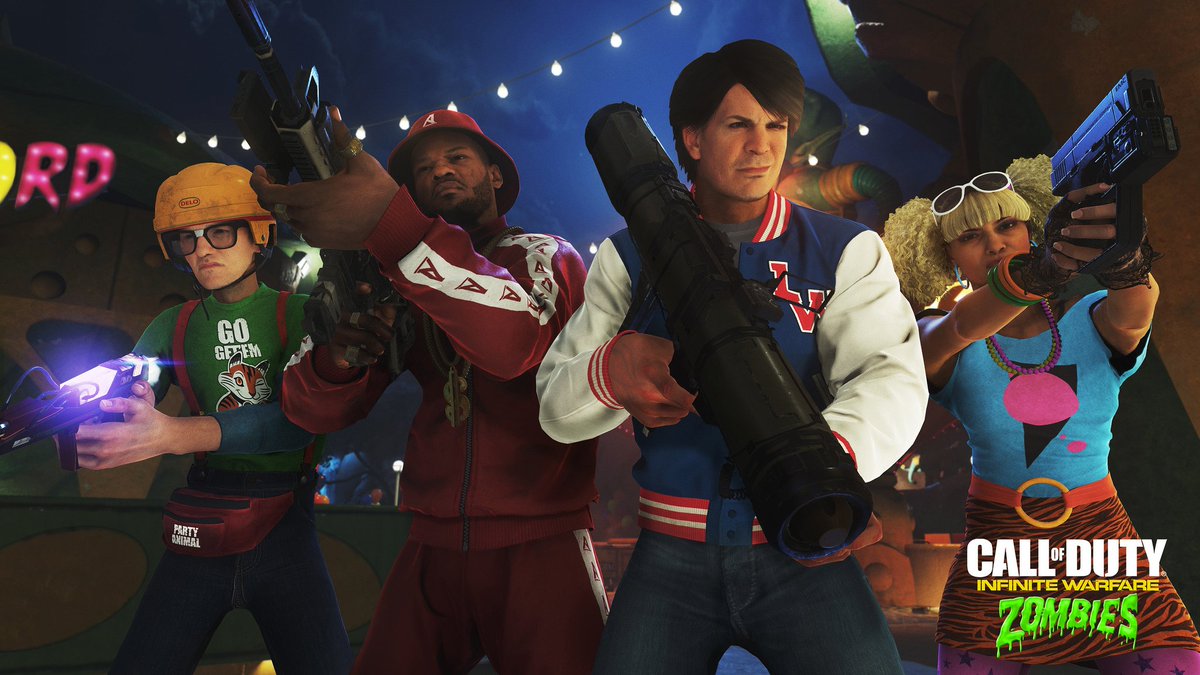 The setup is that you and three others have somehow become trapped on this movie set from hell, and Paul "Pee Wee Herman" Reubens is the mysterious director. Our first objective was to restore power by flipping a couple of levers and unlock the next area. All the while, zombies began to slowly stream in from the edges of the map, such as through windows and doors. The action was relatively straightforward as one might expect from the mode. Players can earn cash for their kills, and spend it on new weapons and other items that are spread out around the area. You also need cash to unlock the next areas and side rooms.
As our group shot through waves (called Scenes, to fit the setting) of the undead, they dropped various items and basic power-ups that fans will be familiar with, from ammo and cash to Insta-kill. There was also a new currency type in the form of tickets. These tickets can be redeemed for more powerful and rare guns and boosts, though it wasn't immediately obvious how to earn this currency. Initially, our group was bored in the first few areas as it was very easy with relatively few zombies. On occasion, there was a special wave that had only clown zombies. Eventually we opened up more areas of the set and became separated. By then, we were on Scene 10 and zombies began popping up from all sorts of corners, including simply rising up from the ground via portals. A few of my teammates went down, but could still shoot back thanks to the downed state.
Besides the classic weaponry and abilities, there are also new abilities with a card deck system. Players get a Payload-like skill that charges overtime and offers a super skill to use – mine would cause my bullets to set fire to all enemies hit. There's also a skill that would insta-kill any foe with a headshot. After my time with Zombies in Spaceland, the new and unique aesthetic definitely works, but in terms of gameplay this feels a lot like the zombies modes that came before it. It will undoubtedly please fans, but those generally apathetic towards it aren't likely to get drawn in.
Last, but certainly not least, was the Call of Duty: Modern Warfare Remastered tent, often featuring the longest lines of the Call of Duty XP weekend. We heard the developer talk about the game, and also got to play through a number of multiplayer matches. As I jumped in to customize my solider, I was reminded of the simpler times in the franchise. One primary rifle, one side arm, one attachment per gun, a grenade and three perks. The rifles included the classic SMG, shotgun, assault rifles and so on; you can equip just one attachment, from a scope to a handgrip. You can also pick a camo for each weapon. The three perks allowed you to select one per type, in classic fashion.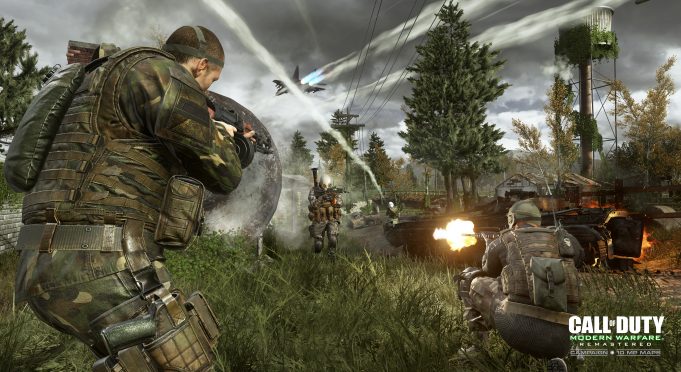 Our first match was a TDM on the Backlot map, with the final scoreboard reading a modest 15k 15d for me. We played through domination and TDM on Crash as well. There is no question that MW Remastered is going to offer a slower, more methodical multiplayer experience compared to the recent fast paced and futuristic entries. Killstreaks deployments felt more infrequent and more impacting to the match. The visuals and audio were good and on-par with a modern release. The TDM mode only offered the option for randomized teams (unlike the Infinite Warfare demo which allowed us to pick the same team as those sitting on our side of the demo stations), and it's unconfirmed if that will be the only option in the final release. The controls felt responsive, though it was extremely clunky to try and get through windows.
The matches that followed provided an interesting thought. Compared to Infinite Warfare and other recent COD games, our time with MW Remastered didn't feel as competitive. Most of the matches played (against and with different people) resulted in most teams being carried by one or two players. For TDM on Overgrown for example (which looked good, with lush vegetation and bright colors), players that tried to be highly mobile were punished by campers. That's right – the downside of bringing back a more traditional game such as this may mark the return of something many players have forgotten about. Camping felt prevalent amongst players with the highest scores, as it was easy to place yourself in a corner or in a building and never leave. Two players in there? You might as well not bother trying to challenge their position. With the lack of movement flexibility and tech items from more recent games, it's once again entirely possible to lock down sections of the map with ease. So, if you're planning to pick up the game, get ready to really adjust your style.
Even with Call of Duty: Infinite Warfare taking the proverbial center stage, fans at Call of Duty XP 2016 had a slew of options to get their hands on other modes in the game. The VR experience was rather fun and will be a nice freebie for PS4 PS VR owners. Zombies in Spaceland will surely please fans with a whole new aesthetic and more of the familiar gameplay (with a few twists). And of course, Modern Warfare Remastered should tap into the nostalgia factor, competed with solid gameplay and a complete presentation overhaul. For fans to be able to check out all these playable demos at Call of Duty XP 2016 proved that the event was more than just a reveal showcase for Infinite Warfare.
Disclaimer: Activision has covered travel and hotel costs for New Game Network to attend and cover Call of Duty XP 2016.
Comments