NBA Live 16 Review
Basketball franchise takes a step forward, but remains at the back of the pack
EA is no stranger to putting out yearly iterations of sports titles for the most popular sports on the planet. From soccer to hockey, the franchises under the EA Sports brand have always enjoyed at least moderate success, and the NBA Live franchise was no different. Something changed after NBA Live 10, however. EA Sports wanted to alter the brand name into NBA Elite 11, but development problems and negative feedback from fans meant the game was never released. The development of the series was then moved to the experienced folks at EA Tiburon, makers of Madden NFL. However, their first attempt at basketball with NBA Live 13 also ended with a cancellation. So it was only in the fall of 2013 that the next title, NBA Live 14, became available.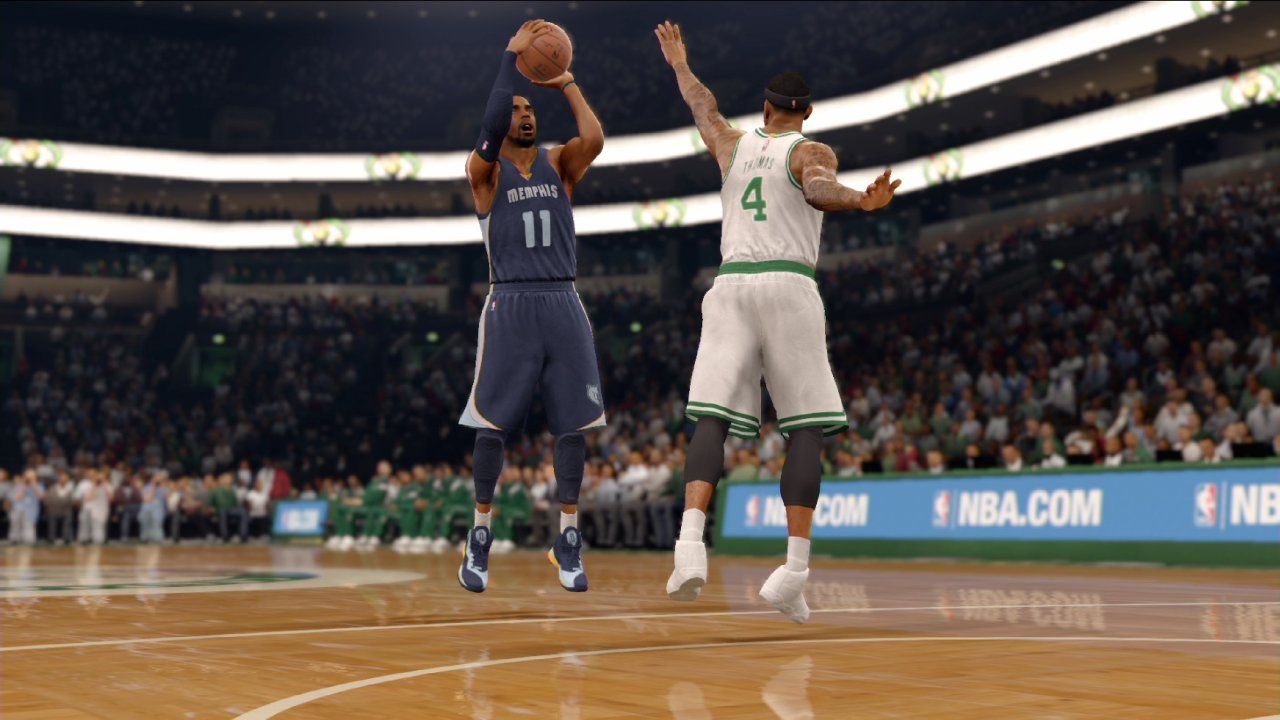 The '14 and '15 versions were met with a mixed reception from fans and critics however, and given that the competing NBA2K franchise has established a strong dominance on the market, EA Sports found itself behind the curve for the first time in a while. But, given that they have been able to turn things around before - with NHL and FIFA franchises previously lagging behind competition - there was always hope that Live could do so as well. While NBA Live 16 certainly continues the series' upward trend, there are still some ways to go.
One of the first things you do when firing up the game is create your virtual pro. To do so, you can use the GameFaceHD feature of the NBA Live Companion app. This tool lets you take a few photos of your face, and automatically import it into the game. The app requires a recent iOS/Apple device, seemingly more to do with the hardware capabilities (a good front-facing camera) than the software. My Nexus 4 runs on the latest Android 5.x and is still a fairly powerful device that supports other apps from EA Sports like FIFA and Madden, and yet my device wasn't compatible to even download the NBA Live app, let alone use the face scan feature. So, having borrowed a Samsung Galaxy S6, I went ahead with the scanning. Surprisingly, the feature works really well, and can create some very uncanny likenesses in the game. If you don't find it jarring to see your own self in the game, the scanning process is definitely worth doing.
Creation of your virtual self is key to many of the modes in NBA Live 16. One such mode is the return of Live Run, offering pick-up style matches with up to ten players. Two teams of five get together to play a classic first-to-21 points matches in venues that feel more personal than an NBA court - from Hoop Dome in Toronto to Venice Beach. While the mode is meant as a multiplayer online venue, AI teammates join the fray often as not enough human players are found during matchmaking. Pro-Am Live Run is an enjoyable mode; it harkens back to the simpler days of proving your worth on the streets, if you're into that sort of thing.
A brand new mode this year is Summer Circuit. It is constructed as a series of five matches against pros that control a court across North America. Much like the summer leagues that some real NBA Pros attend, Summer Circuit is meant for you and up to four teammates to cooperatively beat a series of AI teams during these casual, yet challenging, mini tournaments. Each series ends in a boss battle of sorts against the best players from that particular court; for example, getting to the Venice Beach finale will see you challenge Kobe Bryant and Russell Westbrook. The mode can also be played solo with AI teammates, which can be better or worse depending on your human cooperators. Summer Circuit is a fun mode, though it doesn't offer anything groundbreaking.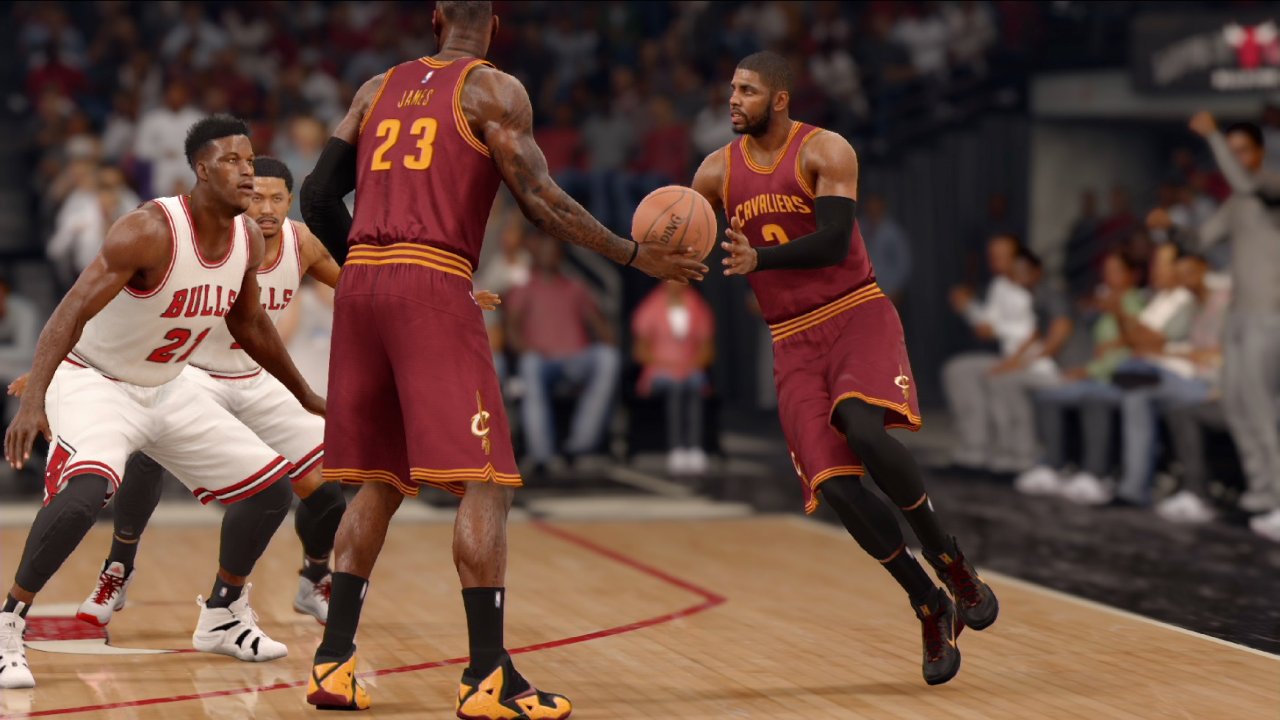 While winning Summer Circuit games is enough to progress, there are various challenges of increasing difficulty, from making a few good passes to earning high teamwork ratings. The reward for completing these challenges is unique visual accessories for your pro. This brings us nicely to the game's focus on personality and customization. As you play games with your pro, you'll earn Reward Points that are used to unlock a huge variety of items. From shirts, footwear, to shorts and more, there is a lot to buy to customize your player. In proper EA style, everything is authentic, so from Nike to Under Armour, to Adidas, the accessories in the game look close to the real thing. And of course, like most NBA stars these days, you can get tattoos as well from an extensive selection.
But beyond the visual customization, your virtual pro will also benefit from a new progression system. You earn Skill Points only through playing on the court, with no option for microtransactions as NBA2K seems to focus on. After an initial distribution of skills based on your chosen position and specialty, you'll get improvements in bursts thanks to the milestone system. Rather than micromanaging your abilities one point at a time, you can get a bunch of points and unlock bonuses and rewards at the same time. Such bonuses include new animations and moves, as well as more custom gear. It all feels fairly well balanced, and it doesn't take too long to get your player into a decent shape.
Finally, Rising Star is NBA Live's Be a Pro offline career mode. The mode hasn't seen too many changes - the goal is to once again leave your mark on the league by becoming a true legend. You'll be trying to please the coach, putting your best skills on display, and helping your team reach ultimate NBA Finals glory. There's not much to do in Rising Star, even compared to other franchises from EA Sports. It feels a bit hollow, with very limited interaction with the coach and other players, and seems more in line with what other sports games offered four or five years ago. On a positive note, your pro is persistent between all three modes (Summer Circuit, Rising Star, and Live Run) so you can always switch between them seamlessly.
If you're more into managing whole squads, the Dynasty mode is available, as expected. Becoming the GM of a franchise, the game offers players the choice of real squads, the 2015 Draft, or the welcome option of a fantasy draft. The season objectives will reflect the goal you've chosen for the year, whether it's the ultimate championship glory or just trying to rebuild. From there, you are tasked with managing the team, making trades, and taking it one game at a time. You can play the matches yourself, or use the flexible simulation engine to observe from afar and even intervene mid-game. Again, unlike other EA Sports titles, Dynasty isn't particularly deep and the AI GMs can still make some baffling choices when it comes to trades and roster management. There's also no modifying of players or rosters manually. Dynasty might satisfy players looking for a lighter take on the GM lifestyle, but hopefully there will be more to do in future iterations.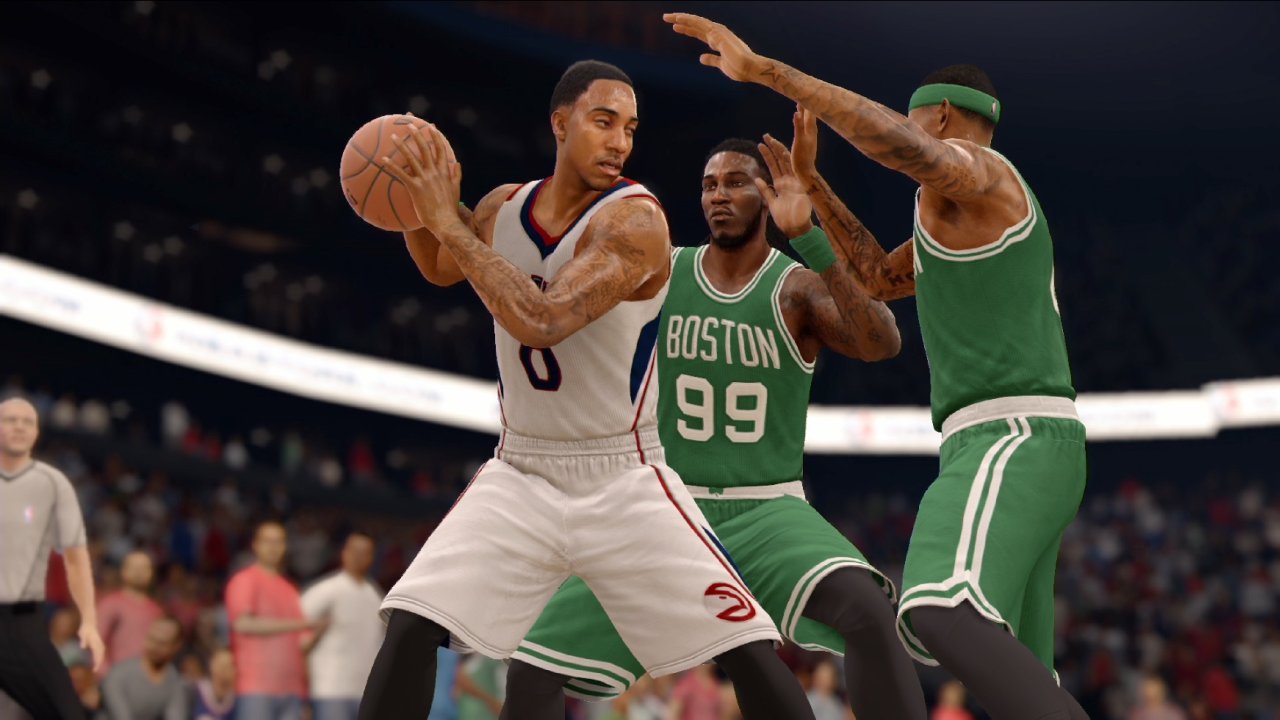 Last but not least, the Live Ultimate Team mode also returns, without any major changes. There are some new Specialist players that are altered versions of the normal cards with new stats; similarly, throwback players are special versions of existing players during past moments of their careers. Like FIFA, LUT lets you take short-term players on loan to try them out for a limited number of matches. Also like FUT, Live Ultimate Team has a manager checklist of actions to get you started, and awards a player pack at the end. There are also offline challenges to undertake, like those in Madden or NHL, however almost all of these are full games instead of late sections, making them a bit of a chore. Despite no major changes, one thing EA Sports really knows how to do is Ultimate Team, and NBA Live 16 certainly delivers in this mode.
On the court, NBA Live 16 continues to struggle a bit. Gameplay, being the core of the experience in any sports title, is not able to prop up Live's overall impression. There are improvements, sure, such as the addition of shot feedback - a percentage that appears and indicates the likelihood of making the basket. Shooting is tied to the press of the button, so your wind-up and release directly affect how well you'll perform. On defense, visual indicators also help, creating easy to see markings for the guy you're supposed to cover. When trying to call plays, NBA Live is definitely user friendly; a touch of a button calls up the most appropriate quick play based on the situation. Hold the button, and you get a quick menu to make specific calls. Players will certainly feel like they have control over the action on the court. On the whole, NBA Live 16's gameplay alterations seem to focus on making the game more accessible, and they succeed.
Unfortunately, creating a Trainer-like feature that other EA Sports franchises also showcased this year, may not have been the right focus. The controls can feel a bit sluggish, and there is little nuance to player movement, unless you're sprinting full speed to the other end of the court. If you try to slow down the attacking play, you'll need to use a series of skill moves to get past the defense. That's partly due to the fact that all those plays you call are not always executed by AI teammates to perfection, and even simply passing the ball around will cause some hitching in the animations. If you're the sort of player who wants to do everything himself, and can perform the skill moves, NBA Live 16 can be satisfying - especially thanks to the highly fluid and enjoyable dribbling. But try to slow the game down, use lots of passing and play calling, and sooner or later the AI and gameplay mechanics will let you down.
The reason this works is because the attackers still seem to be favored. If you drive the basket, chances are you'll succeed, because the animations favor attackers. So when it comes to defending, you'll often be frustrated by both AI and human opponents who dance through the paint for a dunk, while your player is pushed aside in an animation sequence. It's a bit of a unique problem to the NBA, since most other franchises don't focus so much on moves and direct player interactions, and it seems EA Sports still hasn't quite got it figured out yet.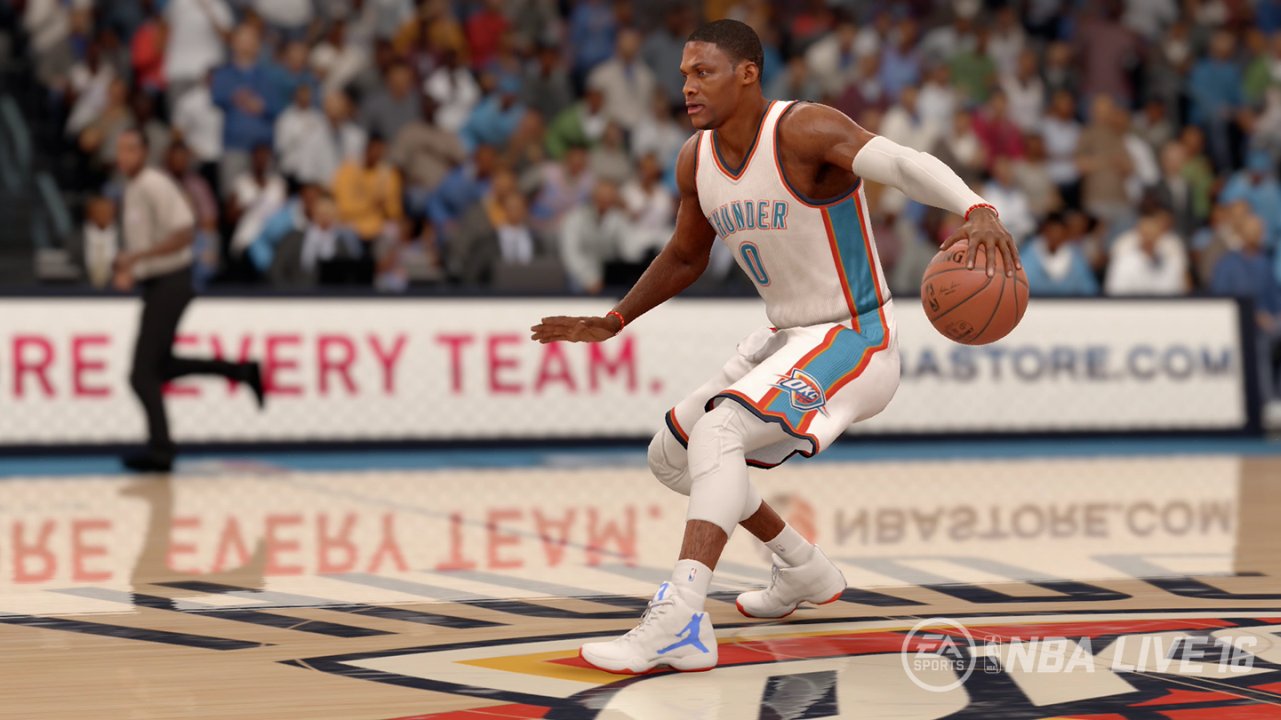 Presentation is still solid, though not without some rough edges. Player models and arenas are all rather life-like, and will satisfy all but the pickiest of fans, along with nice lighting. The animations are very smooth, though there are some oddities during player interactions in cutscenes. The number of animations seems too small, especially when the ball is not in play, so repetition tends to set in. The halftime and game wrap-up shows are cool to look at, but are let down by the commentary. Mike Breen and Jeff Van Gundy try their best, but the script just feels very dry and is miles behind FIFA's in-depth analysis, especially when it comes to topics outside of the immediate matchup. The courtside crowd can also be of varying quality, sometimes becoming eerily quiet for long stretches of the game, but cheering loudly when appropriate.
NBA Live 16 is a continuation of the rebuilding process that EA Sports has decided to undertake. There are some solid modes, lots of focus on creating and customizing your Pro, and the gameplay shows signs of improvements. But, even compared to EA's other sports franchises, there is still much to do. The game makes steps in the right direction, but it hasn't yet closed the vast gap to the leader of the genre.
Our ratings for
NBA Live 16
on PlayStation 4 out of 100 (
Ratings FAQ
)
Comments
blog comments powered by Disqus