NHL 16 Review
Back on home ice
It would have been tough to find fans of EA's NHL franchise that were satisfied with last year's effort. While it was the debut of the ice hockey simulation on the latest consoles, the extended wait wasn't worth it. The gameplay and visuals were acceptable, but NHL 15 severely lacked in content and features. Having promised to take all of the criticism to heart, the developers at EA Canada are hoping to return the series to its former standard of quality. NHL 16 is an unmistakable improvement and a step in the right direction, but in the grand scheme of things, it's a rebuild year.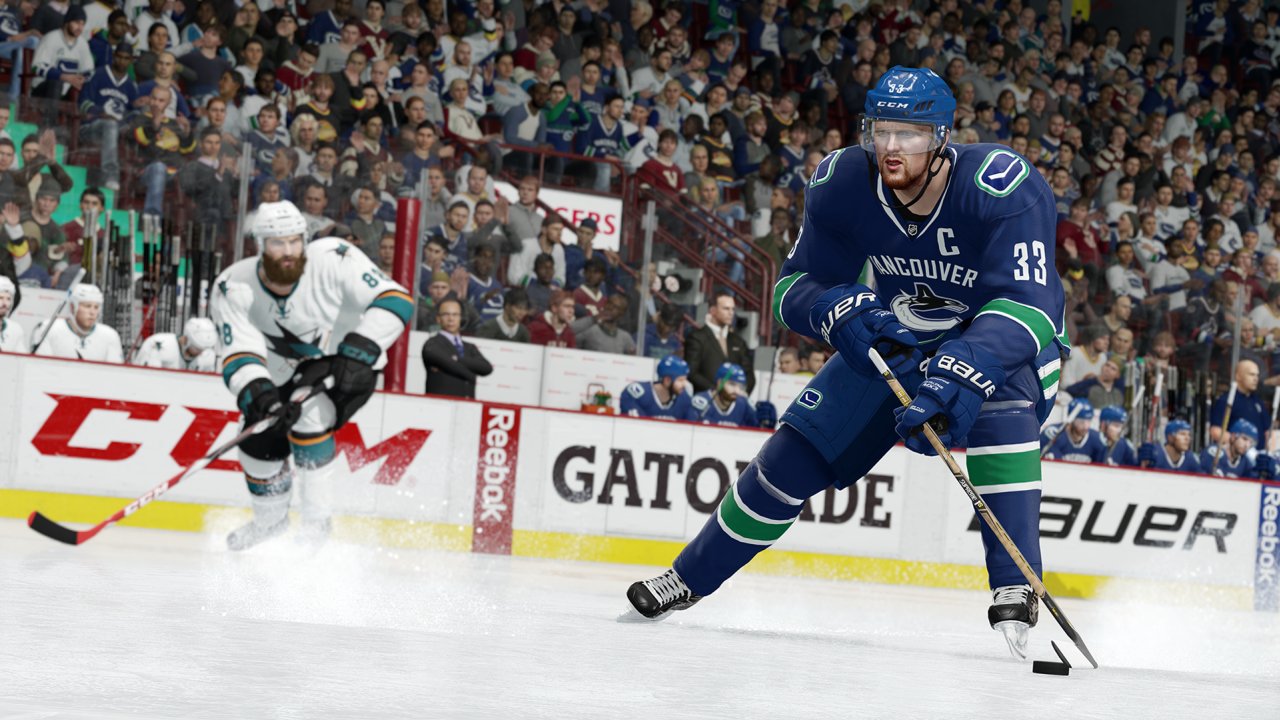 Before even getting to the menus, NHL 16 takes a page out of EA's FIFA playbook and kicks things off with a playoff game between Tampa Bay Lightning and Chicago Blackhawks. The most immediate notable change when hitting the ice is the introduction of the new On-Ice Trainer. This new system (also integrated in other EA Sports games this year) provides visual cues for the players. From showing the best passing and shooting lanes, to reminding you what controls and moves you can perform, to showing gaps in goalie net coverage, it's a great starting point for newcomers. Those with prior experience can turn it off altogether, or tune the level of tips they receive based on skill level. While useful, the system can be visually distracting and may not always work well in a fast-paced sport like hockey, potentially resulting in losing sight of the puck.
The on-ice product continues to be engaging. There are a variety of ways to play – from a range of difficulty settings to three distinct playstyle modes. Arcade makes for a rapid, high scoring affair while Simulation creates a more realistic user experience. Hardcore, the mode used for online play, is supposed to be the most authentic, but it often feels restricting. The hitting is mellow and unsatisfying, and the speed of the game feels very slow. It works better for team games than 1vs1 competitive play. And offline, you can still fully tweak every aspect of the game thanks to the custom slider options, and achieve the perfect hockey sim that fits your idea of fun and realism.
There's been some obvious work put into the defensive side of the game. After the introduction of one-touch dekes and a focus on offense in previous years, defenders are now are better equipped to deal with figure skating attackers. The poke check feels good, striking a balance between using it with skill and it being effective. Hitting has been toned down, as mentioned; boardplay feels a bit glitchy. Goalies have seen some refinements, finally with some new animations and better controls for players that like to wear the pads. There are still some really questionable pucks that go through AI netminders, though.
While remaining effective, the stick-lift and poke check also don't draw as many penalties as before. Defenders further benefit from the reworked passing mechanics. Getting a breakout pass to your teammates up the ice is now a more challenging task. Passes in general are less accurate, and there are tons of interceptions and deflections that introduce a notably random element to the game. It can be both exciting and frustrating, but it does feel more realistic than before. The bottom line, however, is that while NHL 16 gameplay is solid, the series is still working through various refinements that seem to stretch back to the previous console generation. There was nothing particularly groundbreaking or "next-gen" about NHL 15, and this year's version continues to make slight adjustments without introducing anything revolutionary, while still seemingly carrying the weight of old gameplay design.
You can experience NHL 16 in its "purest" form, as the developers intended, by playing online. Competitive 1 vs 1 play mode returns without many alterations, and displays some connectivity issues despite only two players being involved. The shootout mode makes a return this year, in both offline and online varieties. But the biggest news is the return of the revamped EASHL. The EA Sports Hockey League has long been the main online attraction, letting players create and grow a skater as they participate in up to 6 vs 6 matches. But the system has always been focused on grind, putting players who jumped in late at a big disadvantage. This year, the game has changed.
Progression of your created custom EASHL player is now managed entirely by the game itself. This means a much more level playing field, with no more progression grind or microtransaction system to boost your stats. Instead there is a prestige-like system using Player Badges; players can get to level 50, and then earn prestige rank and return to level 1. Though jersey, height, and weight customization no longer exists; and some players may miss the individuality of grinding for completely custom player attributes, the new system makes the game more fun and fair for all involved.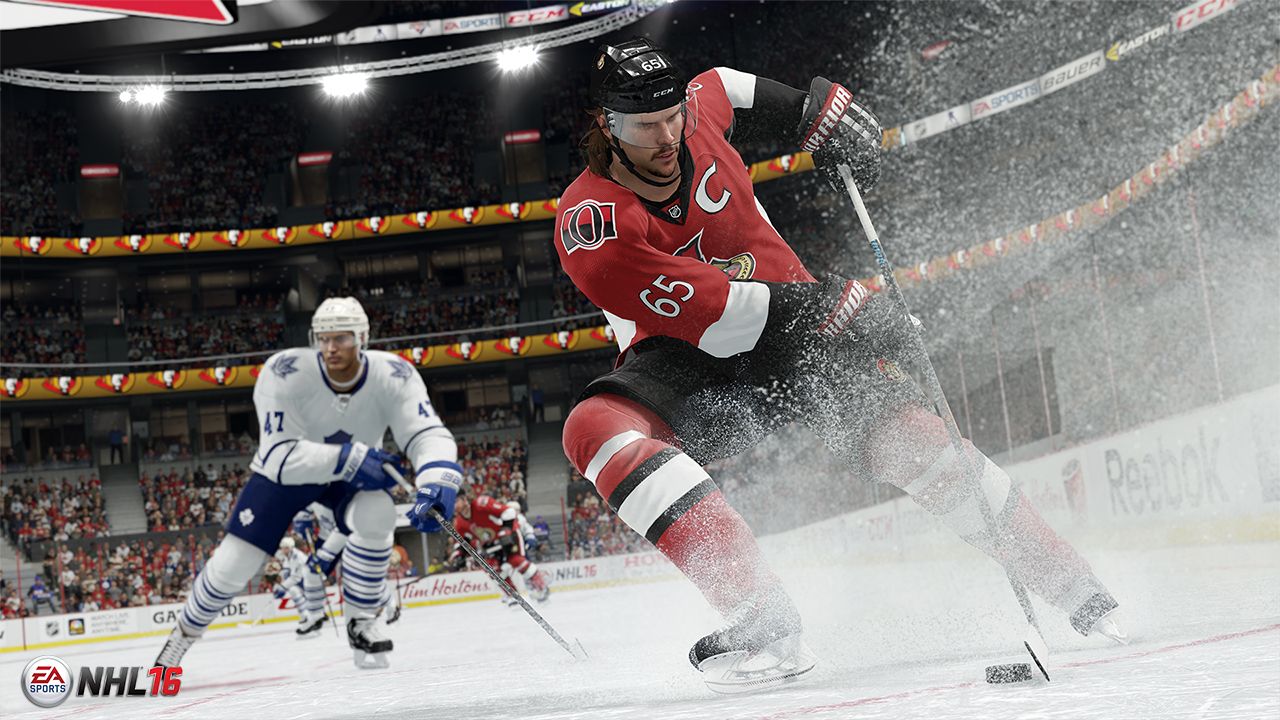 With no individual player stat tweaking, EASHL instead offers players a choice of specialized player class before every game. You can see what player classes both teams have selected and adjust your own choice accordingly. Forwards have classes such as Enforcer, Sniper, and Grinder, while defenders can be Offensive, Defensive, or Two-Way. Goalies can choose between three classes as well. Each class comes with their own pre-set allocation of attributes, and unique strengths and weaknesses. Players need to pick a class that best suits their playstyle, as well as the needs of their team. It's a good system that helps differentiate players on the ice even though your ranks may be the same.
Players earn experience not only by playing in EASHL games with their team, but also by participating in new drop-in EASHL games. It's a great way to keep active while the rest of your team may not be available to play a club game. The action itself is more satisfying, too. With 12 players in a match, the game actually manages to perform better than in 1vs1 multiplayer. EASHL is also the sole spot where this year's slow gameplay pace works, letting you keep an eye on your own player positioning as well as the puck. Even drop-in games usually end up with some sort of teamwork developing between strangers.
Hockey Ultimate Team continues to be at the center stage as well, letting you build and play with a custom roster of players. This year the Single Player seasons return, but there are still no tournaments. You now have an option to play a friend, and there are improvements made to the filters in your collection and bidding. Unless you pre-ordered or spend cash, getting a decent team together will take some time as the game is stringent with giving out points needed to buy new player packs. The menus can be a bit slow to load as well, though it's understandable for a mode with online connectivity.
Comments
blog comments powered by Disqus