FIFA 16 Preview - E3 2015
We head down to the pitch, this time with the ladies
Bringing notable innovations to sports title is not an easy task. After you've established the sport simulation, there aren't many places left to go for the franchise, beyond making various gameplay tweaks and adjustments. With FIFA 16, EA Sports has chosen to offer something truly new – women's teams. This includes new movements, animations, and a notably different overall experience. It doesn't end there – we had a chance to hear about the details and play FIFA 16 at this year's E3.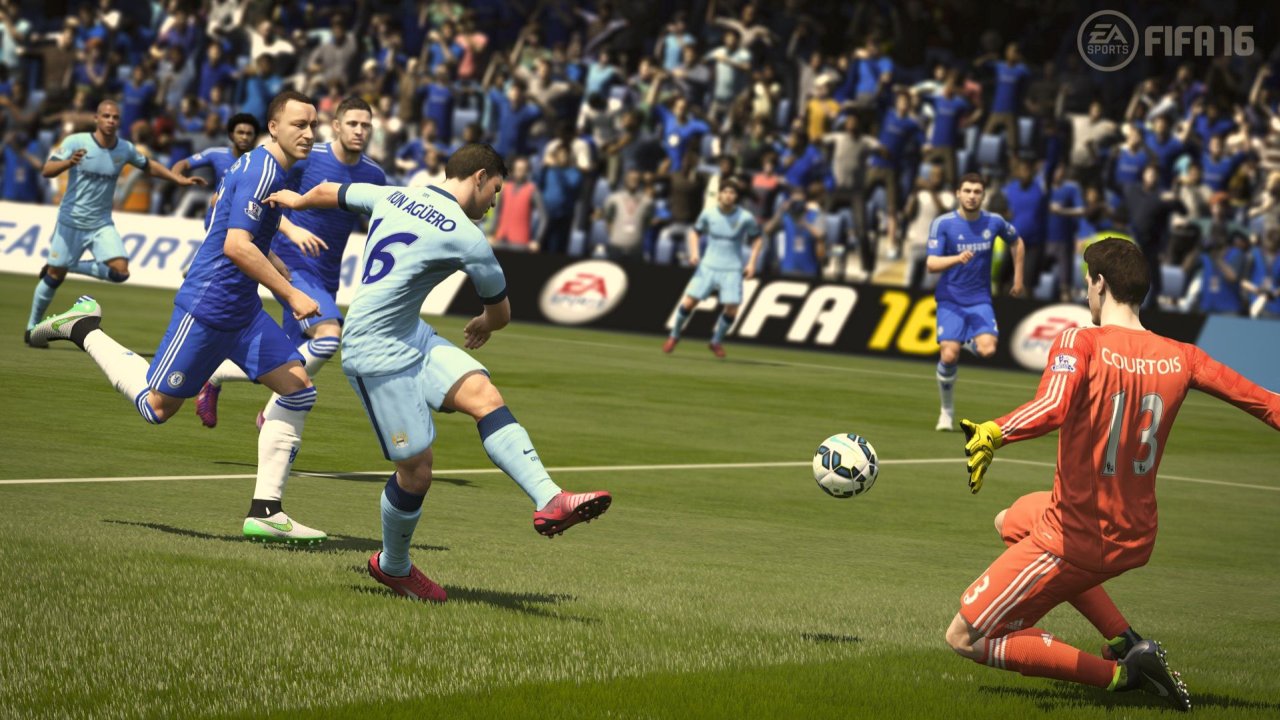 But let's expand on the above. FIFA 16 will feature 12 Women's National Teams for the first time in franchise history, including the squads from Australia, Brazil, Canada, England, France, Germany, Italy, Mexico, Spain, United States of America and more. The teams can be used in several game modes including Kick Off, an Offline Tournament, as well as Online Friendly Matches. EA says that the female players will control and feel differently, including new animations, cutscenes, and physical play.
Of course, there's more to the game than an introduction of new squads. The developers at EA Canada say that the focus this year was to touch every aspect of the FIFA experience and make changes at every end of the pitch. Key changes in defense include new Defensive Agility, promising balance in movement between attackers and defenders, with multiple gameplay changes to defender locomotion. New intelligence and positional-awareness will help teams defend as a unit, and finally new tackling offers new behaviors like fake and standing tackles, as well as full-body challenges and the ability to bridge out of sliding tackles.
In the midfield, which the developers say gets bypassed too often, new interception mechanics should give AI more opportunities to close passing channels and shut down options. New Passing with Purpose mechanic promises a new driven pass to make sharp, incisive plays that focus on precision. Finally, in attack, players can utilize no touch dribbling to create feints with their body without touching the ball. The developers say that depending on where you hit the fall will finally affect its trajectory and rotation, and the feet of players have finally been modeled in 3D when calculating physics.
FIFA 16 will also feature the seemingly common addition of the Trainer. Like in other EA Sports titles this year, the optional FIFA Trainer will provide players of all skill levels dynamic advice throughout the match. New players will benefit from general strategy recommendations, while experienced players will be reminded how to perform sweet moves and dribbles. The system is as welcome here as it is in EA's other sports titles, offering players a way to learn and grow on the fly, without making them sit through tutorials.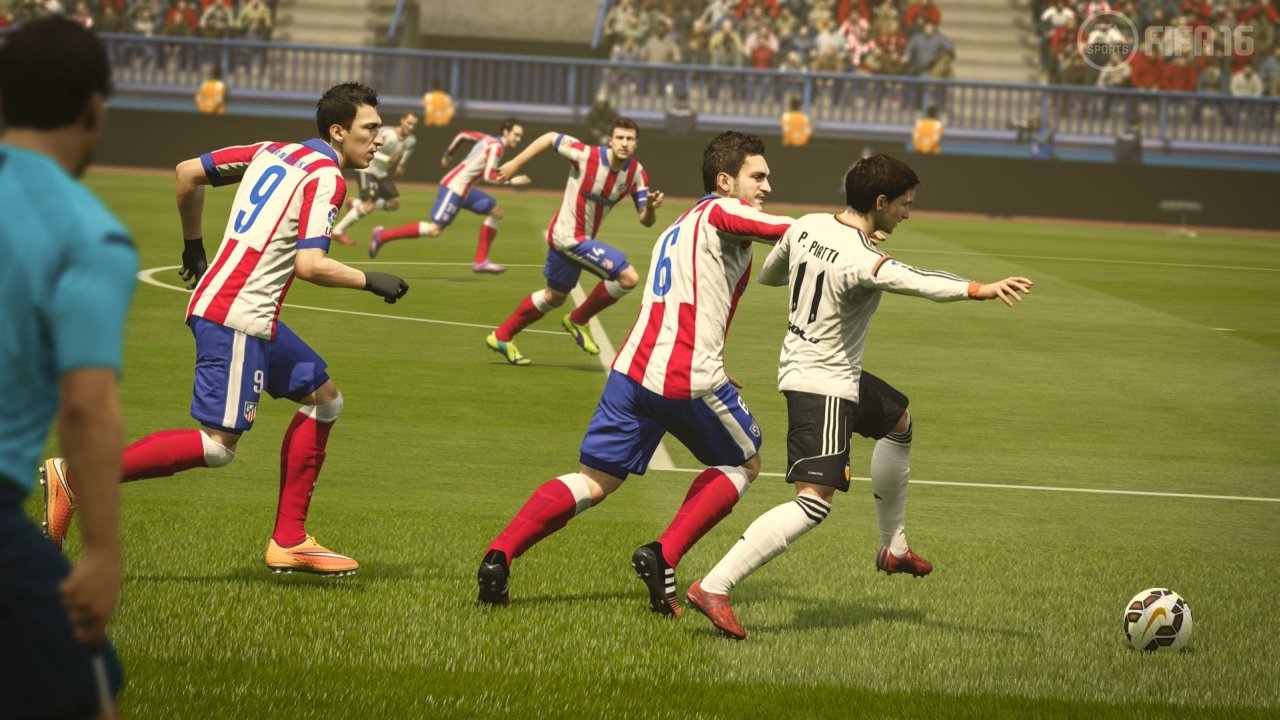 Perhaps some of the more interesting aspects of FIFA 16 are those we didn't hear about. Last year's big new feature was the emotional interaction between players and their attitudes towards others on the pitch. It was a great system in theory, but lacked in execution. At E3, the feature did not get a mention – will we see it at Gamescom, or has this notable addition from last year been left on the cutting room floor? We hope for the former.
After the presentation, we had a chance to go hands-on with FIFA 16. And like almost every year, we came away impressed. The game felt great from the start, as it usually does, so we focused instead on checking out the new features. In defense, the team did look to be more composed and in control of the situation. Despite the heavy pressure from the opposition, my squad was able to hold them back and push to the flank, with multiple interceptions and great tackles. Once we got a hold of the ball, counter-attacking was still feasible, because the midfield is now a dangerous place to pass the ball around. The new passing mechanics do make for some great plays, but it's all at the risk of losing possession. Once we finally made it in range of goal, the shooting felt satisfying and powerful, though not particularly different. The match concluded with a narrow 2-1 victory.
We also had a chance to observe a couple of women's team matches, and the differences were notable. From the movement of the players to their animations and behaviors, these were indeed brand new squads, and not just re-skins of the men's teams. Although given the relative limitations of where the women's teams can be used, time will tell if this new addition to FIFA will be a popular one, or quickly forgotten after the novelty has passed.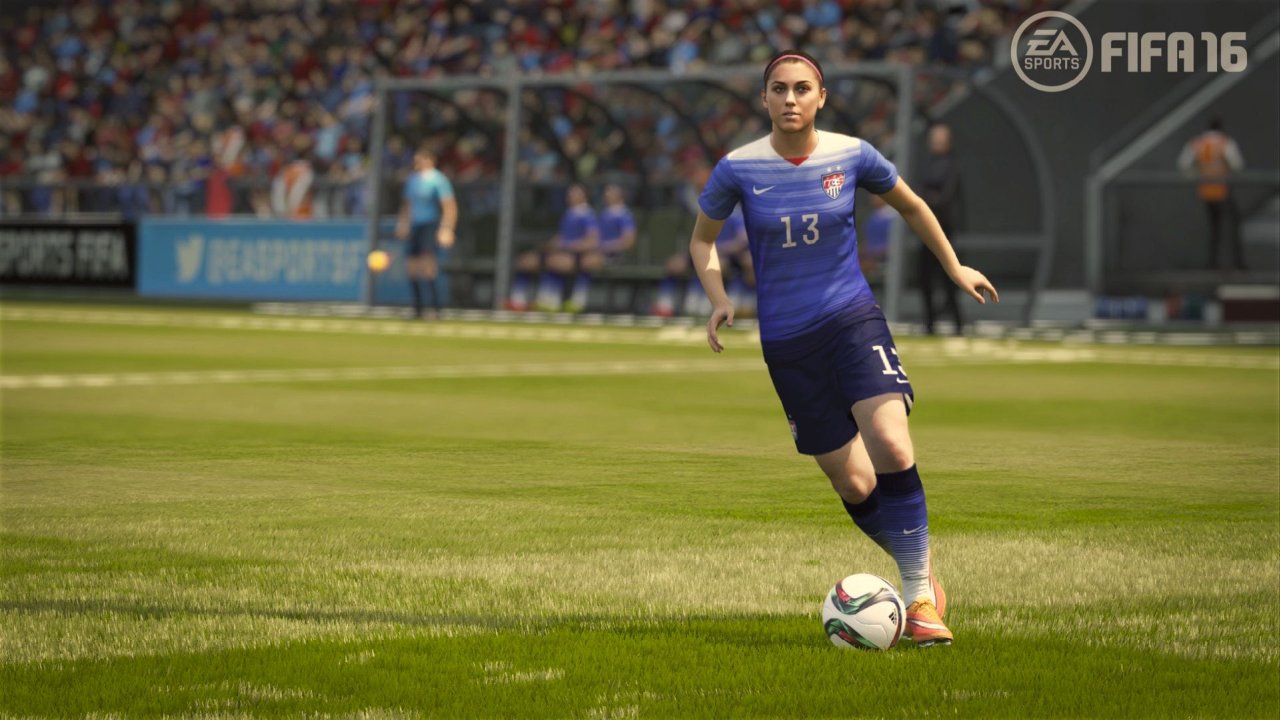 We've been checking out FIFA almost every year we've been covering E3, and the sports franchise manages to impress almost every time. Perhaps that's why it's a best-seller in Europe, year after year, despite occasionally not featuring as much new content as usual. With FIFA 16, EA promises to bring changes to every aspect of the team play, and add notable new content with women's teams. From what we've played of the game, the changes are already apparent and will likely cause players to shift their strategy and adjust to a more balanced game of footy. Look for FIFA 16 to launch on PC, Xbox One, and PS4 in September. A version of the game will also release on Xbox 360 and PS3.
Comments
blog comments powered by Disqus