The Division Preview - E3 2014
We get the latest on the highly anticipated open world multiplayer game from Ubisoft
Last year, the reveal of Ubisoft's upcoming multiplayer shooter The Division made for an impressive debut of a new IP that also left a lot of questions unanswered. All we really knew is that it is a third person shooter using a fancy new engine taking place in a dilapidated New York in the winter. This year at E3 we got some new information via a new gameplay demo and trailer that make it possible to start answering the question of what exactly The Division is, although many details about the game are still a mystery.
The gameplay demo we saw started with a couple of players in a subway station beneath a very snowy and run down looking New York. We hear the players talking to each other; one says to update waypoints, at which point we see the demo player open their map which is a sort of 3D hologram of the city. While it was difficult to say for sure from this brief glimpse, the map looked to be fairly large and totally urban. The players then progress through the subway station which is packed full of the kind of visual detail you would normally only get from a more linear game like Dead Space or The Last of Us.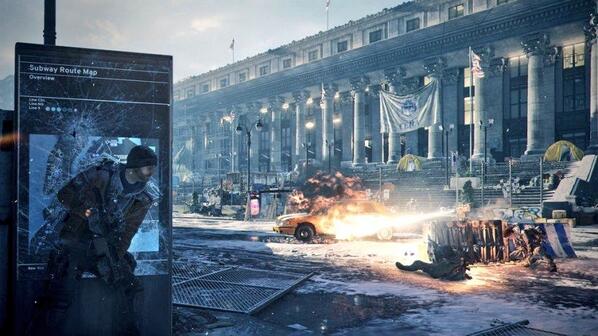 One of the players says they are getting a reading, at which point another hologram pops up, this time of a life-sized train and nearby passengers frozen in place. The accompanying cinematic trailer and discussion from the game director suggests that much of the game will be spent uncovering details about how the city fell to its current state of disrepair, with some kind of terrible pandemic being pointed to as the cause. This hologram gives us some insight as to the way in which we will learn about the city's recent history.
The two players briefly discuss this hologram and then meet up with a third player before moving up to the street in order to access a base of some kind. Once on the street we immediately hear a group of NPC's yelling up towards a building in a rather non-friendly way. There is also another group of NPC's hiding behind some cars. Neither of these groups of enemies have yet spotted the players. At this point we finally get to see some combat as the players decide to take out one of the hostile groups quietly.
We briefly see the player which we are following open up a menu filled with various gadgets, while one of his team mates throws a device resembling a mine onto the ground near the hostiles. They then move into position and open fire. One of the enemies runs beside the mine which turns out to be an electrocution device while the others take cover. One charges in with an axe but is shot down. The main player then throws a drone which flies forward and flashes bright lights, blinding one of the enemies. One of the players gets incapacitated, at which point another deploys a sort of flame turret for cover and moves up to revive him. After this they take on an "elite" soldier who is heavily armoured and wielding a machine gun. After waiting for him to reload the throw a sort of cluster grenade which stuns him, at which point they finish him off.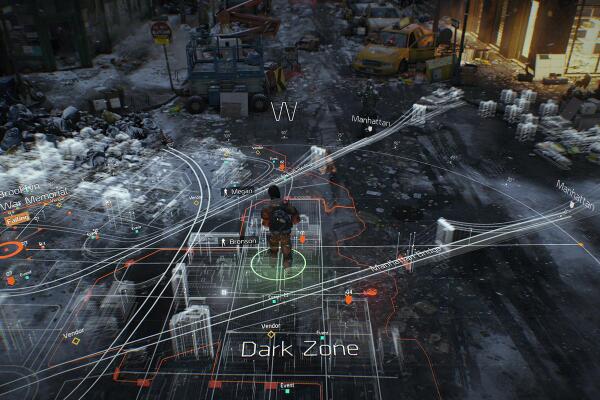 The combat seems to resemble that of recent Tom Clancy games like Ghost Recon and Splinter Cell with lots of gadgets and clever AI who attempt to flank you. The cover system looks similar to what we have seen in these games as well. What was most impressive about the combat was the detailed environmental destruction that occurred throughout. As seen in previous demos glass breaks accurately and weak structures fall apart as they take damage. At one point a player shoots a can of paint which splatters green all over the car behind it. As an open world multiplayer game it is hard not to be impressed with this level of detail.
While it is good to see a demo that reveals what the moment-to-moment gameplay of the Division will be like, there is still limited information about what the game as a whole will involve. Previous videos have hinted at PvP between groups and controlling certain sectors of the city, but how this will play out remains unclear. What is clear is that The Division is shaping up to be one of the most impressive multiplayer games to be coming out in 2015, and we will continue to keep a close eye on it until it arrives.
Comments
blog comments powered by Disqus