Microsoft Conference Recap - E3 2014
We get a first look at Halo Collection, Crackdown
Countdown. Video montage. Xbox. E3 2014 is underway with Microsoft's press conference.
To kick things off we have Phil Spencer, Head of Xbox, sporting a zipped up jacket showing a hint of a game logo beneath. We're told that the entire 90 minutes will be dedicated to games, which will be a relief to gamers after last year's hardware, peripheral and television-centric show.
In a surprising move to some, Call of Duty: Advanced Warfare is the first game to be shown off. Xbox users will get exclusive first play on any addon content the game receives. The trailer begins with a cutscene in which a group of soldiers crash into a futuristic warzone in a drop pod. From there it seamlessly transitions into gameplay. The first thing to say would be that it looks absolutely fantastic, it seems like the next generation is definitely here. We're shown a bit of the suit in action, using it to jump and fall great distances safely. A huge swarm of drones circles the player, and he rips off a car door to use as a makeshift shield to protect himself. Other highlights include what seems like a sonic wave shotgun, a grenade that paints targets behind cover, and of course, the homing grenades. CoD is coming to the next gen all guns blazing.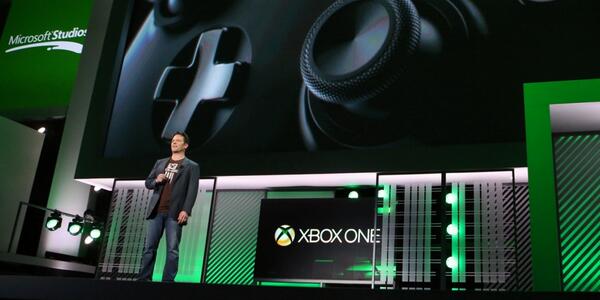 Next we have Dan Greenawalt, creative director at Turn 10 to tell us a bit about the Nurburgring coming to next gen in Forza Motorsport 5, surprising very few people. He's quickly replaced by Ralph Fulton, creative director for Forza Horizon 2, which will feature a full day/ night cycle and dynamic weather. The trailer shows some of the lush vistas of Southern Europe, some of the 200 cars that will be available, and hints that open world drivatars will be in full effect. The game will be coming out on September 30.
We're shown a brief trailer for Evolve, the 4v1 multiplayer shooter. It introduces the classes available, and shows off the monster you can play as. Not a lot here that hasn't been shown off already, and we're quickly onto the next game.
Vincent Pontbriand, senior producer at Ubisoft comes out to show Assassin's Creed: Unity, with the franchise unexpectedly making the switch over from Sony's press conference to MS. We'll be treated to the 'biggest playground ever', and you'll be able to form your own brotherhood with friends on xbox live. The game is set during the French revolution, and we're shown a trailer that you may have come to expect from an AC game. This time however, we're seeing the multiplayer in action. Making their way through a huge crowd,they break into a palace to track their target. Soon all hell breaks loose, and combat begins. As they reach the target, instead of assassinating him, they throw him out to the rioting crowd, where they rip him apart and throw his head on a spike, lovely.
Next up is a quick Dragon Age: Inquisition trailer, which will be releasing on October 7. We're not shown any gameplay, we'll probably to wait until EA's conference for that.
Next up comes what looks like a gritty war shooter. No one knows quite what it is until Insomniac's logo appears and the main character of Sunset Overdrive breaks through the door, and colour erupts onto the screen. It's a very meta trailer, with references to crates and crowbars, and the main character even acknowledges that he's in a video game. Ted Price, founder and CEO of Insomniac comes out and plays some. He shows off some new weapons and enemies and introduces the idea of an '8 player chaos squad'. Look foward to that on October 28.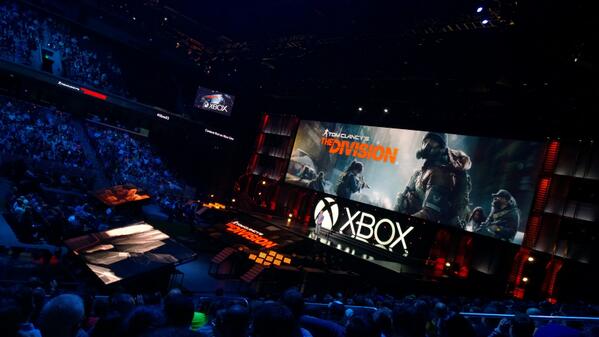 Next up was probably the most ridiculous part of the entire conference. Capcom runs a trailer for, wait for it, Super Ultra Dead Rising 3 Arcade Remix Hyper Edition EX Plus Alpha. It's DLC for Dead Rising 3, and if you don't understand the game title, then it's probably not for you. Oh and by the way, it's available right now.
Alex Rigopulos comes out for a short time to talk about Dance Central Spotlight, an Xbox One exclusive downloadable title. But he's not around for long.
Next comes David Eckelberry from Lionhead to show some gameplay of Fable Legends. As seems to be the theme of this year's conference, we're treated to a multiplayer demo. There's a lot of third person combat going on here, more than we're used to from a Fable game. We're also shown the 'villain player', who controls the world from above, placing traps and enemies.
Project Spark has a quick trailer next, and it's coming 'this holiday'. Unexpectedly, Conker shows up at the end to chainsaw the logo in half. He won't be getting his own game anytime soon, but at least you'll be able to have some fun with him here.
Following that was a trailer for a gorgeous looking action platformer, Ori and the Blind Forest. It looks as charming as anything, but there wasn't a lot of information about it.
Cue chanting monks. We've got a Halo 2 Anniversary trailer, complete with Keith David voiceover which morphs into the spartan from the Halo 5 cover at the end. On November 11, Halo, the Master Chief Collection will come out, allowing you to access Halo 1-4 all in one place. Everything will be unlocked at the outset, and you'll be able to create custom playlists of sections from the games. A quick multiplayer demo followed, with Spartans vs Elites on a Halo 2 map with pro players. Halo Nightfall will also be included in the collection, a TV series currently in production. Finally, on December Halo 5 Guardians beta will be available for playtesting.
Phil Spencer returns, this time with no jacket. Turned out it was a Limbo t-shirt all along. Playdead are working on a new game, coming out first on Xbox. It looks fairly Limbo-ish, but more graphically impressive. It's a fairly haunting trailer, and the game is called Inside.
Chris Charla, Director of ID@Xbox, comes out to introduce a montage trailer of self published indie games coming to Xbox. Brace yourselves for the games that were in the video: Knight Squad, Plague Inc, White Night, Earthlock Festival of Magic, Cuphead, Hyper Light Drifter, Lifeless Planet, Slash Dash, Fru, Lovers in a Dangerous Spacetime, Mighty 9, Grave, Threes, FenixRage, Woolfe, #Idarb, Hellraid, Below.
Next up was a world premiere of a new Tomb Raider game. It's called Rise of the Tomb Raider and this time it looks like you're actually raiding tombs!
CD Projekt Red followed with some Witcher 3 gameplay. Geralt is on a griffin hunt, tracking it through the woods. The open world looks phenomenal, even as we rush through it. He finds the griffin on top of a mountain, and after an intense fight scene it is finally slain. February can't come fast enough.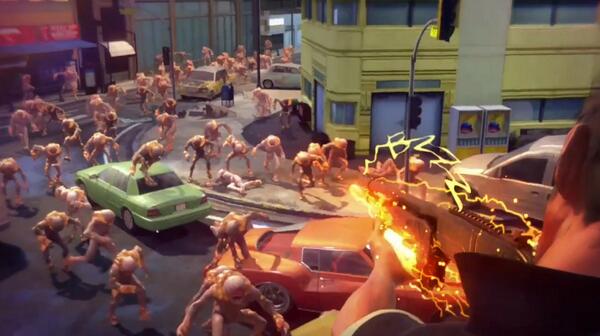 Ken Lobb, creative director at Microsoft, was out next. We're shown a trailer for the rebirth of Phantom Dust, which was a card battling action game hybrid for the original Xbox. It was a bit of a cult classic, so don't beat yourself up if you haven't heard of it. There are some people who are jumping up and down in excitement though.
Next up was The Division, and we were shown another trailer in the vein of last year's. It still looks really nice and has cool concepts, though not much new was shown. It's still a long way off yet too, with only '2015' as the expected release.
Hideki Kamiya was out next with sunglasses adorning the top of his head. Platinum Games has a new title exclusive to Xbox called Scalebound. It was a bit of an odd trailer, but it looks like you can control dragons, and coat yourself in scales (as the name suggests), and also the main character had headphones on, so there's that.
David Jones was our host for the final game to be shown. Crackdown is returning to Xbox, and we'll be getting multiplayer with dedicated servers. We're shown a bombastic trailer, and it looks like there might be a lot of destructible environments on offer.
So that was it for Microsoft. Phil Spencer came back quickly with a wrap up, and then another montage trailer saw us to the end. A great press conference all told, and the promise of a focus on games was upheld. The rest of the day has a lot to live up to.
Comments