Dawn of War II: Chaos Rising Review
A much improved campaign and seamless integration with the original game make Chaos Rising a brilliant expansion fans of the original will love
Expansion packs are fast becoming a thing of the past as DLC – Downloadable Content – becomes more and more popular, perhaps too much so seeing as how many games now feature 'Day 1 DLC.' This is unfortunate seeing as how the philosophy of a good expansion pack is different than that of good DLC – a good expansion expands and improves on the concepts introduced in the original game, while DLC is essentially aims to provide the gamer with more of the same – although there are notable exceptions. Relic Entertainment is one of the few companies still producing traditional Expansion Packs for their games, and Dawn of War II: Chaos Rising is a fine example of what a good expansion should be like. It retains the strengths of the original, but removes the major problems, producing a game which in many ways a better experience than the original Dawn of War II.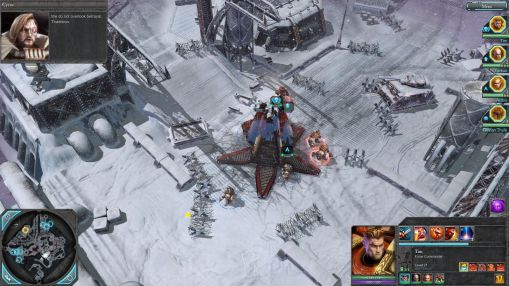 The single player campaign, which was easily the weakest aspect of the original game, has seen the most change and subsequently the biggest improvement. While the core gameplay remains largely the same, the actual campaign is more focused and far less repetitive that that of Dawn of War II, which saw you returning to the exact same maps over and over, repeating missions of identical design, turning the game into a pretty big grind towards the end. In Chaos Rising, you never visit the same map twice; instead each mission takes place in a different area, with different structure and different objectives. In DoW II you would work your way through a level, killing enemies, occasionally blowing something up along the way, and end with a boss fight. Chaos Rising is much more varied; each story mission has multiple objectives which range from defending a strategic asset to capturing a base to chasing down a traitor.
The missions are also somewhat longer, most story missions range from 20-40 minutes in length compared to the 10-15 minute missions found in the original. With the increased mission length comes the ability to save your progress in the middle of a level, but you can only save when you quit, so you can't go back to an earlier save if everyone in your team gets killed. There are also a number of less interesting but still fun optional missions that are mostly a bit shorter ranging from 10-20 minutes, but even with these optional missions there are only 14 or so in total, the campaign can be completed in 8-10 hours depending on how fast you go through each level and how many side quests you do, which is pretty short, but this is a necessary result of a more focused, less repetitive campaign.
Comments
blog comments powered by Disqus
| | |
| --- | --- |
| #3 Mar 31, 2010 22:40:13 (Mar 31, 2010 22:40) | |




| | |
| --- | --- |
| #2 Mar 26, 2010 12:25:28 (Mar 26, 2010 12:25) | |




DoomGiverIV

Now im not the biggest rts fan but DoW 2 was very enjoyable and kamikaziechameleon and I played it to death. Im tempted to get this but at the same time im playing the dragon age dlc, bad company 2, i bought supreme commander 2 havent even touched it. So i dont know if i want to pick up another game that i wont touch for probably 4-6 months.

| | |
| --- | --- |
| #1 Mar 21, 2010 03:30:34 (Mar 21, 2010 03:30) | |




sirdesmond

I'm still pondering picking this one up. I'm interested by the new singleplayer campaign, especially since I found the original one in DoW2 to be really enjoyable and the reviewer, who didn't seem to be a fan of it, saw a lot of improvement here.