Killzone: Shadow Fall Review
An uninspired effort that's only saved by amazing looks and solid multiplayer
What happened? It's a question that often sends uncomfortable vibes through the conversation, regardless the topic of discussion. In the case of the PlayStation 4 launch title Killzone: Shadow Fall, this very same question is the elephant in the room. Was the development team at Guerrilla Games short on time before a major console launch? Or did they simply have too many issues during the creation of this shooter? Whatever the case may be, Killzone: Shadow Fall is a great looking, but merely decent shooter that is a step back for the franchise that was starting to thrive.
The very beginning of Shadow Fall tells the story of the events following the conclusion of Killzone 3. After players stopped the menacing Helghast Jorhan Stahl in his attempt to destroy the Earth, Stahl's flagship was instead redirected to the Helghan home world. The planet was nearly eviscerated and no longer inhabitable. Having apparently lost their minds, the Interplanetary Strategic Alliance then allowed the surviving Helghast to settle on ISA planet Vekta, giving them half of it in the process. It's never explained who thought that would be a good idea.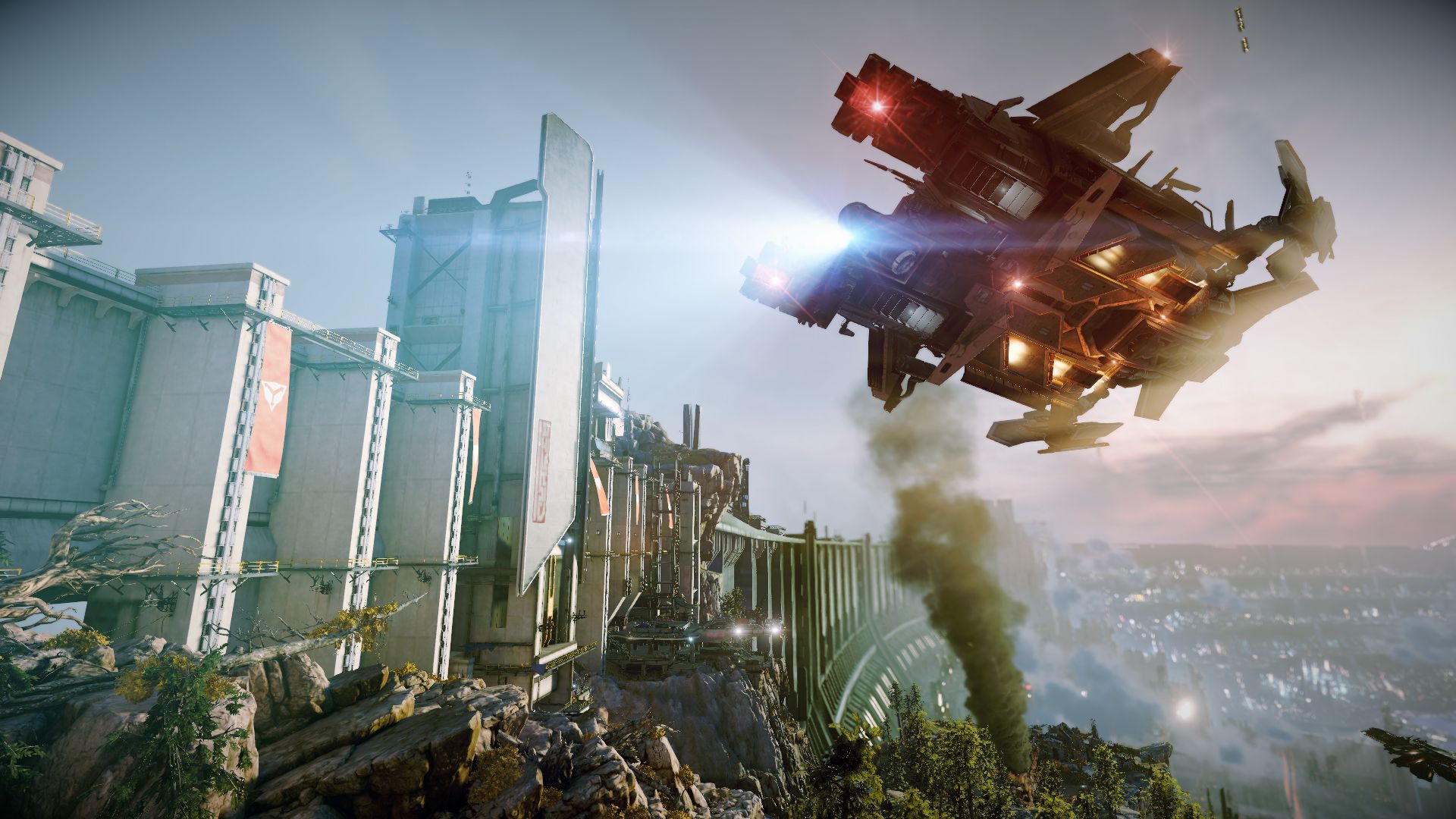 Vekta's own population, that was unfortunate enough to live in the half given away to Helghast, quickly found themselves amidst a rushed evacuation. The enemy took no time in establishing their usual oppressive command and gunning down civilians. It's never made clear where the ISA was during all these atrocities and what part of the deal didn't guarantee safe exit for half of the planet about to be occupied by new tenants. The Wall separates the two civilizations from each other, but both sides continue to perform covert operations against each other.
You play as Lucas Kellen, who loses his father during the abovementioned evacuation from newly founded Helghan territory. The soldier that rescued you is named Sinclair, a Shadow Marshal that later becomes head of the Vektan Security Agency. He takes you under his wing, of course, and we get a few glimpses into your progress as a Shadow Marshal over a ten year time span. It's after that long period that all hell suddenly breaks loose, open conflict begins on both sides of the Wall, and it's not long before you're trying to stop a superweapon.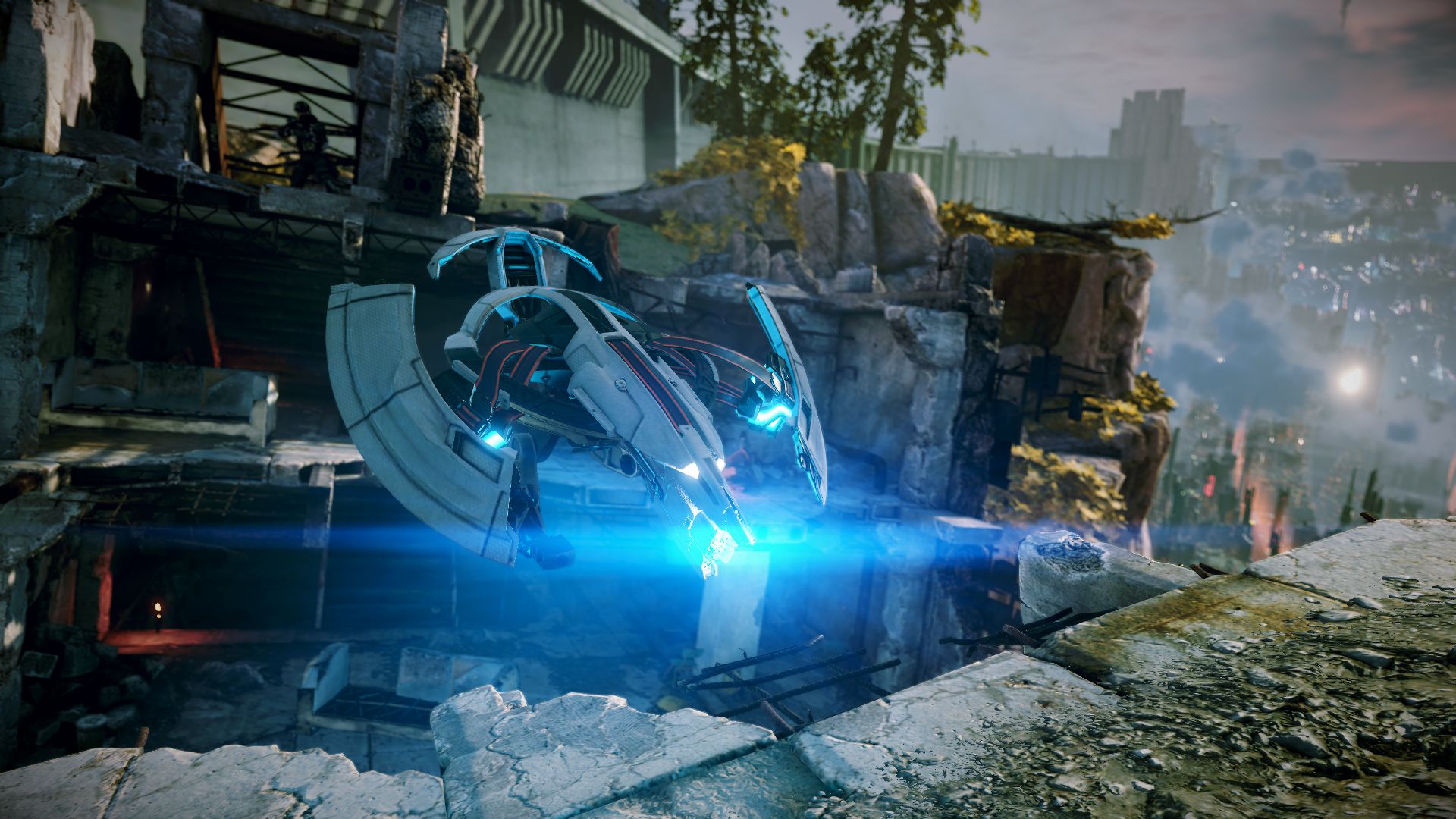 Compared to its predecessors on PlayStation 3, the Shadow Fall campaign is rather poor. The few characters you meet are one dimensional, poorly written, and with only average voice acting. Many questions, such as where are the rest of Vektan Security Agency forces and high command in this mess, are never answered. The pacing is inconsistent, never offering any particularly memorable set pieces yet having plenty of downtime where absolutely nothing happens, in a plot that never feels involving. The campaign falls flat, never managing to create any kind of tension and offering shallow mission design.
Early levels present larger areas to explore with multiple objectives to tackle in any order, but it proves to be more hassle than it's worth. Those early open levels have plenty of pathways to approach a location, but you'll often find yourself needlessly lost because the game gives no indication of where to go next as there are no visual guides or cues in the level design. The objective marker shows up only when it feels like regardless of how much you prompt it, and its faint orange coloring can be frustratingly difficult to see. Only when the game reverts back to the familiar, more linear pathways does it finally give players a faint sense of direction and progress.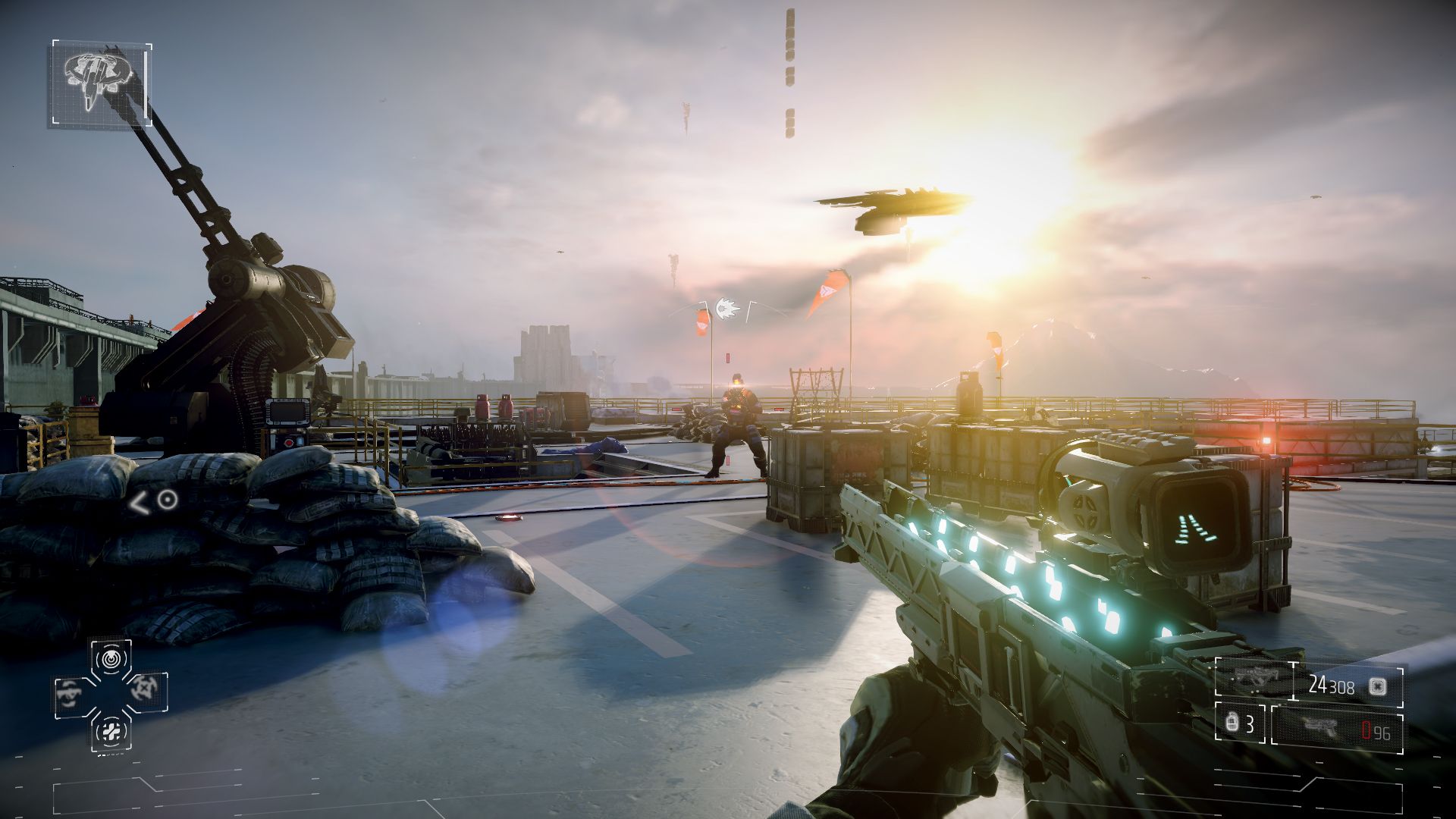 Killzone: Shadow Fall offers plenty of variety, but is brought down by uneven AI and difficulty spikes. There are multiple infuriating sections, most involving being stuck in an area fighting waves of enemies or floating/falling in space. Frustrations arise from the poorly executed stealth mechanics as well. You'll always carry your ISA issue rifle that offers two firing modes, along with a second weapon of your choosing that can be collected from fallen enemies. Your primary rile handles well enough in normal mode, but as a sniper it takes time to fire and doesn't offer nearly enough zoom, thus making it a poor choice in a long distance encounter. All of the guns you can pick up as your secondary weapon display convenient stats to see if you're getting an improvement. Ammo and grenades are plentiful throughout. Weapons have a satisfying punch to them, but it does take a few shots to take down most foes. The enemies don't feature much variety, simply wielding different weapons. Some foes with shields (physical and electrical) and flying drones show up on occasion.
Gone are the cool jetpacks of Killzone 3, instead you're joined by a friendly AI drone codenamed OWL. Sadly, like many aspects of the campaign, zero time is spared introducing this robotic companion. All you get are a few tutorial messages on how to use its special abilities. Your OWL is crucial in battle (when the poor thing doesn't get stuck) as it is able to provide a shield, attack an enemy, disrupt enemy shields, or act as a personal zip line. Selection of each ability is done by intuitive swiping on the DualShock 4 touchpad in one of four directions. The disruption ability is highly situational against a specific type of enemy that appears later in the game. Similarly, having a zip line is only useful in a couple of levels that offer descent opportunities.
Comments
blog comments powered by Disqus