Project Spark Preview - E3 2013
We check out the new game creation tool from Microsoft
Coming out of the E3 press conferences, one of the games I was most curious to get my hands on was, unexpectedly, Project Spark. The creation tool stuck me as Microsoft's answer to Sony's Little Big Planet, an inventive and charming way to show off the new console's processing power.
A member of the development team was on hand to introduce the game's impressive set of features. Starting from scratch, he called up a large, hexagonally-tiled space that was covered with a shiny metallic default material. With a couple pushes of a button, he gave it a lush, cartoon forest covering, and an assortment of hills and valleys. After picking a time of day (day, dusk, or night) that cast a picturesque coloring over the world, he moved in closer, using paintbrush-like tools to add a tunnel, and to plop down flowers and trees. Each tool had a variety of sliders that controlled modifiers like area of effect and intensity. The "materials" tool, which was responsible for the flowers, could detect surface conditions, and so created vines and other hanging plants at the underside of the tunnel, and a mossy undercoat beneath a nearby stream.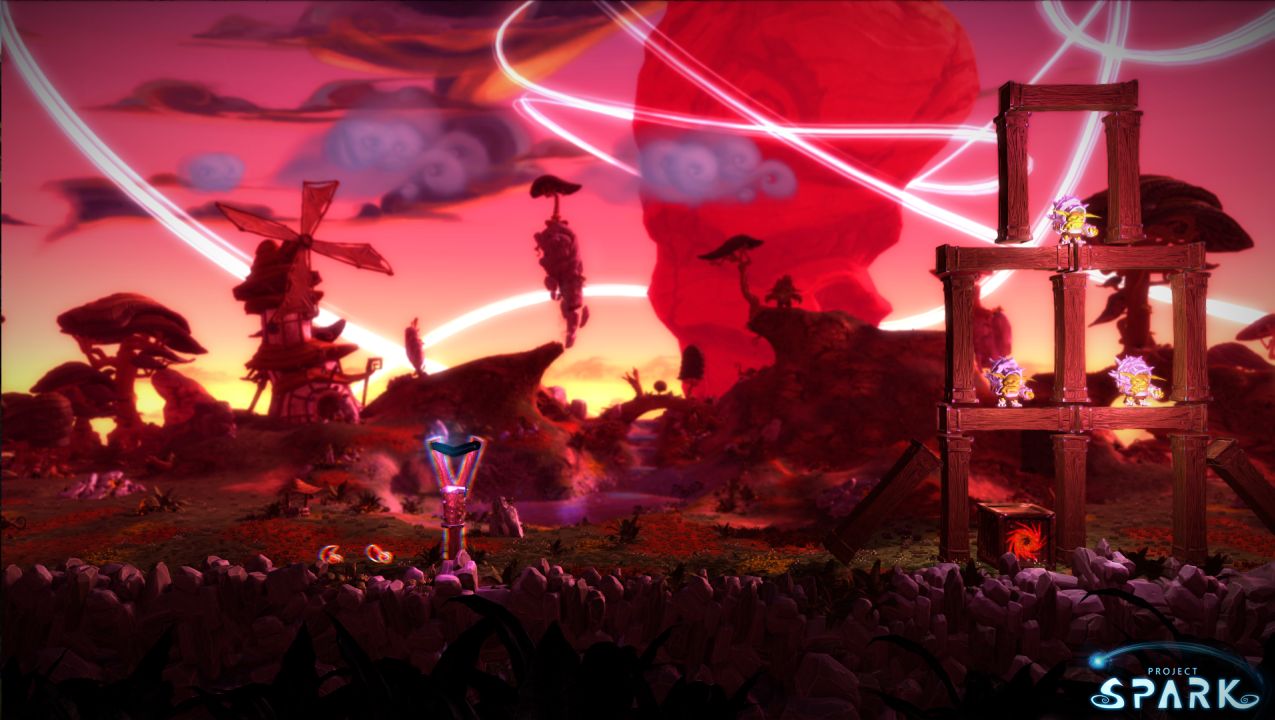 With the land created, the developer chose to add a hero character, then a bridge, and an orc on the far side who could be battled in turn-based combat. Each object snapped to the surface at the push of a button, but at my behest, the dev showed me that they could function while clipping through the environment or other objects, too. If not, then the terrain adjusts to accommodate them. He placed a rock, and used the opportunity to speak to Project Spark's "brain" feature.
In Project Spark, a brain is a simple term for a set of programmed rules that dictate object behavior. They're at the core of every item and character in the game, from the player, to the orc, to the rock. In the conference script, which the developer had largely been following, the rock gets imbued with the ability to follow the player, jumping and fighting, like some kind of weaponized Mexican jumping bean. At my request to deviate from the script, the dev placed a house that, after being given a bird's "brain", flew away when the player approached.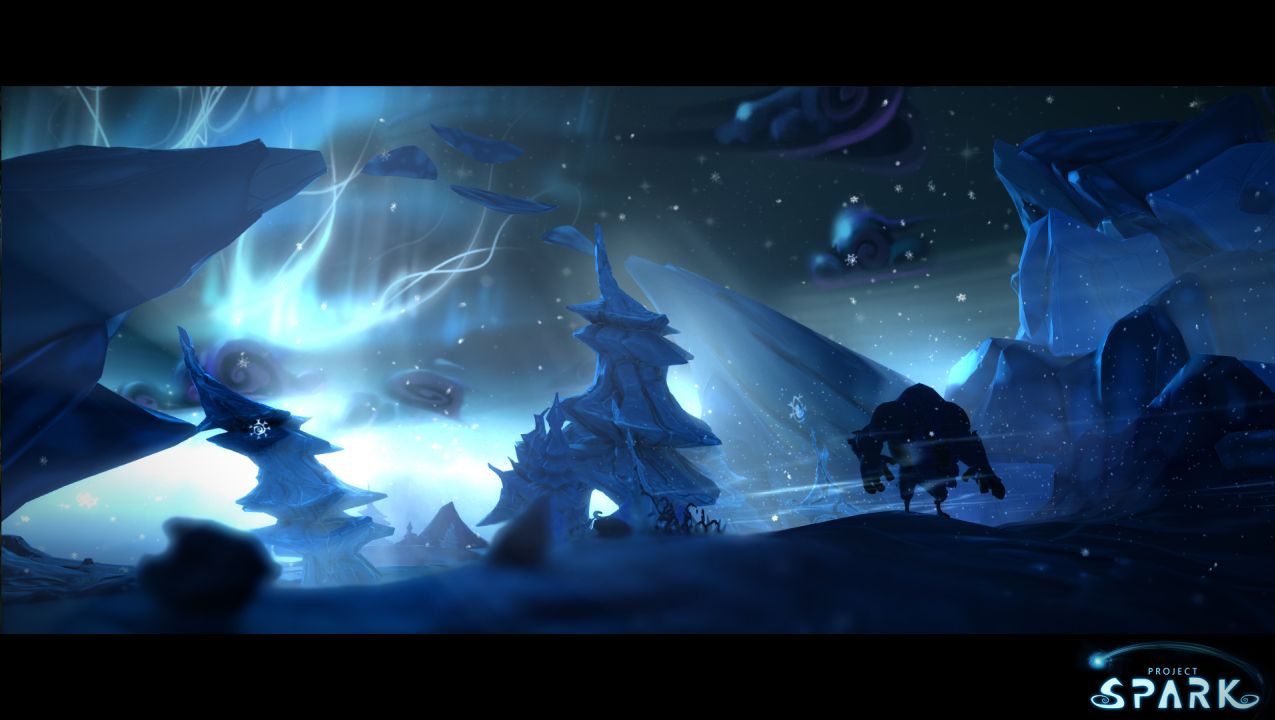 I recalled a clip from the conference that showed a recreation of the game Limbo, and asked how it was done. By way of reply, the dev called up the player-created level and invited me to look at its viscera. Turns out, it stemmed from the same sort of level we were just in, albeit with a side-scrolling camera angle and a black and white filter. Riffing on the design, the developer changed the scene to night time, and the player to a troll. Within seconds, he was playing through the modified game.
The Project Spark team envisions a library of such user generated content, from levels and scenarios to complex brain behaviors, that can be queued up and customized on a whim. There's already an impressive amount of complicated content out there from early beta testers. The game's sizzle reel shows a number of other games and genre's translated through Spark's creation suite.
Stepping away from that user's game, the developer showed off a simple quest making program, which allowed players to set a start point, end point, and the path between the two, after which the game would automatically populate the area with a quest giver, goal, and interstitial enemies that could be fought in real-time. It resulted in a rudimentary version of what one might find in Skyrim (in fact, much of Project Spark's aesthetics look like Skyrim: Kids). While it seemed a bit limited in scope, it's possible that other customization options could be used to add some depth to the experience.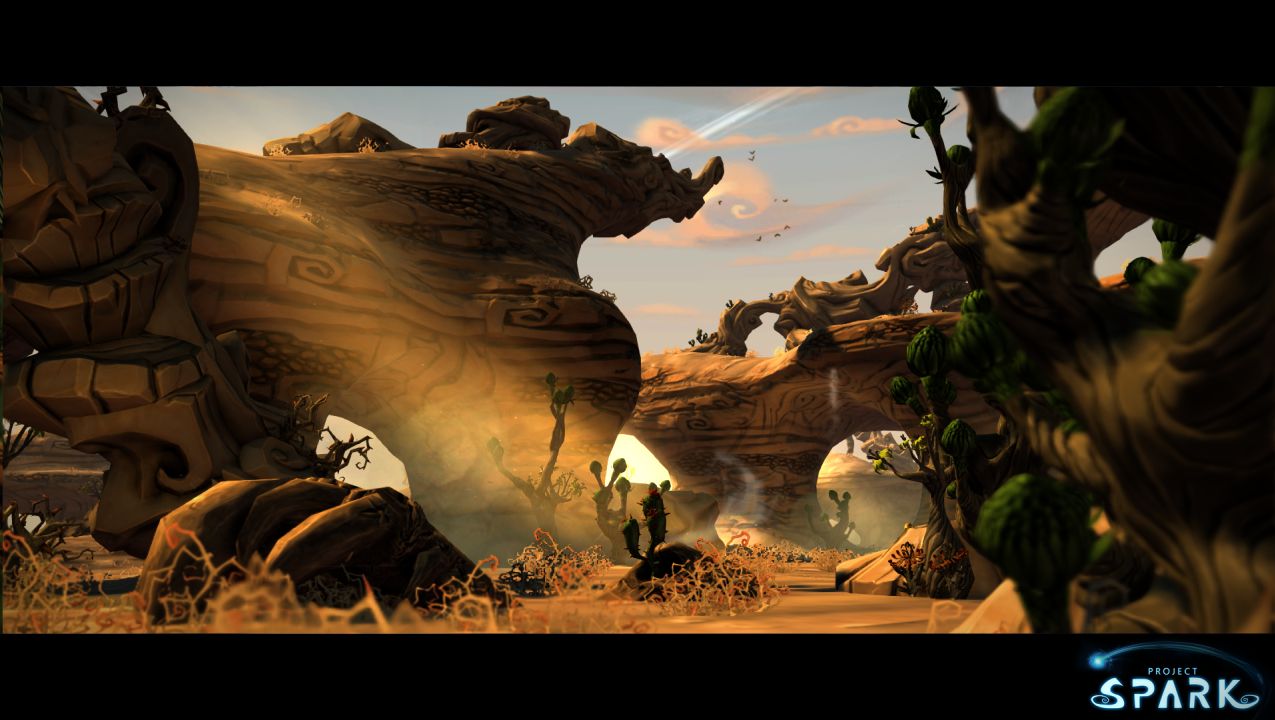 Lastly, I was placed in a "creator" mode, where I could choose between three hero characters, each with their own special abilities for modifying their environment. One could build up the terrain as he slid around on it. Another could apply materials to a surface by throwing barrels at it. I took the opportunity to tinker with their brain logic, and was met with a staggering amount of pre-coded if:then statements. Everything that you can see and do in Project Spark is represented in this language, so by rearranging the items in these statements it's possible to, say, make your character "emit" apples every time he takes a step, as I did.
I was impressed - not only by the scope of the creation options, but also with their ease of use and the game's general lack of the expected glitchiness. It was hard to think of imaginative things to do with the tools on the spot, but looking at what the Spark community has come up with, and the bevy of customization options already functioning, I think that the game is well on its way to becoming a powerful game making platform for creative players. It's cute, streamlined, and a pleasure to play around with.
Comments
blog comments powered by Disqus