Project Spark Review
An ambitious create-a-game with a diverse set of tools, but lacks a strong foundation to hold it all together
When LittleBigPlanet originally debuted on the Playstation 3 in 2009, it introduced this previously unseen concept of giving players around the world simplistic-yet-plentiful tools to allow them to create, share, and play custom levels. It may not have exactly set off a trend of create-a-game imitators, but its innovative mechanic still gains high praise from critics and consumers alike.
Project Spark is Microsoft specifically cashing in on that same concept, using the technology of their new console to promise an even more diverse list of tools for creative gamers to meddle with and post online. More specifically, it also claims to feature a bigger lineup of customizable visuals and genres, be it a fantasy RPG, first person space shooter, or even a sequel to Conker's Bad Fur Day (much to the detriment of fans hoping the teaser announcement was to unveil an actual sequel created by professional developers instead).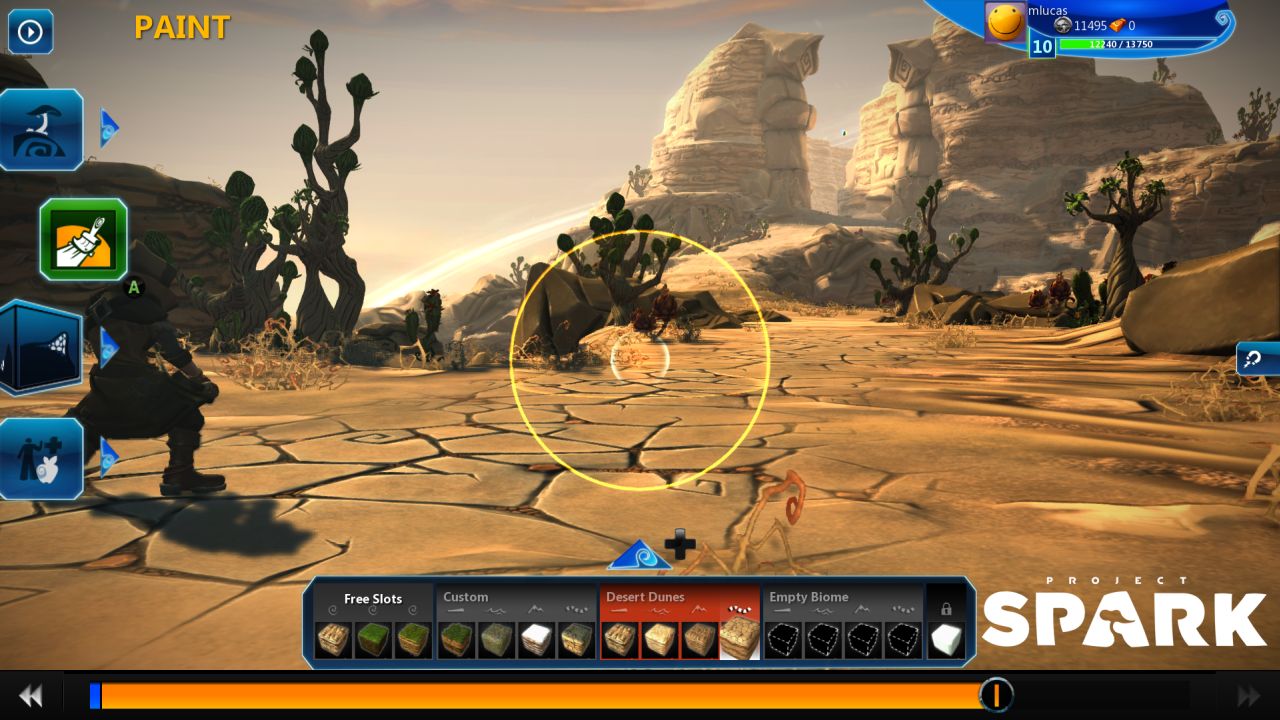 It is an ambitious claim, to be sure, and ambition is always appreciated in this industry. However, Spark's attempts to outdo LittleBigPlanet in gameplay diversity means that it also features a more robust list of mediocre knockoffs that cannot compare to the real thing. LBP was always aware of its limitations and wisely chose to stick to its 2.5D platforming mold; Project Spark tries to offer the tools to create any kind of genre, but not the polish to make the content fun to play.
The saving grace for Spark is that it is entirely free to play; anyone who would prefer to sample the creations of others rather than do the work themselves can do so without any restriction. In fact, Spark also features a "Remix" option where anyone with a keen eye for polish can instantly take an existing creator's level and continue editing it on the fly (the game, of course, has parameters to make sure the original author does not suffer from plagiarism). There are DLC packs, of course, but these specifically pertain to the creation side of Project Spark and do not restrict players who merely wish to, well, play the user-created levels. The usual search parameters are present as well as the ability to favorite certain levels and artists, and the power of the Xbox One at least allows for much quicker loading of content compared to LittleBigPlanet's generation-old gathering of data.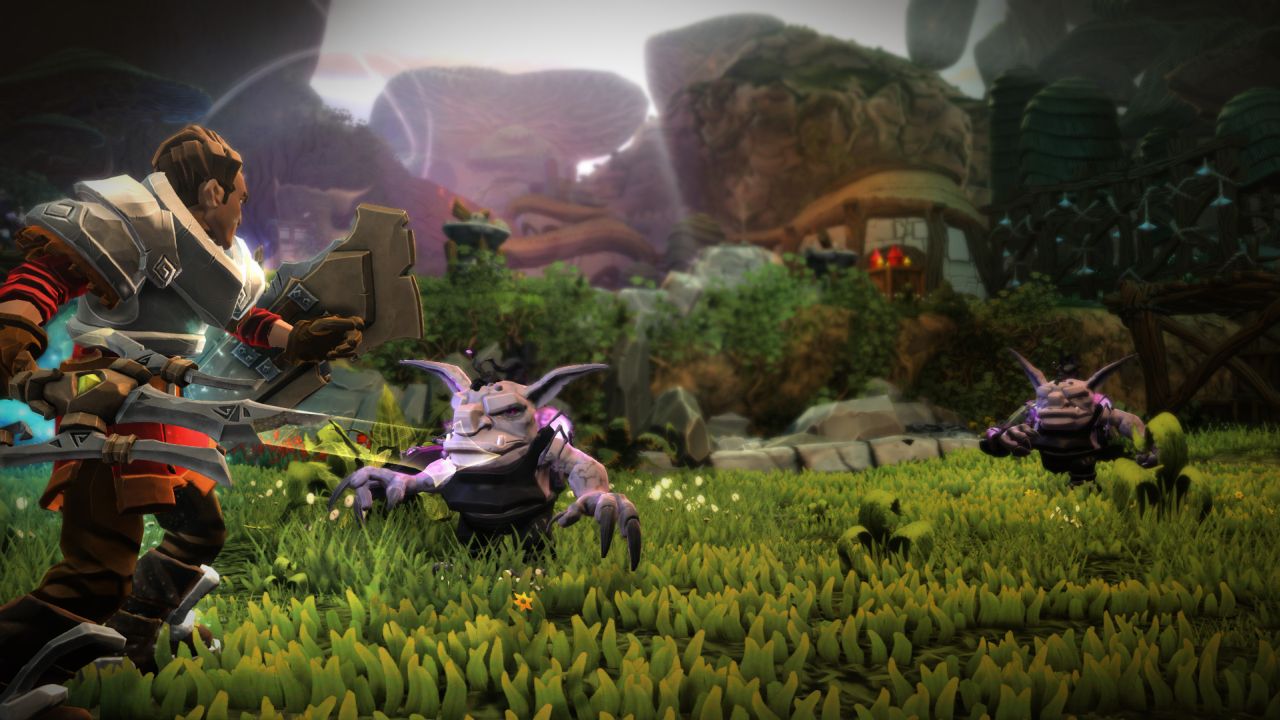 Even though Spark promises an unlimited variety of creatable games, there is a shared universe as far as aesthetics go. On the outset, the game tries to present itself with a whimsical tone about a fairy-like entity named Spark and its duty with creating lots of worlds, but in the end it comes across more like pretentious fantasy dribble as seen by Peter Molyneux. Not even the narrative powers of Jim Cummings can bring life to this humdrum and ironically uncreative visual coating, and it is permanently present no matter how much creators may try to give their own identity to Spark's tools.
As for the creation process itself, it all works as intended; the game provides an interface and tutorials that can be learned by even the most polar opposite of tech savy players, featuring all sorts of tools that determine almost every single action from how a character controls to the layout of areas. To call it the most robust toolset ever seen on consoles would be an understatement...but it still fails in comparison to the tried-and-true creation tools found on computers, and navigating the millions of menus with a controller only makes the process limited and tedious (though it does support keyboard and mouse support as well).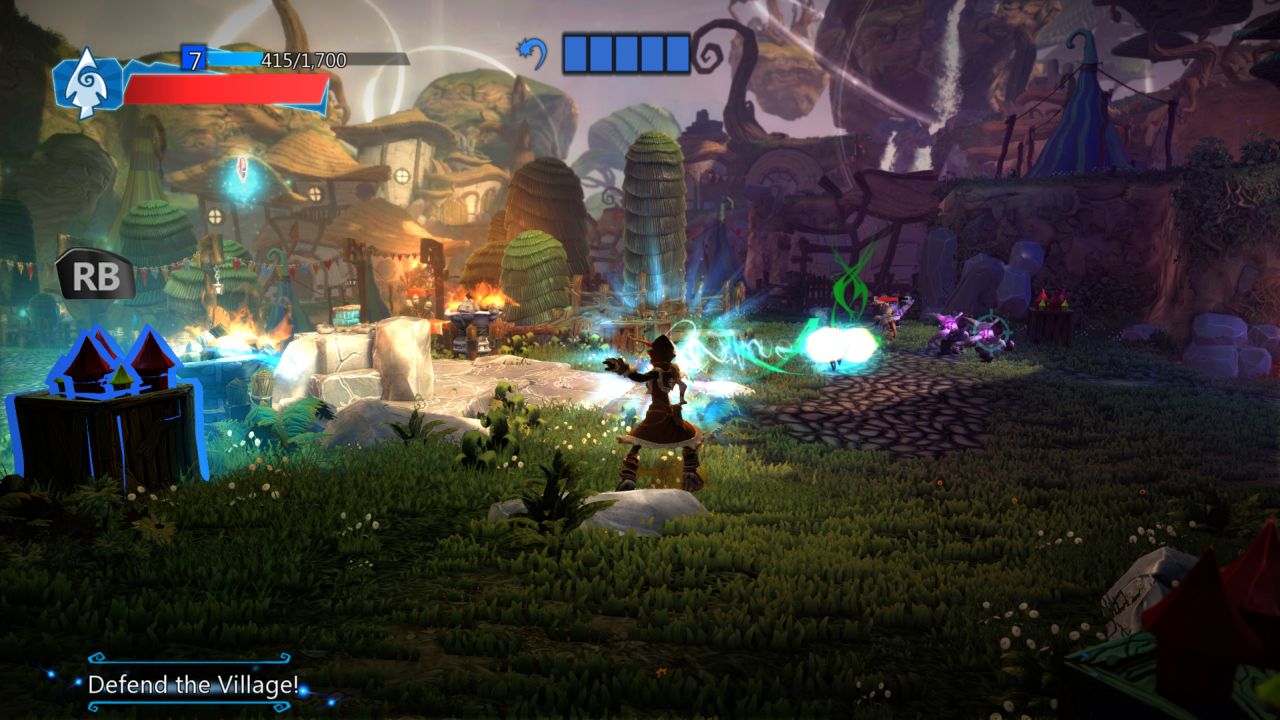 As with any creator-focused game, Project Spark lives and dies by the creativity of its community. It becomes quite telling, then, when the top rated user-created game is a half hour recreation of The Legend of Zelda. It seems users are more interested in recreating their favorite games through inferior-playing imitations rather than attempt to make something new out of their own imagination, a problem that plagued LittleBigPlanet as well. As for the creations that do attempt to do something besides clumsily play homage to an existing brand, few of the creations sampled really led to anything beyond a curious glance that hardly exceeded five minutes; while it is technically impressive that the game can allow for the creation of First Person Shooters, Action RPGs and 2D Boxing games, the fact is that virtually none of them played or looked as well as the real thing.
Ultimately, Project Spark is an appreciated experiment that is worth a look or two, but unless you are the type to dig deep into its large pool of creation tools, there is hardly enough substance there for a game playing onlooker.
Our ratings for
Project Spark
on Xbox One out of 100 (
Ratings FAQ
)
Comments