South Park: The Stick of Truth Preview - E3 2013
We check out the over-the-top action adventure game based on the TV series
In the wake of THQ's dissolution, projects under its umbrella, like Obsidian's South Park: The Stick of Truth faced an uncertain future. Thankfully, Ubisoft stepped in to pick up publishing duties, and the game seems to be making good headway towards its projected holiday release date. We got a chance to see it in its current iteration at Ubisoft's booth at this year's E3.
What's clear from the onset is that Obsidian have taken great pains to ensure that South Park's trademark papercraft aesthetic shines through. It's not just a capable facsimile; The Stick of Truth actually looks exactly like an episode of the show. Traditional video game HUD elements are stripped out, and RPG features are given a decidedly South Park-esque patina, in order to make the game feel authentic.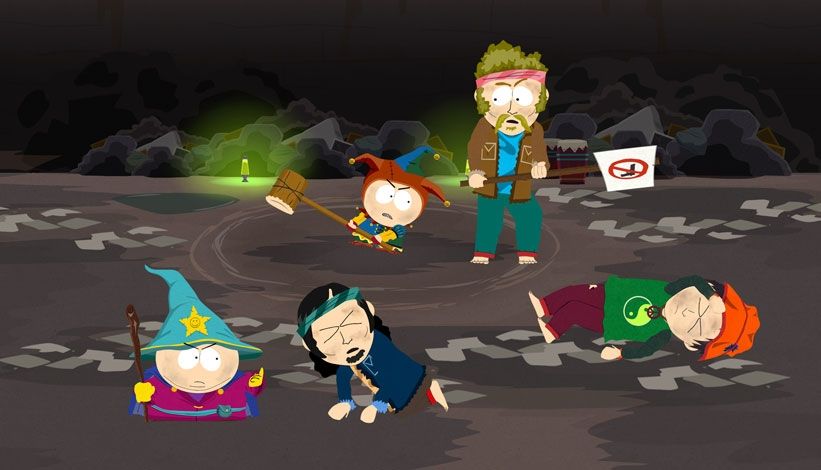 The hands-off demo showcased a portion of the game based in South Park Elementary, revisiting many of the classic locations seen on the show. In this level, the town's children were engaged in a school-wide live-action role-playing session pitting Cartman's "human" faction against Kyle and Stan's pointy-eared "elves". The player, in the role of the "new kid" in town, is asked to sign up for one group or the other, then wage pretend war in the classrooms. Fittingly, all communiqués between the new kid and his allies occur through Facebook friend requests.
By the time the new kid ends up on the scene, South Park Elementary's already been turned into a war zone, with kids from the rival faction having blockaded the hallways and dug themselves into deep fortifications. Thankfully, the new kid is imbued with a special set of powers with which he can surmount them. There are a variety of classes in Stick of Truth, and for this playthrough the player had chosen a mage's role, wand in hand (he briefly ran through a few other customization options, such as a weaponized vibrator). With the aid of his enthusiastic, but naive ally Butters, the new kid sets about incapacitating the enemy kids with his... erm....unusual moveset.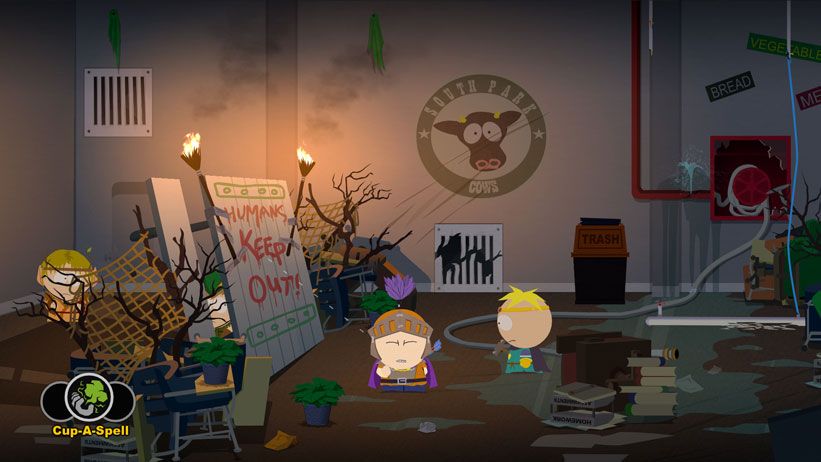 Fans of the show will be well versed in the scatological slant of its humor, and Stick of Truth preserves all the poop and fart jokes, even takes them to new levels. In our playthrough the new kid had elected to serve Cartman's faction, and his primary means of attacking Stan and Kyle's forces was his butt. Farts can be cupped in the new kids hand and lobbed like makeshift grenades, or used in tandem with fire for the world's most unpleasant flamethrower. Most such attacks have a kid's sort of whimsy to them - the "Cone of Frost", for example, is just an imaginative name for spraying an enemy with a fire extinguisher.
Combat seems to play out in two separate manners. Enemies can be eliminated in the field using a few abilities, like the aforementioned fart grenades, or some simple environmental puzzles like electrocuting kids standing in a puddle of water by dropping a loose wire onto them. If those methods don't serve, then the new kid can initiate some good, old fashioned turn-based combat to take down his foes. In this mode, he and Butters make use of humorous tropes from video game high fantasy, hacking and slashing with their improvised weapons.
With those battle techniques, and the aid of a few South Park callbacks like a rectal alien satellite and an Underpants Gnome shrinking ability, the new kid made his way through the enemy fortress, taking out Stan and his humping dog en route to a final confrontation with Kyle. Cartman showed up for the last encounter, trying to encourage the player to take Kyle down in his typical anti-sematic manner. For this demonstration, the player took the opportunity to turn against Cartman, sparking another turn-based battle. After some back-and forth, the fight culminated with a button-mashing battle of explosive farts (think Dragonball Z or, for the younger readers, Harry Potter) that the new kid managed to win, somehow.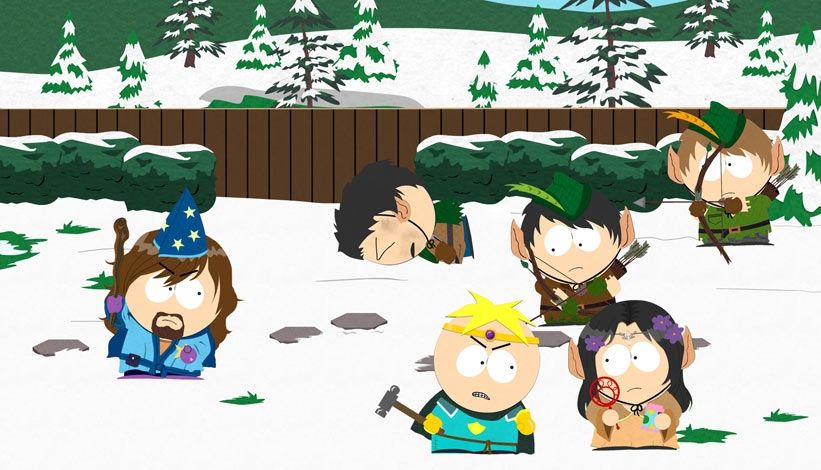 With Cartman back in the fold, the next task was to see if Kyle was in possession of the eponymous Stick of Truth. But a message from a mysterious third party informed them that he had absconded with it (in the middle of his villainous rant, his father asked if he wanted a sandwich).
There's a real confidence in both the appearance of South Park: Stick of Truth, and its portrayal of the Comedy Central show's particular brand of humor. Each feels true to original version, and the manner in which it has been translated and blended with traditional video game elements seems both clever and novel. The section exhibited did seem to scrape the bottom of the barrel for its jokes, so it would be nice to see some of the more complex, witty humor that the show's capable of rear its head in the coming months.
Comments
blog comments powered by Disqus