Top Gun: Hard Lock Review
A flight combat simulator that takes pilots straight into the danger zone
Based on the iconic 1980′s film Top Gun, Top Gun: Hard Lock is an imagining of a modern group of Top Gun Flight School graduates who find themselves flying, fighting, and winning in the skies over the Persian Gulf. The game was developed by Headstrong Games and features licensed military aircraft models from Boeing, Northrop Grumman, and Lockheed Martin. A fairly sizeable array of unlockable planes and armaments instantly catches the eye of any aviation fan. A lengthy campaign, multiplayer combat, and a special "Danger Zone" mode round out Hard Lock's prospects as a flight combat/action game.
The campaign mode features fifteen missions set mostly in the modern-day Persian Gulf and follows the story of a quirky squad of naval aviators. The player-controlled protagonist, who goes by the call sign "Spider," is a recent, and predictably cocky, graduate of Top Gun Flight School. The player, as Spider, must complete various missions, ranging from a simple fly-by with a squadmate watching his back to full-scale air and sea battles with dozens of units that make for a chaotic frenzy of potential targets and allies that may need protecting. Spider's tasks often involve reconnaissance, air interdiction against ground-based targets, and of course the traditional dogfight. Although, the high-tech jet aircraft and Hard Lock mode do stray from tradition a bit.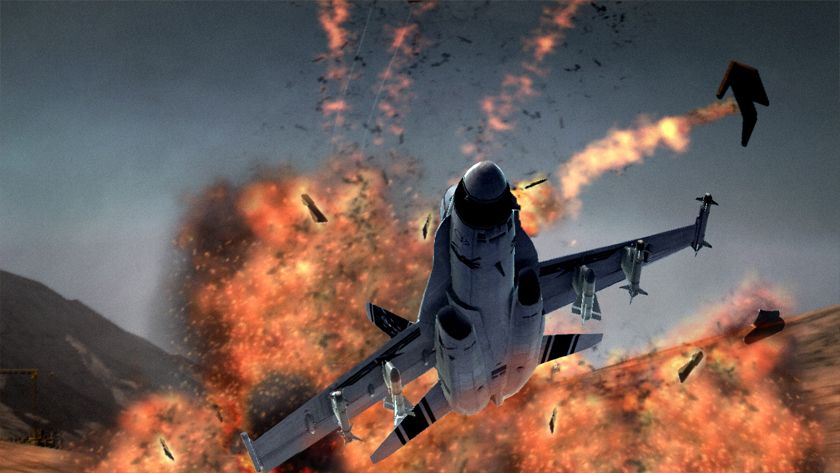 The variety of the missions is enough to redeem the slightly cliché and overly predictable story. The characters are extremely one-dimensional, which makes the attempted plot feel somewhat shallow. Some of the levels consist of flashbacks to Spider's days at Top Gun, which does a passable job at building up the relationships with his squadmates, but does not contribute much to the overall development of the story. This game, however, is simply not meant to be story-driven. The light storyline makes more room for the action, which is where a flight game should thrive.
Unfortunately, Top Gun: Hard Lock does not quite thrive, but it does a decent job with what it's got. The first noticeable thing about the gameplay that immediately grabs the player's attention is the horrible default control setting. Common sense says that in an airplane, you tilt the control forward to go down and pull it backward to go up. In this game, however, anyone with that mentality will be taking several destructive nosedives into the ocean. Luckily this control can be easily changed in the game's settings by switching the Y-axis to an inverted mode (it sounds technical, but that's exactly the way it's presented in the menu). Fixing that issue greatly improves the feel of the game, but other traits still continue to stick out while playing. The game has a set of basic controls (change direction, select target, fire weapons, etc) that are pretty easy to use. But more complex manoeuvres are done via prompts, which often appear too late to react to them in a beneficial way. This problem occurs most often in Hard Lock mode.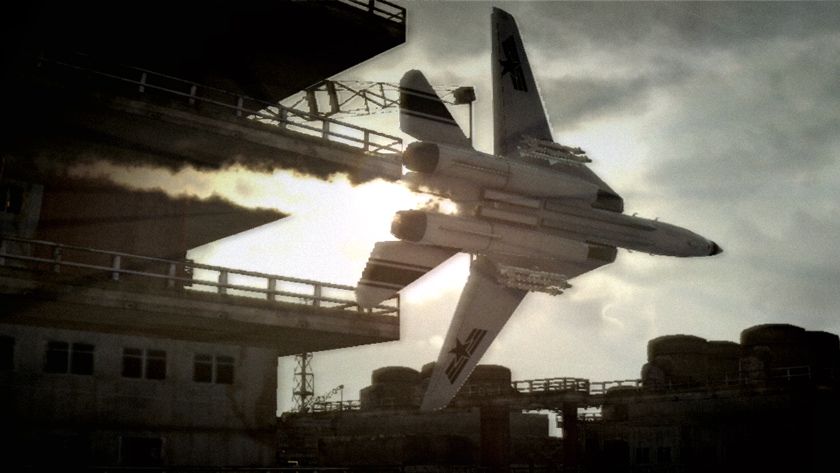 Hard Lock mode, from which the title of the game is derived, describes an element of the gameplay which involves getting in close to an opponent during a dogfight, then honing in and performing different aerial manoeuvres while attempting to get a missile lock to destroy the enemy craft. It is an interesting and exciting idea that conveys the feel of a high speed aerial battle much better than simply following an enemy around with machine guns blazing until managing to shoot him down. The mode adds a dash of much needed spice to otherwise dull and generic gameplay. However, the aforementioned issue with prompting often makes it difficult to react in time for the player to successfully manoeuvre to take down a target. The mode also allows the NPC foe to get behind the player and gain the advantage if he or she is not fast enough, so any ability to take down your opponents in this mode often comes down to luck.
Comments