Assassin's Creed 3 Preview - E3 2012
Take part in the unwritten battles of the American Revolution
Assassin's Creed III is an upcoming historical action-adventure video game being developed and published by Ubisoft. It is yet another yearly release for the franchise – however, this particular title has been in development for a number of years and the past few games, Revelations and Brotherhood, were said to be fillers leading up to chapter 3. The game will be set around the American Revolution, and featuring a new protagonist - half English and half-Native American, Connor Kenway. We had a chance to have a hands-off look at the game's campaign during E3 this year.
The story will span 30 years of Connor's life, from 1753 to 1783 with Boston, New York, and Philadelphia the cities that you can. As well, an area called the Frontier will be full of forest, cliffs, rivers, Connor's Mohawk village, and a couple of settlements. Finally, the entire eastern seaboard is said to be explorable with Connor captaining a ship. That is a recipe for one huge game world.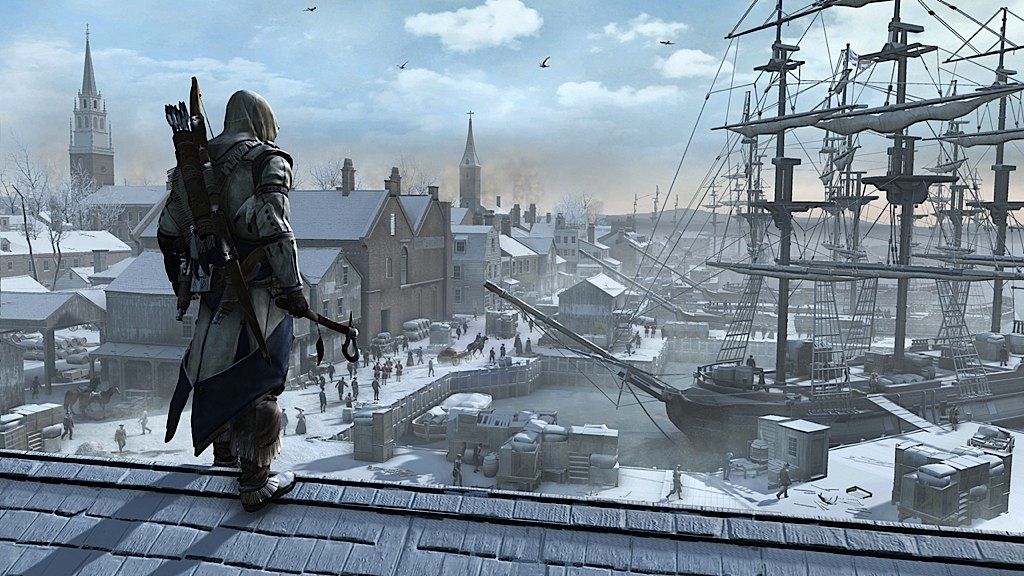 First up, we checked out Boston. The city has been faithfully recreated from the time period, and a different building architecture was immediately noticeable. Compared to the south European flat and wide rooftops, here we were on steep and narrow shingles, open streets and narrow alleys. The developers claim that real maps from the period were obtained and used to create the cities. As we walked about, the game's famous hay stacks were now mobile, moving around on carts. Jumping into one, you're now a mobile death trap, able to pull guards into the hay while still on the move. All of the NPC characters in the game is said to be alive, and working (instead of just walking around), edging the populace systems closer to an RPG level of simulation than ever before.
Deeper into the city, we came across a side quest. A lady was asking for our help, as we saw some guards deeper into the alley assaulting a man. Connor took position on the corner of the building and attracted the attention of one of the guards – taking him out with a stealth assassination around the corner. Approaching the guards, we were also able to hide in bushes and trees, utilizing the environment now more than ever. We used one of the new weapons, a grappling hook of sorts, to catch and hang one of the guards on a tree branch. His comrades engaged us combat, but didn't last any longer thanks to trademark Assassin moves.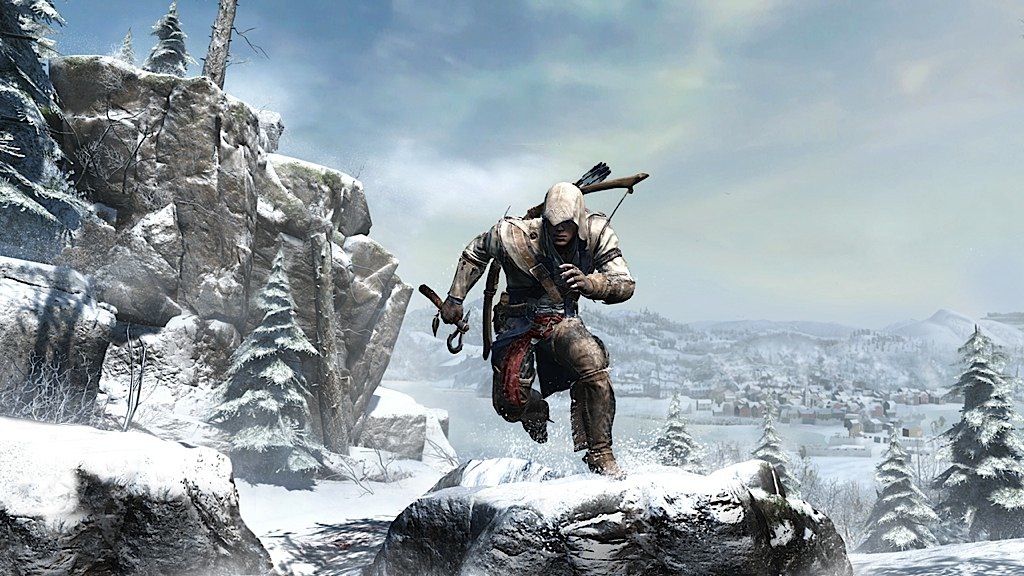 We proceeded to the market, and decided to cause some trouble. We blended with the workers standing around some weapon racks – as an unsuspecting enemy passed by, we grabbed and impaled him on the weapons. His colleagues didn't appreciate that, and a street fight broke out. Once again, the combat was all about timing your attacks and dodges, and using weapons whenever necessary. After clearing a few guards, however, further reinforcements appeared and things got a bit too tough. So Connor decided to run for it, and we got to see the new monkey bars mechanic across some carts, scrambling up a sloped stack of wood, and jump right through an interior of a building to the other side.
Comments