Duke Nukem Forever Review
The ultimate mixed bag of old school FPS and underdeveloped design
Duke Nukem Forever is a game that, by all accounts, should never have seen the light of day beyond closed-door previews at long past E3s and brief playable level sections on a handful of programmers' computers after the downfall of its primary developer 3D Realms. When it comes to vaporware, Duke is king and yet here I am, reviewing a full retail release. Duke Nukem Forever finally hit stores shelves this last week after being initially scheduled for release in 1998, seeing a number of massive revamps, passing from developer to developer, a number of cancellations, and the death of one of gaming's most well-remembered game studios.
Normally when games see even two or three delays, it is not a good sign for the end product. It often means there are problems that need to be addressed but that the studio is having problems addressing them. At the same time, certain games and certain developers (Valve, for example) can take long breadths of time to develop a game and have all of their time and investment pay off with an extremely well-made and well-polished game. So which is Duke Nukem Forever? Is it an unfortunate bastardization of a much beloved game franchise ravaged by the torments of development hell, or is it something in which a return on all the years of investment can clearly be seen, something great and unique?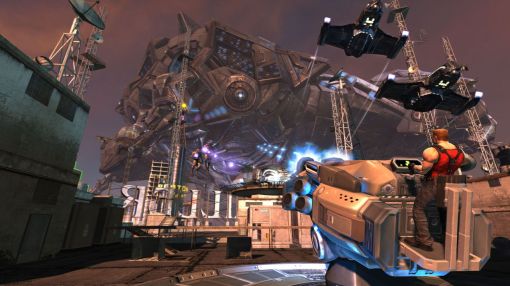 The very first thing you'll experience in Duke Nukem Forever is the game's lengthy load times. Between every one of the fairly short levels, you'll find yourself sitting, waiting, and wandering around before coming back to play the game. This problem is more evident on consoles, while the PC loading times are a tad better. Still, the very first loading screen takes a considerable amount of time.
Before and after one brief firefight, players are treated to a pretty vast number of interactive objects in what is probably DNF's best integration of a Duke Nukem game mechanic standard. While here it is mostly useless from a story or gameplay perspective, there are certain special items that you can interact with which will give you an "ego boost," raising your maximum health. This is a fun way to work in collectibles of a sort, while also giving players an additional reason to mess with all of the objects available. Most of them are somehow tied to either Duke's personality (such as bench pressing 800 pounds, shooting a basket, and admiring yourself in the mirror) or its downright ridiculousness/offensiveness (microwaving a rat). It is undoubtedly the most unique mechanic in the entire game and something I hope they hold onto in future Duke Nukem titles.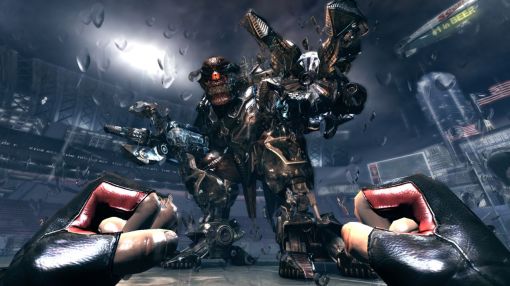 Unfortunately, not much else in Duke Nukem Forever is very well done, unique, or redeeming in any way. After the first few levels, a vast majority of the interactive objects have already been passed and the game is required to stand on its gameplay mechanics, enemy AI, and level design to keep the player entertained. DNF fails at this in almost every regard. In what feels exactly like the mix-matched game of mechanic and design catch-up that it is, you'll find yourself playing through bland corridor shooter levels, vehicle courses, jump pad levels, momentary physics puzzles, and much more (trust me, the list goes on and on). While variety may sound good on the one hand, it is the fact that Duke Nukem Forever fails to ever do any one of these things well that is its ultimate downfall. Coupling this with the game's extreme spikes in difficulty and lackluster graphics (though textures are higher resolution on PC they still look rather bland), I found myself losing any and all interest within the first three or four levels, forcing myself to continue on simply for the sake of this review.
Comments