L.A. Noire Review
A detective thriller set in a classy era, this title offers a unique and enjoyable experience that outweighs its shortcomings
As exciting as that may sound, it's difficult to remember, looking back, any single satisfying case closure. As the first batch of cases in the game is very simplistic, there is not much pleasure in finally catching the bad guy. Indeed – in most cases the resolution is provided to the player on a silver platter, with not much thinking required. Be that a conveniently found piece of evidence, or an attempted escape by the suspect, solidifying their guilt. You don't feel as though you actually made a difference on the case, other than collected all the clues for the DA and waited for the suspect to do something stupid.
In the second half of the game, then, cases do become better. Their resolution, however, does not. In a change of pace, the case outcomes don't feel satisfying because you know they aren't final, as a much bigger plot element is developing. Don't misinterpret this – the end results of the bigger plots are memorable and satisfying, but it again comes at the expense of individual cases. Even at the end of it all, there is nothing said of what has occurred or what will happen next, leaving the main plot in a rather anti-climatic manner.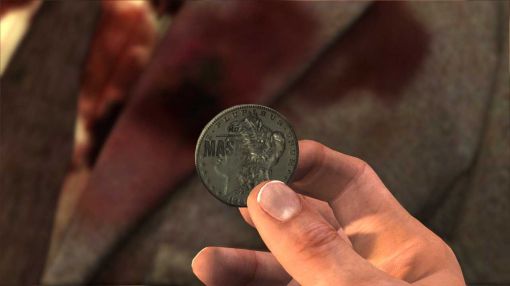 As a detective in L.A. Noire, the main pillar of gameplay is investigating one of the 21 cases in the story. After getting the call, players visit the crime scene and begin their search for clues. When Cole approaches an object of interest, a sound plays and controller vibrates, prompting the player to investigate the item. Both these notification features can be turned off, but doing so could leave you walking around for a long time, trying to find an item that can be interacted with in the game's often cluttered crime scenes. Once found, some items are actually irrelevant and Cole will be quick to point that out. Those which are actual clues can be further inspected, by rotating them in real time using the analog stick. This is a neat and unique mechanic that works without a hitch, and adds a level of mystery to every trinket you come across.
Once enough clues are discovered, Cole will likely have noted some places in the city to begin his investigation. This involves interviewing people thought to be relevant to the case, and getting to the truth. The interrogations of suspects are by far the biggest draw of the game, not only because of the unique mechanics involved, but also thanks to some amazing facial animation technology. When talking with suspects, Cole can ask a series of questions related to the case and evidence that was found, and then interpret the response. Given three options, players can accept the answer as truth, doubt it, or just accuse the person of lying. When accusing someone, players need to present a piece of evidence to back up their claim, while the other two options are purely verbal. This is a unique gameplay mechanic not seen even in leaders of the adventure genre, and it feels right at home in L.A. Noire.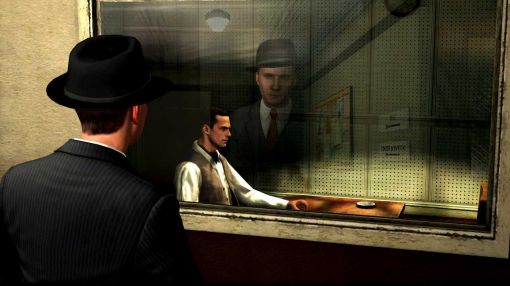 Backing up the interrogation gameplay is the new animation technology, seen for the first time in the industry. Developed by Team Bondi with help from Rockstar Games, this tech is an amazing step forward for facial animation in gaming. Not only does it look incredibly realistic, it plays a pivotal role in the gameplay, as players must evaluate the person's intentions based on their look. If a suspect is very calm and focused in his response, he is likely telling the truth. However, should his eyes start to wander and a smirk appears, he may as well be hiding something. As a technology – the animations are unmatched, but in gameplay, there are a few small quirks. Since the players have little to go on during interrogation except for the facial expressions, many actors over-played their roles in order to give players a greater hint that they aren't being honest. It's difficult to imagine those who are guilty in real life investigations would give away their intentions with such vastly noticeable glances around the room and biting their lip. But, for the sake of the game, it works.
Comments
blog comments powered by Disqus
| | |
| --- | --- |
| #3 Jun 5, 2011 10:20:46 (Jun 5, 2011 10:20) | |




Nechrol

I think it's a definite contender and not so niche IMO. Loads of people love detective procedurals, and it does it a damn site better than the CSI games. Also with the explosion of Madmen/Boardwalk empire and that 40's/50's revival I think it came out at just the right side.

I think aside from the great motion capture. I love solving cases and being a detective and it's such a unique (from my experience) take on the whole idea.

That's my piece!

| | |
| --- | --- |
| #2 Jun 1, 2011 18:27:47 (Jun 1, 2011 18:27) | |




SpectralShock

The tech was good, and it's a solid entry in a niche genre, but GOTY? Not for me.

| | |
| --- | --- |
| #1 Jun 1, 2011 16:03:54 (Jun 1, 2011 16:03) | |




sirdesmond

I'm really excited to see what I feel like it the beginning concepts of the truly next-gen adventure game. It's a shame they couldn't cut out more of the GTA-style action that just doesn't fit into the game at all. That said, it's definetly my game of the year so far.