Memoirs of a Game Tester
A personal story and tips on how to break into the games industry
After several years spent hopping between multiple media industries (sounds more impressive then it was) I'd like to think that I came out with some valuable information. Like when Indiana Jones escaped from the cave with the golden idol.

I guess this article will come across as a short memoir of what learned that will perhaps shed some light on people's decisions about how to go about breaking in to the industry and what path they choose to amble down.
For me coming fresh out of an English college the only option that presented itself and was hammered on by both the college, the government and my parents was that University was the way to go. A few years ago, when the recession had yet to hit, everyone in the world (minus the millions of starving of course) walked down a gumdrop highway where our dreams were within our chocolate soaked reach.
It seemed like the perfect time to enroll as every industry was doing quite well for itself and possibilities after graduation seemed plentiful. So, I packed up and headed for old London town where the streets were paved with gold to complete a degree in Computer Games Design: Story Development. At the time there was no other degree of this nature available that combined design with creative writing and it appeared right up my alley.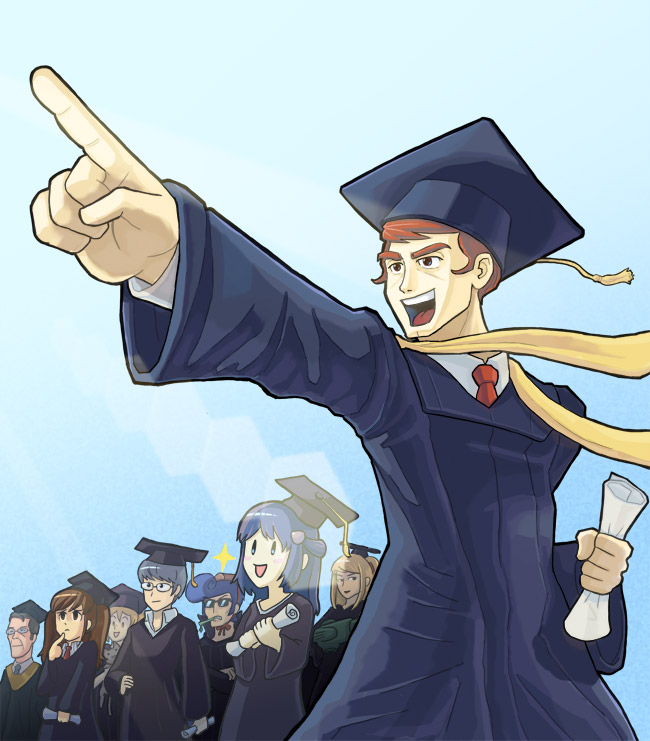 Now, a degree is usually the first logical step for a person who wants a well respected form of qualification for an industry, it shows focus, commitment (both financially and time-wise) or, for a few select individuals, a chance to waste three years, of which I knew many. It was the equivalent of the government handing them a big bag of money, which they set on fire and then took a leak on to extinguish the flames. Money well spent.
The pro's of university in my experience was that you got the chance to learn from professionals, perhaps make contacts, collaborate on projects, maybe they even get a professional in to speak about whatever it is they do. Again, it feels pretty good to come out with a qualification and already have work that you can display in a portfolio. Right?
Well... it's one half of the equation.
I learnt the hard way that the industry runs in a vicious cycle like a rabid dog chasing its tail. Many places operate in a strange paradox where you apply for a position that you are capable of but are rejected because of a lack of 'experience'. The question that many of us asked, and not just in the game's industry is how we were expected to gain experience when no one would offer us a job to be able to get the experience. It felt like one of those lateral-thinking puzzles that eventually lead to a brain aneurism.
Comments
blog comments powered by Disqus