Hot Pursuit Review
Put the pedal to the metal as this classic racing franchise is reborn
Fans would agree, the Need for Speed franchise was once a dominant force in the racing genre. However, after a few mis-steps in the late 2000s, the series found itself in a bit of a slump. EA then decided to take drastic action, and create a new version of the franchise, Shift, which was much more focused on simulation. While the game was generally well received, there was still a void in the racing genre. Enter Criterion, the developers behind the popular Burnout Paradise. This developer seemed to be the perfect fit to reboot Need for Speed and bring it back to the basics that made the series great. As Need for Speed Hot Pursuit shows, they've done just that – this is a fast and furious arcade racer that delivers on almost all fronts. It's the game that the series fans have been patiently waiting for since Most Wanted.
The game's title borrows from Need For Speed 3, also subtitled Hut Pursuit. The game's focus is racing on open roads in the latest supercars, while dodging the cops. The game is structured around a single player career mode, where players can become either racers or cops. The two career tracks are completely independent from each other, and players can progress either career at any time. The basic goal of the game is to earn bounty, which allows you to level up your rank and along the way unlock new cars, events, and equipment. There are 20 tiers for both racer and cop career, each progressing at the same pace. What's neat is that the bounty to progress your career can be earned both offline and in multiplayer, so there's always a way to unlock that next tier and a new set of wheels.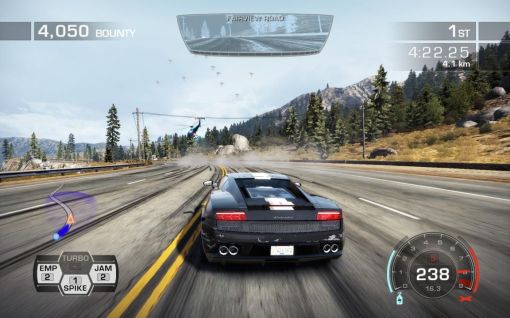 Without a doubt, Hot Pursuit is an arcade title in both car physics and handling. Driving the vehicles is both fun and easy, with drifting also relatively simple to pull off after some practice. There is also a boost meter that's available to both racers and cops, which fills up under various conditions. Racers must slipstream, drift, or drive in the oncoming lane in order to earn boost, which temporarily increases your car's speed. Cops, meanwhile, don't have the option to drive in the oncoming lane, but instead their boost refills automatically overtime. These are clever gameplay balancing mechanics that work well. All through the car tiers, the vehicles handle relatively the same, but the sense of speed is never lost and differs greatly between 100 and 300 miles per hour. Because of such high speeds, you'll be crashing a lot, but much like Burnout Paradise, the respawn location and timing is handled perfectly, so crashing does not eliminate your chances of winning by much.
As racers, players start off with the basic cars and some starter events available. The event types range greatly in their context and competition level. Duels are one versus one races to the finish, pitting together classic matchups such as the Subaru and Mitsubishi or Mercedes and Bentley. However, it's puzzling that the player isn't given a choice which vehicle to use – you're stuck with the Mitsubishi and Mercedes in these examples. Races are straight-forward competitions between you and 7 other AI drivers, with no cops to worry about. Time trial requires you to make it from point A to point B within a certain amount of time, and Previews are the same type of event except you're given a very top of the line vehicle to drive. Last but not least, Hot Pursuit are the races where you're tasked with escaping the cops but also making it in first place, which proves to be the most fun mode in the game.
Comments
blog comments powered by Disqus