Madden NFL 11 Review
Offers some interesting new features that may very well make it a touchdown, or at the least a field goal
It's now nearing the end of the year, and that of course means a new installment of EA Sports' long-running NFL football franchise is upon us. I must confess it has been quite some time since I have played one of the Madden games, (being largely a bigger fan of the NCAA series), and so, in a sense, the series feels a bit more fresh and new for me than it might for others who have been more consistently purchasing each entry. However, despite that fact, I feel that this entry will certainly please long-time fans, and possibly win over a few new followers.
As far as prominent changes to the series goes, the biggest area where this is seen is in the way that play-calling is handled. Of course, there is still the option to manually select a specific course of action between each play, but a new feature called "Gameflow" allows you to customize your playbook outside of individual games in order to set-up tailor-made recommendations delivered to you when you're out on the field based upon a number of possible scenarios. This allows for a much easier and faster selection of plays during games, (since you can get by with only primarily hitting the A button each time), which ultimately speeds up and streamlines the gameplay overall.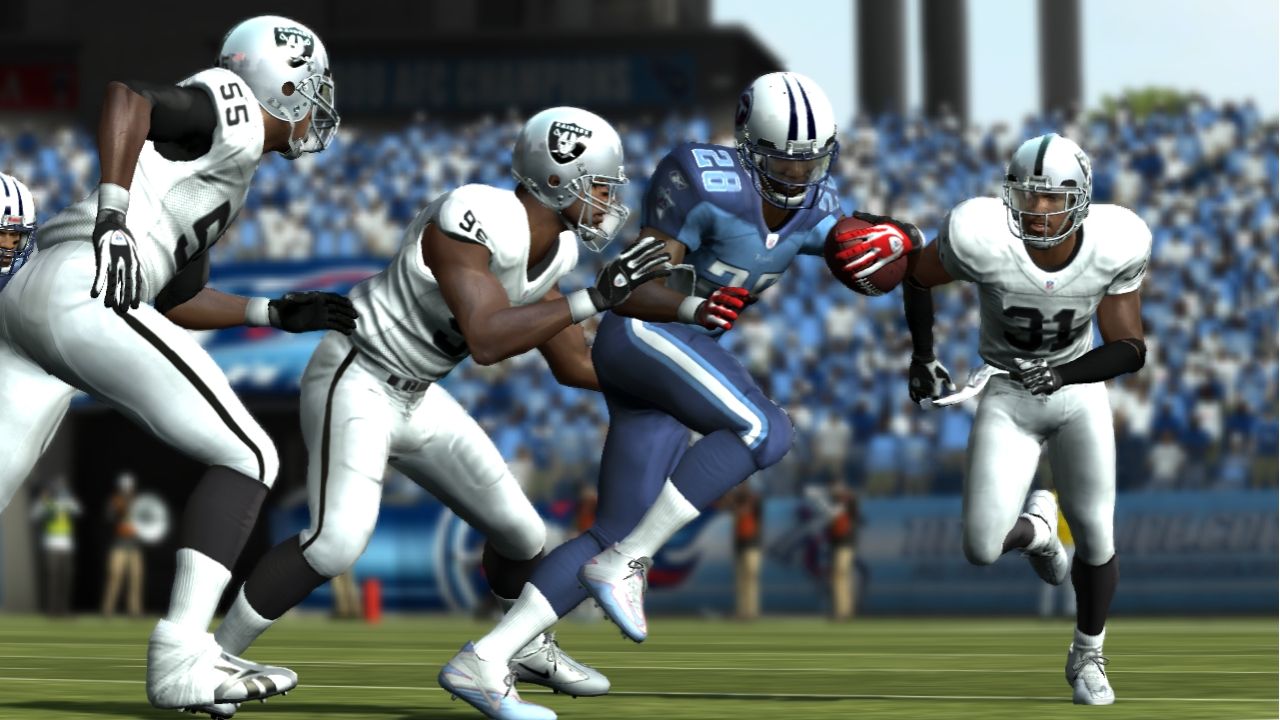 The only downside is that when using the "Gameflow" option for your playcalling, you get sort of auto-assigned a play based on the situation. This is, however, why it's so important to customize your playbook beforehand, in order to make sure you won't end up running a completely useless play that is completely unhelpful for the given situation. Happily, though, you can still always pick out your play the old fashioned way, and of course there are still all of the important adjustments that can be made at the line of scrimmage, such as calling audibles or sending a man in motion.
The graphics in the game are of course nice, though there is nothing particularly spectacular about the visuals. The scripted animations of the crowd and players (at the beginning and end of each game, or between individual plays), feel a bit sub-par, and there is also some noticeable glitches and slow-down during some of the animations that even a fairly casual observer will most likely notice. Most of the time, also, the crowd looks and feels like those old 2D crowds from earlier sports games, having only a limited amount of frames of animation, except when there is a close-up on a specific section of the audience.
Sound design is mostly decent, certainly as far as concerns the sound effects for the players on the field, though the ambient noise of the crowd cheering almost has a kind of muffled sound to it, which I can only guess is to help it feel like you're playing for a large audience in a big stadium. One thing that does make me very happy, as far as sound design goes, is that you don't have to auto-assign names in the roster settings for the announcer to call out individual players by name. However, the announcer doesn't do much to add to the excitement of the game, and is kind of forgettable, outside of a few times when he sounds like he's kind of trying too hard.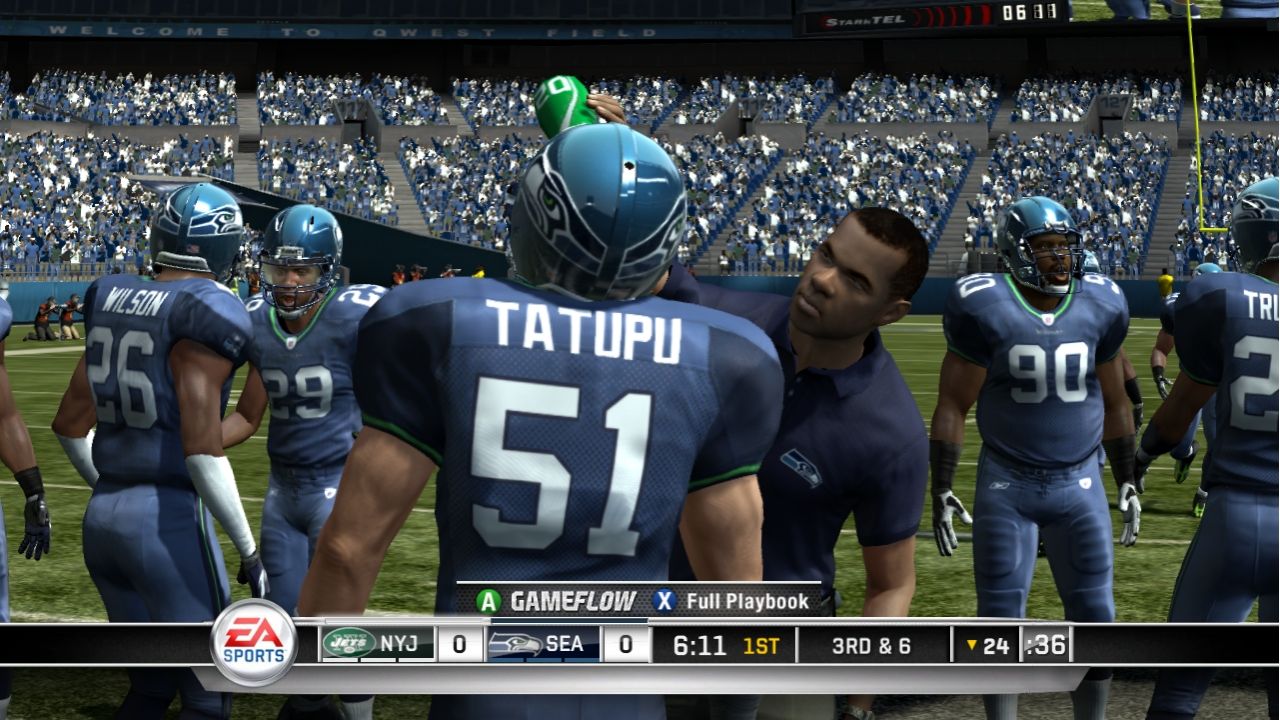 Single-Player is comprised of all of your basic "play now" modes, as well as the more extended game types, of course, though some are more compelling than others. Exhibition allows you to play a quick game of football, or you can choose to play the Super Bowl game mode, which is essentially just a quick, exhibition-style game mode in a bigger stadium and in front of a larger crowd, with some additional tailor-made animations and announcer commentary. AFL mode allows you to play as one of the original eight teams of the league, and the mode also includes some unique visual options such as a film grain, though this has the possibility of causing headaches over time, and doesn't do too much to help give that "classic game" feel when you still have the same product placement of modern-day companies such as Verizon wireless that appear in the normal exhibition games.
Other game modes include the familiar Practice Mode, useful for getting a better handle on the controls and perfecting plays, as well as a Virtual Trainer mode which offers short challenges with increasing difficulty levels that may ultimately go a longer way towards honing your skills and mastering the controls. There is also a mini-game mode available, offering some challenges which could be ultimately useful for improving your playing, though a great many of the available events are simply distractions from the main game, and so essentially kind of useless. One of the game modes I did particularly enjoy was Madden Moments, which offers a series of challenges based on game-changing events from the last season of pro football, though I wish you could restart the challenge mid-game if you know ahead of time that you've failed to complete the objective, without having to completely exit out of the currently loaded game or wait for the clock to run out.
The main "career" game mode, Franchise, is more or less what you expect, as you take your team through various seasons of football in order to achieve fame and glory, managing your roster and other settings accordingly. Other types of career modes include Superstar mode, which is similar to the "Road to Glory" mode from NCAA 11, (which you can even import your player from), where you control a single player and take them through the length of their career. Unfortunately, this game mode is somewhat lacking the same appeal as NCAA 11's counter-part mode had, due in large respects to not having any kind of RPG-like system of building your player's skills, nor really much else to do except to participate in games (and continually advancing the calendar date by simulating a whole bunch of "no events" days). A much more compelling mode is the new Madden Ultimate Team mode, which uses a trading card mechanic in order to collect new players and other benefits for your team by buying cards featuring different players using in-game coins that are won by playing against the CPU or other gamers online.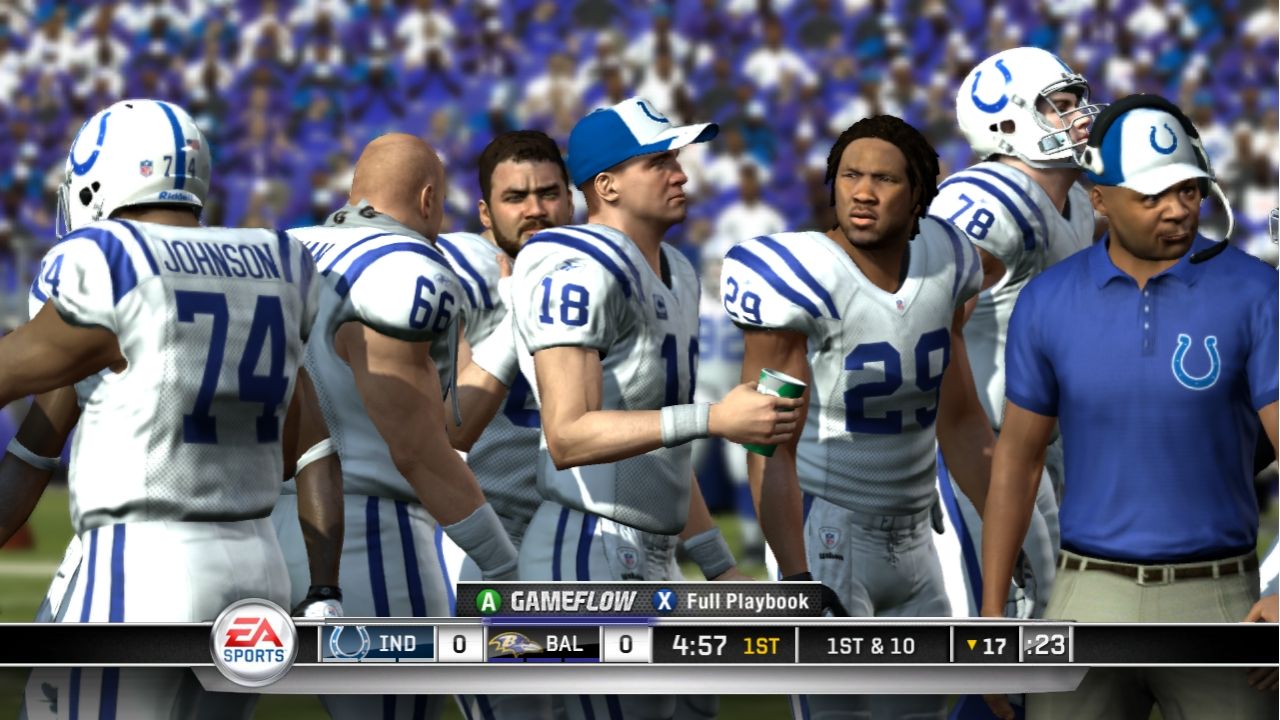 Your standard multiplayer has nothing too terribly new to offer, and is probably more or less fun played locally or online depending on whether you want to relax and have fun with your friends, or are looking for a more serious challenge. A more enjoyable online multiplayer mode, called Online Team Play, is a 3-on-3 game type where the two opposing teams are made up of 3 separate squads, each controlled by a different player. However, this is definitely a mode where the saying "the more the merrier" applies, as it becomes a more frustrating affair if all of the player slots are not filled. There is also of course an Online Franchise mode, though here the same kind of issue applies as in the Online Dynasty mode of NCAA 11, where it only works if you are playing with people that you know in real life or have become more fully acquainted with outside of this game.
In the long run, I feel this is a pretty strong entry for the series, and overall, while I may have some small gripes, I still had an enjoyable time playing it. I personally like the new "Gameflow" mechanic, which ultimately helps to streamline gameplay while on the field and reduces the clutter of excessive user interfaces, which is always a good idea for any game when it can be effectively pulled off. Unfortunately, it's nothing really very revolutionary, but that doesn't necessarily disqualify it from being a solid title that provides a fun and enjoyable experience and is mostly likely a must-have for any true fan of Madden.
Our ratings for
Madden NFL 11
on PlayStation 3 out of 100 (
Ratings FAQ
)
Comments