Brutal Legend Review
Get your axe ready, it's time to rock
Brutal Legend (or Brütal Legend if you wish to keep it authentic) is an odd mix of a game. It was created by Double Fine, who's key member Tim Schafer, the man behind the classic popular titles such as Monkey Island and Psychonauts. Many fans were very excited for this project, hoping for yet another fun and also brilliant title that can be enjoyed by pretty much anyone. Needless to say, Brutal Legend is unable to meet the high expectations of fans, having gone through some legal trouble during development. Part third person action, part RTS, the game has a strong style and some great licensed music, but it ultimately can't decide an aspect to focus on and ends up feeling like less than the sum of its parts.
In Brutal Legend, players become a comedic character known as Eddie Riggs (played by and designed based on Black Jack), who is a roadie for a young rock band. During a stage show, Eddie accidentally falls on stage, with the decorations above him crushing his body. In this moment, Eddie is transported into an alternate world that is themed based on strong heavy metal music imagery. Here, Eddie quickly runs into trouble with the local monsters, only to be assisted by Ophelia. They quickly become friends, and later on join with Ophelia's village of humans. As the story progresses, Eddie gets to meet a cast of various odd characters, all based on different music mythologies. The story in the game certainly has a fair share of twists and interesting outcomes, but in the end things do become a bit cliché and unwilling to take risks. It doesn't carry much weight or high emotional impact as some fans may expect from a Schafer game, but it's still a worthy romp through an interesting world with many different locales and things to see.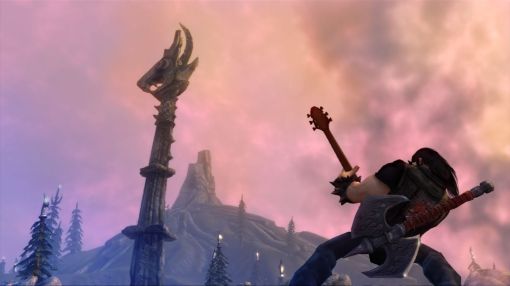 The gameplay in this title is a mixed bag, quite literally. A majority of the game plays as a third person hack and slash, as Eddie takes on enemies in melee combat with his axe, or with ranged attacks in the form of lightning for his guitar. There isn't much strategy behind the combat, with a limited number of combo hits being available. It's not quite a button masher, but at the same time the game is not particularly difficult if you engage the enemy groups carefully. The health restores quickly overtime, so there is not much time that must be spent recovering. A big unique aspect of the game is Eddie's guitar, and the ability to play various solos. These solos are quick QTEs that, if performed successfully, can inflict various attacks on your enemies as well as perform certain functions. Some solos are provided to start, but most need to be found scattered across the world. Solos can raise motor forges, free serpents and spawn Eddie's car.
The world that Eddie's adventure takes place in is relatively large, but mostly linear. It resembles a U shape, so the story campaign progresses from one end to the other. After beating the story though, players are returned back to the start. So if you want to do some item collection in the other half of the world, you need to travel there all over again. Given that Eddie can spawn his car at almost any time, it does not take too long to travel. Eddie's car is rather important to the gameplay, not only as a means of transport but also in combat. By visiting motor forges, Eddie can purchase upgrades for his weapons and the car from the God of Metal himself, Ozzy Osbourne. After enough upgrades, it's usually not necessary to leave your vehicle and fight enemies in the world, as you can just as easily run them down or use the mounted machine guns.
Comments
blog comments powered by Disqus