LEGO 2K Drive Review
If you can't beat them, build them!
There is just something mind-bogglingly cool about racing games. Whether it's driving in extravagant vehicles, sprawling through interconnected roads or driving at double the speed limit in adrenaline-filled races – nearly everything feels exhilarating. For these reasons, the racing genre appeals massively to players of all ages. When 2K announced LEGO 2K Drive, an open-world arcade racer, it seemed on the surface that it would tick all the boxes for a fantastic family-friendly racing game, but a laborious amount of quests and uncomfortable microtransactions ultimately let the experience down.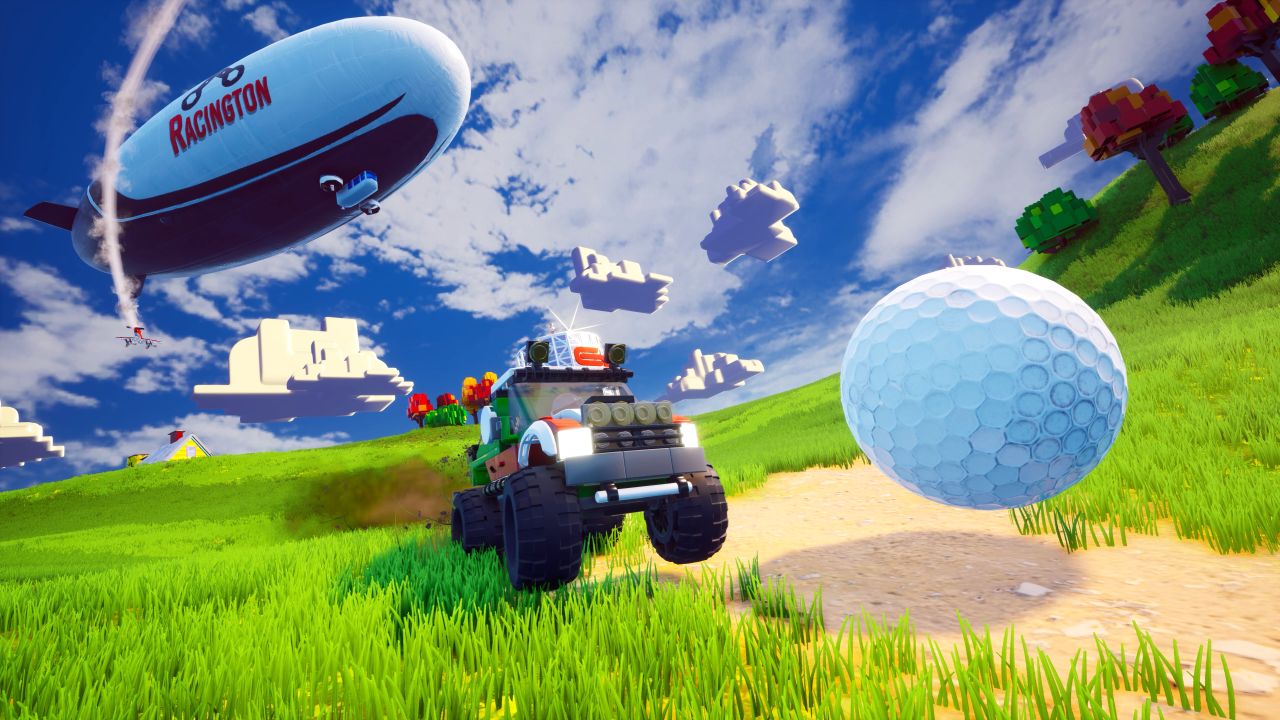 A driver is nothing without a good engine, so why not have several motors? LEGO 2K Drive has taken inspiration from The Crew 2, as vehicles transform depending on the physical terrain. So, hypothetically, one moment, you could be driving in a slick convertible sports car down a race track; the next, you could be in a buggy off-road and then coasting down the sea-line in a swamp boat.
Even though this racing format has been emulated before and is arguably nothing special, the driving is fun and complements the LEGO environments exceptionally well, allowing the game's visuals to pop with vibrant colours. It's worth noting that there are cases of slight lag when changing vehicle forms on a few occasions, but this won't distract you from the races themselves. It would have been nice if this worked seamlessly though, as it's one of the game's most vital features.
Driving the vehicles is exceptionally smooth, and the controls are pretty easy to grasp, with the basics, like accelerating and boosting, being achieved by a simple button press. Executing boosts feels frantic but satisfying, as you'll dart forward at high-velocity speeds for a few seconds until the boost meter is empty. This meter will regenerate over time, but if you are impatient and want to replenish it quicker, you can destroy LEGO-related objects around the environment, which is obviously fun, as LEGO pieces will fly everywhere.
The races are best described as a kart-racer, as you will have to complete several laps, utilising weapon pick-ups like missiles, spiderwebs, and EMP blasts to ensure your victory. The action feels thrilling but also very chaotic, as the rubber banding will often make many races exceptionally close. This is why using driving techniques like quick turns and drifts is crucial to winning, as tight corners are usually when the AI catches up with you.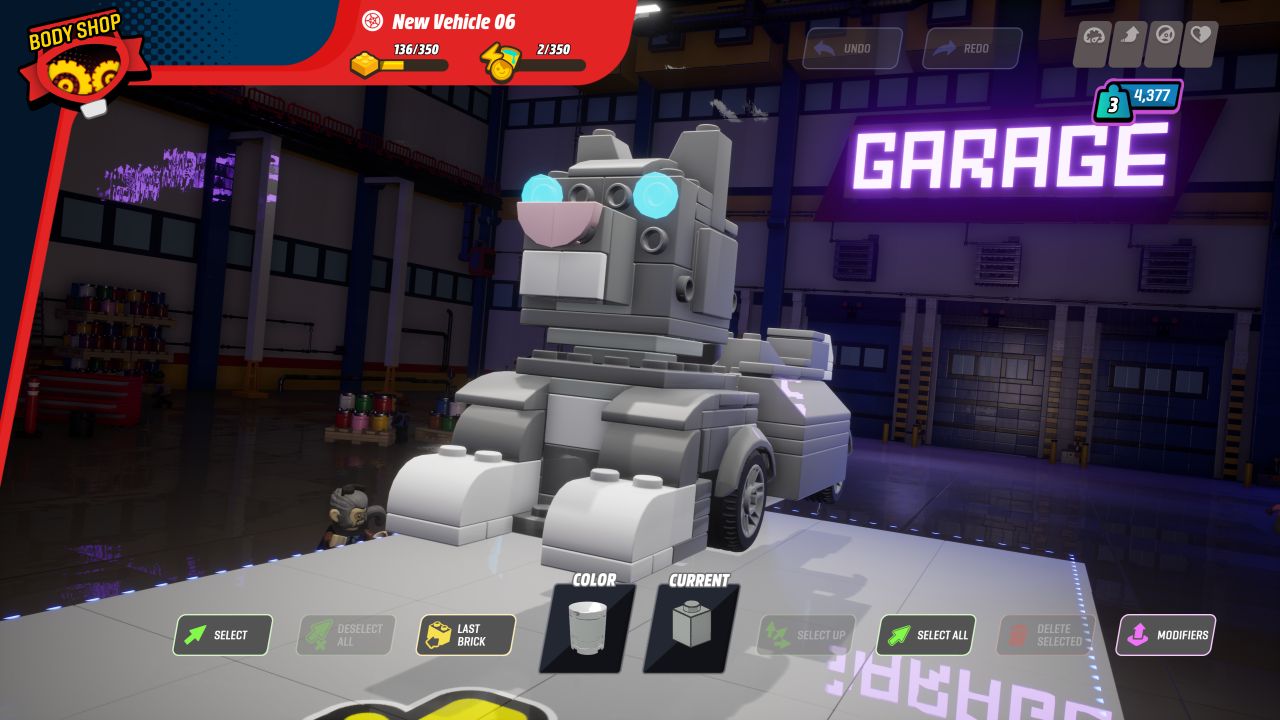 If you have ever played the 1999's Lego Racers, the action looks highly similar; in fact, some of the weapons seem like direct homages to that title; for example, one weapon will transport you slightly ahead of the pack. That being said, Lego Racers had a more diverse weapons range, and when you think about how the game is over twenty years old, it's a bit disappointing.
There are a few modes on offer in LEGO 2K Drive, but the bulk of your time will be spent in the story mode. The plot opens with your character, an ambitious amateur driver fantasising about becoming the greatest racer in Bricklandia. But this pipedream is interrupted by the infamous Shadow Z, who tries to run the newbie straight off the road. Now with the legendary racer Clutch Racington taking you under his wing, you begin a journey to win the coveted Sky Cup Trophy, the most prestigious cup in Bricklandia. Although the plot doesn't hold a torch to LEGO City Undercover's incredibly clever storytelling, the writing is upbeat and cheerful, with many comedic moments throughout, which will definitely appeal to younger audiences.
The story mode's open-world environment is reminiscent of the Forza Horizon series, as you can roam around taking on races, quests, minigames or collectables. However, the world is divided into multiple biome regions instead of one giant map. The hub areas are reasonably diverse, from mountainside valleys to a spooky town that Wednesday from the Adams Family would be proud of. Besides the terrain you drive on, nearly everything is made from LEGO, ranging from buildings, plants and even lamposts. In that regard, it truly embodies the heart of a LEGO game. The soundtrack also reinforces each area's theme, making the open world a delight to travel through.
To earn your stripes to participate in the penultimate race, you'll have to acquire flags obtained by winning races. However, some races require you to attain a certain level on your driving licence, and the primary way to earn EXP is by completing quests. Some have a glimmer of quirkiness and silliness, like driving into a waterspout to rescue a dolphin, but the majority of missions are downright monotonous and forgettable, like driving from one point to another. What makes this even more of a sore point is that you'll have to do several missions to earn enough EXP to level up.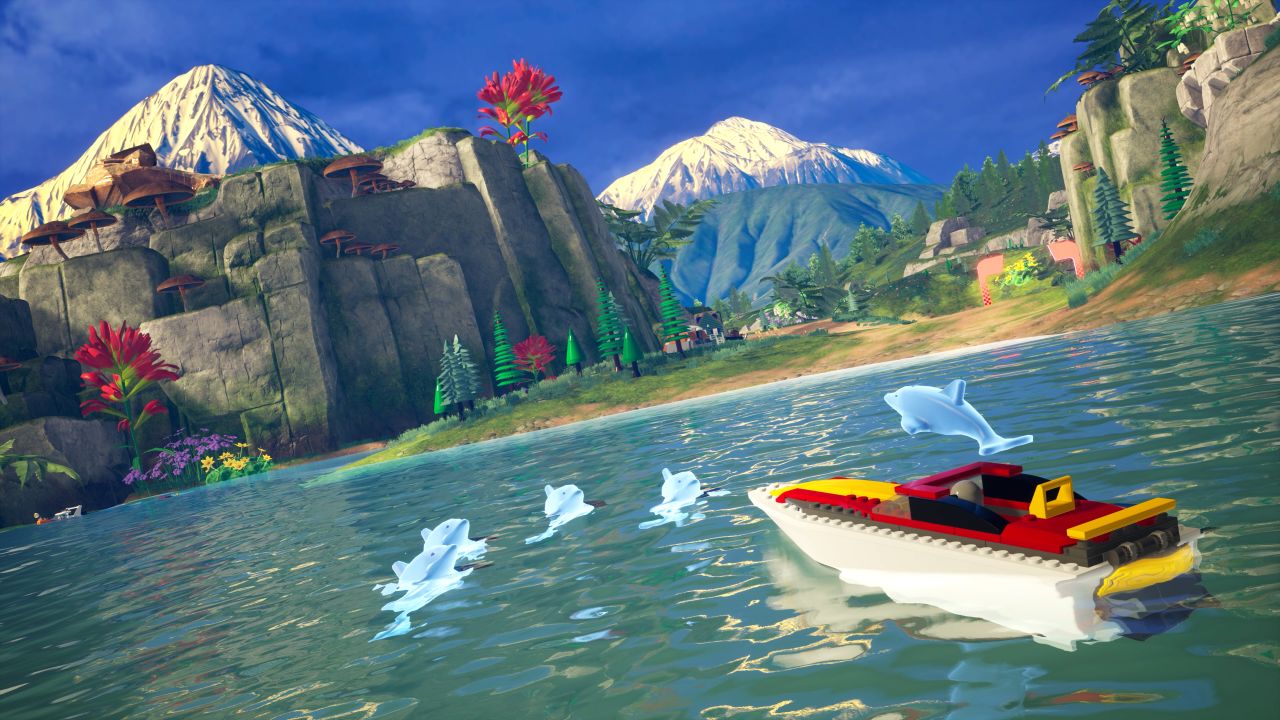 One of the coolest aspects of the story mode is a friend can join you in split-screen couch co-op. It's pretty easy to follow everything going on-screen, so you won't be confused about where you are at any point. If you ignore all the collectables and just concentrate on the main story, it can be beaten around the ten-hour radius, so if you have someone in mind, it's best played with a friend.
It wouldn't be a true LEGO experience if you couldn't make your own plastic automobile and take it out for a spin. Again, if you remember Lego Racers, there are definitely parallels between the customisation modes, but this is what the '90s racing game could have only dreamed of being. You can add a variety of different-sized brick models to create some obscure designs, change the paint colour and add stylish wheels to your vehicle, and that's just the tip of the iceberg.
Interestingly, the number of bricks on the car will directly impact the vehicle's performance. This makes the construction process far more than just cosmetics, so if you prefer speeding down highways, you will build a completely different car to one that eats up weapon attacks from opponents. If you are a LEGO building enthusiast, there is much to grit your teeth into, and you could easily spend several hours creating.
As you might expect, these small bricks have infinite possibilities for creativity, which in turn means there is endless potential for monetisation via microtransactions. With the in-game currency, Brickbux, you can purchase vehicles, drivers, and cosmetics for create modes. You can earn Brickbux by discovering new locations, completing missions and winning races, but it will not be much for your efforts. For $4.99 USD, you can buy 500 coins that can be traded for 10,000 Brickbux, which is the average price for a vehicle, although some cost even more again. For clarity, it's by no means as bad as sports 2K titles for microtransactions, but when the game starting price point begins at $59.99 USD, you can't help but feel the inclusion of microtransactions is a bit shallow, especially as the game is aimed at younger players.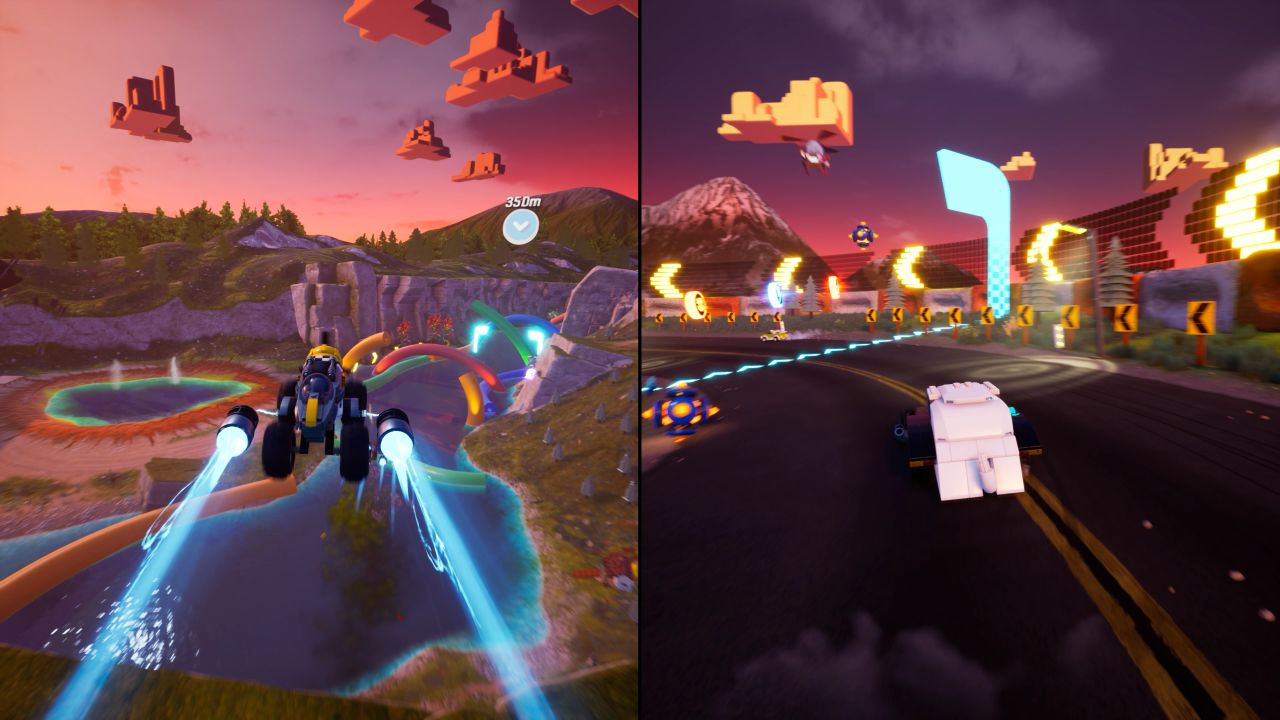 Outside of career mode, there are standalone races, cups and minigames. However, all these activities occur in the primary story mode, so this is more for players who want to re-engage with a particular race or minigame. There is also an online mode, where you can either play with friends or with everyone else, where you will be matched up with players at a similar skill level. There were no issues during online matches, but the player base is currently on the smaller side, so you may be waiting a few minutes to find a match.
LEGO 2K Drive is a light-hearted racer that will be sure to entertain younger gamers for many hours. The game doesn't introduce anything innovative to the genre, but it offers enough content and cool customization options to keep fans busy. LEGO connoisseurs and younger players will enjoy this title, but casual racing fans may be put off by dull mission design and microtransactions.
Our ratings for
LEGO 2K Drive
on Xbox One out of 100 (
Ratings FAQ
)
Comments