NBA 2K23 Review
A Championship level effort
Last year's iteration of NBA 2K was pretty much what you would expect from the franchise at this point. Solid gameplay and plenty of content but undercut by technical issues and frustrating microtransaction integration. With sales of the series continuing to be excellent, Visual Concepts and 2K Games don't need to really shake things up. However, that didn't stop them from delivering a surprisingly fresh release with this year's NBA 2K23.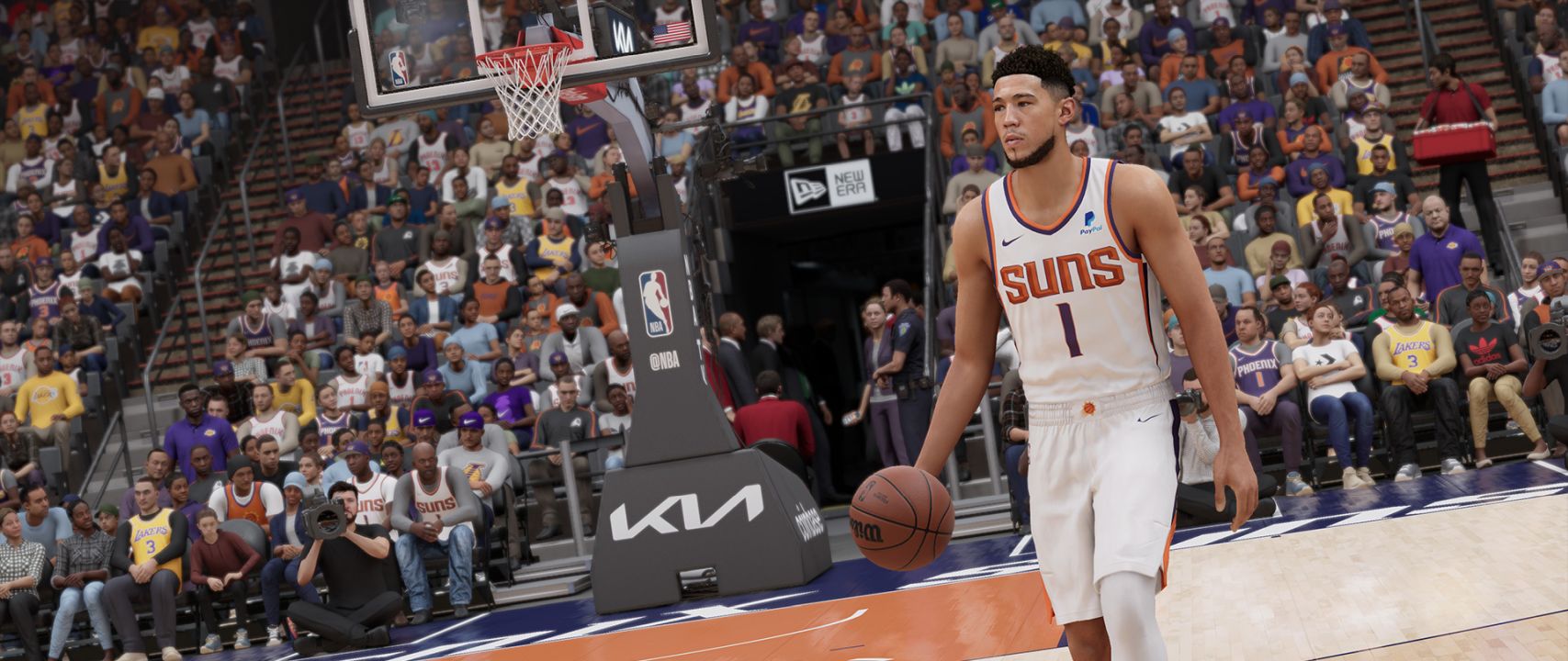 On-court gameplay was already strong in last year's release, and NBA 2K23 continues to build off of that blueprint. The biggest addition to the gameplay is the introduction of a three-tiered adrenaline system. Previously, it was easy for players to abuse dribbling moves to blow past defenders, but these moves now deplete both your adrenaline and stamina much faster. If you are on offense, you can still utilize these maneuvers to get a basket, but you need to think about when to unleash them. On the other side of the ball, corralling a ball-handler has been made easier, but you still need to focus on them. If you're not doing your due diligence, you'll get beat more often than not.
Aside from that, most of the improvements to the gameplay are tweaks to existing mechanics. The shot meter has been adjusted to be a little more difficult to stop at the top. I thought last year's meter was a great step in the right direction, and I appreciate developers continuing to fine tune it. For those that utilize it, the pro stick has received some new moves as well. As mentioned before, you can't abuse these moves due to the adrenaline meter, but with more options available, you now have better control over both shooting and ball-handling.
Additional focus on realism has been factored into playing defense this year. Shot blocking was a tad overpowered last year, so that has been tamped down. However, tweaks made to stealing has made that aspect of defense easier to pull off. This was an aspect of my game that has never been great, but I did manage to swipe a few balls away this year. Overall, the series continues to make strides in improving the gameplay, and it's nice to see them continuing to adjust for both realism and enjoyment.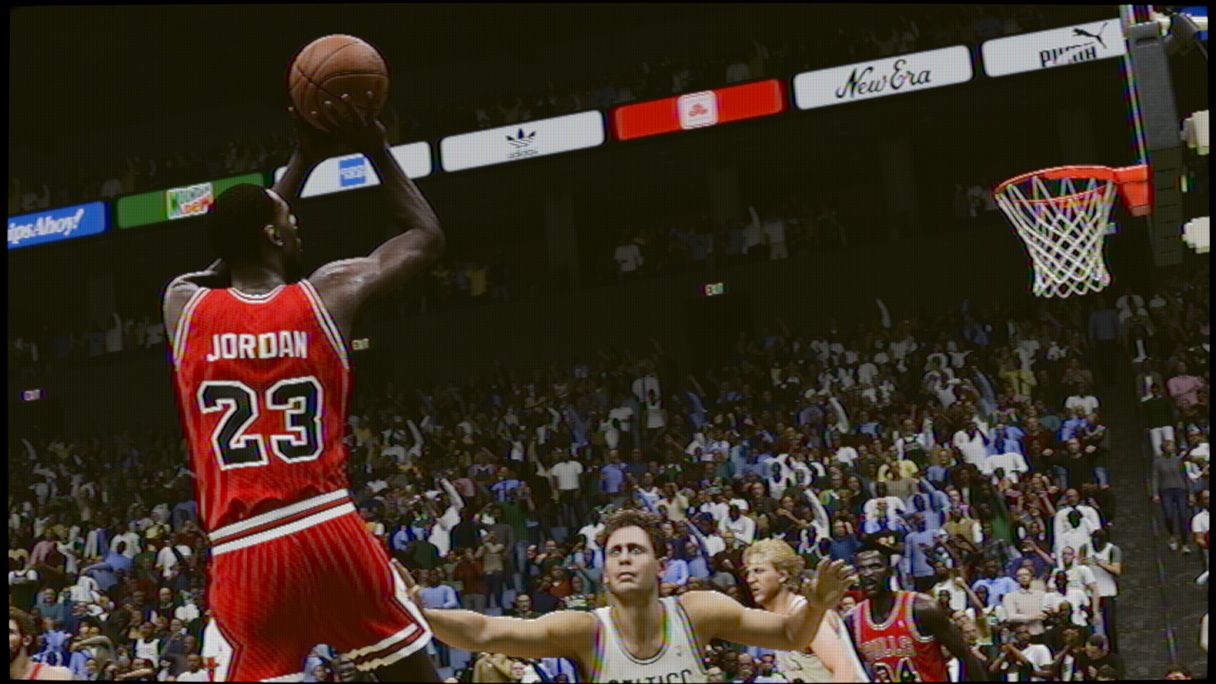 The list of modes in NBA 2K23 is mostly comprised of the stand-bys of the franchise. MyCareer, MyNBA and MyTeam are once again featured here, albeit with changes for each one. The big new mode for this year's release is the return of a fan favorite from years ago: the Jordan Challenge. Back from 2K11, Jordan Challenge has you completing some of the most iconic moments in the career of the GOAT, Michael Jordan. Having time appropriate visuals and commentary, the mode follows Jordan's collegiate success at UNC all the way to completing his second three-peat of NBA championships in 1998. The presence of this mode was what drew me to the franchise back in 2010, and I love that it was brought back. The developers put in the work to recreate old arenas and uniforms, and even brought in analysts and former players to provide insights into each of them. It's still a blast to relive these highlights, and the extra work added in for the mode's return makes it worth playing even if you are familiar with Jordan's career.
Going hand in the hand with the throwbacks of Jordan Challenge, MyNBA now allows you to start a franchise from four different periods - in the 80s, 90s, 00s or modern day. If you choose to begin in the three earlier periods, the rosters, arenas, presentation, and draft classes will be reflective of the time. You are essentially given free reign to drastically reshape the course of league history. You can help the Pacers finally get over the championship hump during their 1990's heyday, or you could go right ahead and vote against moving the Seattle Supersonics to the Oklahoma City.
MyNBA can be a little too complicated for casual play at times, but it's easier to get wrapped up in it now. The new eras are arguably the best addition Visual Concepts has made for it since the debut of the franchise. Between recreating all the old courts, uniforms and player models, the studio really had to put in the work to make this succeed. That's on top of getting the likeness rights to scores of players who otherwise wouldn't be featured in the title. It's been tough for me to truly get invested in the mode in the past, but I know I'll be taking the Hawks to the promised land eventually.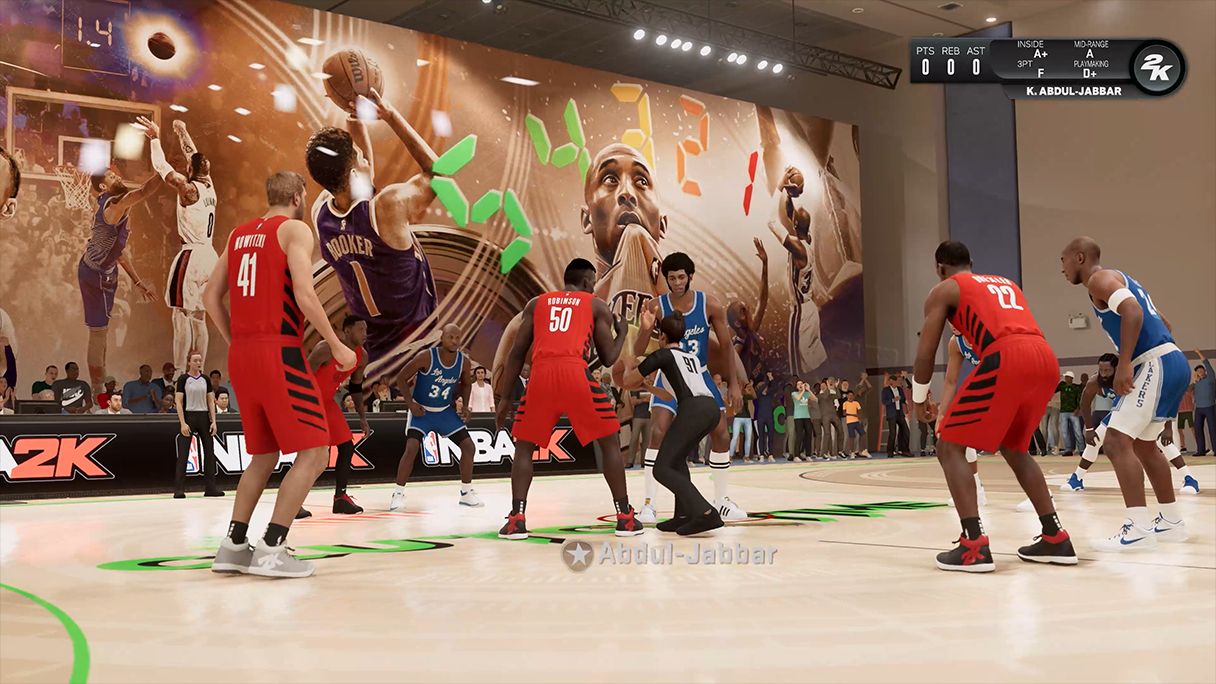 MyCareer doesn't deviate too much from its regular formula, but improvements have been made. This year's storyline revolves around your player trying to prove himself to the franchise that drafted him, while also dealing with the obnoxious player taken after you in the draft. In comparison to some of the ludicrous directions this mode has taken in the past, the story here is positively quaint. It can get a little too cute at times, such as an early moment where you must convince a super fan to back you on Twitter, but it's fine enough. Besides, I imagine the appeal for most fans of the mode is not the story so much as creating your ideal basketball player. Tied in with MyCareer is the return of The City. The City houses everything you would ever need to do with your created player. That could be playing street ball with online players or completing side quests for MyCareer. Visual Concepts has listened to fan criticism and made some important changes to the city. The biggest one for me was reducing the overall size of the urban center, which really cuts down on the amount of dead space. Getting around is not as tedious as it was in last year's release. It's still far from perfect, though. It's littered with an obnoxious amount of in-game advertising, consistently suffers from lag and utilizing vehicle options such as skateboards feels clumsy at best. It's in better shape than it was in last year, but there are still improvements to be made before I can say I enjoy my time in The City.
Finally, there's the addictive MyTeam mode. If you are not familiar with it, or similar efforts from other sports games, this mode revolves around you building a team by collecting cards of players past and present. As you build your team, you'll have the opportunity to complete assorted challenges to unlock additional cards and currency. Additions from last year's effort, such as card grading and shoe creation, have been carried over to this year's release as well. If you don't want to go online to face-off against other created teams, the mode offers more than enough single-player content to keep you occupied. It's a dense mode, and content is continually added throughout the season.
Both MyTeam and MyCareer suffer from the same major issue, though, which is the suffocating presence of microtransactions. This has been an issue that has plagued the series for years, and it's clearly not going to go away at this point. However, the role in which paying extra money factors into both modes cannot be overstated. If you aren't willing to fork over extra cash for more VC, then you will have to slowly grind your way to success. It's more of an issue in MyCareer, where you can spend a good amount on your character and still only be rated in the 70s. Compounding that is the fact that the same currency used to upgrade your player is used to purchase additional cosmetic items in The City. So, you can't even take advantage of the commercialization of the game without sacrificing the skill level of your player. It should be noted that this review is based off the Michael Jordan edition, which comes with 100,000 VC points. My point still stands, though, and it's difficult to ignore the issue.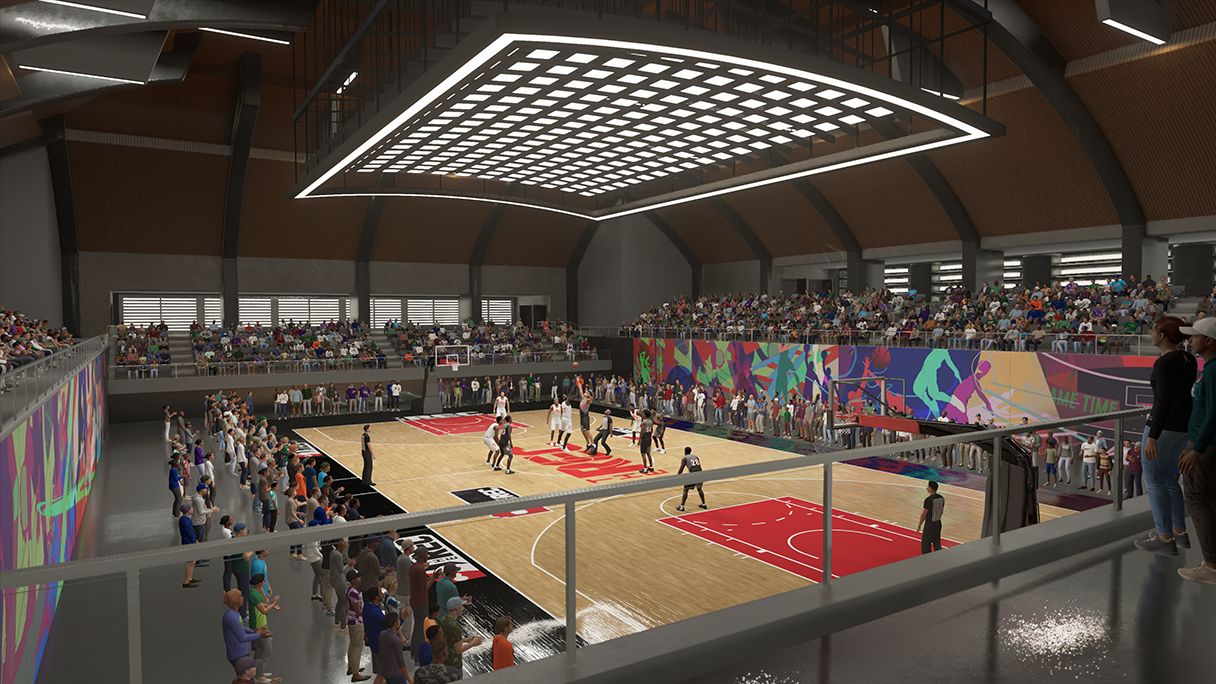 NBA 2K22 was already one of the sharpest looking sports games on current-gen consoles, and 2K23 ups the level once again. Player models look fantastic, and detail put into facial features and clothing looks better than ever. The presentation really shines in the Jordan Challenge and retro MyNBA modes, though. The work done to replicate the classic presentation of NBA games is exceptional, and Visual Concepts really went above and beyond here. Even The City, which was very bland last year, looks better this year. It's still filled to the brim with advertisements, but it no longer looks like an open-world relic from 5 years ago either.
NBA 2K23 continues to push the franchise to another level of quality. The on-court gameplay has been refined once again, and has struck a fine balance between being realistic, but also fun to play. The cutting down on ball-handler moves due to the adrenaline meter goes a long way to making the game feel closer to the sport. The return of the Jordan Challenge also gives the franchise a boost in the mode department that may not have been needed but is appreciated. Between that and the new eras in MyNBA, Visual Concepts clearly wanted to bring the history of the sport to the forefront. As fun as the title is, though, the overreliance on mictrotransactions continues to be a tough problem to ignore. You don't need to pump extra cash into the game to have fun but being forced to grind through MyCareer or MyTeam isn't the ideal way to experience those modes either. This issue isn't going to go away, though, so all we can really do is enjoy the game in spite of it.
Our ratings for
NBA 2K23
on Xbox Series X out of 100 (
Ratings FAQ
)
Comments