Tetris Effect Review
Seeing the blocks in a new light
Tetris is a game that's seemingly as old as time itself. Before Mario, Nintendo, Fortnite, and Call of Duty became household names, this simple yet addictive and challenging puzzle game took over the world. Unlike all of the abovementioned franchises, Tetris didn't hold itself back, and over the decades we've seen tons of iterations of its gameplay from many developers. On PC, mobile, console, and even on calculators, Tetris has been around for a while. The latest iteration of the game is Tetris Effect, led by Tetsuya Mizuguchi and the teams at Monstars Inc. and Resonair, best known for the Rez and Lumines games.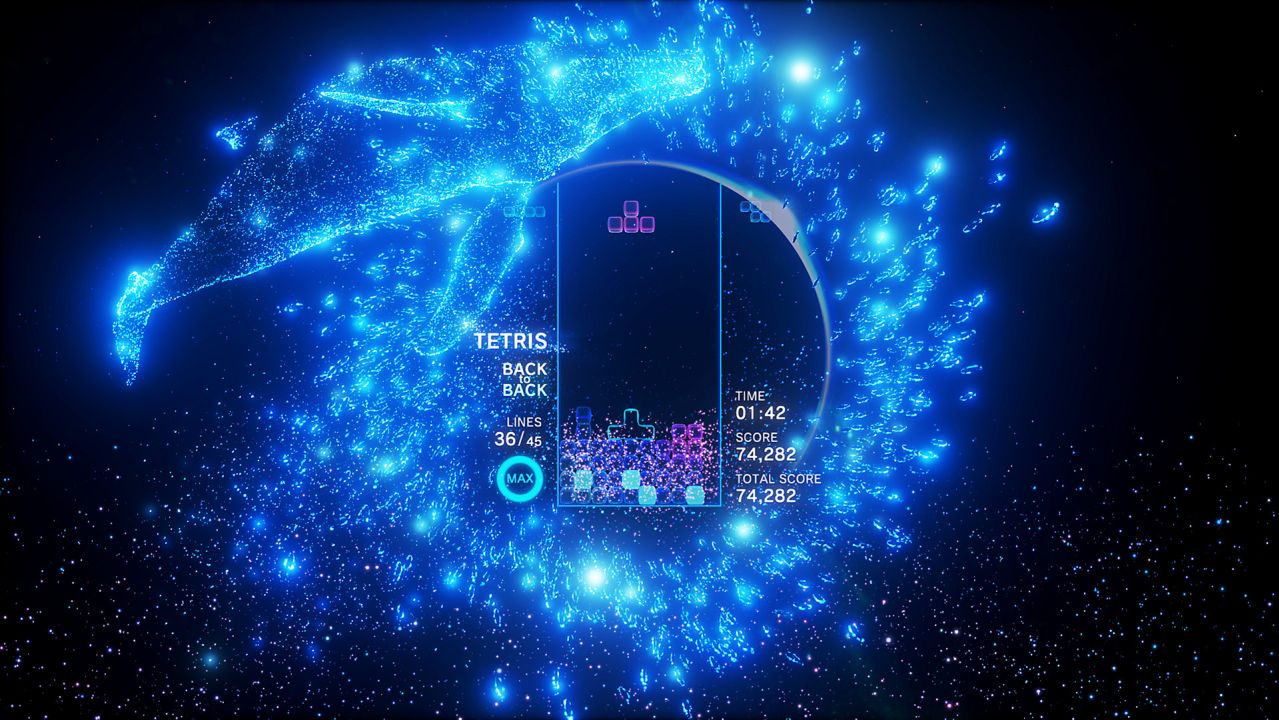 If you somehow don't know Tetris - the gist is that geometric blocks (Tetriminos) fall down from the top, and your job is to rotate and place them within a rectangular vertical shaft. If you get a solid horizontal row of blocks, that row is eliminated. The challenge comes from ever increasing speed of the blocks, and as they are randomized, you're hoping to get the right shapes into place without leaving gaps. It's a simple concept that, as mentioned, has more than stood the test of time.
Tetris Effect offers the more modernized and expanded version of the game, compared to the 1980's original. You've got the ability to hold a block for later, spin pieces into place even though they should theoretically be clipping through others, and rotate the already-landed pieces; all as long as your timing is good. One new ability is the Zone, that lets you pause time and drop more than one block - after you've charged it up. For most players, it's Tetris as you remember it. The inputs remain simple, so a keyboard will do just as well as a controller.
But the main draw of Tetris Effect is its expansive production quality. You've not seen a version that looked and sounded as diverse, mesmerizing, and engaging as this. It's sort of a mash-up of the developers' previous works - the dream-like visuals and effects of Area X from Rez Infinite, combined with the colorful backgrounds and music design of Lumines. The game is split into over 30 different levels, each featuring unique presentation. To make the stages even more dynamic, the music and visuals change at certain points as you're clearing enough lines to reach the next phase. The background visuals range from the underwater abyss to fiery cult rituals, a night out on the town to camel walk across the desert. Particle effects and colors break through the screen, never obscuring the gameplay, but making you feel quite immersed.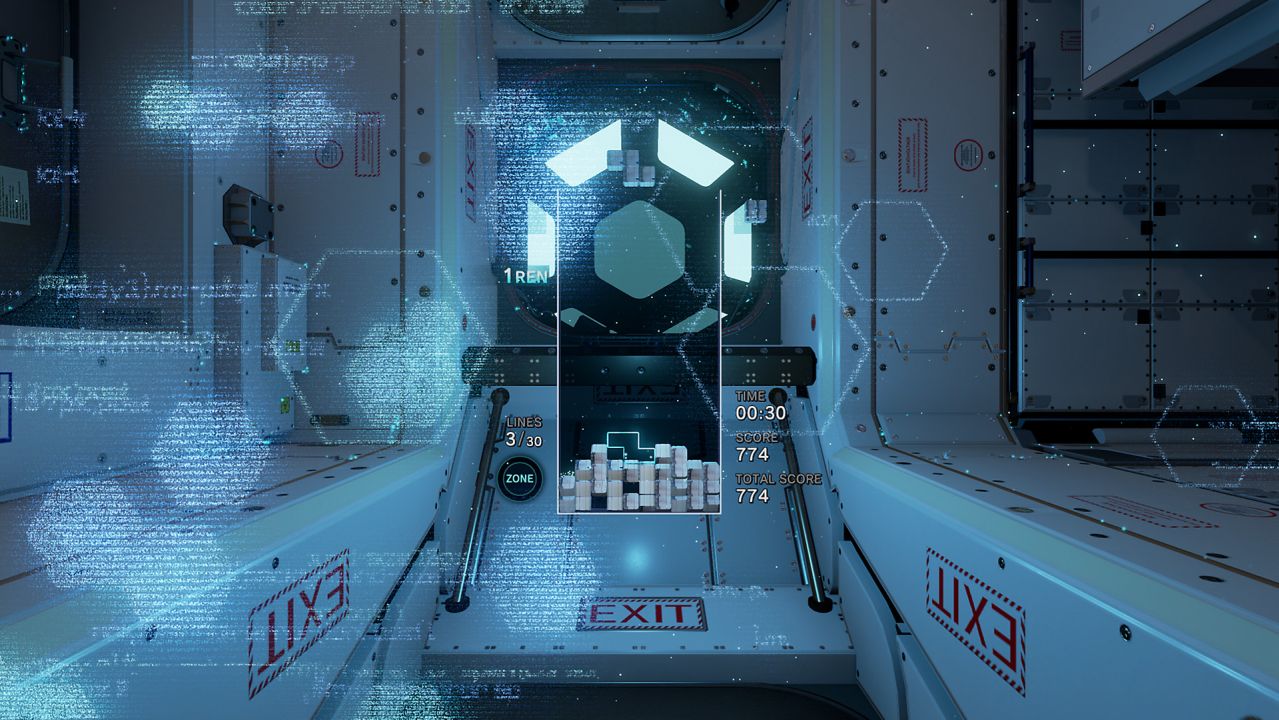 Equally as magnetic is the audio design. The music is great, offering a range of techno, vocals, drum beats, and everything in between; although some of the levels are far too abstract, and feel like a series of audio effects more than songs. Some stages even feature sound effects for moving, dropping, and rotating the blocks, adding a dynamic touch to the soundtrack. Oh, and the blocks themselves also change style and color as you play (though hardcore players can turn that off to focus). The variety and creativity on offer is impressive, and it can put you in a sort of a trance while you're still trying to place the blocks. And if you do simply want to relax with your favorite levels, you can do so with Theater mode, which removes the gameplay.
To experience all the stages, you'll need to play through the Journey career mode, which offers three levels of difficulty that can be changed at any time. To clear the stages, you simply need to erase a specified number of lines, without reaching game-over by overfilling the screen. You can earn experience for your player profile to level up, and you get a grade on how well you did on each stage. Alongside the presentation switches that happen during the level, the game will also alter the speed. Beyond the campaign, you can venture into the multiple standalone modes like Ultra, Combo, All Clear, Purify, and so on. Tetris Effect is strictly a solo experience, though there are leaderboards for every stage. If it's direct multiplayer you're after, you'll have to go with something like Tetris 99 on Nintendo Switch.
While the game was originally released last year for PS4, the PC version arrives with a few more extras to entice players. It supports 4K resolution, with an uncapped framerate, and has extensive graphical options so you can tweak the experience to your liking, and your hardware. You can also play it in VR through Oculus Rift and HTC VIVE, though that was not tested in the scope of this review.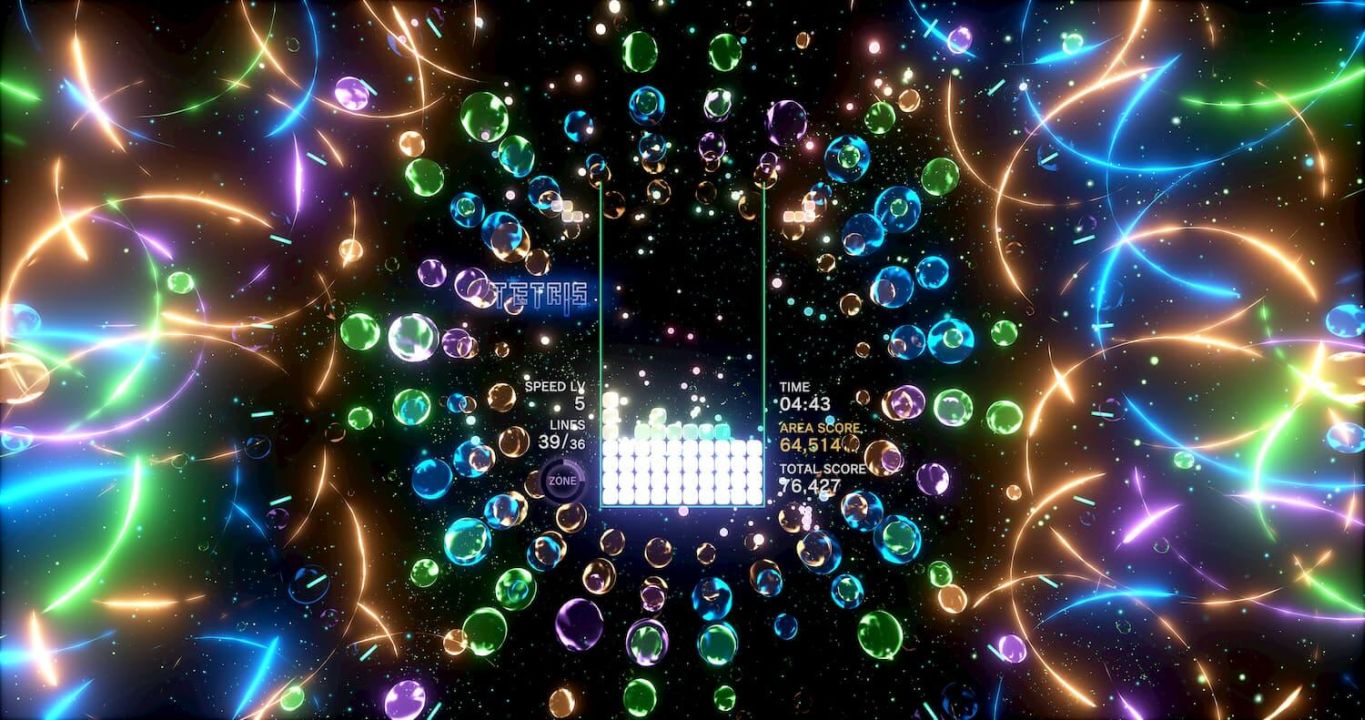 While everything about Tetris Effect sounds good, it will give you a heck of a sticker shock. Priced at $40 USD, this is one of the most expensive versions of Tetris ever. If you're a gameplay-first kind of fan, and not planning to take advantage of VR, you should think for a while about the value proposition here. As someone who's still playing Lumines to this day on PS Vita, I really adored and appreciated the Tetris Effect experience - for the first few hours. But beyond that, given that you can't take this PC version of Tetris Effect on the go, and there are plenty of alternatives out there, the price point just feels too steep. It's the same pricing misfire that Rez Infinite had, and it's a bit disappointing to see it happen again.
There's no question that Tetris Effect is an immersive and memorable audiovisual experience. Though it doesn't really bring anything new to the table - perhaps an expected outcome, given that you can't change a classic - this is still the challenging and engaging puzzle game you remember. The presentation is indeed impressive and mesmerizing, but after you've seen it a few times, it may lose its charm. And if you place gameplay above everything else, there's just not that much content here. Even for casual fans hoping to dive into a mesmerizing trance, it's simply too expensive.
Our ratings for
Tetris Effect
on PC out of 100 (
Ratings FAQ
)
Comments
blog comments powered by Disqus