Minecraft Earth Preview - E3 2019
We get some hands-on time with the new augmented reality game
While everyone in the gaming industry is quite focused on the development of VR, most seem to forget that there exists a different type of cool tech - augmented reality. As the market waits for VR devices to come down in price, become more consumer friendly, and gain a big software library, the augmented reality platform has seemingly taken a back seat. But Microsoft has realized there is huge untapped potential here – after all, almost everyone owns a smartphone, so the initial entry barrier has already been eliminated. The publisher is betting that this is enough to tap into the market, so they are bringing the biggest franchise ever, Minecraft, to this new medium.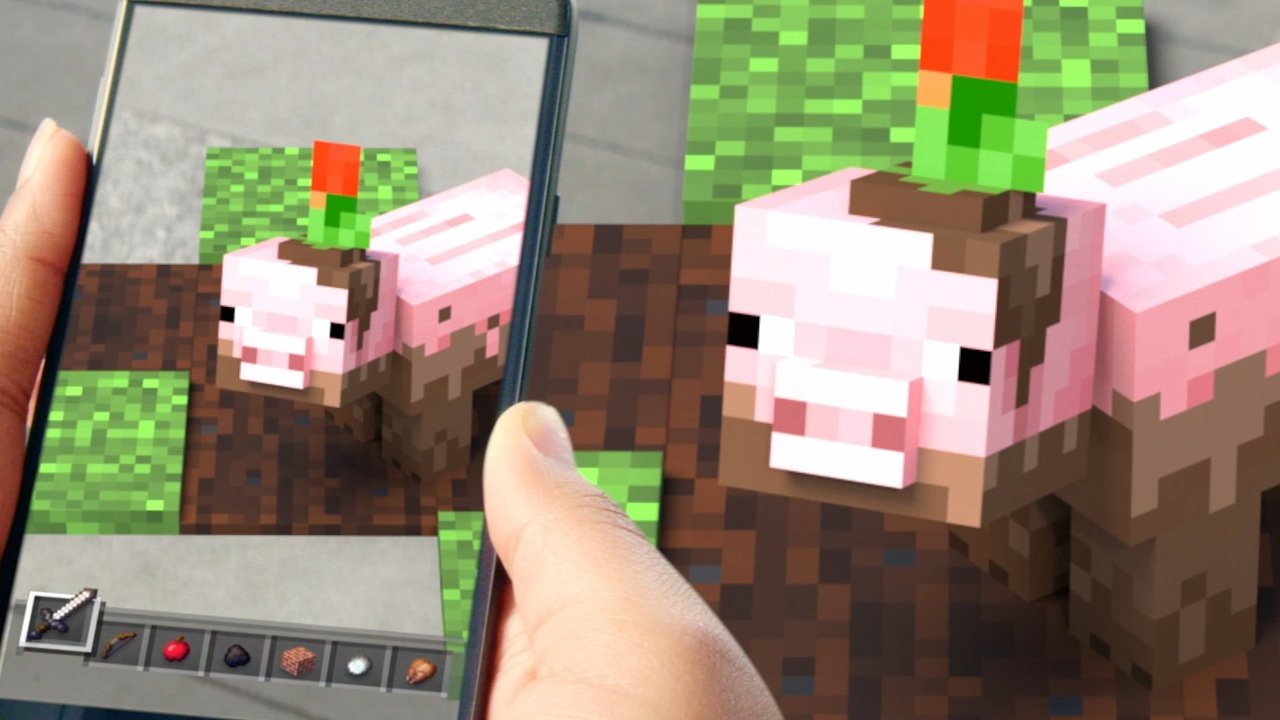 We had a chance to go hands-on with Minecraft Earth, the new augmented reality game for mobile devices. The Earth project is a continuation of the work that the team has started with HoloLens, which they demoed back at E3 2015. Minecraft is celebrating its 10th anniversary, having sold over 176 million copies. The developers wanted to create a way for different generations of Minecraft players to come together – and again, since everyone has a smartphone, it seemed like a great approach.
Our demo was hosted by executive producer Jesse Merriam, who guided us through the pillars of the project. First up, the mechanics and characters are the same as the full versions of the game, so if you already know Minecraft and how to build a pickaxe, you'll be able to do it in Earth. Next, the overworld map allows players to interact with their real world setting contextually – for example, if you're near a body of water, you can fish. With the Tappables design, if you're near a tree, you can gather wood blocks from it; at home, you can grow crops, even in winter of course. For rare items, players will need to go on more complex Adventures. And of course, you can gather and care for mobs – sheep, pigs, and so on.
The key to Minecraft Earth design is multiplayer and accessibility. To that end, the entire content of the game can be found within your neighborhood – unlike games like Pokemon GO, there will be no need to drive somewhere to get rare materials. For multiplayer, you'll be able to share your in-game creations with friends, who can interact with them, but not edit/build them, since every creation comes from blocks manually gathered by players. The building blocks are a finite resource and thus must be treated as valuable. However, you can still build together when you are physically together, with the host sharing their world. Players with existing Minecraft accounts can bring their avatars and names into this new app.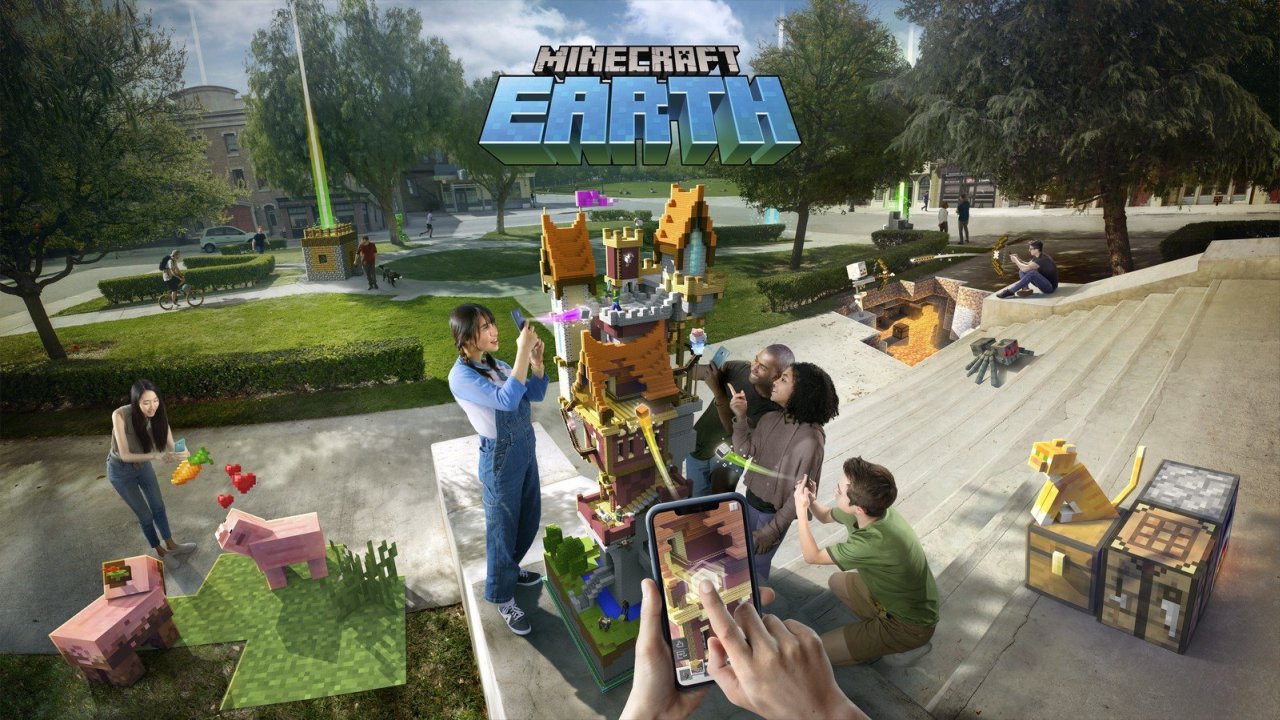 We got a chance to see Minecraft Earth in action, using a provided set of phones with the app loaded. Our demo group gathered around a desk, and looking through our phones, we looked over a tower that the developers had built and shared. The augmented reality aspect worked quite well – the game visualized the tower on the table in front of us, and it was neat to be able to interact with it. Moving the phone around and closer/further to the desk allowed us to look at the tower from different angles, and peek inside. Using the typical Minecraft menu, we could add/remove blocks and other items, throw in some cows, and so on. As a fun tidbit, the developers say this table was the very same one used for the E3 2015 HoloLens presentation. Then, with a push of a button, the tower disappeared and we moved to the next part of the room.
In this large, open space, the tower now stood in front of us, life sized. It was a very impressive feat, to see the level in this scale. Using the phone as a sort of looking glass, we could move around and explore the tower's ground level, and still interact with it just the same way as before. It was like the typical first person Minecraft experience, but in reality. Looking around at other participants of the demo, they appeared as cutouts within this augmented world, and the camera/game was able to fit them into the virtual space quite well. Each player had a name and their currently-selected item hovering in front of their phones. Some creepers later appeared, and we were able to keep them at bay by shooting arrows that landed wherever we aimed.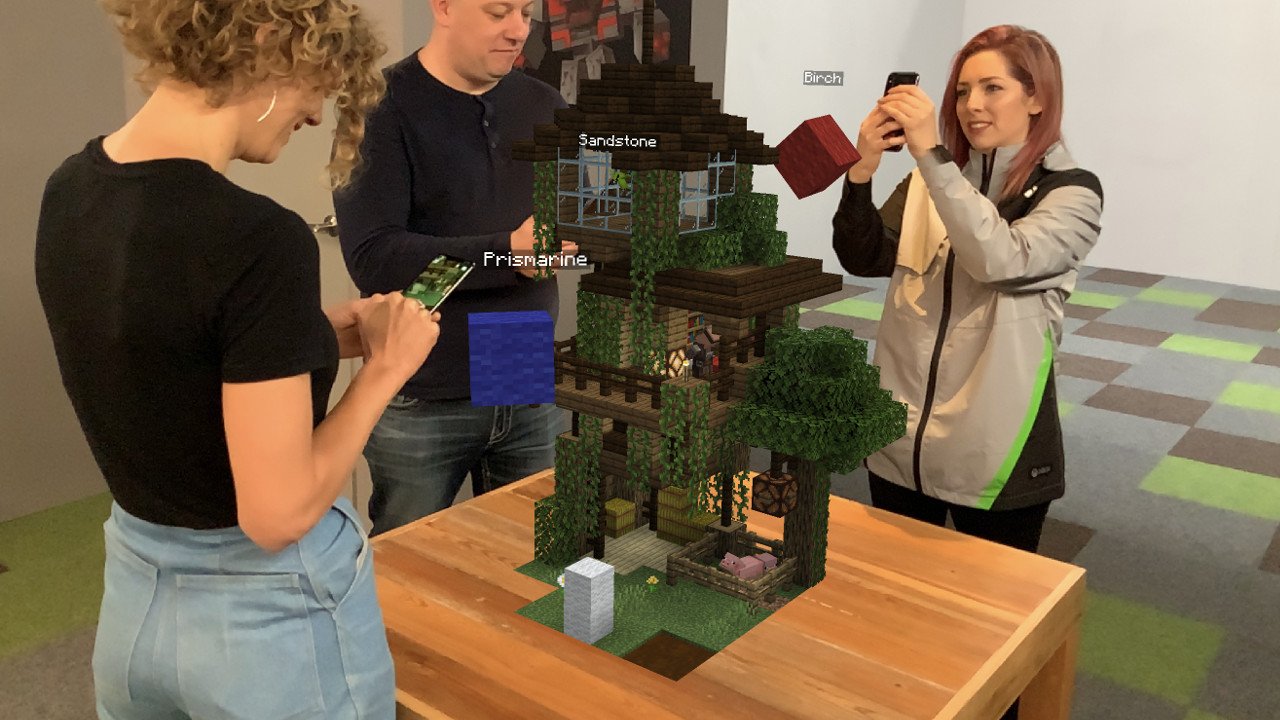 The Minecraft Earth demo was a memorable bit of augmented tech. The game already looks to be well rounded, offering the gameplay fans are familiar with, but within an entirely new setting. For more immersion, playing with a tablet would provide a bigger window into this virtual world. The demo phones did get uncomfortably hot quite fast, but the app is certainly still in development stages, and it remains to be seen how phone batteries will hold up. The Android and iOS app will be free to play, as the developers want to open the experience to as many players as possible, and initially there are no plans to lock features away behind paywalls. There is currently no launch window set, but a closed beta is expected to begin in 2019.
Comments
blog comments powered by Disqus