PlayStation Classic Review
Sony joins the nostalgia wars with their miniature console
Players have become fairly accustomed to modern-day remakes of classic games. From re-releases to complete remasters, banking on nostalgia has become quite popular. We've seen numerous franchises reinvigorated by remakes that pay excellent homage to the classics, and it allowed a whole new generation of players to try these titles with all the comforts of modern design and visuals. Some fans, though, have always declared themselves to be committed to the 20+ year old originals, collecting classic consoles and games that they grew up with. To capitalize on this niche market, Nintendo released their mini-console NES Classic Edition in 2016 to great fanfare, while Microsoft has made a heavy push into backwards compatibility, bringing select Xbox and Xbox 360 games to the Xbox One. Sony now joins the fray with the release of The PlayStation Classic, in time for the 2018 Holiday Season.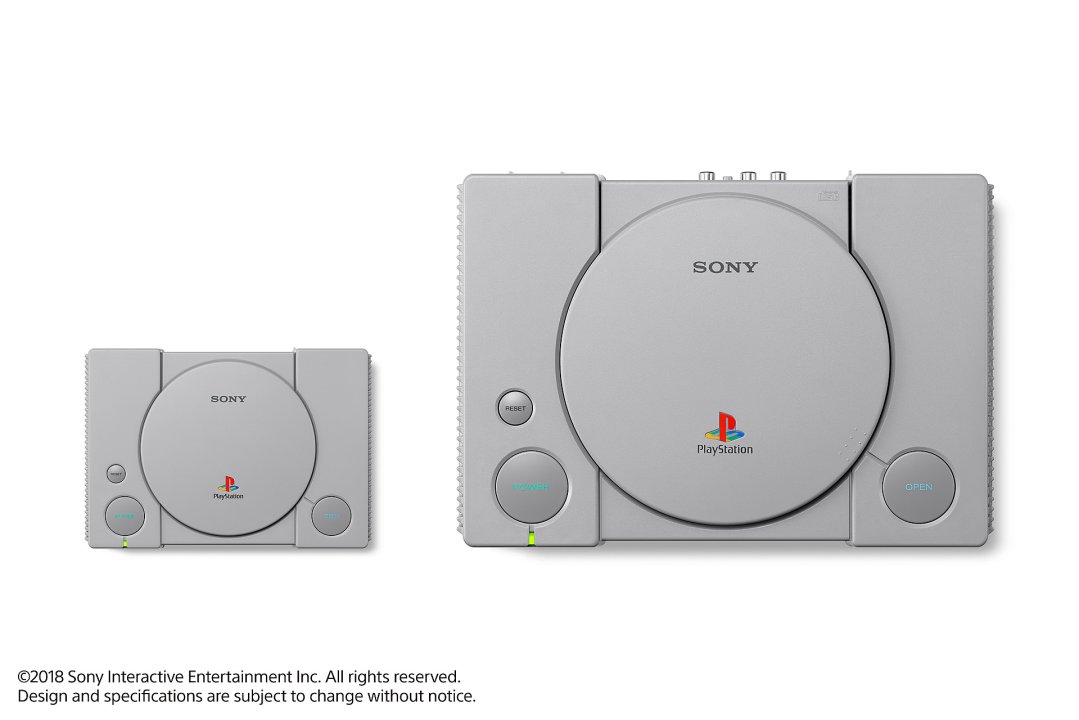 The PlayStation Classic arrived December 3, and we had a chance to spend a lot of hands-on time with this miniature console. The hardware unit itself is rather small and lightweight – coming in at just under 0.4lbs (170g), and at 6 × 1.3 × 4 inches in size, making it roughly 45% smaller in width and length compared to the real original console. This means that it takes no space at all in your storage, or on your media shelving, and it's easily deployable when needed. In person, the unit looks well made and a worthy replica of the original console, down to the lines and port locations.
The retail bundle includes an HDMI cable, and a USB Micro-A to standard USB-A cables for the two replica PlayStation Controllers that are also in the package. This is where some troubling signs first appear though – the console doesn't include an AC adapter. It's a pretty shocking decision, so if you're planning to offer this as a Holiday Gift and not ruin your friends/kids/others' Xmas-morning, you best grab that beforehand. Sure, many people have something to output USB-A AC power output (and even some modern TVs can do this), but it still seems like a silly omission.
Once you're ready to fire up, you'll be greeted with a very simple interface to select what pre-loaded game you'd like to play. The PlayStation Classic emulates games originally released on the original 1994 PlayStation console, as you might have guessed, which means there's a pretty good library of potential hits to choose from. Everyone's favorites will vary, of course, but there are undisputed classics that most fans would have been thrilled to see on this console. Sadly, however, the offered selection is objectively weak. The PlayStation Classic comes preloaded with 20 games, which are Battle Arena Toshinden, Cool Boarders 2, Destruction Derby, Final Fantasy VII, Grand Theft Auto, Intelligent Qube, Jumping Flash, Metal Gear Solid, Mr Driller, Oddworld: Abe's Oddysee, Rayman, Resident Evil Director's Cut, Revelations: Persona, Ridge Racer Type 4, Super Puzzle Fighter II Turbo, Syphon Filter, Tekken 3, Tom Clancy's Rainbow 6, Twisted Metal, and Wild Arms.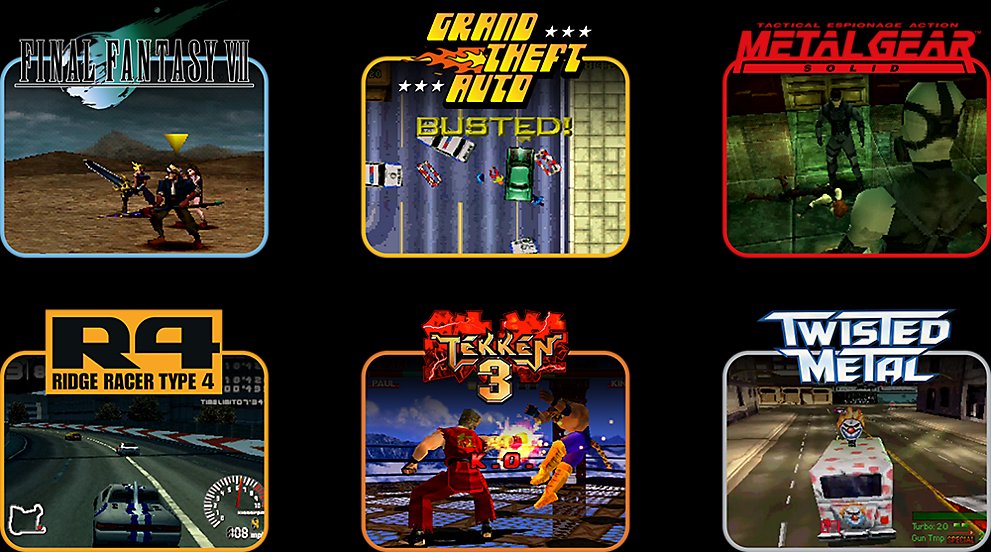 Looking at the list, you're likely already thinking that this is probably not the best-ever selection. Sure, there are classics like MGS, FF VII, GTA, Tekken, and Twisted Metal, but it's pretty obvious that the lineup is a bit thin on well-known names. There are probably good reasons for their absence, but it's a bit disappointing regardless. It's pure speculation; perhaps the car licenses for Gran Turismo were not possible to obtain again, or the recent HD remakes of Crash Bandicoot and Spyro prevented the originals from appearing here.
When you've picked what you want to play, there's some nostalgic fun to be had. Diving back into the titles from your youth, which are hopefully included, is sure to bring back some great memories, from Rayman to Resident Evil. The console is obviously meant as a way to appeal to the more casual audience, as those who are hardcore into the classics probably own the actual original PlayStation and its many games. But for those just wanting to dip their toes into history, this miniature console can offer some fun evenings.
On the technical level though, there are more odd choices. A bunch of the games included here are using the PAL version, which makes them run at a lower framerate. So you may jump into the settings to see if this can be fixed, but you'll find a total lack of options. The system outputs a 720p image and offers no filter or aspect ratio adjustments. Compare that to Nintendo's SNES Classic, which has different background options, scanline filter, and display modes. Sony's offering just looks rather barebones by comparison, and only the 2D games look their best.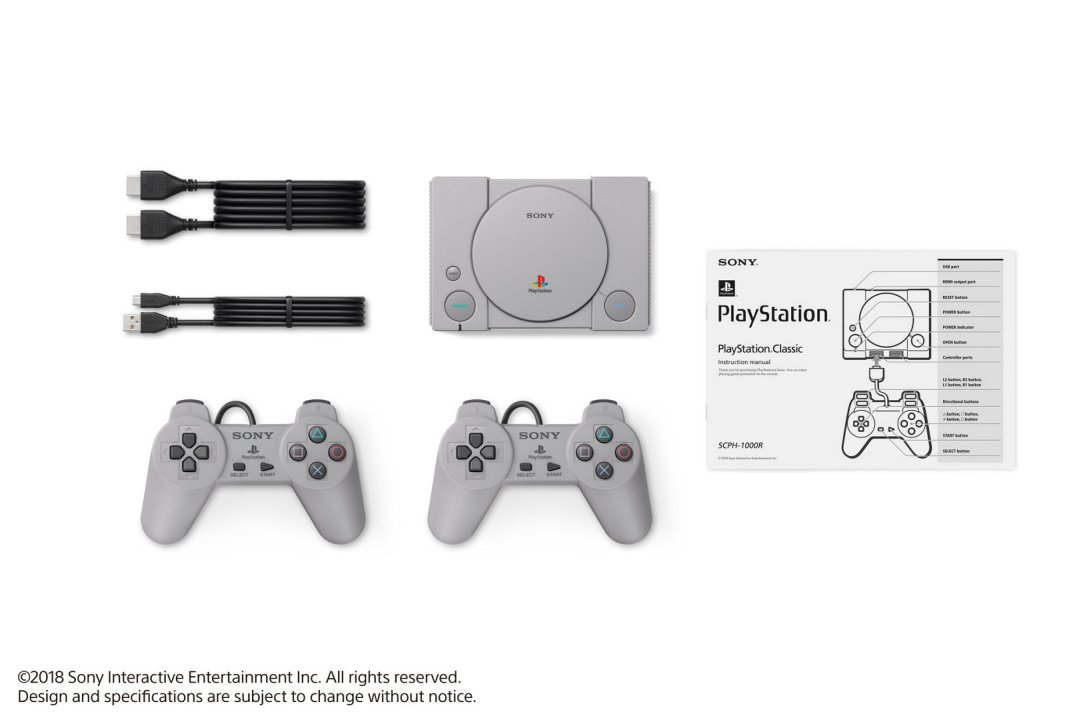 The controllers easily connect into the console, and feel solid. The cables are a bit short at just 1.5m, though at least they are not proprietary so you can get something longer. The downside is that these are replicas of the very first controllers – those without analog sticks. This makes games like Rainbow 6 and racing titles rather painful to play as you can't aim precisely. It's a modern luxury, yes, but it feels like a miss because the sticks were in fact available eventually for the original PlayStation. In order to switch games, you have to physically reset the console, as the controllers don't offer a Home button – inconvenient, but not unique to the PS Classic as the Nintendo mini-consoles have the same flaw.
Putting the platform loyalty aside, there is the question of value. PlayStation Classic is obviously directly competing with the Nintendo offerings, and on paper, it's a lesser proposition. NES Classic Edition from 2016 had 30 games and launched at US$59.99 / C$79.99; its follow-up the Super NES Classic Edition from last year had 21 titles and was priced at US$79.99 / C$99.99. This makes the PlayStation Classic the most expensive of the bunch, coming in at US$99 / C$129.99, while offering 20 games and needing an additional AC adapter.
The PlayStation Classic is a bit of a miss for Sony. It's meant for a casual audience, like all recent mini-consoles, that aren't going to spend hours on eBay looking for the actual originals. Those nostalgic fans want a plug-and-play experience that will effortlessly take them back to their youth with some big name franchises. The PS Classic looks and often feels like a proper tribute to the original, but there's just a few too many caveats to fully recommend it. Gamers who are not looking for a PlayStation experience specifically, will likely feel more inclined to check out the alternatives with arguably better known pre-loaded games and better value.
This review is based on the retail PlayStation Classic mini-console, provided by PlayStation Canada.
Comments
blog comments powered by Disqus