NHL 19 Review
Switching the ends of the ice
While most of Canada is still enjoying summer-like temperatures, the province of Alberta has been hit with rather wintery conditions. It's in this frigid and depressing weather that fans can find solace in the fact that the local teams of Calgary and Edmonton will soon hit the ice for the NHL's pre-season. And while they wait for the real season to start, EA Sports once again hopes to woo the hockey fanatics with their yearly sim, NHL 19. This year's edition continues to make minor tweaks to gameplay and adds side-content, while suffering from a few technical issues.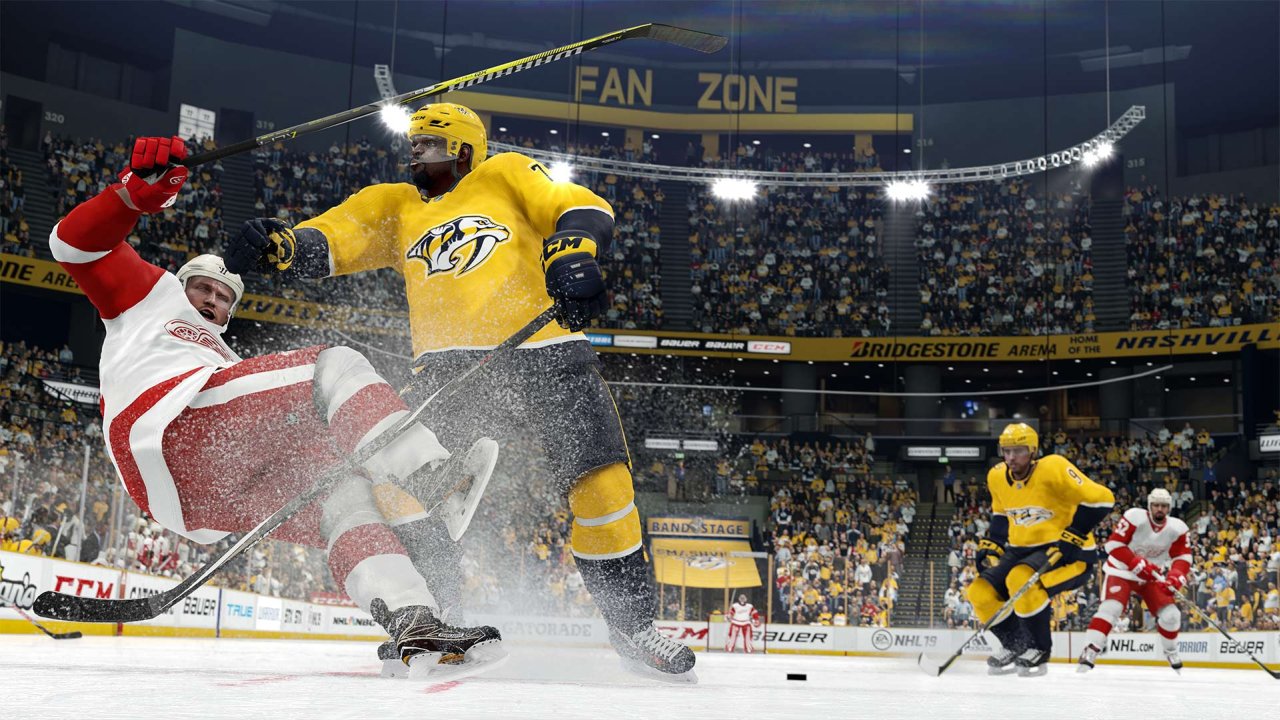 Among the returning modes is Be a Pro, which lets you take a custom character and turn him into an NHL star. It is unchanged apart from a newly added skill tree system, which helps improve the often lacking sense of progress. NHL Threes, a mode where you play 3v3 hockey with no rules in wild arenas with over the top presentation, is also unchanged, though the Circuit campaign feels welcomingly shorter. The practice modes, along with Training Camp from last year, are also back. You can customize teams, players, re-align the NHL divisions, and tweak the experience quite a bit.
In Franchise mode, you try to take an existing or an expansion team and guide them to glory. The mode remains extremely customizable – perhaps the best in the genre – letting you tweak every little aspect of the experience and decide how in-depth you want to be involved. Trading, team finances, player morale, scouting, free agency – it's all up for the taking, if you want. These individual systems aren't perfect and sometimes feature oddities or poor interfaces, but together they create a multi-faceted management experience that can be tweaked to a great extent.
The biggest addition in NHL 19 Franchise is the new scouting system, used for both pros and amateurs, that adds reports, accuracy ratings, and so on. With a new "Fog of War" system, you are forced to scout players before you can see their ratings, individual skills, team role, and other details. It's similar to the approach that the FIFA franchise took a few years ago, and it's just as annoying in NHL, hidden under layers of confusing menus and walls of numbers. Thankfully, the new system can be turned off, or even fine-tuned to only hide certain information. The redesigned user menus are packed into fewer screens, letting you navigate slightly faster. Trading with the AI can still be a chore, but on the whole, the NHL 19 Franchise mode is as flexible and deep as you want it to be, and delivers a satisfying management experience.
This same sort of flexibility extends to the offline gameplay. Players can still tweak an absolute ton of aspects of the simulation, from the basics like AI behavior and skill level, to the deeper rule mechanics. While this isn't new, NHL 19 marks the year when the offline gameplay finally comes together very well. Whether you're playing on an arcade setting for hard hitting and fast skating, or the more competitive and realistic settings, the game really is fun to play this year. Skating has been updated to have a smoother and faster feel, and hitting is very satisfying (if a bit over the top). Players that get laid out will stay down. Occasional AI quirks are still there, with poor loose puck pickup, players getting stuck on each other, and poke-checking now a tripping penalty button, but all of these things can be adjusted to make the game feel just the way you want. Goalies are not superhuman, AI makes some smart plays, and on the whole it's an enjoyable hockey simulation.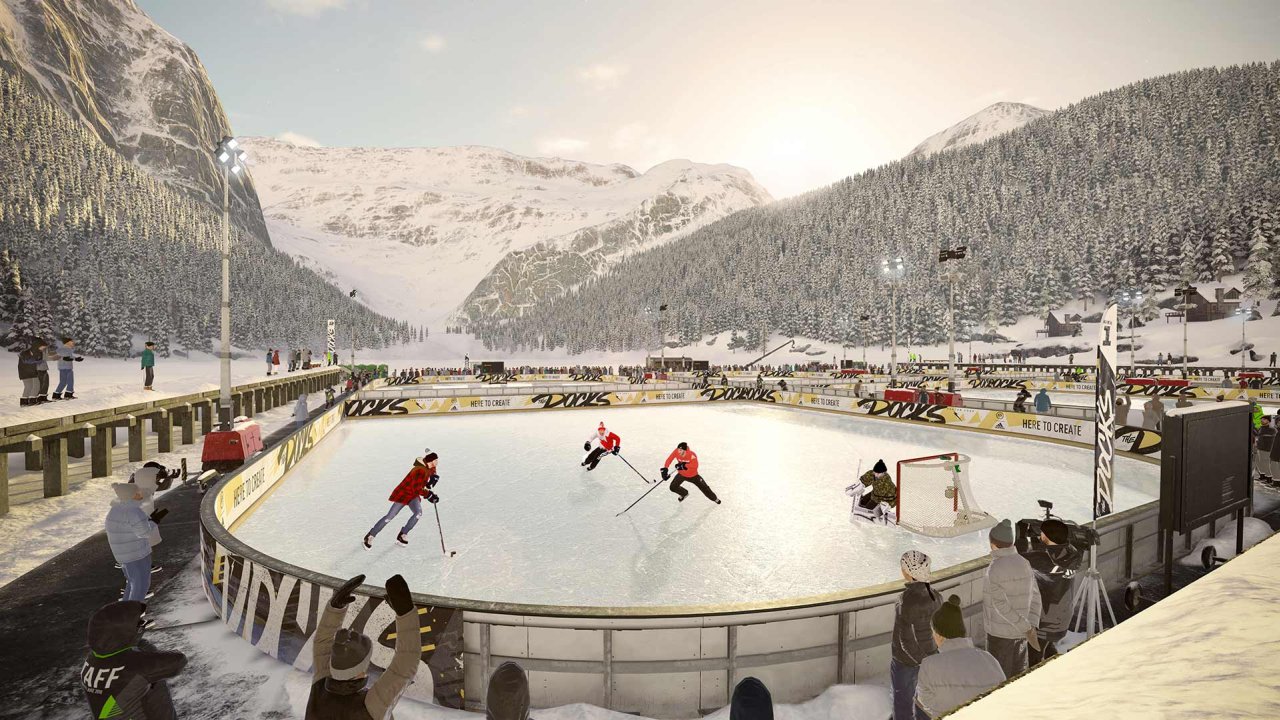 Things are quite a bit different online, though, which is where the game encourages players to spend more time. Online, you are at the mercy of the connection, the occasionally whacky physics, and whatever rule tuner that EA Sports has deemed to be the flavor of the month. Online play is where the issues begin to rear their heads, and you can't do anything about it. The abovementioned extremely common tripping calls, loose puck problems, and general oddities become much more obvious and more annoying. Compared to FIFA or Madden, this EA Sports franchise has always seemed to lack just a bit of extra polish when it comes to the physics simulation, and this continues in NHL 19. You'll see some wild behavior which inevitably leads to whacky plays, which certainly can be frustrating.
The big new menu system in NHL is World of CHEL. This encompassing hub brings together your online Pro character, and the various game modes where they can be used. In a new ProAm mode, you'll be playing against the AI in 3v3 challenge matches with past and present hockey stars, which are basically a slightly tweaked version of NHL Threes where you only control your own skater. The commentary is casual (but not over the top), the rinks are outdoors, and you use the new "casual version" of your Pro. You can also partake in NHL Threes drop-in games, again using your casual pro. A brand new mode is called Ones, which is a 1v1v1 matchup with an AI goalie, as each player tries to score the most in the allotted two minutes. If you win, you can move on to higher divisions. The goalie seems too easily bumped in Ones, which results in free goals for your opponents. This mode works well if you're excellent at dekes and abusing the AI goaltender, and really want to show off without the burden of teammates.
All of the abovementioned modes use the "casual" version of your Pro. With a new highly flexible customization system, players get to dress up their characters in a ton of different items, from pants and skates to gloves and sticks. You unlock more items from random hockey bag drops, and some of the items feature an impressive level of color and skin customization. Custom celebrations, splash colored hats and jackets, and even custom audio effects that the skaters will grunt after a goal or big hit – it's all there to create some very unique characters. You can get some very colorful and wild outfits going, as the modes are meant to showcase visual individuality. And, surprisingly, it does work in the setting. It may not be everyone's cup of tea, as some of the players in my EASHL squad lovingly refer to it as "clown gear", but it's harmless enough.
EASHL remains the online competitive team mode for your Pro characters, and here you'll still use the team's custom jersey, make your way through divisions in 3v3 or 6v6 play, and customize your home arena over time. However, with it now being included under the CHEL umbrella, EA Sports is obviously trying to dilute the focus and offer players a wider range of online experiences. So much so, that while regular season games in EASHL are played in regular team jerseys and arenas, the drop-in games take place in the outdoor rinks and use the casual Pro characters. This change won't sit well with some players, as the competitive spirit of EASHL seems lost this way. Regardless of what you choose to play, EASHL is suffering from some notable matchmaking problems during launch week, with drop-ins seldom working at all, and team games rarely featuring full lobbies. The menus have been redesigned for the worse, now being a bit confusing and too basic to be effective.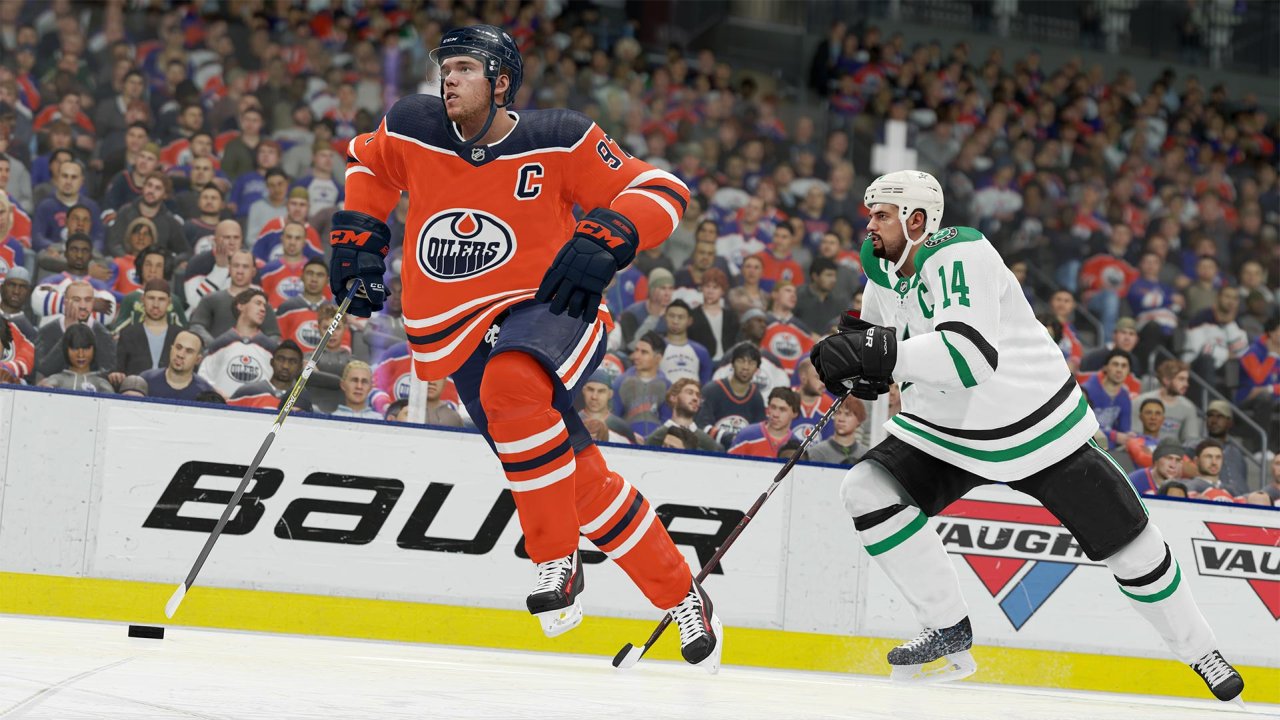 The big change that CHEL brings to the EASHL competition is the redesigned player attribute system. It was only a few years ago that EASHL implemented the highly effective and balanced approach, where all players were on equal footing regardless of their time with the game, and you only had to choose between the various skater types available for each position on a team. Unfortunately, for whatever reason, this has been done away with, and the older experience-based progression system has made a return, though thankfully not as bad as before. As your Pro earns experience from playing games in any of the CHEL modes, you'll increase in level and unlock new positions on offense, defense, and in goal. These roles define your stats and physical attributes, and can be further slightly tweaked by adjusting your height and weight within a small range. You can also equip two traits and a specialty – these are passive stat/skill bonuses that presumably help you get an edge. How much of an effect these tiny tweaks to your stats remains questionable – which is good, to keep everyone more or less competitive – but then it also brings into question the reason for having this system in the first place. You get new traits (and customization items, etc - pretty much all items in World of CHEL) from loot drops called Hockey Bags, which are earned with experience, as well as your club and playing the various modes and their challenges. At the moment you can only earn new drops in-game and there is no way to purchase them, so at least it feels like everyone is at the mercy of RNG, and microtransactions are not involved, which is nice to see.
We can't forget about Hockey Ultimate Team, which doesn't feature many changes, but does make a few nice tweaks. Your goal is still to assemble the best team possible, and play through various offline challenges or online competition, to earn more card packs/coins. Finally, this year you can have the game auto-fill your lineup instead of doing it manually. Another helpful change is the additions of many free player packs, as the game is less stingy this year at handing out rewards. There's even an objective system, like in FUT, that gets you more goodies for reaching certain milestones. The Legends card roster has been extended to include more all-time classic players, and the fun Draft Champions mode remains freely accessible, unlike its FIFA counterpart. While going through a series of Offline Challenges is fun, a Season mode would have been nice. The only issues encountered with HUT was the quality of online matchmaking – we were often faced with higher level teams that were stacked with superior players, leading to some one-sided matchups. For NHL 19, Hockey Ultimate Team is an improvement, though it still needs a few more features it should probably borrow from EA's other franchises.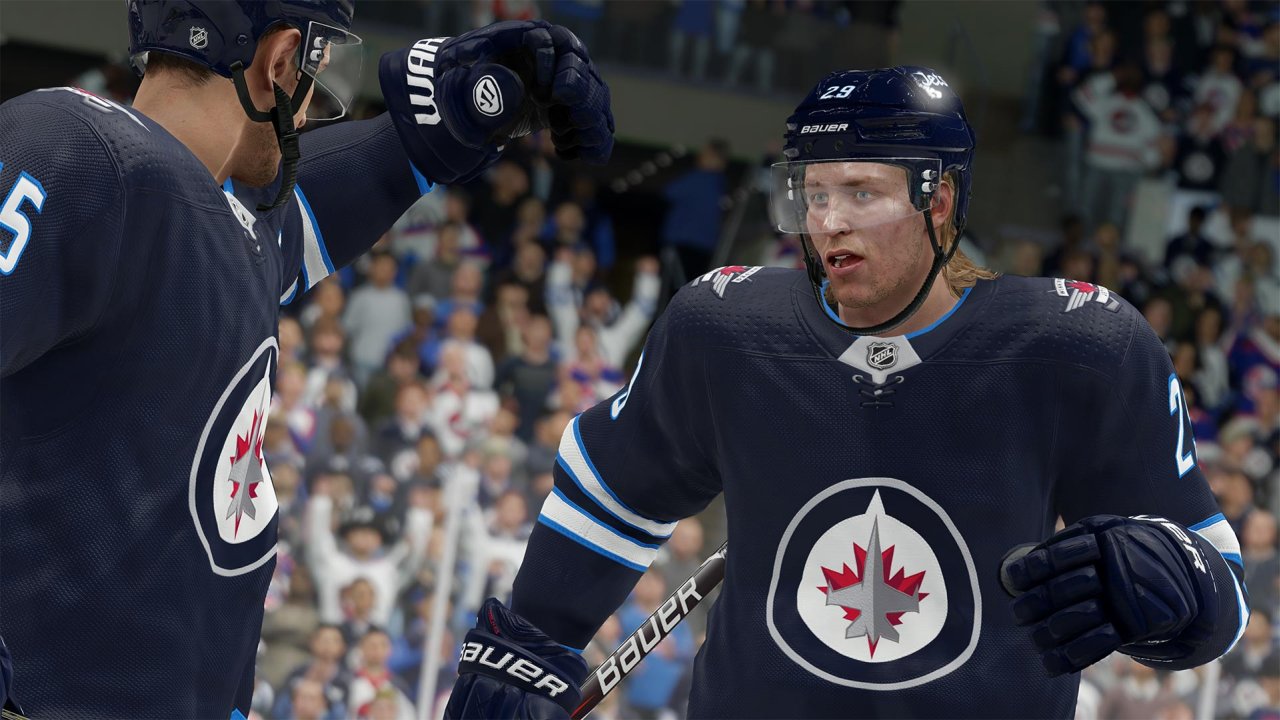 The audiovisual presentation package remains largely the same, with the NBC overlays and the same commentary team doing the sport justice, but not much more. Taking your casually dressed pro to the outdoor rinks helps provide a sense of freshness, as otherwise the in-game camera angles, replays, and breaks in play are much the same. Five player goal celebrations are finally in, but they can be awkward and bit glitchy. They are also random and don't match the intensity of the moment – you could have the team piling into the boards after a meaningless early goal, but then stand around and pat each other on the back after a late game comeback. The soundtrack feels a bit more enjoyable this year with a slew of recent radio hits that match the tone of the game.
On the technical side of things though, NHL 19 has been surprisingly questionable. The menus are still quite slow across the board. You'll probably wait a while and accumulate a bunch of CHEL awards before heading into the customization menus, to endure those menus as few times as possible. The game even had a couple of complete crashes to the console's home screen. In some modes, you'll see boards and glass shake on their own (mascots do this in career modes, but they do not exist elsewhere). The commentator in ProAm mode is almost incomprehensible because there is too much outdoor loudspeaker effect applied. And in EASHL drop-ins, there is no commentary at all for some reason. In menus, the music sometimes stops entirely and needs a restart of the game. The game has also had some trouble with the servers during launch week, with plenty of disconnects, error messages, and matchmaking problems.
As such, NHL 19 is almost the inverse of last year's title. It's a game that comes recommended to fans of offline play, where it can offer an incredibly flexible experience with the many tweaks you can make to gameplay, modes, rules, and so on. The presentation remains consistent enough to be pleasing, if not especially impressive. The casual modes modes like NHL Threes and ProAm provide some variety. The Ones mode is good for individualistic players, and HUT manages to deliver a few welcome changes. But when you head into competitive online matchups, gameplay annoyances, a needless EASHL revamp, and connectivity problems knock a few teeth out of the game. NHL 19 is a solid hockey sim, but the amount of fun you'll have this year varies depending on where and how you want to play.
Our ratings for
NHL 19
on PlayStation 4 out of 100 (
Ratings FAQ
)
Comments