NHL 18 Review
A fairly typical outing for the hockey sim franchise with some new additions
It's been a rather exciting few years in the NHL. From changes to overtime rules, to talk of team relocations, and now this year's expansion draft with the addition of the Las Vegas Knights, the league has seen a fair bit of shakeup in hopes of keeping fans engaged and expanding the popularity of the sport. Despite these events and plenty of love for hockey here in Canada, the sport remains off the popularity podium in the United States. In this same manner, the NHL game franchise has gone through its share of changes, but has generally remained the least popular yearly sports series in the EA Sports roster (NBA Live, with its unique troubles, not withstanding). Still, the developers that work on this yearly ice hockey sim have managed to put out good entries, though nothing to shake up the franchise. With NHL 18, this pattern continues – the game does a good job of adapting some of the real league's changes, and the on-ice product remains enjoyable for the most part.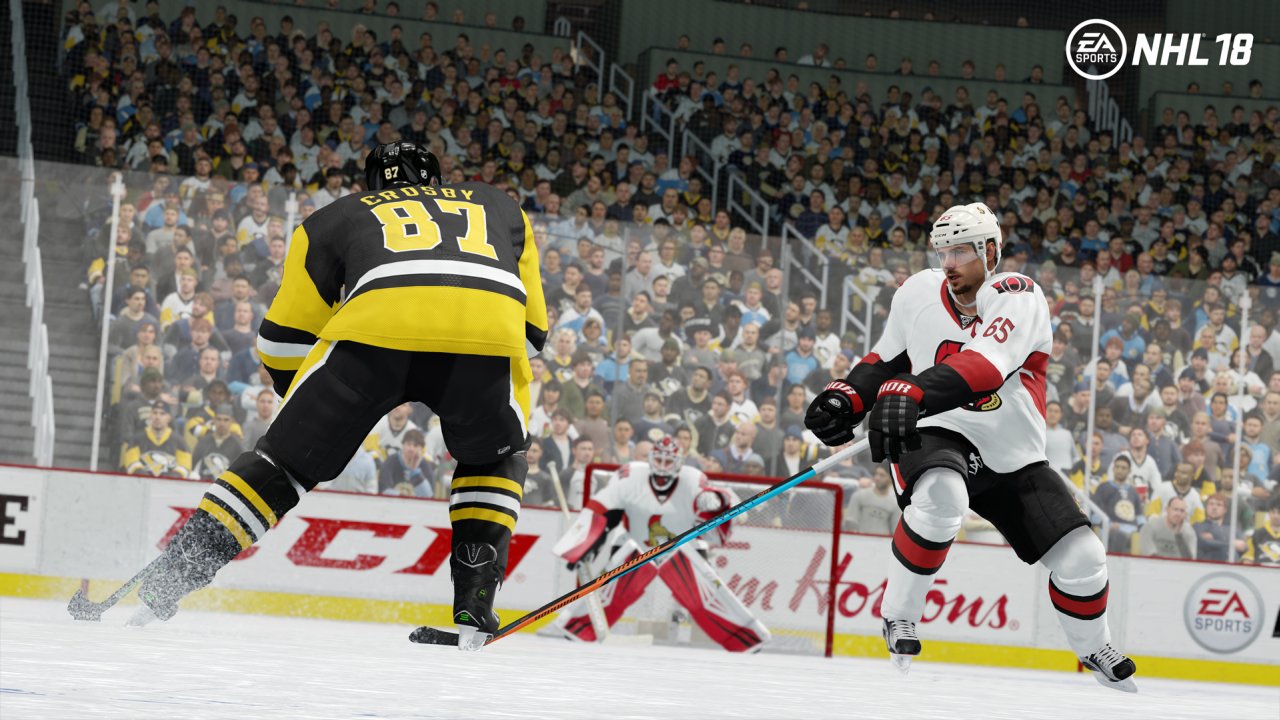 Players can kick things off with a neat new set of trials called Training Camp. Through a series of tutorials, as well as cool live-footage video snippets, you can get acquainted with the basics, as well as try some of the new offensive dekes with the skill stick. Though, new is a relative term as longtime fans may recall similar moves from last-gen games. This mode is backed by Hockey Canada, giving a very nice touch of authenticity to the training. Sadly, all of the tutorials are about offense and performing actions when you have the puck – perhaps appropriate, given that's been the emphasis of the franchise for a few years now.
Similarly, the action on the ice is going to be quite familiar for returning fans. NHL 18 still offers a good simulation of the sport, at least if you enjoy the heavier, slower approach that the series has taken since moving to the new console generation. Cycling the puck and getting shots on net is still satisfying, and your AI teammates do an OK job getting open and into position. Things like poke checking and hitting have been tweaked, but nothing that's significantly different. You can create some nice plays, and so can the opponent AI teams, who seem quite good at passing and leaving your defense scrambling. After messing around with the still impressively flexible gameplay sliders, you're bound to find a setup that works for you. Still, even with the launch gameplay tuner from EA Sports there seem to be some issues with AI, such as being frustratingly unable to pick up loose pucks, or your team taking all the penalties (and there seems to be an abnormally high number of calls). It will likely get resolved in time, and some things you can tweak for yourself with the sliders, but every year at launch there are new gameplay annoyances and AI mishaps to deal with.
As for major changes – well, that's pretty much limited to new dekes with the offensive stick, and the defensive skill stick. As alluded to earlier, the offensive skill stick got more attention with fancy new moves to help you sweep goalies out of their crease. Heel drags, puck flips, it's all there for the highly skilled players who can not only pull off the button combo, but do so in the middle of action. Defensively, you also do get a new skill stick, but it's not as fine tuned. You have more manual control to keep it extended or sweeping side to side, and while it's handy on killing penalties or specific situations, typically a regular poke check or stick lift works just as well. It would have been nice to have a tutorial for the defensive stick in the game like you get for the dekes. The AI use the new defensive skill stick to good effect, breaking up passing lanes and generally making holding on to the puck for extended periods of time a real challenge. If you've played the past few iterations of the franchise, you know what to expect – some incremental gameplay tweaks and changes (that will be adjusted further as the year goes on), but nothing significant.
NHL 18 continues to offer a variety of gameplay modes, with some receiving updates. In Be a Pro, you can still create a player and guide them through a lengthy career, trying to please the manager by performing well, and growing your skills overtime. One new and long-requested addition is the ability to request a trade. You still have the choice to play a more arcade or sim-focused experience and varied amount of shifts per game. Otherwise, Be a Pro remains largely the same experience, with sometimes inconsistent feedback and decisions from your coach.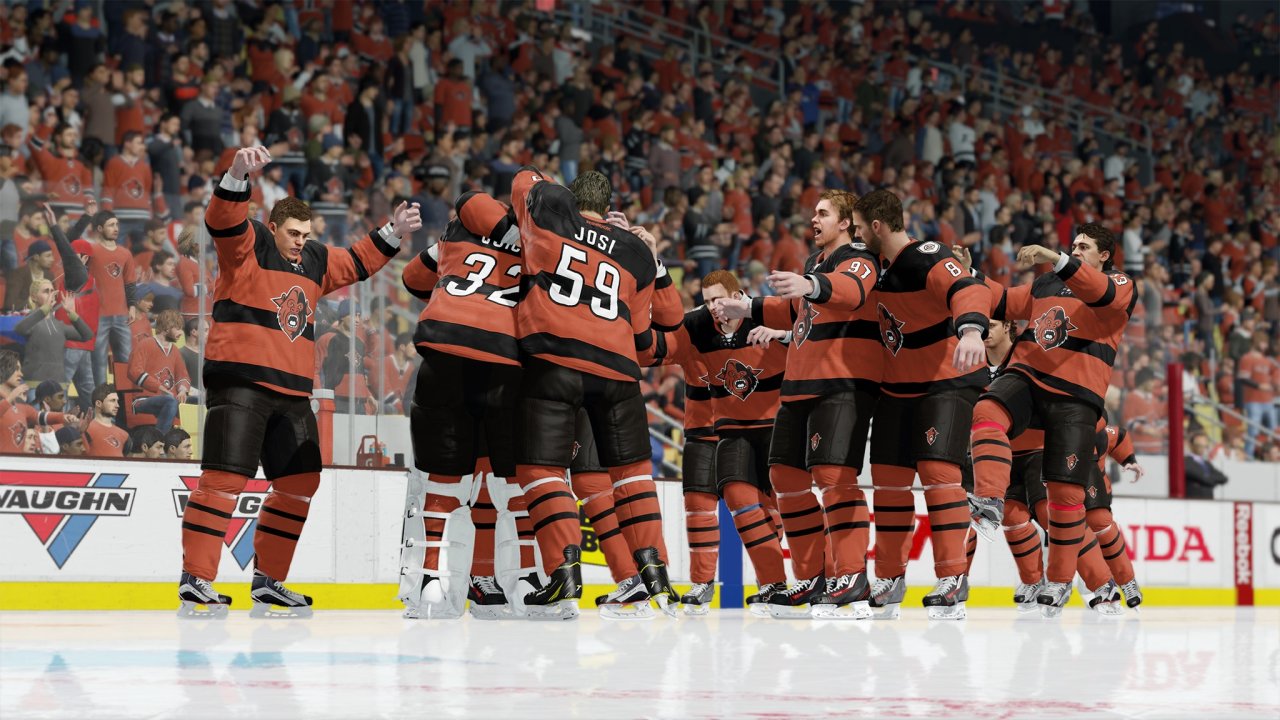 Some larger changes occur in Franchise mode, where players take control of an NHL team and hope to lead them to the Stanley Cup over the years. Following last year's added options for team relocation and in-depth micromanagement with the Owner mode, this year focuses on the real events of the league with the option to do a 31 or 32 team Expansion Draft in Franchise mode. This allows you to put together your own Vegas Knights and deal with the decisions that the new team had to face. It's a neat addition, but not exactly groundbreaking, and it also offers limitations such as inability to use custom rosters, and resets the 2017 draft roster. It's cool to see, but feels a bit half-baked.
Other Franchise Mode changes fare better. If you're not into the Owner feature's micromanagement of food prices and arena repairs, that (along with morale system) can be turned off entirely. For the first time in what feels like forever, mid-season contract extensions are possible. There has also been a huge re-adjustment of player ratings, creating more separation between elite ranks and those below, so most players saw their overall ratings reduced. This has a great benefit, because ratings have felt a bit inflated in the past, and now you have a more realistic and balanced range of skills across the NHL and minor teams. Trading has been made notably different, even on easier settings, as teams will not budge or let you steal their key players. The draft also feels very rebalanced, and it's possible to get great picks in later rounds. On the other hand, due to the revised ratings system, the rookies have very low skills and typically need years of growth before they can crack the NHL lineup – realistic perhaps, but there are too few league-ready players for the draft to be exciting. Franchise Mode continues to be quite involving, and with the adjusted player ratings, draft, and expanded contract options, it's one of the deepest offerings this sports series has had.
A brand new mode to NHL 18 is called NHL Threes. Fans may recall the NHL 94 Anniversary mode from a few years ago, but Threes is more in line with the older NHL 3 on 3 Arcade digital release from 2009. In this arcade inspired hockey experience, the matches take place in arenas with a smaller ice surface and a very different atmosphere. Featuring an over the top arena announcer that begs players to score often and hit hard, plenty of special effects, colored ice, and even team mascots taking part, it's not something you've seen in the series before. Before each game there is a coin toss, where the winner will decide the match conditions – teams can win either by scoring a certain amount of goals first, or you can have a regular period-limited game. Rules are very relaxed; there are no offsides/icing, goalies don't freeze the puck often, no faceoffs, and few penalties (which must be taken as penalty shots). You can also enable special pucks, so that occasionally the next team to score could get extra points, or can take away points from the opponents. The focus is definitely to relax and unwind with some ridiculous dekes in a fun atmosphere.
But, surprisingly, it doesn't work out that way unless you're all about dangling. The mode is different from regular NHL's overtime rules in that your AI teammates typically don't try to play smart and just crash the net. With pretty much no passing options, it can become a frustrating game of trying to be a solo superstar instead of a team player. Perhaps more notably, goalies haven't been tweaked for the mode at all. Having a lesser skilled but knowledgeable friend play both Threes and a regular season game on Easy setting, the results were drastic. He had no issues with a regular NHL game, where the goaltenders were clearly adjusted to react less quickly, and let you run up the score. But in Threes, even the lowest rated goalies were performing incredible dive saves time and again, flashing the leather as often as necessary. So, unless you enjoy simply being a selfish dangler who's already excellent at the skill stick, there turns out to be much less appeal in NHL Threes for the casual players than expected.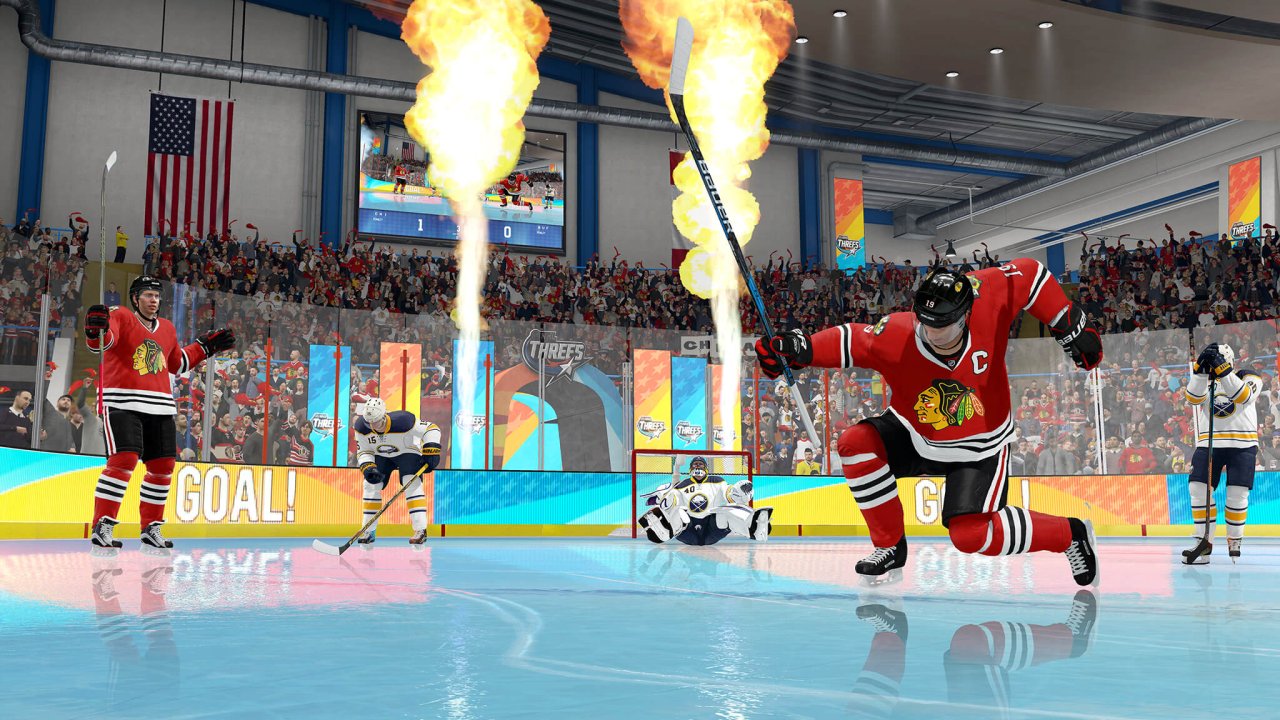 The NHL Threes mode can be played either one-off solo/co-op matches, online, or in the Circuit career mode. In this mode, players start off with a low-level group of players and must progress through a linear series of 3 on 3 games in order to take over the league. Both the opponents and gameplay difficulty ramps up as you go, and each game presents a chance to earn up to three stars depending on how well you do. Earning stars unlocks new customization options and more importantly new players for your roster, who each have various simplified attributes (such as speed, shot power). While this Threes career mode is a nice addition, it is incredibly lengthy – to unlock the final area, you'd need to win a ton of stars across over 100 games. Matches can be quick, especially at first, but soon the tedium sets in. And if you're after the team building/collecting aspect, HUT and EASHL are superior options anyway.
Online play remains a big focus, with Hockey Ultimate Team and EASHL leading the way, plus with expanded cooperative options. Any mode that supports it – HUT, online, Threes – will prompt and remind users that they can play cooperatively before every single match. It's a nice addition, though becomes tiring to skip through this question before each game. Some of the gameplay annoyances that occur with AI are remedied when playing against humans (until they abruptly quit with no punishment), so it makes for a better and more fun experience. Everyone is on the same playing field, making the same mistakes and struggling to keep control of the puck. That is, until you encounter some technical or connectivity issues, sadly. Also in an odd and unwelcome design change, you can no longer see your opponent's team until you've already entered the matchup, which can lead to some lopsided results.
Hockey Ultimate Team gets expanded with a series of new gameplay scenarios called HUT Challenges. These series of games prompt players to complete specific tasks on the way through a linear series of matches. Each game comes with a chance to earn up to three stars from additional objectives (getting certain number of hits, or goals, etc) and a set difficulty level. Depending on how well you do, you earn Pucks currency or player packs to help expand your HUT roster. It's nice that the game offers this new single player approach to earning Pucks because the NHL franchise continues to be very stringent on helping you grow without spending money. Players start off with a measly single Bronze pack, and the returning player bonuses consist of a single useless jersey. So, you're off to build up a decent team with barely any foundation, compared to the much more generous FIFA Ultimate Team mode. There is still no option to autogenerate lineups, either.
In EASHL, the very expansive team and arena customization system returns, as does the new player role system. It all still works well and puts everyone on an equal playing field. Playing drop-in games no longer lets you select the team in the lobby and supposedly uses skill based matchmaking to ensure balanced games; the matchups are even most of the time. Besides the typical 6vs6 action, players can also play as 3vs3. This definitely helps to play together with teammates when you want a fair and equal matchup, rather than hoping for a drop-in game to be successful. And as with 3vs3 OT, regular 3vs3 games tend to be more wide open and high scoring, and rely on individual player skill more than ever. On the other hand, these matches can drag on, since the strategy is quite limited with just three skaters on both attack and defense.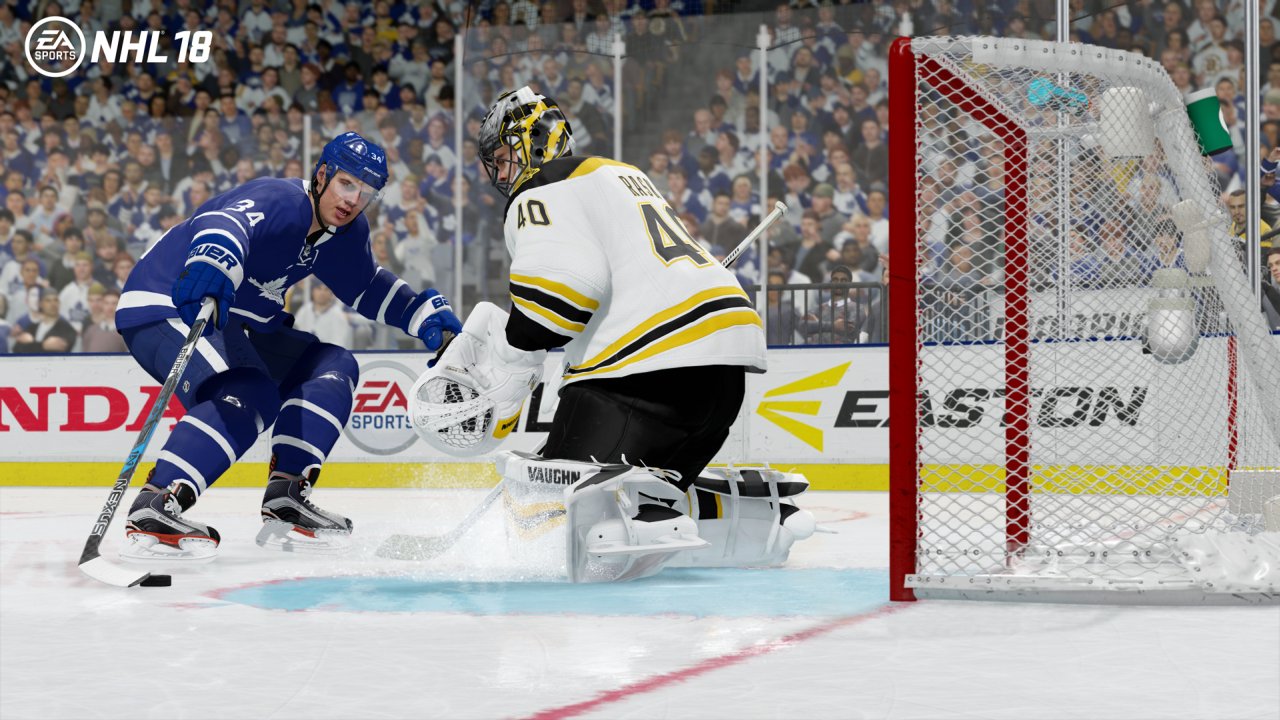 As with the rest of the game, presentation in NHL 18 has seen some changes but largely stayed the same. Menus can still be slow and there are unexplained loading times in Franchise and online modes. The commentary is rather stale, and really lacking any impactful commentary about the Vegas expansion. The action on the ice still looks nice, but very much unchanged. There are some new player-specific authentic goal celebrations, and new camera angles during breaks in play; even the years old Stanley Cup winning cutscene finally got remade. The soundtrack is the same fairly limited rock-focused lineup that will get stuck in your head, for better or worse. Last year's World Cup of Hockey mode is gone, possibly because there isn't a tournament this year in reality, but it sucks to see features removed from a game.
NHL 18 continues the comfortable but unambitious efforts that the franchise has settled into. It still plays an enjoyable simulation of hockey, with tons of gameplay sliders to help customize the experience, or you can hop online so you don't have to deal with AI annoyances. The new dekes on the skill stick are nice, and the basics are well covered in the Training Camp, though it'd be nice to get the same treatment for the defensive side of the game. NHL Threes is a neat distraction, but it's not really balanced for arcade style gameplay despite the very casual and over the top presentation, and the Circuit career mode is far too lengthy. Franchise mode continues to grow and expand, offering plenty of depth and a nicely rebalanced ratings system; minor issues aside, managing your team to the Cup is an enticing and lengthy endeavor. In HUT, the series continues to be parsimonious with Pucks and cards, though the new Challenges offer another structured way to get some goodies. EASHL remains a big attraction, with its extensive customization options from last year and a new 3vs3 option. Returning players and particularly those focused on Franchise mode will find a few good reasons to get this year's game, as will those who play primarily online. Casual sports fans that own NHL 17 are probably OK to skip on this year's entry, though.
Our ratings for
NHL 18
on PlayStation 4 out of 100 (
Ratings FAQ
)
Comments