FIFA 18 Review
Smooth sailing
As the football competitions kick off across the globe in late summer, fans return to their habits of watching the weekly games, predicting their team's finishing position, and going through the trials and tribulations of a season. A similar tradition occurs a few weeks later, as the newest annual FIFA title from EA Sports hits stores and brings with it a slew of promises and innovations, hoping to entice players to make their yearly commitment. FIFA 18 is no different – it offers tweaks on the current gameplay formula, some changes to existing modes, and more ways to engage with the big FUT community. It's a solid, relatively safe entry that should satisfy fans.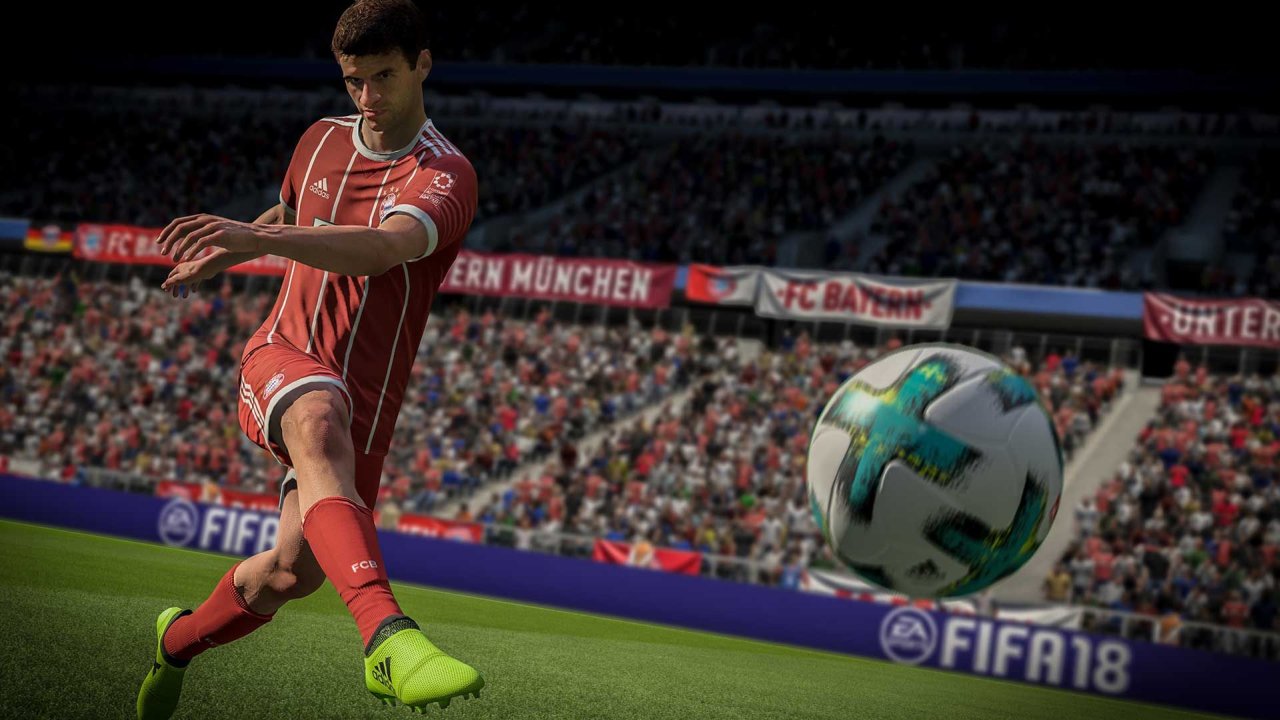 FIFA 18 continues to build on the gameplay foundations that it has established over the past few years, with its slowed pace and a focus on more tactical and individualistic approach. The flow of the matches does feel a bit different compared to FIFA 17, but it's a case of lateral changes rather than anything groundbreaking. With the slowed pace, there is finally notable separation between quick and slower players, and it's also much more apparent during the end of the match when the defense is tired and can make mistakes. Although the different players do have varying speeds and other physical traits, and many of the top stars of the world are very well recreated in their movement style and skill moves, most of the lesser players move and perform rather similarly. There are new options for crosses, with the game now able to dynamically decide what type of lob will work best for the situation; this works most of the time, but quite a few air balls end up flying too close to the keeper especially if you don't use aim assist.
Dribbling has been tweaked as well, allowing for tighter movements and ball control with some new animations, but it does feel a bit stiffer and requires more input finesse to pull off the moves in a timely manner. All the while, your AI teammates seem to be better at getting into open spaces and making forward runs. This is due to the continued expansion of Team Styles, having squads behave similar to the strategies that their real counterparts use, be it aggressive offense, parking the bus, or trying to pass their way into the box. On the other hand, pass interceptions seem to be ineffective, with AI refusing to touch the ball even when it rolls right near them. Other minor changes include the ability to kick-off with a single player, and a new quick substitution option. This option automatically presents a sub option to execute, without having to pause the game and wander through the menus. This optional feature is straightforward and usually recommends the most tired players and appropriate replacements. All in all, FIFA 18 plays a very solid game on the field, with its various few tweaks.
After making its debut last year, The Journey story mode returns for another chapter. Players once again assume the role of Alex Hunter, a young player on a fast track to the top of the sport. Following his debut and FA Cup drama of the debut season, we now find Alex embroiled in some more personal drama when he reconnects with his father and faces trouble within the team. However, new opportunities soon come knocking, and he ends up with a chance to play for one of the three huge clubs in Europe. Some big stars make appearances, such as Cristiano Ronaldo, Antoine Griezmann, Thierry Henry, among others, and quickly remind you why footballers aren't so good at voice acting. Still, it keeps the mode highly authentic.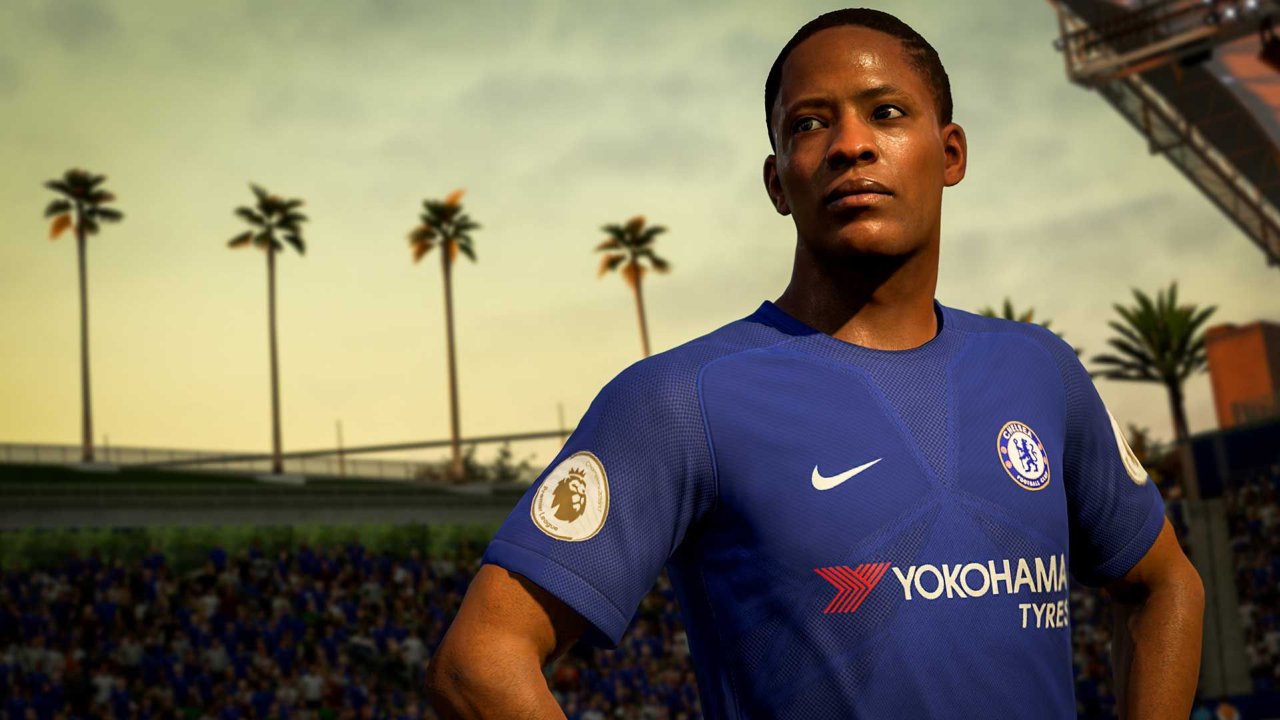 The second season of the Journey plays quite similarly to the first – you'll take Alex through a full season of matches and some other games, participate in training, and make occasional conversation choices that impact your relationship with the coach or fans. A new minor feature is the ability to customize Alex with accessories, tattoos, hair styles, and other items to help personalize him to your liking. Instead of one, you get two skill trees to invest points in as you grow, and you can import Alex from last year or start fresh. There's now an ability to skip cutscenes if you desire. During play, you still get the objectives from the coach, but instead of a static screen he now calls you over to the sideline to provide them, adding a little immersion. Still, perhaps the biggest downside of The Journey is how long it is – over 15 hours of play. It just doesn't have enough story elements to keep players engaged over such a long season, having to play every single game and training session. It would do well to take the approach of The Longshot from Madden, where the story can be compacted into a smaller 5 or less hours experience.
The other main offline mode is Manager Career, which has received a few tweaks and additions as well. Most of the changes focus on the transfer process. Loans are more challenging – while nearly a guarantee in the past, teams may now be unable to reach a salary agreement with your players, which results in many loans falling through. Same goes for your team signing others – they may not want to join your squad if it seems below their level. Scouting is unchanged, still taking quite some time to get concrete info on players and slowing down the process. Once you're ready for a purchase, the buying process is no longer a series of emails – now, it is a cutscene featuring both managers and a few dialog-like menu options. The characters aren't voiced, but there are subtitles that describe the proceedings. You make an offer, whether it's cash or one of the new options such as release clause, player swap, or a sell-on clause. The opposing manager will negotiate back and forth until agreement is reached. While initially immersive, these cutscenes don't add anything to the process apart from speeding it up (you now resolve the entire negotiation in these cutscenes, instead of waiting days for emails). You don't gain anything by observing both coaches in a scene (such as their facial reactions to an offer), and the animations and choices are largely the same each time.
A similar cutscene process then takes place when you meet with the player and their agent, and negotiate the terms. Players care about their squad role, contract length, release clause, salary, and bonuses. The issue here is that negotiations seem much more difficult – if you offer a player something they don't like, instead of negotiating they can sometimes simply walk out right away. Completely ending talks when the player is offered slightly less salary than he makes now, with all other conditions agreed on, doesn't seem like reasonable professional behavior. If you'd rather avoid these cutscenes, you can choose players you are interested in and delegate the transfer process to an assistant.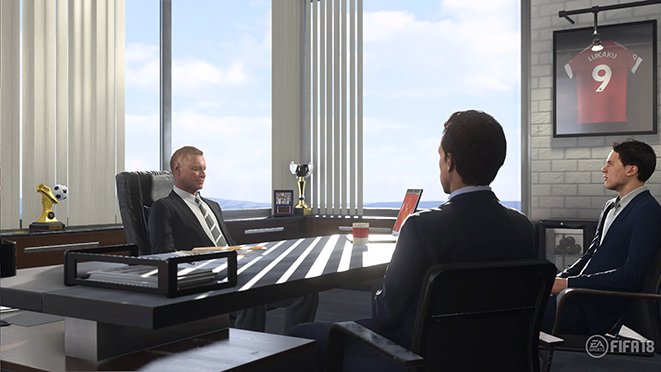 The career menu now features 3D scenes in the news block, mostly players/coaches posing, adding a little visual flair, but these items often never load as you simulate days between games. Also occasionally the background image in career mode goes haywire and displays a random picture of Messi, which comes and goes. You've still got to take care of player training, which remains a repetitive manual process that really needs to be automated better. It's interesting that EA Sports has decided to go in the direction of all these 3D cutscenes, as that's something that the rival PES franchise did a few years ago and has since dropped. The Manager mode in FIFA 18 remains to be a highly involving and addicting long-term investment with an absolute ton of licensed teams and players to interact with.
As you venture online, you'll find a wealth of typical match options but without many changes – apart perhaps from updated customization and skill trees in Pro Clubs. Many players will gravitate towards the FIFA Ultimate Team offerings. This highly successful mode continues to produce a lot of microtransaction activity for EA, and yet the developers should be commended for adding fun new modes and never forcing players to spend a dime to get a good team. Last year's playoff-like Weekend League system returns, but if you're looking for a more relaxing single player offerings, there's a new Squad Battles mode. This rather addicting mode sees you challenge FUT teams built by community members in single matches. Each match awards a certain number of points based on your performance and selected difficulty. At the end of the week, you get rewards based on how many points you accumulate and what competition rank you achieve. And to keep players even more engaged, there are simple Daily and Weekly challenges to complete, such as scoring with certain players or trying certain modes. It will keep you coming back to FUT, even as you planned to make progress in your Manager career instead.
Perhaps the only downside to FUT is that, and don't hurt me for saying this, you build a good team very quickly. Not a perfect team, mind you, because that's what the grinding is all about, but a very good team nonetheless. That means there's absolutely no use for bronze or silver quality players, apart from Squad Building challenges. The challenges are fun and more varied, but there's no real chance for you to get actual gameplay time with lower tier player cards; so there's not much sense of progress. Another annoyance this year is the seemingly overabundant amount of injuries, which at times happen multiple times in a match; having over 10 players injured in under 20 games seems unreasonable. The fun FUT Draft mode is back, but for the first time you are not given even a single free token to try it out, and have to purchase entries. FIFA Ultimate Team continues to lead the way in sports games for this sort of player card collecting gameplay, and thanks to a great balance that doesn't force you to spend money, and with more added gameplay options, it remains quite addicting and enjoyable.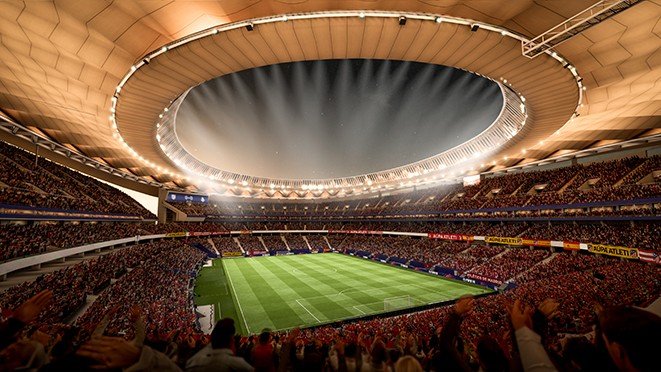 FIFA 18 takes forward steps in improving the match day atmosphere, as well. In its second year on the Frostbite engine, players look very life like and the lighting inside the stadiums is impressive. The crowds offer more life and variety, from the cheers of scoring a late equalizer at home, to drowning the stadium in whistles if the visiting team takes too long with the ball. There are quick player warmup clips before career mode games, more banners, added attention to props in unique South American stadiums, occasional TV-like shots of the crowd close up, and more. Official overlays for La Liga and MLS have been added, along with new goal celebration cutscenes. Commentary remains strong, with a few new lines but is largely unchanged. Stadium announcers add to the feel of a match day, as do authentic chants. Players can even interact with the crowd in certain stadiums, as they either hug or watch them rush towards the bottom of the stands. This is a complete and impressive presentation package that's at the top of the genre.
As such, FIFA 18 is a comfortable continuation for this great sports series. Changes on and off the pitch are notable, whether it's the new manager mode cutscenes, a new chapter of The Journey, or addicting new ways to play FIFA Ultimate Team. And if you're a fan, these tweaks are likely enough justification to empty your wallet, as is the annual tradition. For casual players, there's nothing groundbreaking in this particular iteration if you are okay with skipping on FUT/online play and missing the most up-to-date rosters.
Our ratings for
FIFA 18
on PlayStation 4 out of 100 (
Ratings FAQ
)
Comments
blog comments powered by Disqus