NHL 17 Review
New modes and features lead the way ahead of gameplay in this year's hockey sim from EA Sports
The hockey simulation franchise from EA Sports heads into its third season this Fall on the new consoles, after a rather disappointing NHL 15 debut followed by solid improvements in the NHL 16 sophomore year. The series has seemingly had to start from scratch on a new engine, so it took time to rebuild the features and modes that fans have come to expect, while introducing new content. Last year's effort was a solid one, a game that played well enough and finally marked the return of EASHL (amongst other things), and positioned the series to move forward with gusto once again. But as NHL 17 made its debut a few weeks ago, it seems that the series hasn't quite shaken off its recent slump. While there's still a good enough game of virtual hockey here, most of the improvements come in modes and features rather than the on-ice product.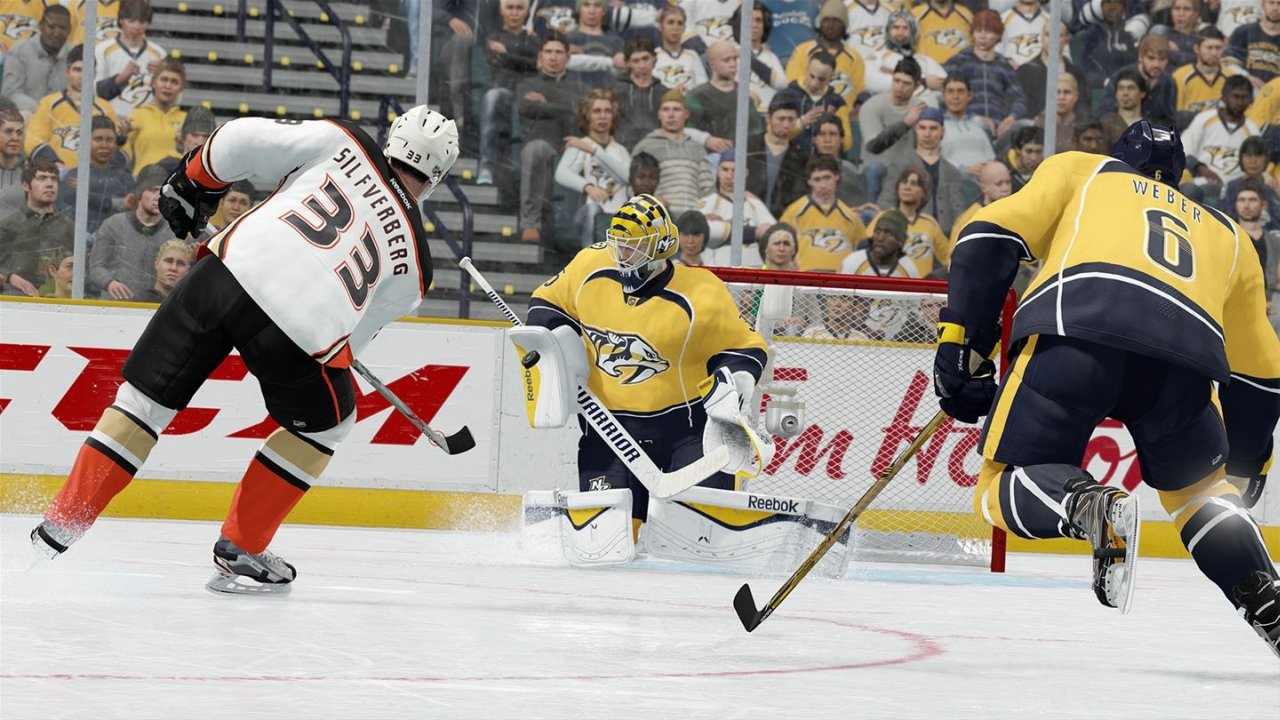 Players looking strictly for more ice time with the franchise will find a slew of additions and tweaks in NHL 17's gameplay, but nothing exactly groundbreaking. The On-Ice trainer continues to helpfully try and teach some moves to new players, but a better tutorial, or FIFA-like skill games, would have been nice to have. New this year is an added emphasis on battles in front of the net, but these are quite situational and rarely occurduring offline play. The somewhat sluggish pace and players feeling like they weigh a ton of bricks when turning is still the defacto experience, as it was last year. Players can be quick getting up and down the ice once you use the hustle, but a finesse movement of the puck is still lacking once you're trying to setup some slick moves in the offensive zone. The puck feels looser, and so oftentimes it's just a scramble to regain control, rather than letting you focus on strategy or skilled plays. Stick lifting was outright broken at launch, and still remains troublesome a few weeks in; hitting is disappointingly weak. Some changes have been made to the goaltenders, in both their behavior and animations that cause a few new scoring opportunities as well as shutdowns of moves that worked in the past.
Part of the reason the on-ice product can be awkward is the AI. Despite the strong onwards momentum that your virtual opponents enjoyed at the tail end of last console generation, since the series jumped to current gen they seemingly went back to basics. There are many occasions where your teammates - as well as the opposition - make poor decisions and generally aren't very helpful in developing a play. They'll abruptly change directions, slow down, or fail to intercept an easy pass. The loosened up puck physics will also be a cause of many concerns and there are ugly goals that bounce in because the AI doesn't react or mishandles it. But having said all that, NHL 17 offers a rather great and straightforward way to tweak your gameplay experience through a series of settings, from arcade to realistic. And if you want to fine-tune, the sliders for a multitude of gameplay tweaks are still there as well. NHL 17 still plays a solid and highly tweakable game of virtual hockey, but don't expect to be blown away if you've played last year's edition.
On the other hand, NHL 17 does manage to impress in its gameplay modes. First up, Be a Pro lets you create your virtual self and either play in the minors in hopes of getting drafted or just assign yourself to an NHL team. You'll need to meet coach objectives during each game, which are summarized via feedback scores in the three categories of offence, defense and teamplay. The instructions and feedback you'll receive are clearer this year; make good plays and put up points, and earn XP. Or, lose points for staying on the ice too long or taking poor chances, which is realistic and good to see. Also a cool new addition are contextual Game Situation objectives, such as shutting down the opposition when leading, which grants you double experience. If you do at least moderately well, you're going to earn experience and thislevels up your character's skills. There's also new weekly training sessions that let you focus on specific areas, but yet again these are just menus and not mini-games like in FIFA. The coach feedback can still feel a bit unfair at times - must a forward really make so many notable plays without the puck, to get a good defensive grade? The team's GM can also cause strange events - I decided to simulate the pre-season evaluation games and was rightfully told that there was zero chance of making the NHL roster. And yet when the season kicked off, I was offered congratulations for performing so well and given a spot on the team. But, if you're a dedicated Be a Pro player, you should find this year's slight improvements enjoyable enough. And thanks to straight forward gameplay customization, it's easier than ever to find a style that suits you; be it 20 minutes of real time hardcore play, or 5 minute periods of arcade.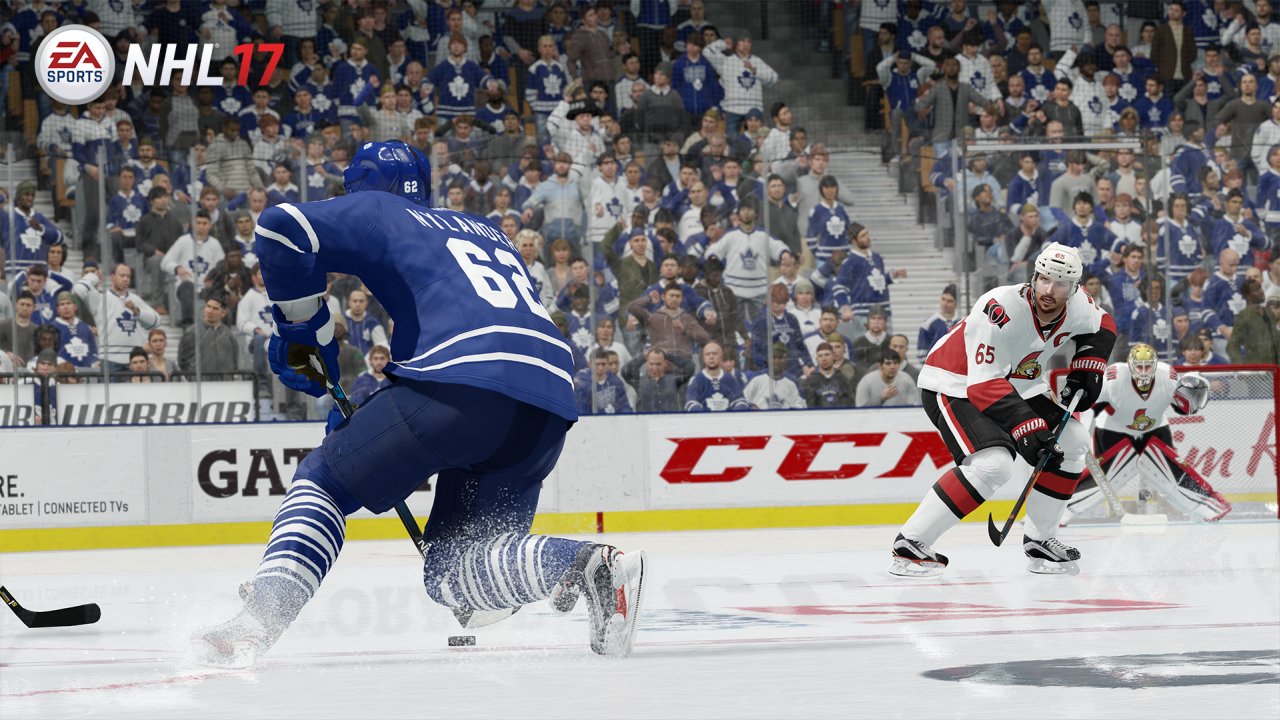 Elsewhere, the Be a GM mode has also seen a few significant additions. Besides managing your NHL and minor league rosters, and trying to keep the player morale in check, there are finances to worry about. Players can now take on a bigger role at the club (if they wish), and manage things like ticket prices and budgets. You can put up special promo nights for your players, oversee ticket sales drives, and ensure facilities at the area are in top shape. Each team has an owner that comes with their own set of expectations of how the franchise must perform, and you best meet those goals to stay in charge. Though, much like on-ice gameplay, Be a GM has a series of options that let you play the way you want - taking care of every minute management detail, or just fiddling with the roster. While everything works well, some aspects like arena maintenance and player morale can feel frustrating. Your hockey dome often needs repairs and upgrades that seem inconsequential to how many games you sell out, and the player morale is all over the place, going from as high as 90 all the way to 74 for petty reasons –even while the team holds the Presidents' Trophy and is in the Stanley Cup Final.
Taking inspiration from NBA 2K, you can also relocate your NHL team to a different city, which lets you experience the NHL 17's vast customization options of Arena Creator and Team Editor. You can pick the style of arena you want, the colors of your team, the jerseys, the logo, the special effects after a home win, and much more. It's a rather impressive suite of options and really helps players feel like they can create a team of their own. Nowhere does this feel better than in EASHL, the popular online mode pitting player teams against one another. After making its revamped debut last year, EASHL offers the same high level of customization so players can create their own home areas and customize them to be very unique. But of course, unlike in Be a GM, most of the items are locked until players and teams reach certain levels. This makes sense and dedicated teams will feel a real sense of progress overtime as they outfit their rinks and uniforms. The player roles in EASHL that were introduced last year are back, with a couple of new ones. There is also a new Player Rank System that gives you badges to track progress. The gameplay addition of net battles actually has a use in online play, when individuals can create skirmishes in front of a frightened human goalie.
Hockey Ultimate Team is of course present, challenging players to earn coins to spend on player packs and build an ultimate squad. Unlike FIFA or Madden versions of this highly popular mode, HUT (and the NHL franchise in general) suffers from inflated player ratings. That means you're starting off with NHL-level players and from there it's just a matter of getting marginal improvements, which doesn't feel as good as taking a small-time team and making them great overtime. Perhaps it's for the best though, because unlike FUT, NHL is very stringent with giving away any player packs or free coins, making it feel like a grind from the very beginning. Of course, players can spend real cash on NHL Points to get more packs. Other changes include the ability to now own duplicate player cards, and the consumable duplicates also stack.
There aren't that many modes to take your HUT team into, and there is still shockingly no way to automatically generate a lineup. This becomes particularly annoying when you're tweaking your lineup drastically to accommodate for HUT Synergy, a new boost-like mechanic. Each player has a specific synergy type - from Net Front Presence to Passing Playmaker - and getting enough of the same types of players on your roster unlocks a boost to their abilities. Players' synergies only boost those with the matching type, while Team synergies help the whole team. New to HUT are Dynamic Sets, as instead of getting more small packs for completing collections, you will instead get collectibles, coins, and elite items. Completingsets based on NHL teams will get you a new elite HUT Hero player,a retired classic player from the franchise. These special players are only obtained by completing the HUT sets.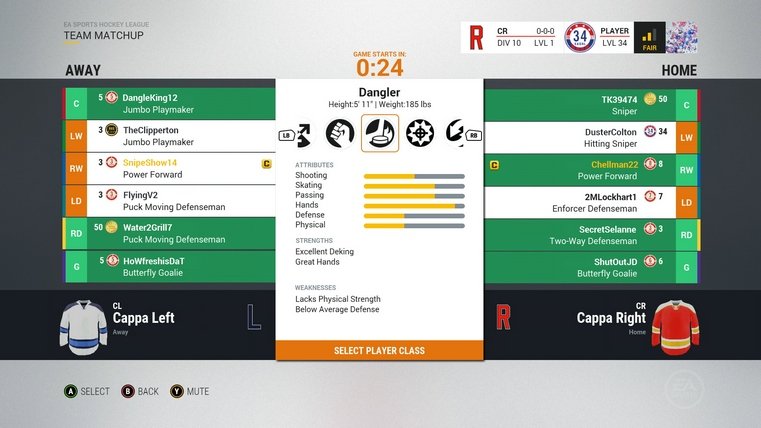 Last but perhaps not least is Draft Champions, a mode that made its debut last year across other EA Sports titles. There are a few differences for the NHL version of this fantasy draft mode, however. Starting with a selection of a theme, users are presented with a starting lineup, and from there they must choose one player per round, for a specific number of rounds. Whoever you pick will get slotted into the lineup, and the least skilled player in that position will be dropped. It is a neat way to go through the draft, making a choice not just on who the best player in the round is, but who you will lose. With the draft over, your team is set and you must attempt to win four in a row againsteither the CPU or players online. Depending how far you get in the mode, you'll earn more HUT rewards as well as Draft Collectibles for abovementioned Dynamic Sets. Sadly, there is no difficulty tweaking if you choose to play against the AI, in contrast to how flexible the rest of NHL 17 is.
While the enjoyable NHL Moments Live mode is inexplicitly gone, as is Battle for the Cup and other casualties of moving to new console generation, NHL 17 at least offers the authentic World Cup of Hockey tournament. It features the entire country and player roster from the real tournament, and lets you live out the dream of your home nation (as long as they are represented) lifting the trophy. Don't look too closely though, or you may notice that the celebration is actually exactly the same as for winning the Stanley Cup in Be a GM, except for the trophy itself being different. Speaking of new teams though, ECHL is in the game this year, with 27 teams fully represented.
This leads us into NHL 17's presentation and technical aspects. While the NHL on NBC presentation that was introduced just two years ago still looks polished most of the time, it already feels a bit dated. The commentary provided by Mike Emrick, Eddie Olczyk and Ray Ferraro is still serviceable, but it never quite gelled for me, and there are occasions when many phrases and reactions are repeated within the same period. More variety is needed, though the developers did try - there are new cutscenes when players reach career milestones, and the crowd will cheer the countdown clock at the end of a winning game. There are new goal celebrations, and we finally get the soundtrack to play in the menus. However, the menus remain very slow with prolonged pauses when switching screens, adjusting your HUT roster, and taking a while to just load up teams before a match. EASHL connectivity remains spotty, especially during drop-in games. To add to the misery in the menus, the game features seemingly more ads than ever, trying to entice you to watch an ad for an upcoming movie to earn a few HUT coins, or simply throwing an ad right into a menu space, Xbox 360 style.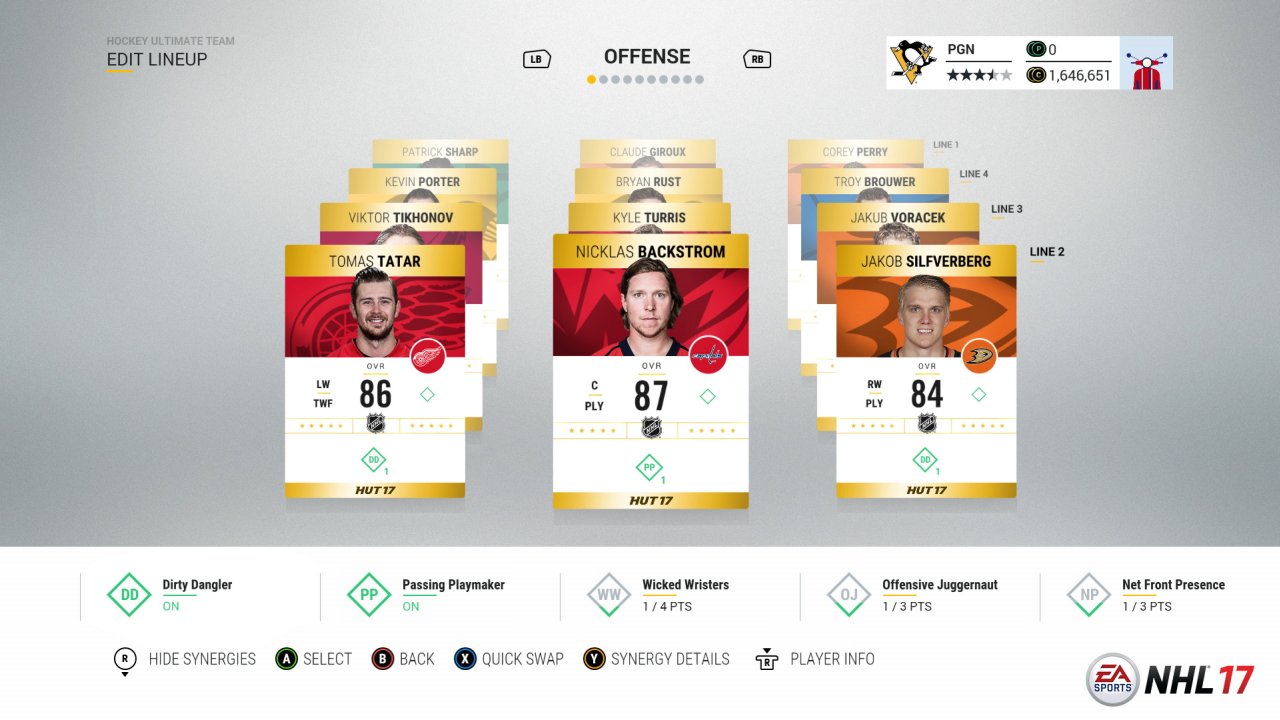 Following last year's rebuild, given the disastrous NHL 15 launch on current consoles, NHL 17 feels like a step sideways. Many nice improvements have been made across the gameplay modes - from the World Cup to the revamps in Be a GM and positive tweaks in Be a Pro. HUT and EASHL are still enjoyable, and the new arena customization options are great. The gameplay, though highly adjustable, remains relatively unchanged, with minor improvements but just as many annoyances. It's strange, too, because being just the third year into a new engine, there are plenty of things that need fixing, but it seems the series decided to coast along the ice this year. EA Sports FIFA can afford to cruise for a year or two given how well they have nailed down their gameplay (and yet they don't, and continue to strive for enhancements while also adding new modes and content). But the NHL franchise is definitely not in the same position; new modes are always appreciated, but perhaps there should be a greater focus on gameplay alternations next year.
Our ratings for
NHL 17
on PlayStation 4 out of 100 (
Ratings FAQ
)
Comments
blog comments powered by Disqus