State of Decay 2 Preview - E3 2017
We get a look at a demo from the survival game, hosted by studio founder
Toward the end of our time with State of Decay 2 at E3 2017, Jeff Strain, one of the three founders of ArenaNet and the founder of developer Undead Labs, opened the floor for questions. I told Strain I remembered seeing his company at PAX Prime years ago, where the they had set up a small station to show off their game State of Decay. There was a stream of people trickling in and out of the little booth, but it was nothing compared to the lines of people who were waiting to play the latest games from EA and Ubisoft. Now State of Decay 2 had its own spot during Microsoft's E3 press conference, and show theater presentations behind closed doors. Things had certainly changed for the small studio and I wondered what Strain's response was to Undead Labs' new place in the world of games.
"Terrified", Strain replied. A soft chuckle broke over the room from both the other members of the press and the developers. Strain elaborated to say that while Undead Labs appreciated the support of the game's publisher, Microsoft, they understood that the new attention meant new expectations. State of Decay was no longer an unknown quantity, launching onto the Xbox Live Store like it had in the summer of 2013. It is bigger now, and the fans of the series are waiting for Undead Labs to deliver.
I hope Strain's nerves can be assuaged a little bit after E3, as State of Decay 2 had quite a lot packed into its demo to show off during their theater presentation. Strain said that Undead Labs had wanted to keep the same formula of the original State of Decay, but they wanted to have more of everything.
The game's look isn't the kind of ostentatious affair one usually finds at E3. Much like the first title, the graphics are going for a semi-realistic, washed out aesthetic, but it doesn't have the power of a game like Halo or Sony's Days Gone. Instead, there's much more going under the hood with State of Decay 2. The developers wanted to build a game that allowed players to "live the survival fantasy". This meant that players would have to search for supplies, risk the lives of their party, and make decisions that would have painful consequences.
This started with a deeper character and base building system. Undead Labs took some time walking through how each character would be different, how each scenario could change, and how they wanted to make sure that players would be kept uncertain - never knowing exactly how events would play out.
The first character that we're introduced to is Tiffany. Undead Labs explains that Tiffany is a survivor who had recently been rescued so she was fairly new to the party, but has some important traits. First, she is guilt-ridden, which would affect the overall morale of the base. But also, she had never been sick and had previously worked as a groundskeeper, so she has the special skill of gardening.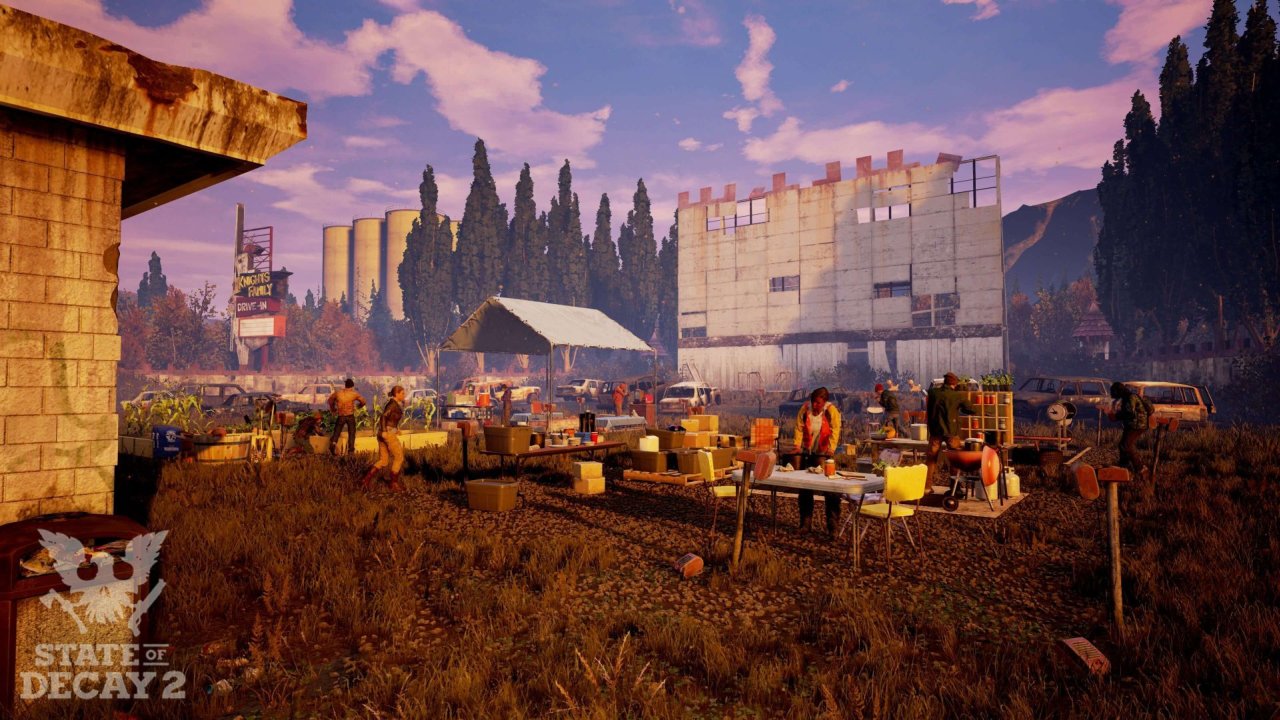 Tiffany's skills would allow for special facilities to be built at the base. Most importantly, she could help build a farm, which is important because the new influx of survivors have whittled away the food supply to almost nothing. Every players starts with their home base as a church, very similar to the starting base in the first State of Decay.
While Tiffany provides the ability to build a farm, we still need some seed packets to start the process. Risking Tiffany's life to go find the seeds isn't a smart option since her life is conditional to building the farm. Instead we need to send someone who is good out in the wild of the zombie-infested world.
The best option is Matt, an ex-stuntman. Each character has four stats: cardio, shooting, wits, and fighting. Matt, as a stutman, is particularly good with fighting and cardio - the perfect scavenger candidate. He also has the special skill of Work Schedule, which helps the productivity of our base.
Not only is Tiffany's guilt-ridden attitude bad for morale, but the new survivors have made the base short a bed and Matt's snoring trait isn't helping things either. The added survivors have also caused more noise, and more noise means that more zombies are going to be attracted to the base. The base overview screen shows that there's a lot of strategy at work in State of Decay 2, and that keeping up with these mechanics is equally as important as killing zombies.
As Matt heads into the village near the church to scavenge materials, he kills two zombies and quickly his stamina meter is depleted. The stamina meter can refill, but it requires rest and injuries can keep it low. It's also a bad idea to send Matt out alone. We can either pull someone from the base to go with him, or fire off a flare and get help from another player - either someone in our friend's list or someone else playing State of Decay 2 who has volunteered to help out others.
Another member of Undead Labs jumps into the game, playing Lauren. The two hop into a muscle car and begin driving over and around zombies. The car is loud, drawing out zombies and forcing Matt and Lauren to work quickly. They bust into a store and start looking for supplies. Matt rummages through the store shelves, while Lauren keeps the streets clear.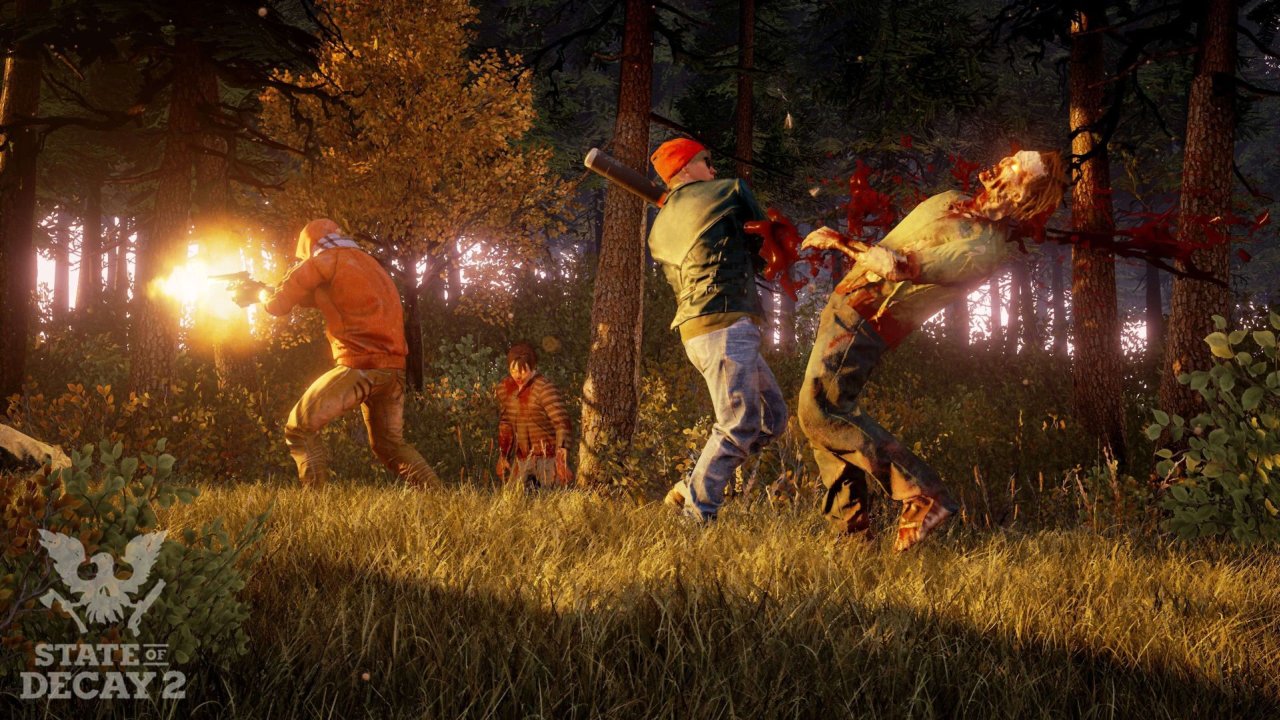 The car and the guns continue to make noise and more zombies begin to flood the streets. Matt and Lauren clear them out, but more and more keep coming. The two take cover in a police station, killing the zombies inside and turning the station into an outpost. It gives them more ammo and also creates a place for them to get to their equipment lockers while away from their base.
With the seeds found, Matt and Lauren head back to the base to build their farm. However, while the farm is being built it creates even more noise, which the overview tells us is getting to dangerous levels. The noise attracts a wave of zombies, and soon the whole base is under attack.
The wave of zombies puts everyone in the base at risk as all are needed to defend against the zombie horde. The best way to make sure that no one perishes is to wipe out the horde as quickly as possible. During the fight Matt levels up and his special stuntman skill allows his swordplay ability to be further leveled up. It also improves his stamina, as the more he's been used the more it improves.
While the waves of undead assault the base, we are introduced to the varying types of zombies - screaming zombies call more zombies to the horde and juggernaut zombies are big, bloated monstrosities that take forever to bring down. Finally, with the help of firecrackers and an assault shotgun, the zombies are finally wiped out. We're told that the plan going forward is to rest and heal up, as the encounter has done a number on a few survivors, but luckily no one has died.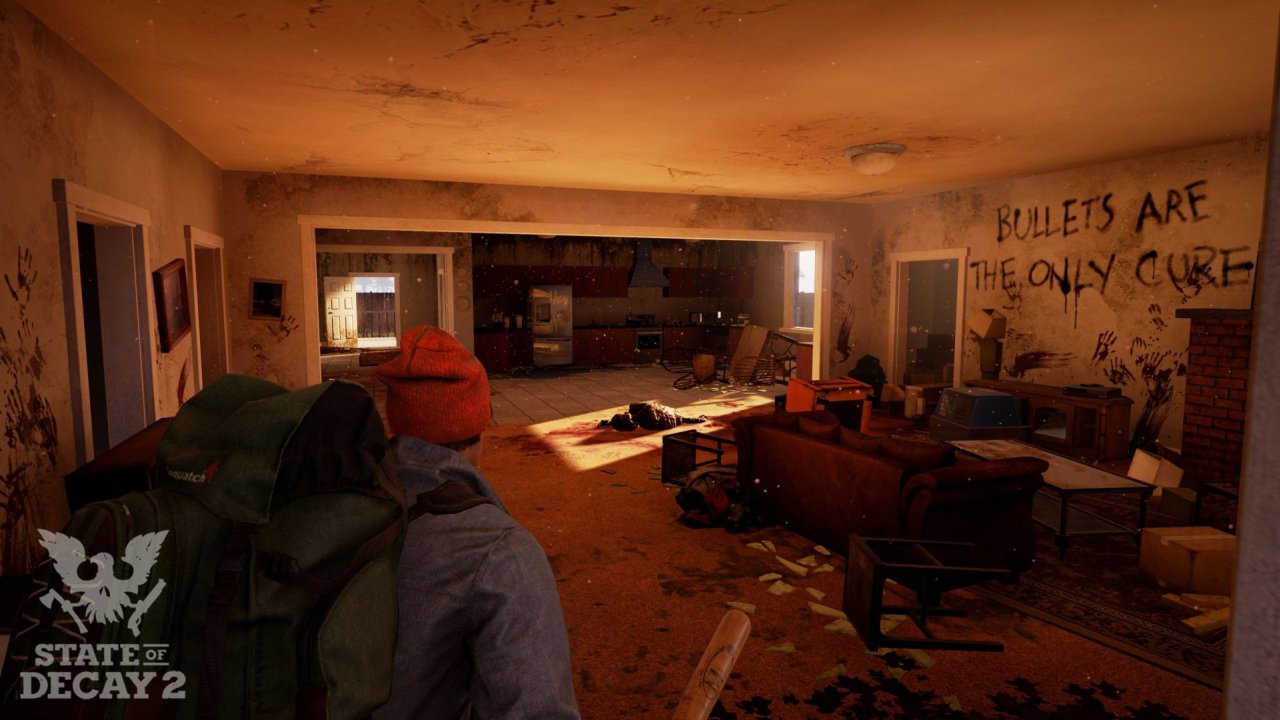 State of Decay 2 is an impressive vision of a zombie apocalypse, challenging players with emotional and strategic decisions that can affect not just one character, but many. It was an impressive showing for Undead Labs and I'm excited to see what the final product looks like. State of Decay 2 will be available in 2018 for PC and Xbox One.
Comments
blog comments powered by Disqus