Battlefield 1943 Review (360)
Boiling down the classic Battlefield formula, 1943 brings the big action of its predecessors to consoles while remaining accessible to any FPS fan, making it one of the best downloadable titles of the current generation.
All the way back in 2002, DICE released Battlefield 1942, the first in an extremely successful FPS franchise, at the height of the World War II shooter's popularity. It's been some years since and we've seen the fall of WWII and the rise of modern warfare, beginning with games like Battlefield 2 and reaching their inevitable pinnacle with Modern Warfare 2. Acting as a breath of fresh air in today's Middle-East-trouncing and M4-firing FPS market, Battlefield 1943 brings the classic combination of land, sea, and air vehicles of 1942 to consoles in beautiful high-definition and all for a low, downloadable price tag.

The most noticeable difference between 1943 and the original 1942 is the beautiful AAA title graphics and the fully destructible environments that first made an appearance in DICE's Battlefield: Bad Company via the Frostbite engine. While it may not look quite as good as Modern Warfare 2 or other recent titles, Battlefield 1943 blows all other downloadable titles out of the water (think CellFactor: Psychokinetic Wars). Explosions look great, trees wave side to side with the wind, strafing planes kick up sand and dust with every shot, and watching the battlefield get blown apart over the course of a game is extremely satisfying. EA DICE really brought their A-game in giving 1943, a downloadable title, the graphics you'd come to expect from a full retail game and a good one at that.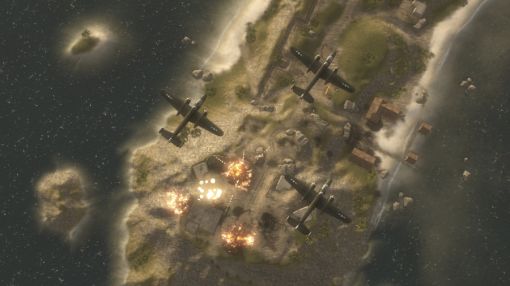 In terms of gameplay, Battlefield 1943 keeps it simple in a good way. Slimming the class count down to three (infantryman, rifleman, and scout) and keeping the vehicles simple (one tank, jeep, boat, and plane per side) gives the game a classic rock-paper-scissors approach to strategy that is easily grasped by even the most casual of FPS players and gives the game a more arcade-type experience that keeps things fun and fast. As is the cliché, this is a game that is easy to learn but difficult to master.
Comments
blog comments powered by Disqus