PES 2017 Review
The annual football franchise aims to reclaim the top spot - at least in gameplay
Since the move to the new FOX Engine, Konami's Pro Evolution Soccer franchise has enjoyed a resurgence. Despite a somewhat rough start, the football simulation series has been working its way back to the top of players' minds by offering a more realistic approach to the sport. From the visuals to the gameplay, PES 2017 continues this trend. Though it may lack major changes or new modes, and despite still having a few design qualms that remain unaddressed, PES 2017 provides the best gameplay experience the series has offered in years. Whether or not that's enough to overcome the game's shortcomings is up to you.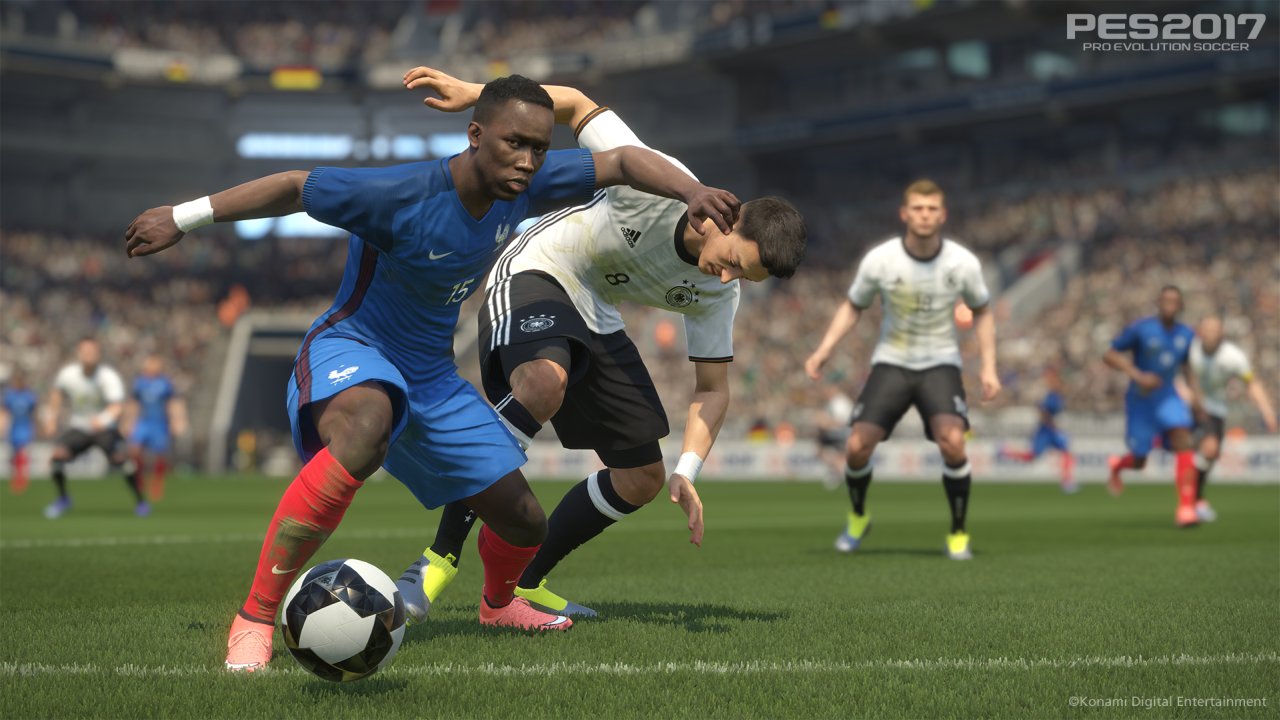 The most notable improvements for this year's edition take place on the field of play, arguably the most important aspect of any football video game. The tight and precise controls remain at the center of the Pro Evo experience. Controlling the players and their movement on and off the ball feels responsive and exact, first touches come off exactly the way you want them to. It's a notable contrast to FIFA's recent focus on unpredictability and random bounces. Players that enjoy studying the controls and learning all available moves and intricacies will be happy with PES 2017, but if you're just looking to play, the controls are certainly accessible enough. It may feel odd to describe a football game as "visceral", but that's exactly how PES 2017 feels. It's a game of precision, great first touches, and a certain feeling of weight to everything.
The responsive controls mean you can put together some fantastic looking attacking plays that can result in a rather wide variety of goals. The goals can look quite thrilling and evoke a feeling of glee that FIFA seems to have lost over the last few iterations. Letting a screamer go into the top corner of the net, chipping over, or poking an elaborate shot with the outside of the foot, it feels good to score in PES 2017 more often than not. Last year's most glaring on-pitch problems have been addressed as well. Referees have been rebalanced to make better decisions, and although still a tad uneven, players can at least expect both teams to receive a similar set of decisions. Goalies have been reworked and now pull off some great looking and realistic saves, and they certainly feel more life-like than ever. Performing great leaps, getting down quick to the bottom corners of the net, and standing their ground is part of the job, and they do it well.
AI warrants a special mention for PES 2017, as work has been done to create some very believable matches against the virtual opposition. Unlike the rather modest and basic changes that your virtual opponents would usually make during the course of a game, this year things are different. Depending on the time and scoreline, the opposition will make noticeable tactical adjustments to counter. They will adjust their attacking and defensive strategies, change between using the width or center of the pitch, tightly mark your scorers, and so on. These changes are not only dynamic, they are actually noticeable and impact the flow of the game. It would be irresponsible to call this the best artificial intelligence of all time, but it's certainly one of the more impressive AI's in any football game in recent years.
PES 2017 does play a great game of football, but there are still noteworthy issues that keep breaking through the immersion. For all the great work that was done to the goalies, they still have moments of very glaring mishaps – like letting easy goals go over their shoulder as they do an odd acrobatic dive, or having the ball bounce off their knees as they just run into it instead of trying to catch. AI can take quick free kicks and quick throws, but sometimes they simply throw the ball into nothingness, or even just kick it out of bounds. And the defensive AI, for all its strengths, still has a strange aversion to picking up loose balls when they are within a certain proximity – though it's a problem that FIFA also has. The gameplay is very solid but imperfect, and has a certain style and feel that's very different from other franchises.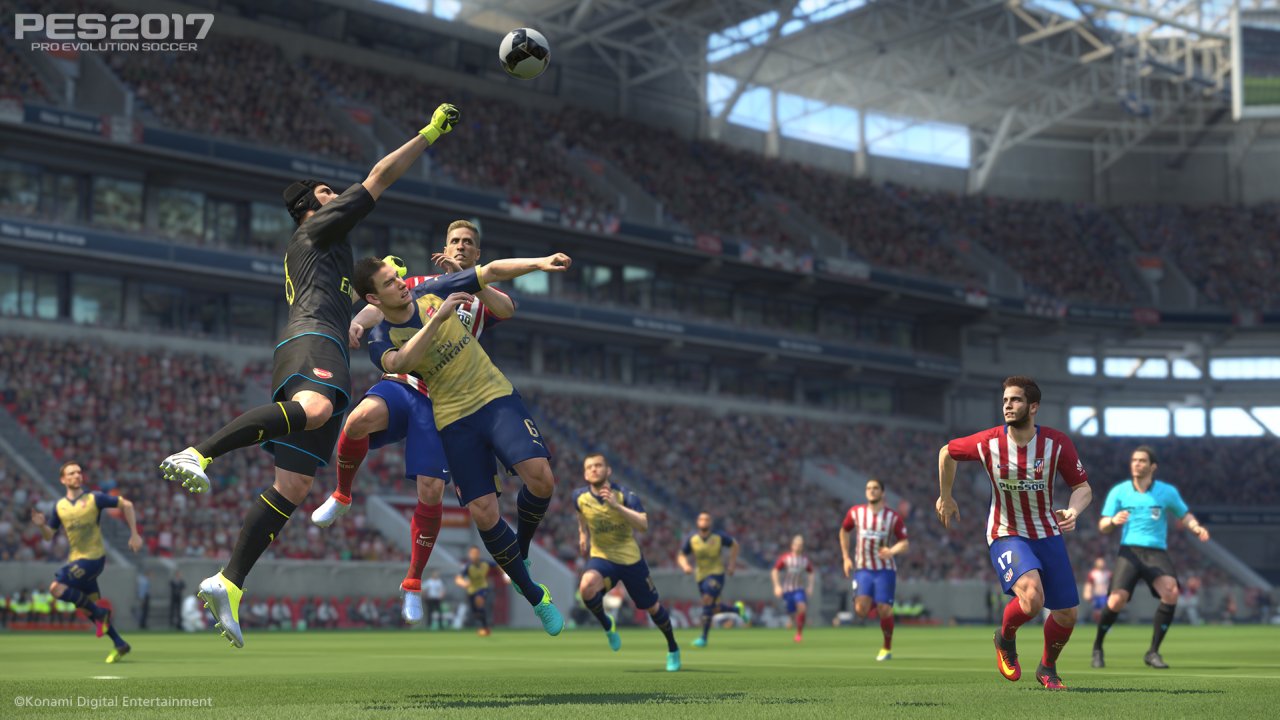 With PES, the issue of licensing must always be mentioned. While you'll be able to control your favorite players, their teams and respective leagues are probably not in the game. PES 2017 continues the franchise's unfortunate lack of authenticity. One would hope that with each passing year, the game would at least have a base set of authentic teams and leagues, and just build on it from there. But that's unfortunately not the case, as Konami seems to have a revolving door of teams and leagues that can appear in the game. The staples – UEFA Champions League, Europa League, and Asian Football Confederation (AFC) are present and can be played as individual modes. New additions this year include the cover stars FC Barcelona, as well as Arsenal, Liverpool, and Borussia Dortmund; Italian Seria A is also included, along with a few other clubs. But for all these additions, there have been just as many casualties – even just compared to PES 2016. Licenses for Copa Libertadores and Copa Sudamerican competitions are gone. Big clubs like Manchester United, Real Madrid and Bayern Munich are no more; the entire Spanish La Liga is now absent apart from a couple of teams. This lack of authenticity – and in fact lack of any sort of feeling of incremental progress – continues to hinder the experience. The developers try to mitigate the problem by offering ways to import fan made teams and leagues on PS4, but that's hardly enough. At the very least though, the rosters are up to date with a promise to continue to be updated, avoiding last year's mishap.
PES 2017 includes a standard assortment of modes. In Become a Legend, players still choose an existing player or create their own, as they hope to become a superstar of the football world. Creating a custom player is a rather flexible process, and you can even choose how your player animates when he dribbles, runs, etc. This helps infuse a lot of personality that is easily identifiable on the field of play – the expanded version of this system (Player ID) is also how many of the superstars in the game look and move a lot like their real counterparts. When choosing where to play, you still can only select a league and not the specific team, an oddly restrictive design choice. Your stat growth will happen in spurts as you play matches, and the game could do a better job of communicating how these systems work.
Your main concern is keeping the manager trust rating trending upward, so you can keep your spot in the starting lineup. On the field, AI once again gets credit for being very adaptable and putting together great plays and passes, even as you run around like a madman trying to break away from tight marking. There are other problems though – the annoying stamina drain, that leaves you completely breathless by as early as 70th minute, still exists in BAL. While thankfully seemingly fixed in other gameplay modes in PES 2017, playing in BAL you'll be completely drained long before the final whistle, even while making a conscious effort to almost never sprint. And there is still no option to ask to be substituted, nor would the AI coach make the switch when your pro has no energy left.
The main offline mode remains Master League. Players once again choose either a randomly generated or an existing team, and hope to guide them to glory over a multitude of seasons and competitions. If you choose to simulate matches instead of playing every single one, be prepared for some odd results. The welcome menu redesign from last year continues to make the mode accessible and relatively easy to navigate, as you manage players and tactics, make new signings, and so on. Trade login remains questionable, as you can simply loan the absolute best players from other teams; the budget is now more realistically split into transfers and wages. The transfer deadline day now offers an hour by hour progression option, something that existed in other football games for a few years. The interesting concept of Team roles has been expanded to 22 roles, letting individual players on the roster have more impact. Player growth systems has seen some improvement - players will noticeably grow during the season, including big bursts, and even acquire new skills, and you can dictate training regiments to focus on specific areas. Though lacking in major changes, Master League remains an enticing offline mode to sink hours into.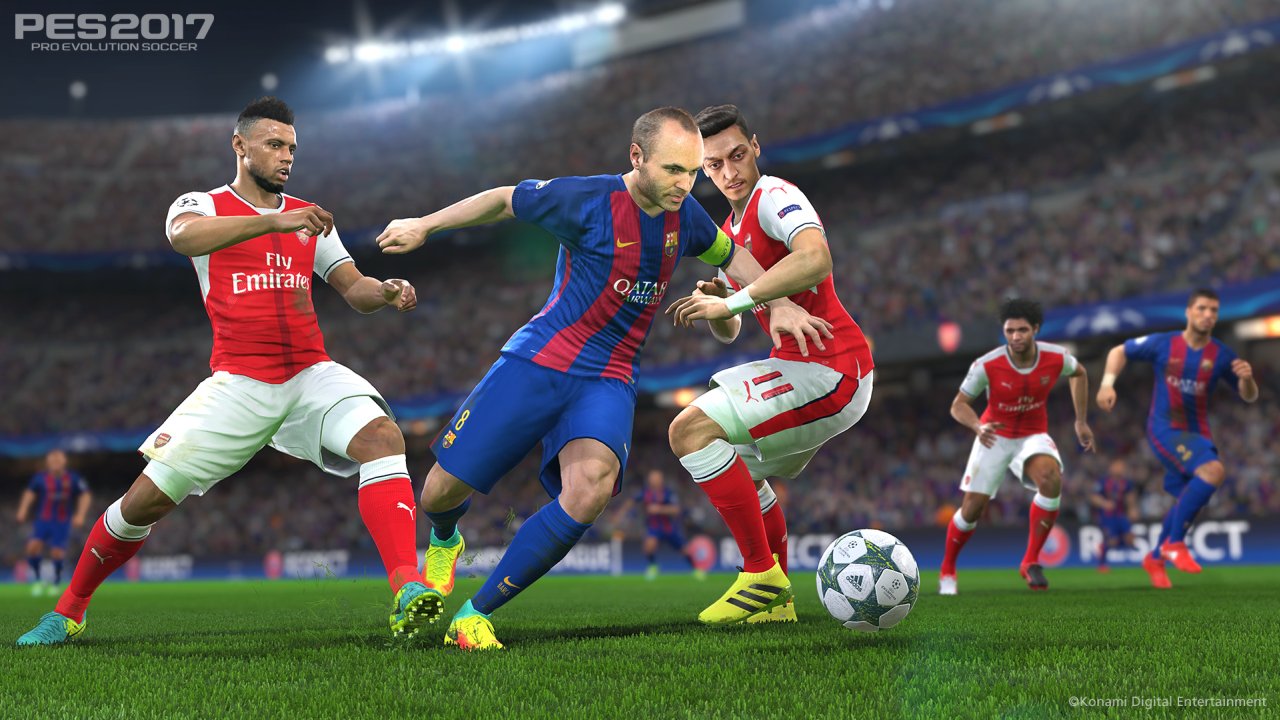 If you want to complete online, there are a few standard options. In Team Play, where you control only one player on the field, it can be fun to organize great attacks with other players. You can join Team Play via lobbies – during peak times in the evening, there were only about 120 players in total spread across two US and one Brazilian server, so it will work best if you already have friends to play with. Unranked Versus matches let you actually enforce the matchmaking to only select opponents with teams of a similar rating to yours – a feature that should have been really included for all multiplayer modes. In ranked play, the Divisions system is unchanged, letting you pick a team and play against others to earn points. Earn enough, and get promoted to a higher online division; using a lower rated team yields more points per victory. Then there's Online Competition, a series of ongoing tournaments that begin qualifying every 30 minutes; the unfriendly design of kicking players mid-match just because the qualifying timer has ended persists.
Across all modes, matchmaking takes a few minutes if you take off all restrictions - but it does feel faster than last year. Lag issues are still a cause for concern in many matches, likely due to players very spread out across North and South America. Eventually you are faced with opponents of much higher/lower skill level because the potential player pool is so relatively small. So when that does happen and you're being demolished/doing the demolishing in the first half, there is no option to forfeit / leave the match. If you want it to be over, you have to quit the whole game. After that, you probably won't even feel like restarting it. The glaring design issues combined with connectivity problems and a small player pool make PES 2017's online offerings difficult to recommend.
Then there's myClub, the main mode where Konami hopes to draw in fans and compete with FIFA's Ultimate Team. Once again there are no large revamps this year. There is a variety of modes within myClub to take your team into, from individual matches to championships, both online and against AI. You still start off with a roster of low level players and try to improve them, as you also bolster your lineup by signing top talent with Agents and Scouts. The GP currency is used to purchase new Agents and Coaches, and it can be earned from myClub matches as well as performing feats throughout the entire PES 2017 game. Using Agents and Coaches remains a unique approach, not letting you actually choose who they want to sign, but rather hope for the best in a lottery. That mentality continues with the addition of an Auction - it's for Scouts, not actual players. You can bid on specific scouts in hopes of landing the one you want - but with a by-the-second countdown, be prepared to be outbid at the last moment; the prices for any good Scouts are often astronomically high. Even though the game gives you a few hundred coins for free by completing various tasks, myClub remains rather favorable to players who spend cash via myClub coin microtransactions in the long run.
PES 2017 is a mixed bag when it comes to presentation. The realistic, accurate approach to players and effects continues to impress and looks more lifelike than FIFA's somewhat artificial look. Seeing sweat drop from Messi's forehead, or watch Neymar throw his hands up in frustration, injects life and atmosphere into the matches. Having said that, there is still a noticeable lack of AA for the stadiums, and player features don't look particularly sharp from the default camera. Some of the animations aren't stellar and you'll watch plenty of limbs clipping through each other during replays – but at least the cinematic goal celebrations are always exciting and personable, even if they are sometimes too short. During play, players do not seem to use any extra run-up or swing of the foot to fire off extremely powerful shots, which looks odd and artificial; similarly, goalies can throw the ball all the way to the halfway line with barely a swing of the arm. Off the field, the menu system remains accessible after the redesign a few years ago, but not exactly flashy, and there are still a lot of blank screen loading times.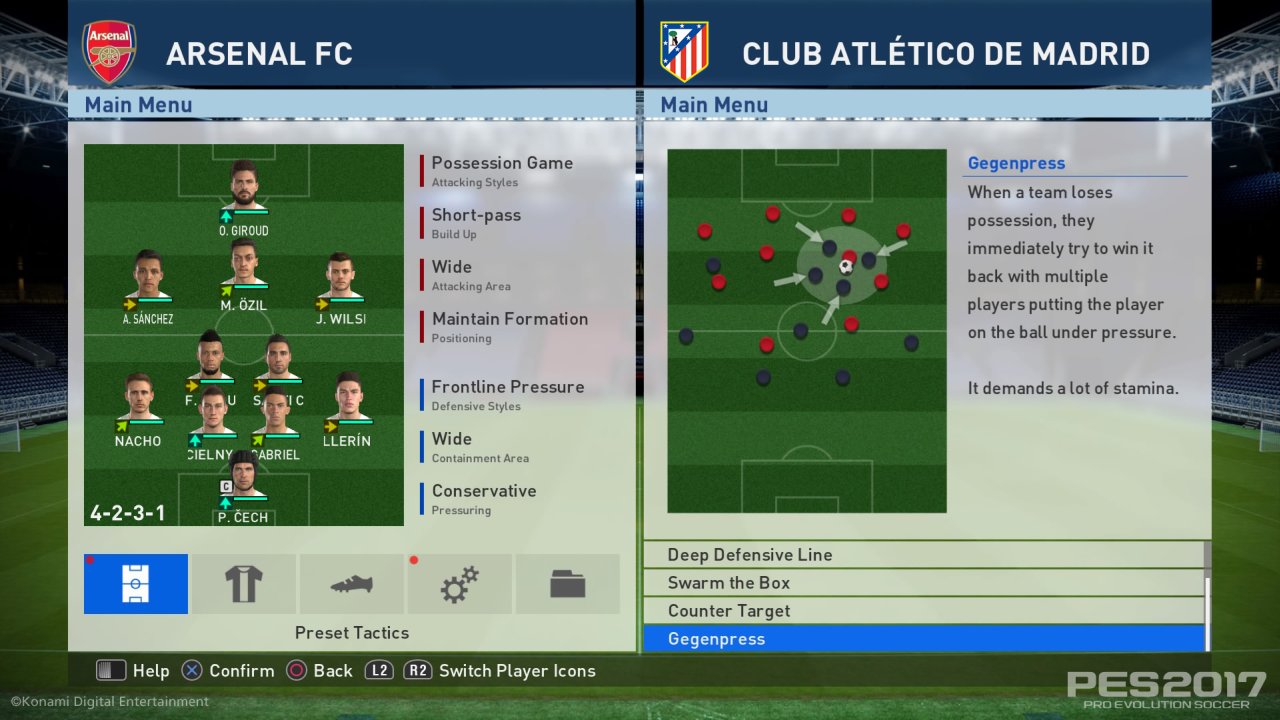 The audio is in even worse shape, mostly let down due to commentary. The duo of Peter Drury and Jim Beglin still have no chemistry, and the actual information being relayed is often awkwardly delayed. Commentary quickly becomes repetitive and sometimes downright wrong (calling a 5-0 result "competitive"). It's poor by any modern standard. Elsewhere, the crowd effects in stadiums are passable but a bit muffled and generic; though chants are supposedly coming in a future free update. The soundtrack consists of a few modern hit songs, but there are only 12 tracks and they begin to repeat rather quickly as you spend lots of time in menus.
PES 2017 is a success, but mostly in a single area – gameplay. It's not necessarily better or worse than FIFA's offering - just a different approach to the simulation of football, and one that it does quite well. For some, that may be enough. If you're a long time hardcore fan of PES since the days of its PS2 dominance, you'll love this year's entry. As an overall package however, it continues to lag behind, offering no new modes, few changes, and carrying forward design elements and bugs that put a dent into the whole thing. The franchise has certainly battled back to be within striking distance of FIFA's offerings, but on the whole it's not quite there yet.
Our ratings for
Pro Evolution Soccer 2017
on PlayStation 4 out of 100 (
Ratings FAQ
)
Comments
blog comments powered by Disqus