PES 2016 Review
Annual football franchise brings improvements, but also creates new setbacks
The Pro Evolution Soccer franchise definitely set its sights on coming out on top during this new console generation. By utilizing the brand new FOX engine as soon as it was available, the annual soccer franchise wanted to firmly establish itself on the pitch after falling behind somewhat during the Xbox 360 / PS3 era. The first outing was a stumble, but last year's effort resulted in a solid game of footy, if not without some problem areas. Heading into the new season, PES 2016 hopes to continue the momentum and try to gain ground on its big competitor from EA Sports. And while the game comes agonizingly close in some areas, the overall experience remains subdued.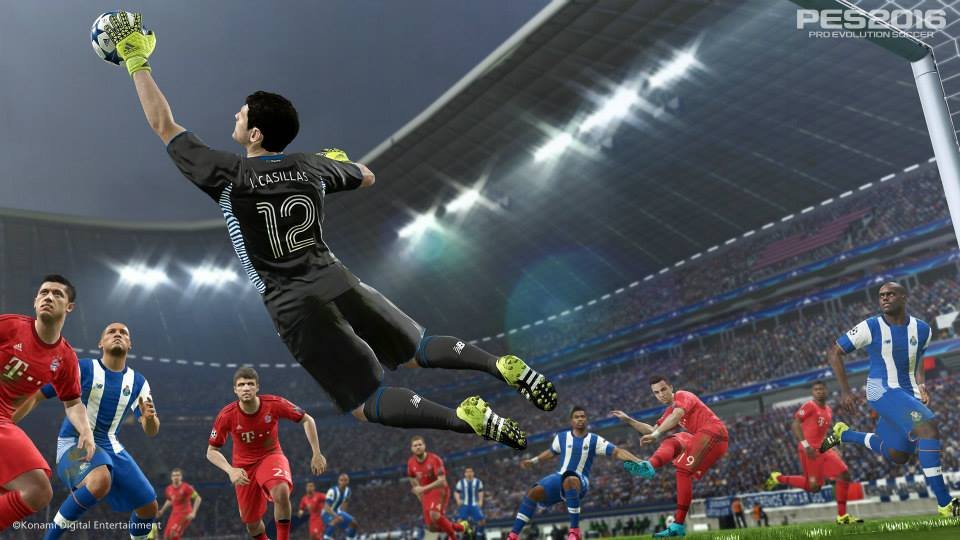 At the outset, things don't look too different. PES 2016 offers largely the same menu and mode selection as last year. Players can jump straight into standalone versions of Copa Liberatodres, UEFA Champions & Europa Leagues, and other tournaments. But the major offline options remain the usual Be a Legend and Master League. The former hasn't seen any notable changes, apart from being substituted less, and a big user interface revamp. This revamp is much more appreciated in the latter Master League, where players spend a ton of time in the menus as they attempt to guide their team to glory through the seasons. The new interface looks a bit like a website, and the navigation of all areas is quick and painless. It makes the whole experience feel fresh and much more enjoyable than before. Time simulation between event days is also nice and quick.
But the ML overhaul extends beyond the visuals. There's new transfer market mechanics, where negotiations can go back and forth and an indicator illustrates how likely your terms are to be accepted. Despite a limited amount of actions, the system feels a bit more in-depth than FIFA's, though it would be nice if the player contracts were negotiated separately from their sale value. The AI also seems a bit more reasonable and will make deals for below assessed player value. With Player training, you can make players focus on specific attribute improvements. Finally, the new Player Role system designates players into different roles overtime based on their performance or previous experience. Players can be Stars, hot young prospects, Veterans, and everything in between. These roles can influence team performance, and also create a virtual hierarchy in your squad that's cool to see develop and change over the years.
Last year's team spirit mechanic returns, and continues to annoy. If you choose an existing top team, they can go from a well-oiled machine to a barely put together squad because you changed your tactical preferences on attack. It's a bit of a silly way to handle the "chemistry" of a squad, and severely restricts players from making tactical alterations without trading away half their lineup. The focus seems to be on what tactics the players and coach prefer, rather than actual player relations like in FIFA. This means it's difficult to mold a new tactical approach for existing teams.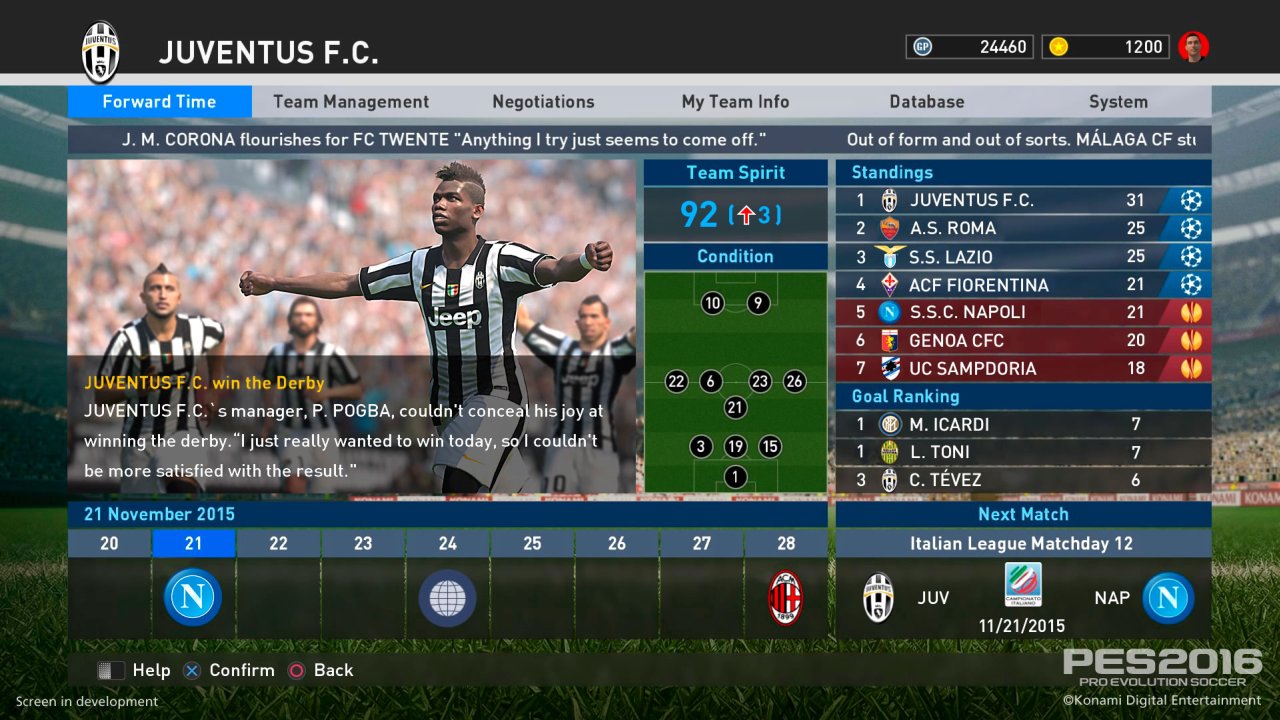 And while on the subject of Master League and teams, it must be repeated that PES 2016 still lacks licenses for the world's top leagues. Most teams from BPL are using fake names and logos, while leagues like Bundesliga are absent entirely. There's some improvement – but as usual it's largely focused on nations outside of Europe. There are some new teams here and there, and yet Argentina's Primera Division has been removed. The Edit Mode hopes that users will solve some of these issues on their own. On PS4, image importing function is back, which means logos and kits can be updated by fans. However, this takes a long time, and not something any casual fan will be bothered to do. As such, the lack of authenticity remains a large flaw in PES 2016.
At least most of the players are in the game, however it must be said that Konami has been slow with roster updates. Up to this point, the game hasn't included the huge summer transfers. Pretty inexcusable, given how many weeks and even months have passed. The updates are finally promised for October, but again, the franchise is running a very high risk of losing casual players to competing franchises in the meantime.
After debuting last year, MyClub mode hopes to entice even more players to join the team-building mode. All of the game areas – from competition to online and offline play – are back. The major differences from FIFA's offering remains the fact that you cannot sign players directly – instead you get coaches, who find a random player for you in a specific position and of certain quality level; there is still no market to trade players. Players that you don't intend to use can be converted into one-time use trainers, who will boost the attribute of squadmates from the same country/ league/ playing positon. You earn GP Points from many tasks in the game, off and on the field, and they still act as the main game currency. The mode also puts an emphasis on the team spirit, however it is much more difficult to manage due to the small number of players you have at your disposal.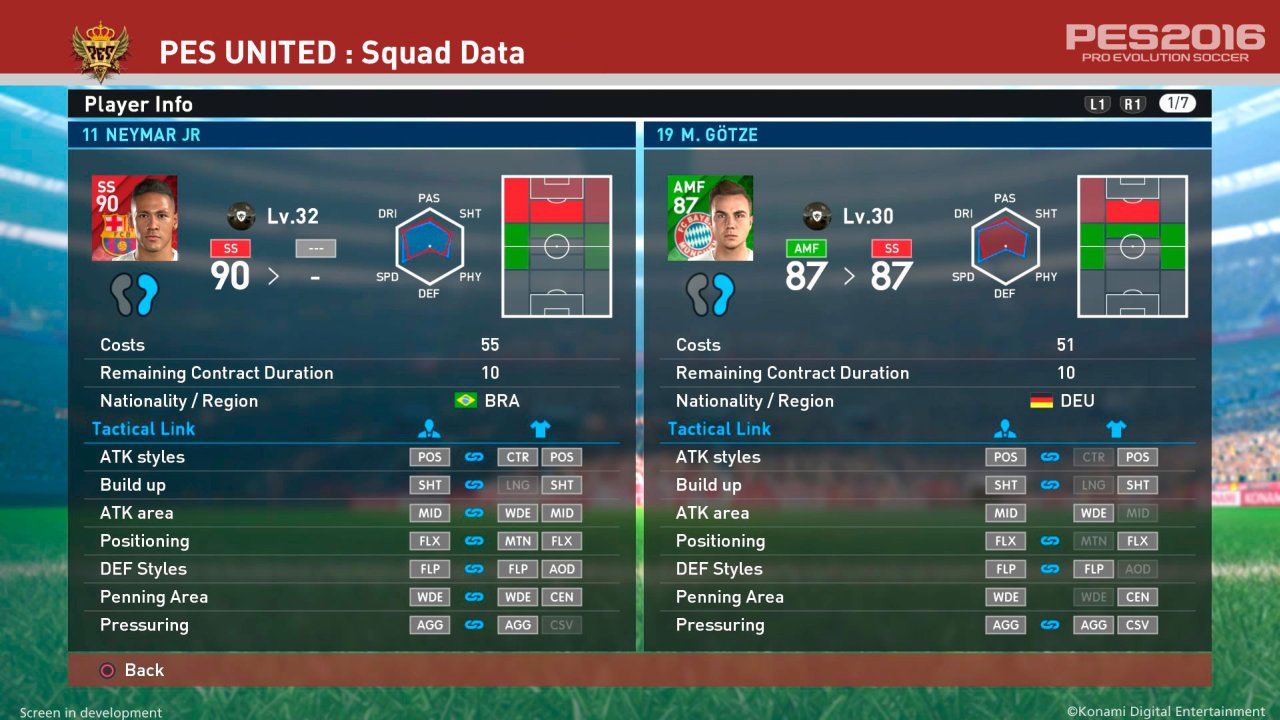 There's also heavy emphasis placed on your coach, who sets the tactics and also your formation, and he has a limit on the maximum team quality he can manage. If you want to play with a different formation or tactics, you need to buy a much more expensive and flexible coach. The more expensive coaches can be bought with GP only after a certain arbitrary time, so you'll have to pay real cash if you want to get them early. Because if you don't, and build a team with what you've got, when you change coaches later on you'll have to blow up your squad and replace half the players. And because of the slow and randomized process of acquiring new players, spending real cash again becomes a notably better choice. Though there is a player growth system based on performance, it takes a long time for players to notably improve. It's not an exact comparison, but in roughly the same amount of time that it takes to earn enough currency to buy a pack of players in FIFA, you only get one individual in PES. FIFA's Ultimate Team can be criticized for giving players that spend money an advantage at the high end squad levels, but with PES and MyClub, only the most dedicated players will be able to put together even a half-decent team without pulling out the credit card.
Comments
blog comments powered by Disqus