Song of the Deep Review
A welcoming adventure is dragged down to the depths by a few issues
Insomniac Games have a long history of creating successful games across a variety of genres. From platformers such as Ratchet & Clank to shooters like Resistance, to original IPs such as Sunset Overdrive and the upcoming Spider-Man, the company has gone through a number of settings and genres across their portfolio. But they aren't done experimenting yet – their newest release, Song of the Deep, is an original 2D metroidvania style game. For a developer with such a large number of titles under their belt, there tend to be highs and lows, and unfortunately their newest effort is mostly average.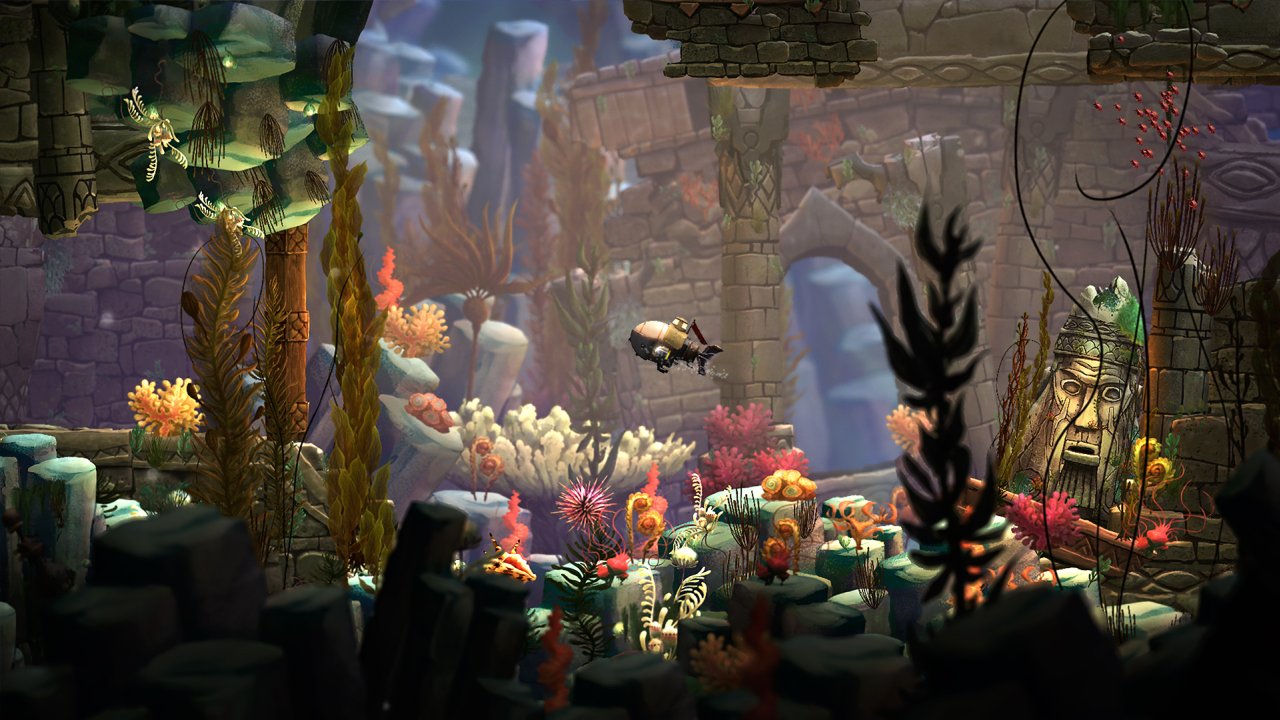 Song of the Deep follows the story of a young girl called Merryn. She lives with her father, a fisherman, on the sea coast. They are close, and so one day when he does not return from the sea, Merryn is devastated. She sees him in a dream, calling for help, so the girl gets to work and builds a small submarine for herself, and sets out to explore the deep waters. The story is rather straightforward and goes for a charming and mysterious feel rather than any wild twists.
The whole game attempts to use a colorful and warm visual palette, similar to that of a kid's story book. The cutscenes employ a painterly visual style, and the in-game graphics have a very pleasing artistic style. There is quite a bit of environment variety and each location feels unique and memorable; players will encounter a variety of non-hostile creatures and the backgrounds are usually brimming with marine life. It's not quite on the same level as Ori and the Blind Forest, but the game still achieves some great visuals, given the chosen setting and likely smaller budget. Audio design is a bit more forgettable, with only a few nice tracks that stand out, and the narrator's passable voice suffers from monotone delivery.
The game follows 2D metroidvania side-scroller design tropes rather strictly. You explore a variety of underwater environments, with plenty of blocked off passages that only become accessible when you return to them later, having acquired whatever tool or weapon you need to get through. The level design is straightforward and on-par with most modern entries in this genre, with just enough backtracking to make it feel worthwhile without getting annoying. Sightseeing will lead you to secret areas, with coins that are used to buy upgrades for your weapons and tools, or increases to your submarine's health.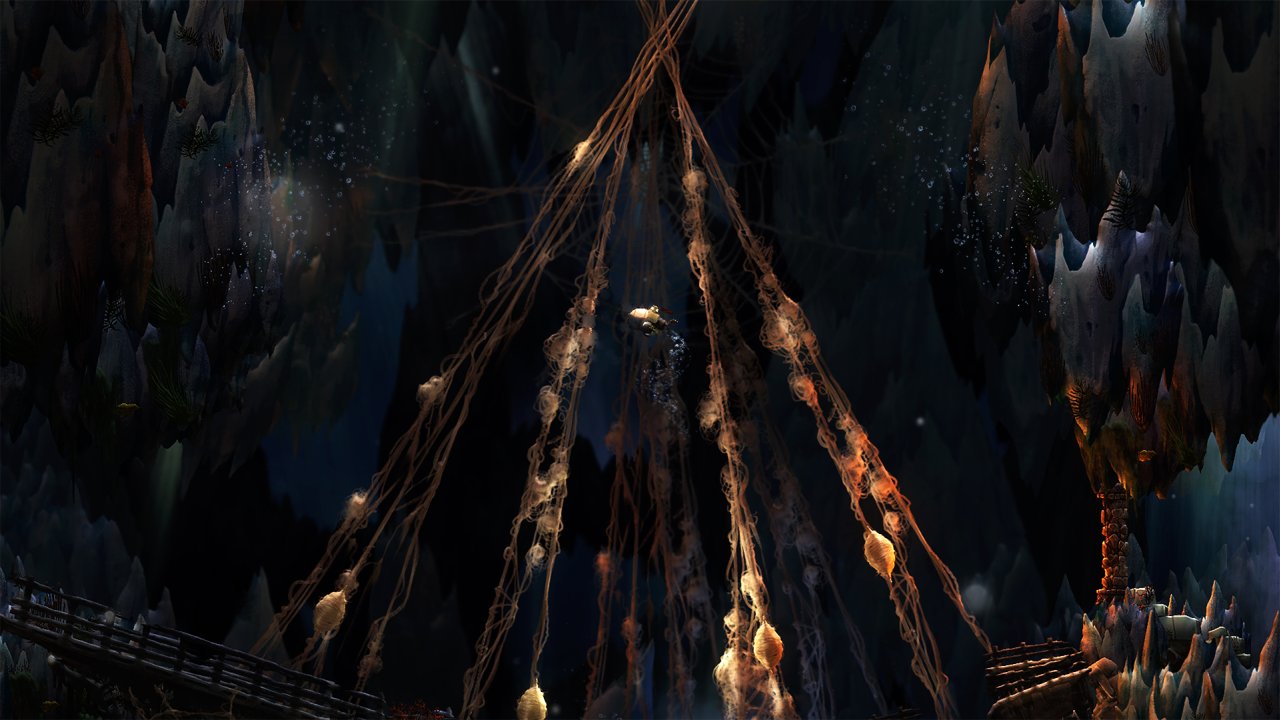 Merryn's submarine has a variety of tools and abilities at players' disposal. There's the basics like a boost to outrun enemies and fast-moving currents, and searchlights to illuminate the darker parts of the sea. You also have a hook, used to grab objects or attack foes. Later in the game you acquire more combat focused weapons like torpedoes and sonar, and you'll need them.
When the game focuses on showcasing its various environments, and letting you solve some puzzles that grow bigger in complexity as the game progresses, Song of the Deep isn't all that bad. But while nice to look at and explore, this underwater adventure starts to get into trouble once you're actually playing it. Operating the submarine with one stick, the controls are quite unresponsive and lack the precision of platforming games. Often you'll make wrong moves or take extra damage because your little ship didn't respond quickly enough, and it can be frustrating. This becomes especially crucial in later stages, where checkpoints are usually separated by fairly lengthy combat sections that require quick reactions and enemies that can sink you with one hit. It's a game that's tough not because of its design but simply because the controls let the player down. Playing with keyboard and mouse is even worse, as controlling the submarine with the mouse is a completely frustrating task and not recommended.
Enemies have a habit of spawning continuously, making for needlessly lengthy sections. Your claw has such a limit range and the somewhat frustrating controls (you shoot in whatever direction you happen to be facing) mean that combat is rarely fun. Grabbing and throwing or dragging objects around is also let down by the controls and physics engine oddities.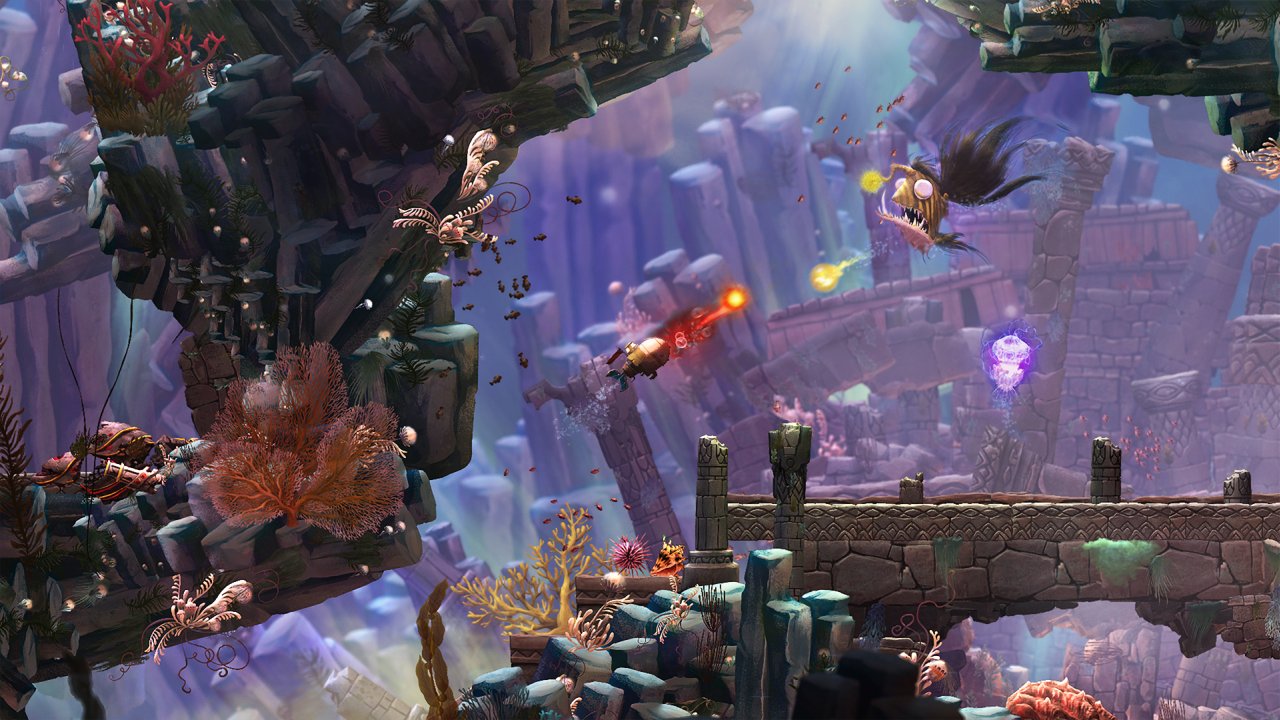 The game also seems to have rather notable performance issues. There are frequent slowdowns and jarring framerate drops, as well as pauses for each auto-saving checkpoint. Despite being not overly graphically demanding, the game seems to struggle even on high-end machines. With the late story sections already being tough due to their design and lack of precise controls, throwing in an unstable framerate is a killer blow.
Song of the Deep is a muddling underwater adventure. The positives of a nice visual style and enticing setting are offset by mediocre gameplay with unresponsive controls and subsequently frustrating combat. The basics are there, but there's nothing that elevates the game to the heights of the genre. Song of the Deep is a fairly priced 2D metroidvania trek that will appeal to big fans of the genre or those wanting an artistic looking game, but most players can probably let it float by.
Our ratings for
Song of the Deep
on PC out of 100 (
Ratings FAQ
)
Comments