PES 2017 Preview - E3 2016
We try out some of the improvements in the upcoming annual football game
"Control Reality" is phrase that is PES 2017's ethos this year. The FOX Engine, which was implemented last year, makes its return, bringing with it some gorgeous visuals. Players looks great, the pitch looks great. It's just a lovely looking game. And the PES ball this year, dubbed "Continua", is meant to encapsulate the classic "triangle" nature of passing.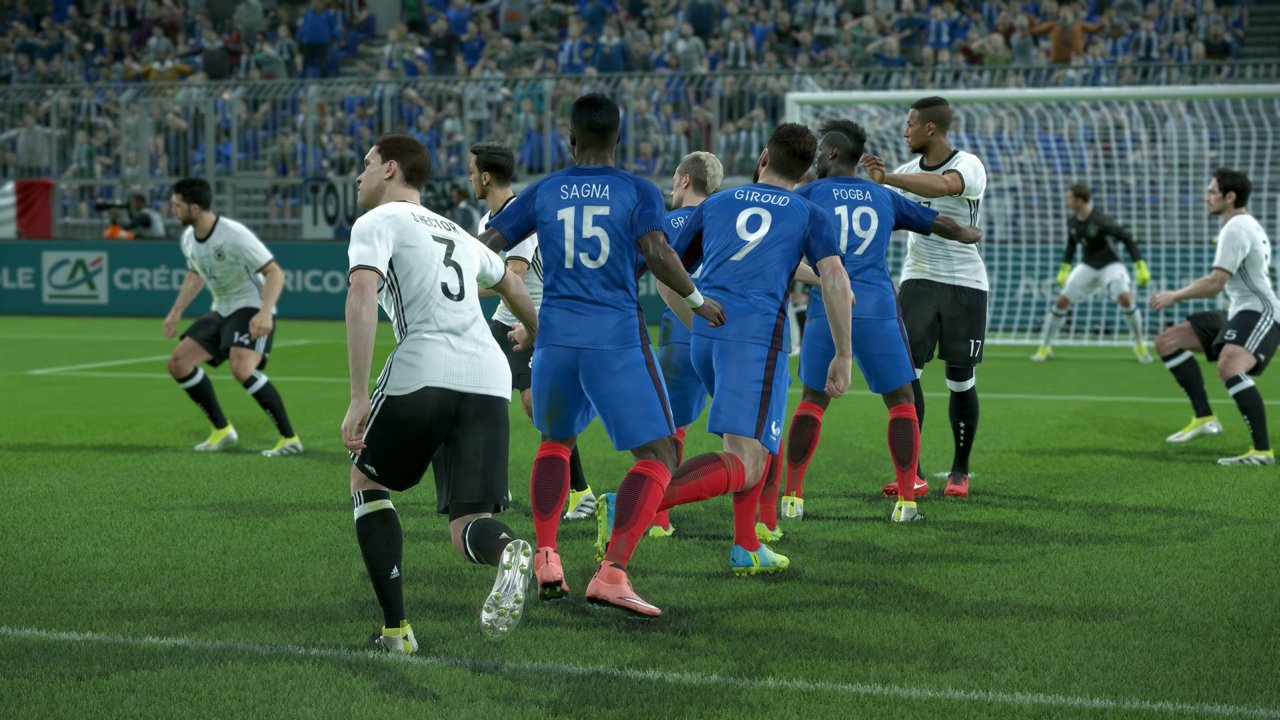 The biggest change in PES 2017 is "Real Touch". This means that when you get on the end of pass, whether it's from another player across the ground, from the air, from a deflection, you'll be able to manipulate how you proceed in a lot of different ways. I faced off in several 1-vs-1 matches, playing as Arsenal and the French national team. Here, I had the chance to really get a feel for the Real Touch system. And it works, really beautifully. When the ball came down to someone like Pogba, whose first touch is quality, I found that each unique animation—bring the ball to a stop, the flick on to carry it past a defender—just looks so nice. As far as something looking like the beautiful game, PES 2017 made football look… natural.
Each stumble, the headers, the running—there's a real "weight" to the game that's much improved upon from PES 2016. The pace and build-up play is great, too. I'm a fan of short, quick passes, and the aforementioned "triangle" passing system works a treat. What's also needed to complement this style of play is tight dribbling. Your Ozil, Pogba, Santi Cazorla will act skillfully on the ball, and there's nothing quite like utilizing the slow dribble, feints, and tricks to weave past opponents. In PES 2017, there is real satisfaction when this pays off, which is down to the realistic player movement.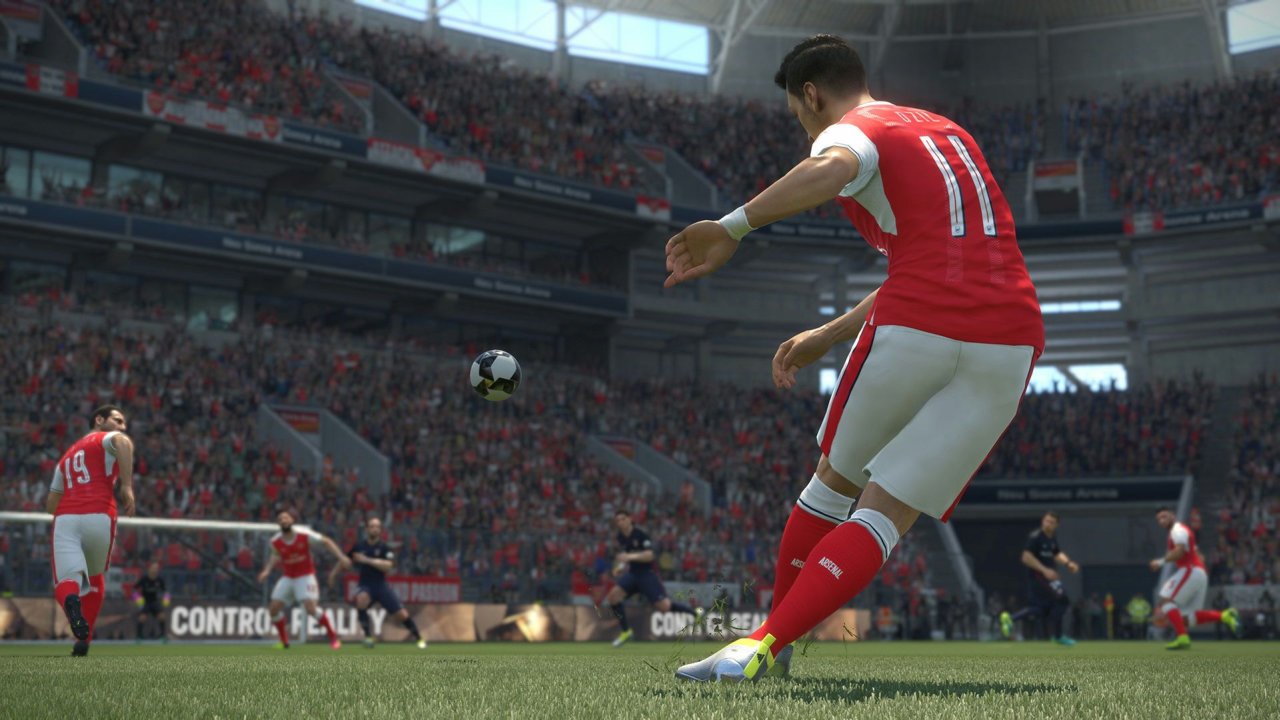 Another element that was a long time coming in PES are simpler configurations to dictate your team's pace and play style. While it's been a regular (and very useful) feature in FIFA for some time, I'm finally glad it's here. Yes, PES has had it for a while, but never this simply. I play like Leicester sometimes: defend deep, then go on the counter. Now I can do that simply in PES 2017 with the help of the shoulder and directional buttons. With the ability to change tactics efficiently on the fly, I can increase the pace if my opponent is defending too deep or holds a lot of possession. You have your counter-attacks, tiki-taka, and a few others. These commands also extend to corner kicks: you can now "train", rush the post, and more. All of these are welcome, if late additions.
Natural player movement, particularly for goalkeepers arrived with the bold statement that PES' keepers are the best in any footballing game. Neuer will act like the "sweeper keeper" you expect, and someone like Čech will keep his composure and act like a wall. Cracking off a few shots at goal and watching my own keeper perform in the game, goalies are looking and acting a lot better. There were a few instances of the "heart in throat" fingertip saves that looked very natural.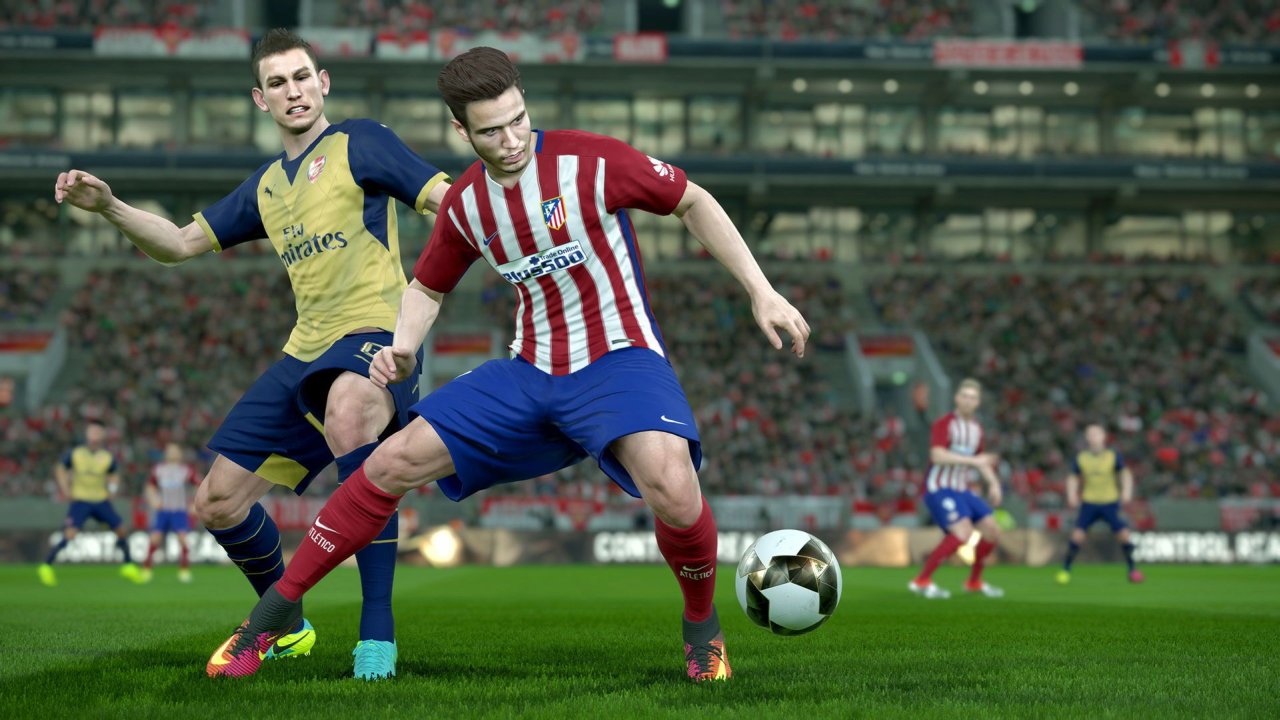 Adaptive AI was another big statement. Basically, it's what it sounds like. If you hammer the wings, then the AI will put more men there; likewise, if you're using tiki-taka, then the AI will aim to press close and sever your passing lanes. Also, if you're sticking close to the opponent team, they'll spread out or aim to exploit where you're not covering on the pitch. From what I experienced, this isn't an overt feeling—which is shouldn't be. Changing up tactics should be something unconscious that you simply do in reaction to your opponent, which PES 2017 achieves. In versus, one thing I did notice was that on standard settings, my opponent's players who were off the ball did seem to gang up (3 at a time) to crowd a player on the ball. This is all well and good, but the times it happened, I did notice that it opened up a lot of space for me to exploit. That would be one of the only elements that I'd be concerned about.
Changes are also promised for Master League - deadline day tensions, more team roles, a player growth system (i.e. loaning them out to flourish), and even more. A number of changes have arrived at My Club, too. With the new Auction House, you can bid on scouts, which enable you to get the star players you want. Tutorials should now be simpler and more informative. But one of the most exciting features for me is the ability to check out your opponent's stats. If you want to see their style of play—possession, counter-attacking, pitch spread—it's there, and really allows you to put on your manager's tracksuit and figure out a game plan. So, if you want to play a PES champ, you can search them out online and create a winning set of tactics.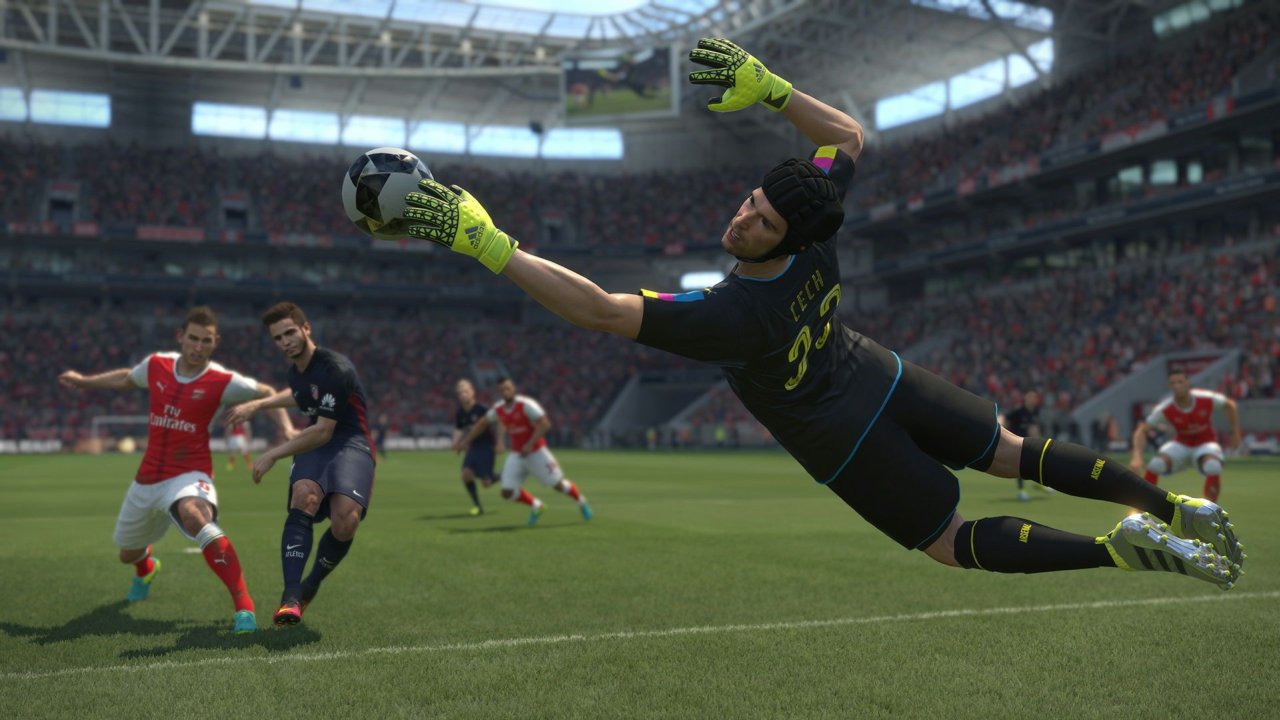 PES 2017 really does feel like a bit of a game changer. It's like a sleek sports car—handling, bursts of speed, adaptation—it's all solid and natural. While there's no release date yet set, I'm definitely looking forward to heading out onto the pitch sometime this year. The game is expected to release on PC, Xbox One, and PS4.
Comments
blog comments powered by Disqus